Quilting is full of unique lingo that can be hard to grasp, this is especially true when it comes to precut fabric. If you've ever wondered what Jelly Rolls & Layer Cakes have to do with quilting, let me break it down for you!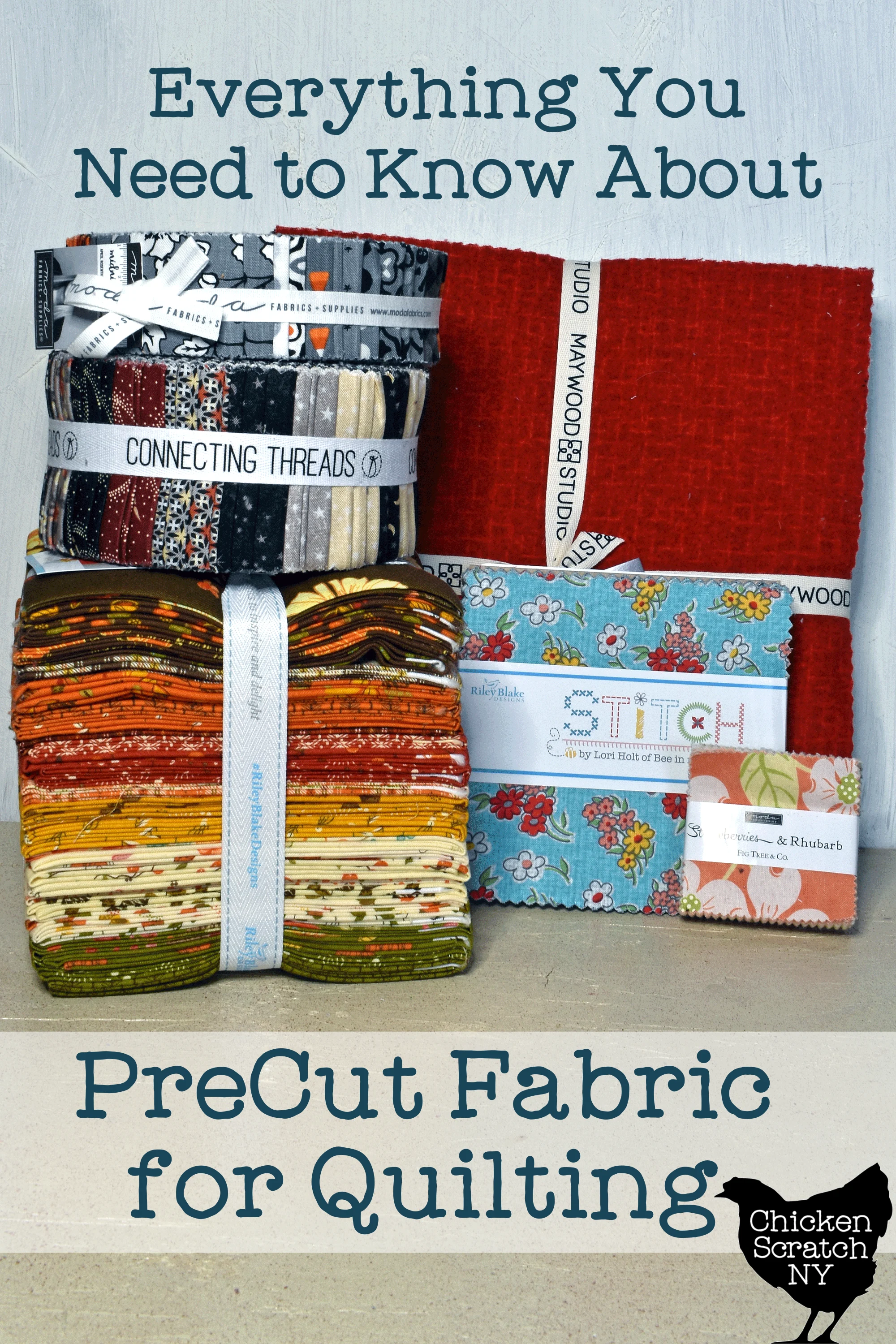 Types of Fabric Precuts
Precuts are available in a variety of shapes and from all of the major fabric brands. The names may change based on the brand but the dimensions stay the same.
The vast majority of precuts have a pinked or zigzag edge, unfortunately, it's not consistent between brands, and some measure to the inside of the 'teeth' and some measure to the outside so you'll have to measure yours before you get cutting or sewing.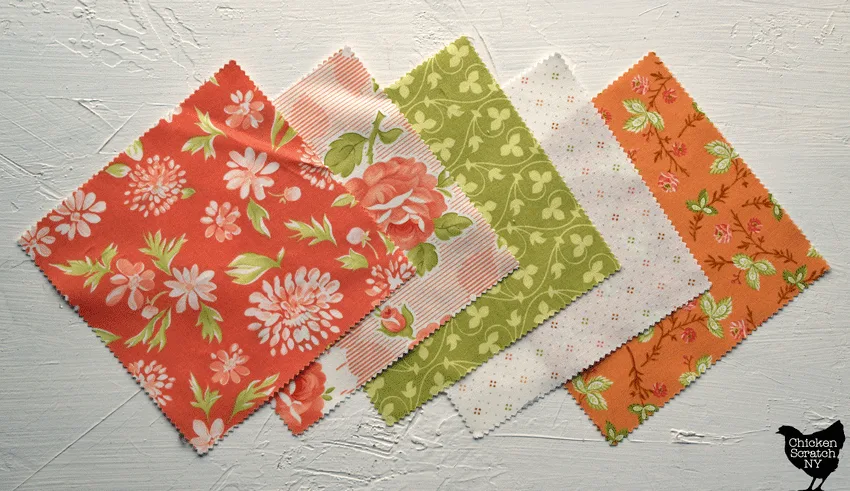 Some quilt shops cut their own precut bundles in-house, I've bought quite a few from Jordan Fabrics, and those will have straight edges. I don't mind the pinked edges but some people absolutely hate them!
I'm going to throw some cost estimates at you for each of the precuts but it's important to remember that's just for a single fabric.
If you want to get that coordinated but scrappy look by cutting your own 5″ & 10″ squares or 1.5″ & 2.5″ strips you're going to spend a lot more money due to fabric minimums online and I can't imagine any cutting counter happily cutting 2.5″ off of 40 different bolts.
Fat Quarters
Starting at the beginning with the original precut we have the fat quarter. Fat quarters measure 18 inches by 22 inches but there might be slight variations due to differences in the width of individual fabrics.
The idea behind fat quarters is to get a more usable chunk of fabric without having to buy a lot of yardage. Unless you're going to be cutting across the width of the fabric a fat rectangle is going to be easier to use than a long narrow piece.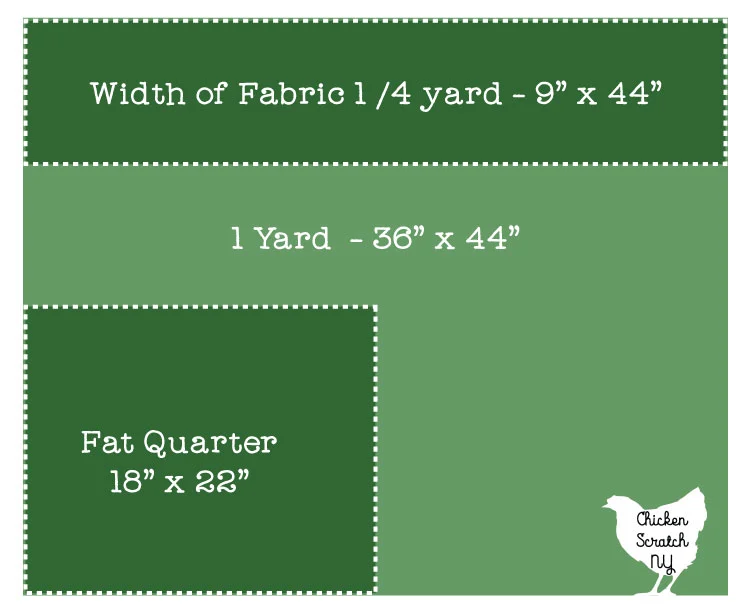 A Fat Quarter is a 1/4 yard of fabric but instead of being cut across the width of the fabric (which would be 9 inches x 42 inches) they are cut to be shorter and fatter, hence the name.
Fat quarters are usually sold online in bundles and unlike all of the other precuts there is no set number of pieces in a precut bundle. Instead, it will contain one of every fabric in a line.
That means some bundles are small with only a handful of fabrics while others are massive containing up to 40+ fabrics. The size discrepancy makes it hard to estimate the cost but it can range from $15 to $135 or more.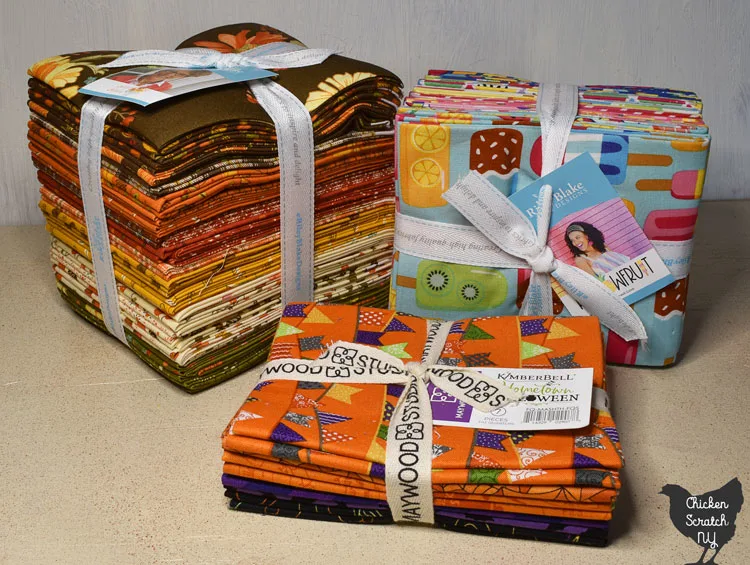 You can also find fat quarter bundles put together by quilting shop owners that include a variety of lines and designers, usually with a common theme like a certain holiday or colorway.
Fat Quarter Shop is a great place to get fat quarters (it's in the name!) and they always have a large selection. I also buy a lot of my precuts from Green Fairy Quilts, they have some of the best prices and almost constant sales.
Local quilt shops or Etsy sellers may offer single fat quarters. Joann Fabrics has a large selection of precut fat quarters to choose from, they tend to go on sale quite often and they have a rotating stock.
However, Joann's will not cut fat quarters in-store from yardage.
There are lots of options for fat quarter quilts, you'll often see the term 'fat quarter friendly' listed on patterns. Two really popular fat quarter quilts are Turning Twenty and Yellow Brick Road.
Out of all the precuts, I have the least amount of experience with fat quarters, I tend to like lines with lots of fabrics and if I'm going to drop $100 on fabric I'd rather pick the prints I want and buy yardage.
But I love a good sale so I have picked up a few over the years. Due to the expense and how pretty they are when they're all bundled up, they are the hardest precuts for me to break into.
I don't want to 'waste' them on the wrong project you know? That's probably something I need to work through in therapy and as I get more confident with my skills I'm getting better at using fabric instead of just staring at it!
Read more about How I Manage my Anxiety while Quilting
One of my favorite quilts was made from a Tiny Treaters fat quarter bundle, it's absolutely chaotic, and with a hint of glow-in-the-dark elements, it speaks to my Halloween-loving heart (so much that it's still on my bed even though it's July!).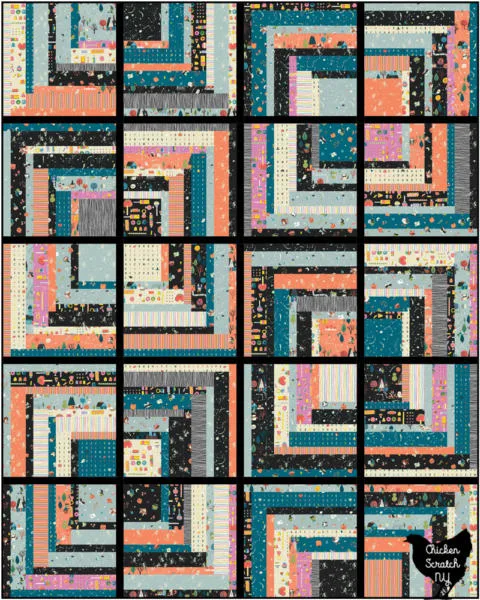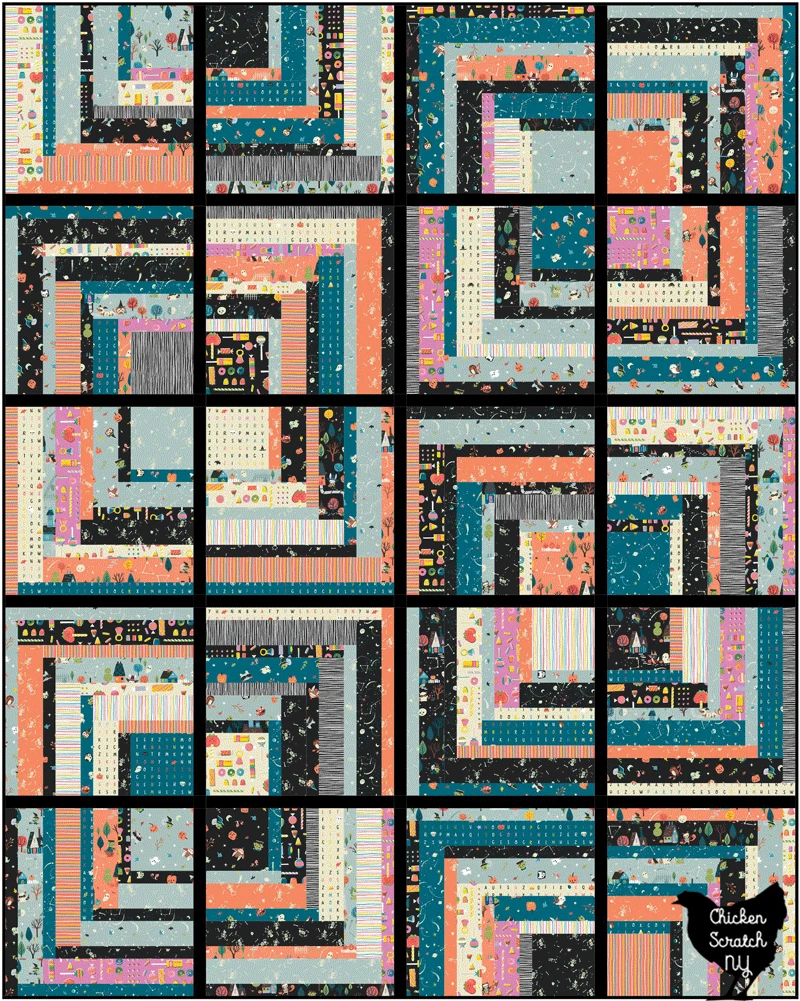 The quilt was made with my free Crystal Lake Quilt pattern. If you want to make your own you'll need one fat quarter for each block of the quilt, it makes it really easy to adapt the size to what you need.
I'm not going to give them their own section but if you're a fan of getting a little bit of an entire line you might also be interested in 1 Yard Bundles, Half Yard Bundles, and Fat Eighth Bundles. They're less common than fat quarters but still available for many fabric lines.
The names pretty much explain it, just like fat quarter bundles they include a piece of every fabric in a line cut to a specific size.
---
The rest of the precuts are more uniform, the standard bundles have a set number of pieces, and that makes it really easy to swap them around when you're using precut-friendly patterns.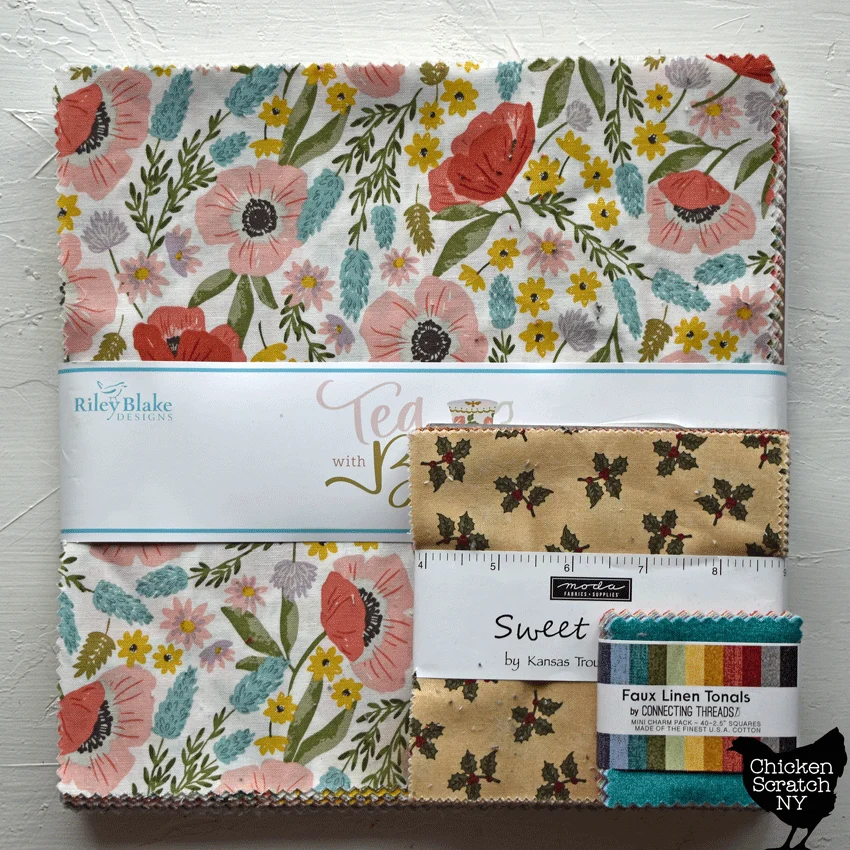 They fall into two categories, squares and strips. Let's start with the squares:
Layer Cake
First up we have Layer Cakes, bundles of 10-inch by 10-inch squares that usually have 42 pieces of fabric.
You can also get Junior Layer Cakes with only 20 squares, they are usually offered in solids or another background fabric like Moda Grunge. If you're making a quilt with a lot of 10-inch background squares they will cut a lot of time off your cutting but the price might not be worth it.
"Layer Cake" is the colloquial term for precut 10-inch squares but the name belongs to the fabric manufacturer Moda. This style of precut fabric is also known as 10″ Stackers (Riley Blake Designs), 10 Karat Crystals (Willmington), or just 10-inch squares (Andover, Robert Kaufman).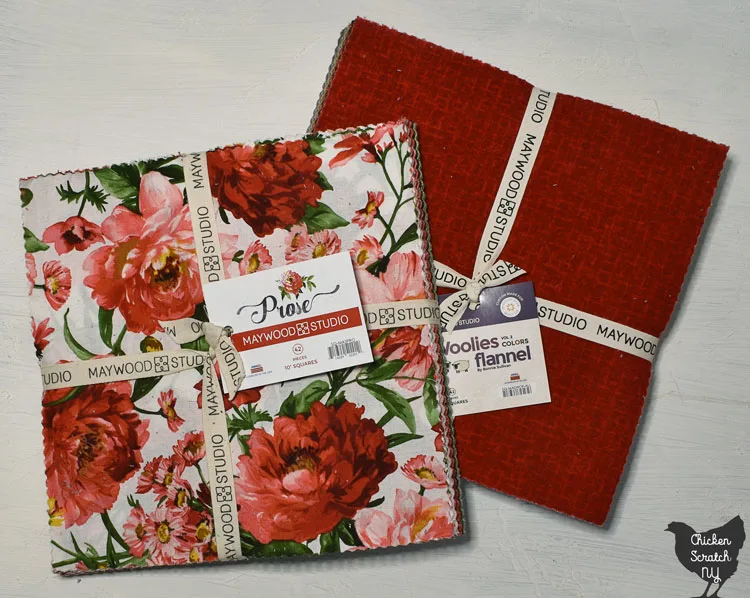 If you're calculating by square inch a layer cake is 2.78 yards of fabric. But if you were going to cut yardage down to 10-inch squares you'd need 110 inches or about 3 1/8 yards of fabric.
A Layer Cake from one of the main fabric manufacturers will run you about $45, give or take a few bucks. That puts the per-yard price around $16/ yard or $14.40 depending on how you calculate it.
I'm a big fan of sales and I try really hard to wait for a coupon or get them when they're on sale or even better, on clearance.
If you're new to sewing or just on a tight budget (aren't we all now?) check out Connecting Threads. They create their own exclusive lines and while they tend to have fewer prints (and more repeats) their layer cakes are only $28 full-price and even less on sale.
I personally love layer cakes, I absolutely hate cutting and any way to get sewing faster is golden in my book. The 10-inch size makes them really versatile, especially compared to the rest of the precuts on this list.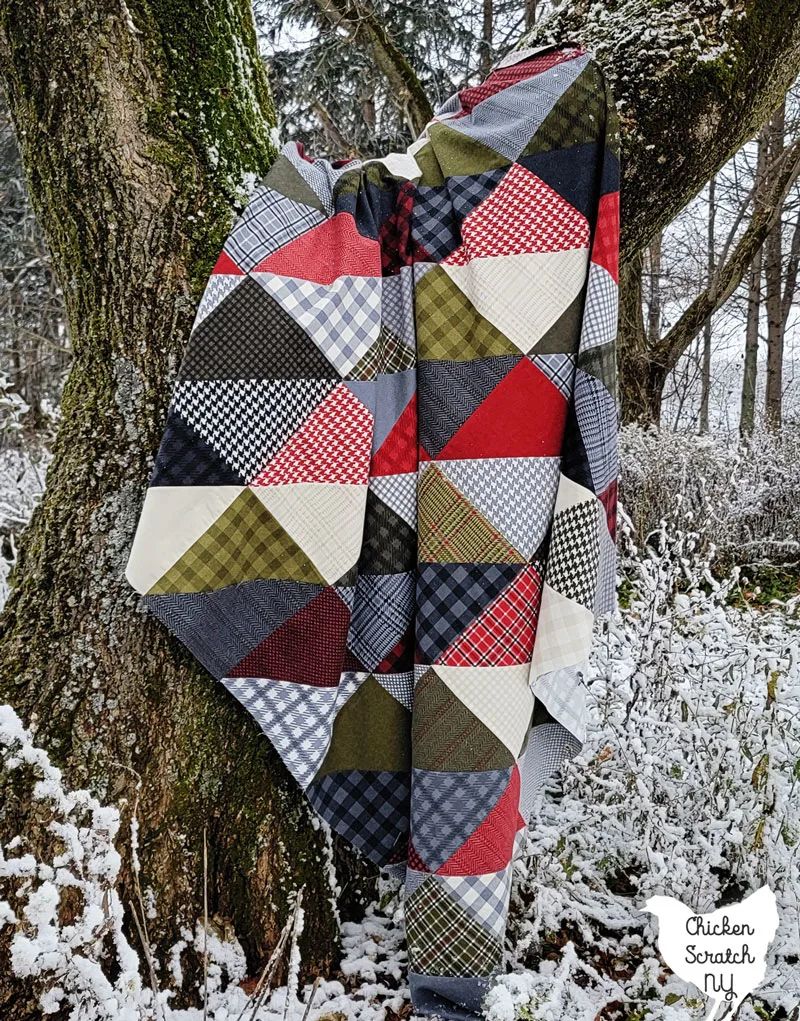 Check out my Free Cozy Corners Layer Cake Pattern for a quick and beginner-friendly half-square triangle quilt pattern!
My favorite way to use 10-inch squares is to make super-fast half-square triangles. You can turn a pair of 10-inch squares into 2 9.5″ HSTs or 8 – 4.5″ HST. If you've ever read over a quilt pattern and gotten the vapors when you see "make 265 half square triangles" the 8-at-a-time method will change your life!
---
If you just can't get enough half-square triangle action be sure to check out:
---
One I love about Layer cakes is their versatility, you can cut them down into 4 – 2.5 x 10″ strips, 4 – 5″ squares, or 16 – 2.5″ squares. Or use them for a quick (and chunky) disappearing 9 patch.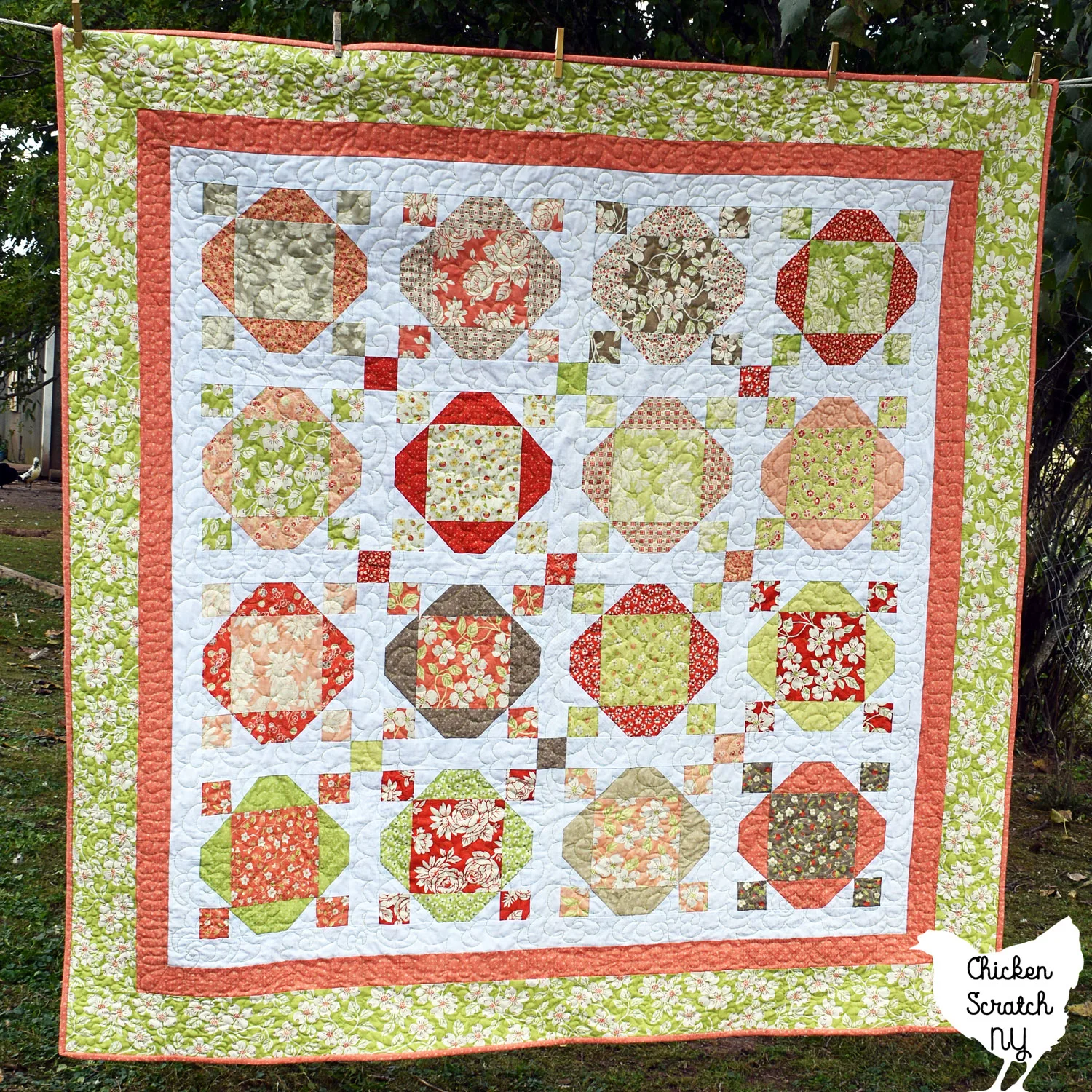 My favorite Layer Cake pattern is Cake Show, I might be a bit biased because I created it. It was designed to show off your favorite prints in a line so some squares are kept large and some are cut up.
I've made it a few times in different fabric lines and every quilt has been amazing!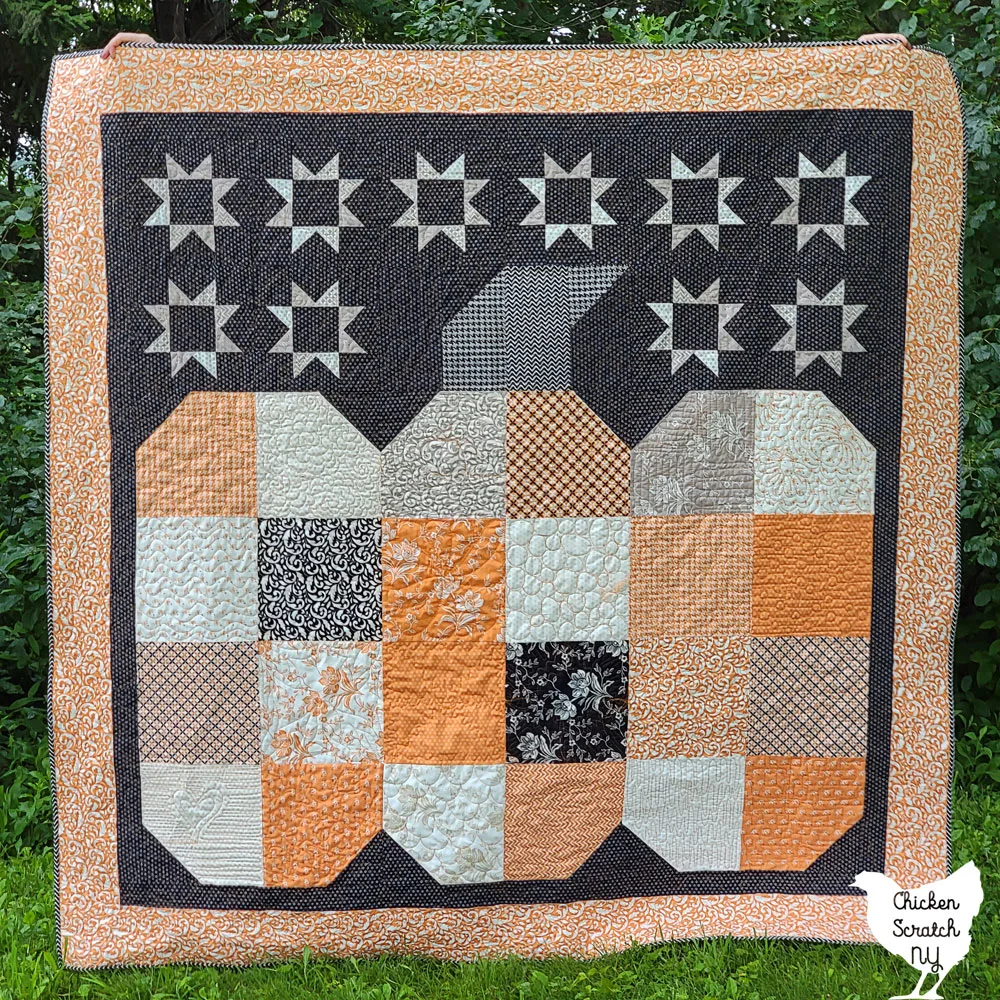 The Great Pumpkin is another Layer Cake quilt I designed with large prints in mind. The majority of the 10″ squares in the pattern are kept whole and only a handful are turned into the scrappy sawtooth stars at the top.
Charm Pack
Next on the list of fabric precuts is Charm Packs, which are bundles of 42 5-inch squares. You could consider them the Layer Cakes' little sister. Four charm packs equal one layer cake.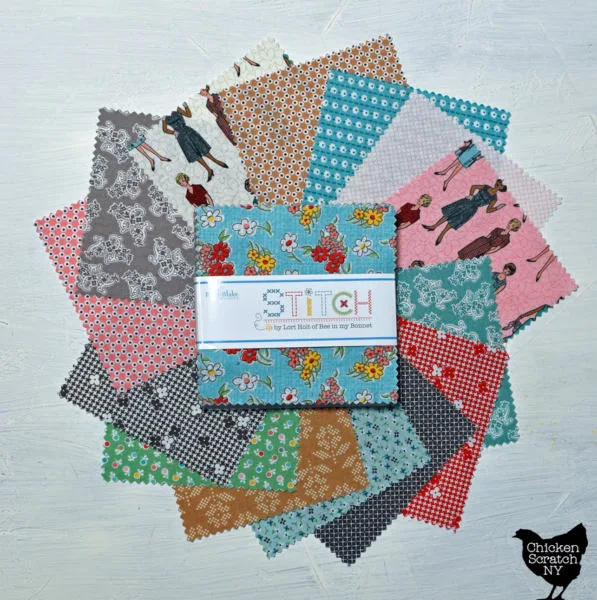 You can get 40 5″ squares from 3/4 of a yard and they'll usually cost you between $9-13.5 with fuzzy flannels being on the higher end. That makes you're equivalent cost around $12-18 per yard.
I tend to use them for smaller projects like table runners or wall hangings. If you're going to need more than 2 charm packs you're usually better off buying a layer cake and cutting it down.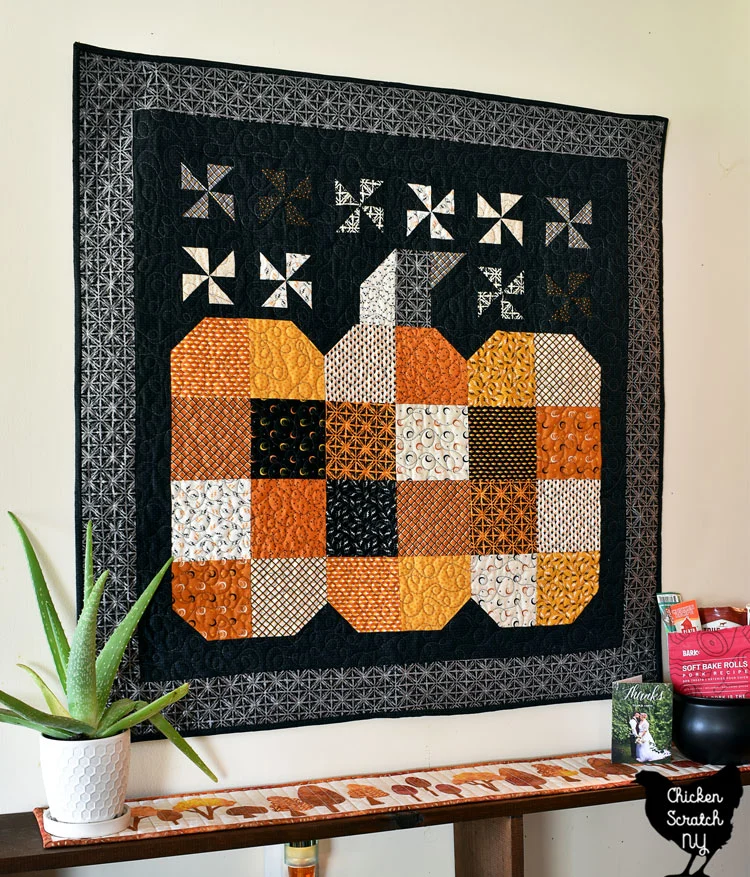 This Great Pumpkin Wall Hanging was made from a charm pack and I cannot stress how quickly it went together! You can find the pattern in my store along with its mama The Great Pumpkin Throw Quilt I showed you above in the layer cake section.
5-inch squares are also perfect for making a whole pile of half-square triangles. If you're looking for a fast and fun project check out my free tutorial for the Simple Stars table runner where I explain my favorite way to make half-square triangles.
Charm squares are also great for making Disappearing 9 Patches or you can just sew them together in rows and columns for a simple patchwork pattern.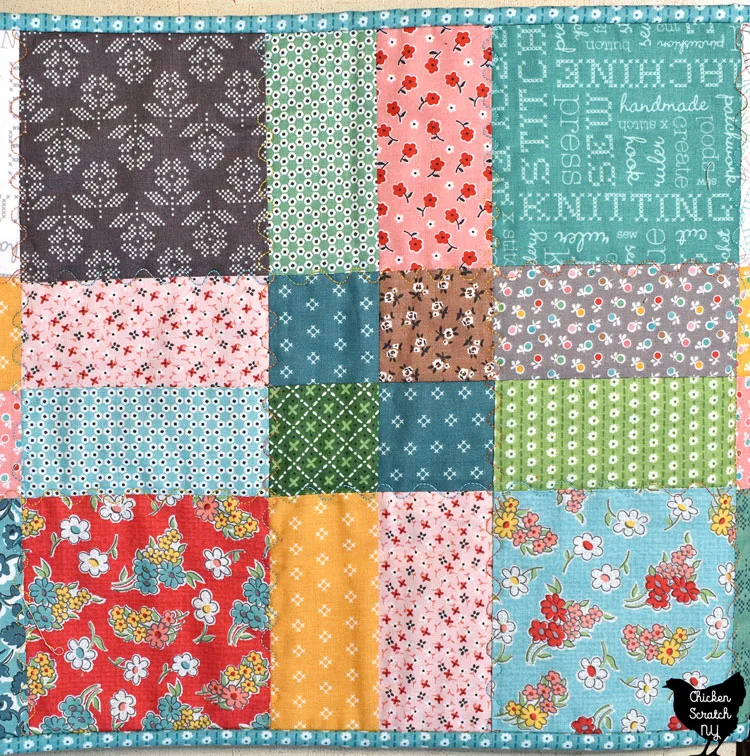 I have another free pattern for a Disappearing Nine Patch Table Runner that uses a charm pack to make 3 super scrappy blocks that look a lot harder to make than they are.
Mini Charm Pack
If charm packs are the little sister to the layer cake then mini charms are the pet guinea pig. Mini Charm packs are tiny, measuring in at 2.5 inches square.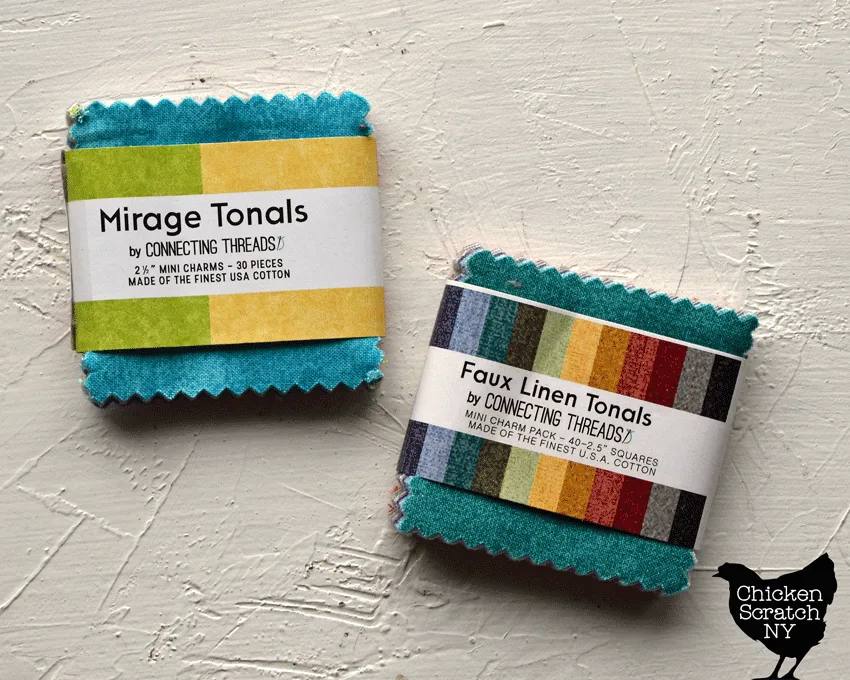 That means you can get 4 out of a charm pack and 16 mini charm packs out of a layer cake.
Mini Charm Packs are the cheapest of the precuts, they're usually around $5. They are also less common than both layer cakes and charm packs and you won't find quite as many options.
You're looking at about a quarter yard of fabric from a Mini Charm Pack, meaning you're really paying a premium at $20/yard. All of the precuts are more expensive than just getting yardage but that's the most extreme.
Unless you really like making tiny quilts, pillows & mug rugs, or you want to use them for quick snowballing, they probably aren't for you.
However, they are really cute, and at $5 they aren't the worse impulse buy in the world.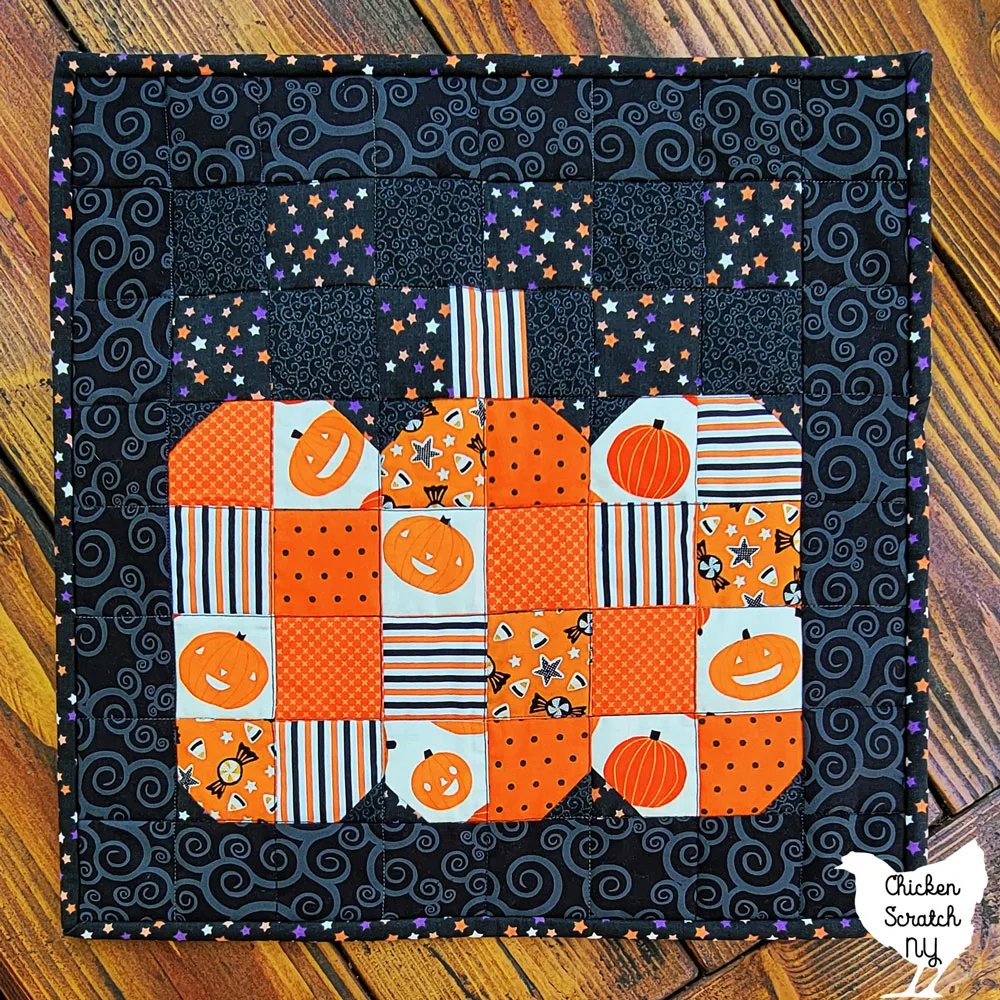 If you do find yourself in the possession of a Mini Charm pack and you don't have any idea what to do with it, check out this adorable On Point Pillow or my free Great Pumpkin Mini Quilt that's made with 2.5″ squares (I told you I really like pumpkins!).
---
Jelly Roll
Getting away from squares we have the strips. Jelly Rolls are 2.5″ strips and just like Layer Cakes, they go by many different names like Double Scoops and Rollie Pollies.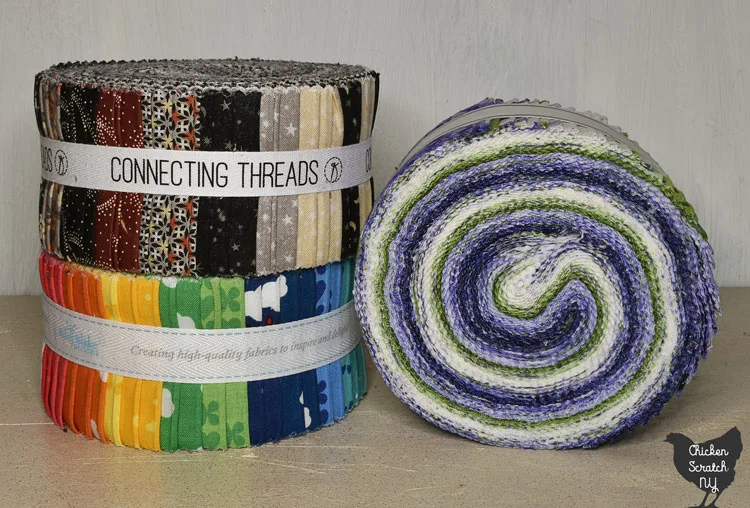 I'm a big jelly roll fan, I've made lots of quilts from them and I've even designed a few quilt patterns with them like Jelly Waves, Woven, Howden and Rainy's Rail Fence which is a slightly fancier version of the traditional Rail Fence quilt with the addition of 3 large stars.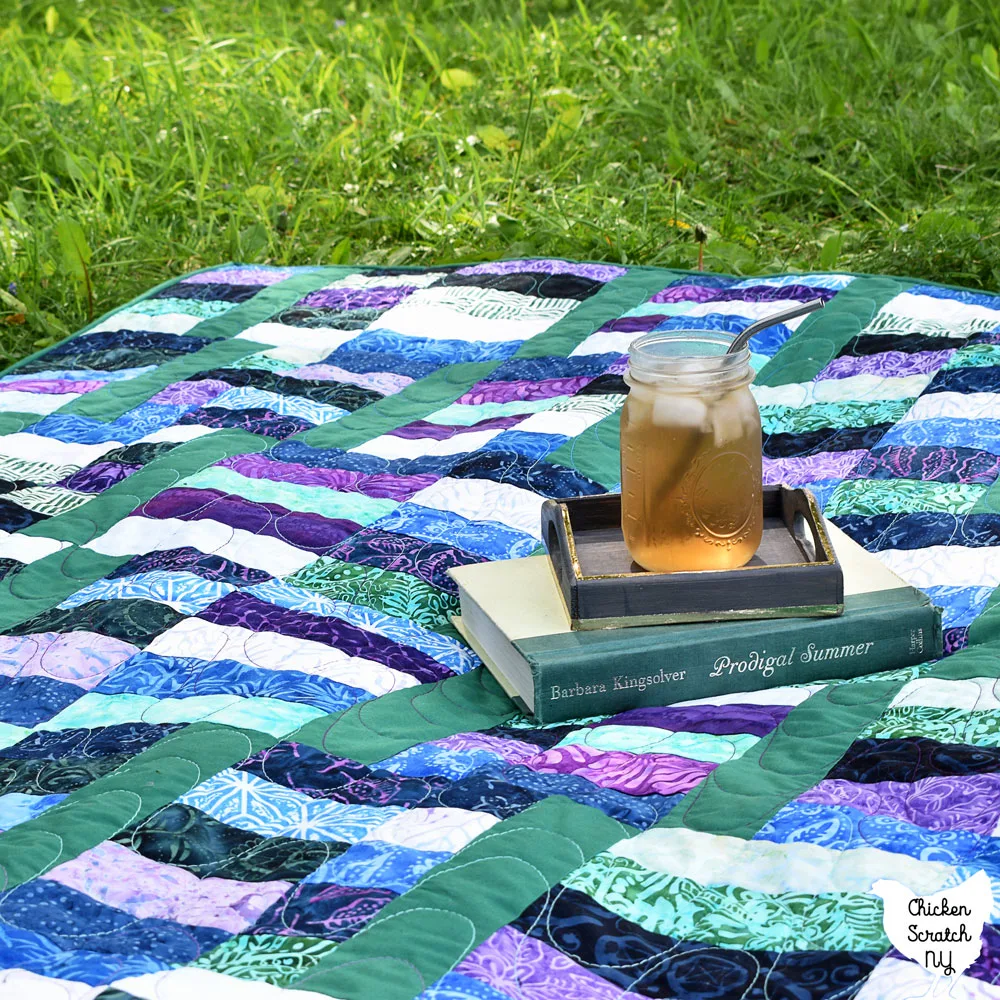 Jelly Rolls usually have 40 width of fabric (cut selvage to selvage) strips cut at 2.5″ wide. That gives you about 2 3/4 yards of fabric in a roll.
Jelly Rolls can run from $30-$45 making your fabric about $11-16 per yard. It's a bit higher than regular yardage but not crazy and if you can get a jelly roll on sale (or clearance) you can even save quite a bit of money.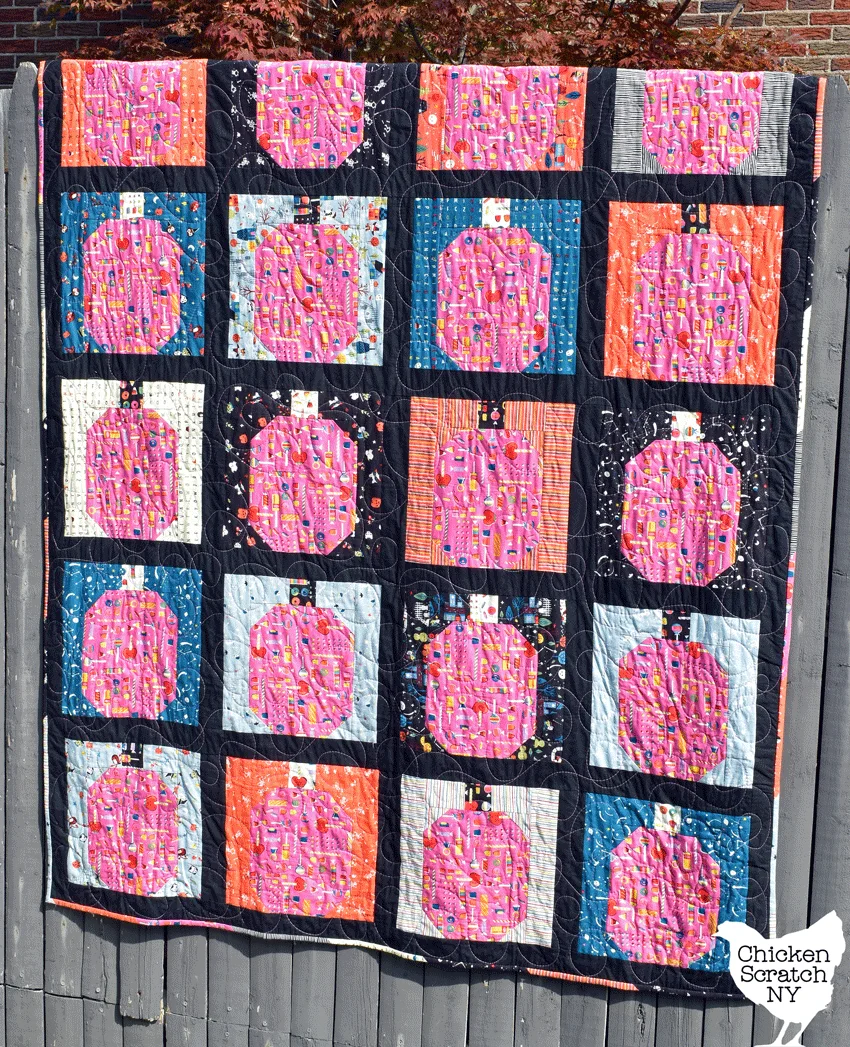 One of my favorite ways to use up leftover or extra jelly roll strips is to turn them into a scrappy binding. The throw size of my Howden Quilt pattern only uses 20 jelly roll strips and I used some of the leftovers to add an extra fun binding.
Turn leftover Jelly Roll Strips into a fun Scrappy Quilt Binding
Jelly Rolls are great for shortcut quilts, every year Moda has a 'National Sew a Jelly Roll Day' on social media where people turn a roll of 2.5″ strips into a quilt top in a day. My Jelly Waves pattern was actually written for Jelly Roll Day and I made the original blue & yellow quilt in a day.
If you ever ask for a Jelly Roll quilt recommendation in a quilting group you'll hear a chorus of 'Jelly Roll Race!!!!" and I'm here to warn you about it.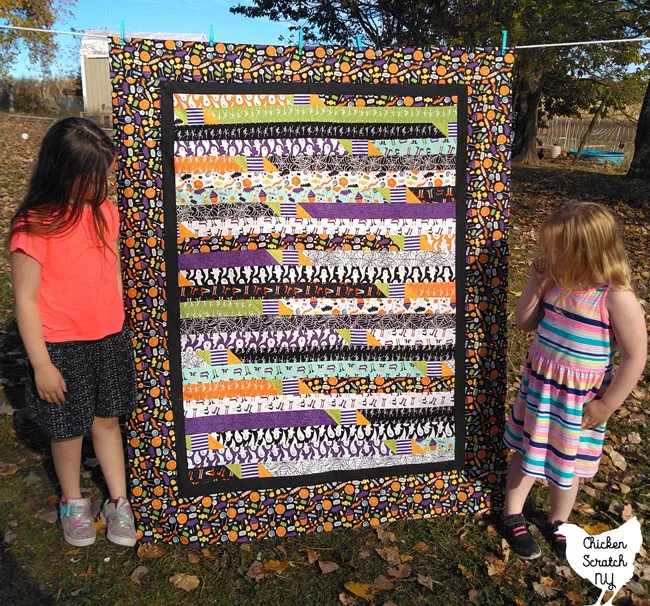 The first throw quilt I ever made was a Jelly Roll Race. I messed it up so badly that I had to cut it into two quilts!
When I was sewing the fabric started to hang off the table and it stretched out of shape creating a giant hump in the middle and a quilt that wouldn't lay flat for all the money in the world.
If you make a Jelly Roll Race be smarter than me and watch your fabric like a hawk! Keep it on the table and watch out for any stretching or bowing.
Other popular Jelly Roll patterns include the traditional log cabin and rail fence, both blocks can be easily made from precut 2.5″ pieces of fabric.
Read more about Jelly Rolls & Jelly Roll Quilts
Honey Buns
Sticking with the family analogy, Honey Buns are the little sister of the Jelly Roll. Instead of the strips being 2.5″ wide they are only 1.5″.
A full honey bun, 40 – 1.5″ strips, is roughly equivalent to 1 2/3 yards of fabric. A honeybun costs about $28-32 dollars working out to be about $16-19 per yard.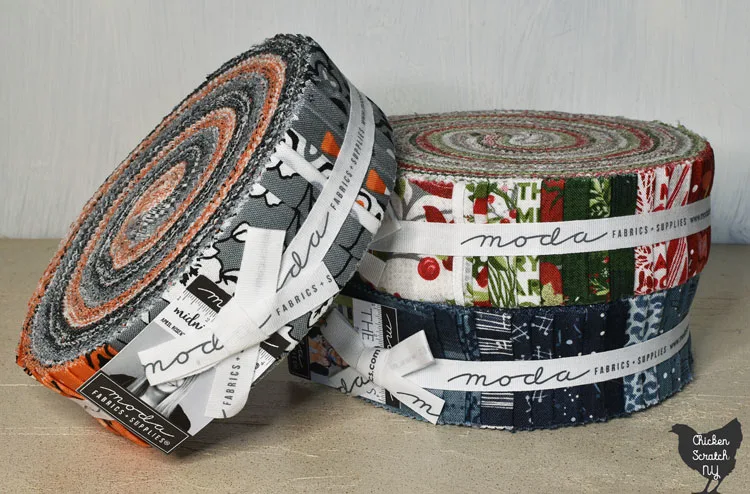 When you take out the seam allowance you're looking at a 1″ finished strip. They are not as easy to find as Jelly Rolls, not all shops carry them and they aren't available in as many lines.
The narrow strip width can be tricky to work with, any time you're working with narrow pieces of fabric it's really easy to get things pulled out of shape.
The narrow strips work really well for foundation paper-pieced log cabin blocks. Having the extra support from the paper helps keep the strips from getting pulled off grain and out of shape.
---
Do you sew with precuts? I'd love to know what your favorite precut is and how you use them!
---
Check out my Quilting page for more info or start here: