Charm Pack Cripsies is a Short Cut Quilt from Fat Quarter Shop that uses charm packs and some clever cutting to make a quick quilt.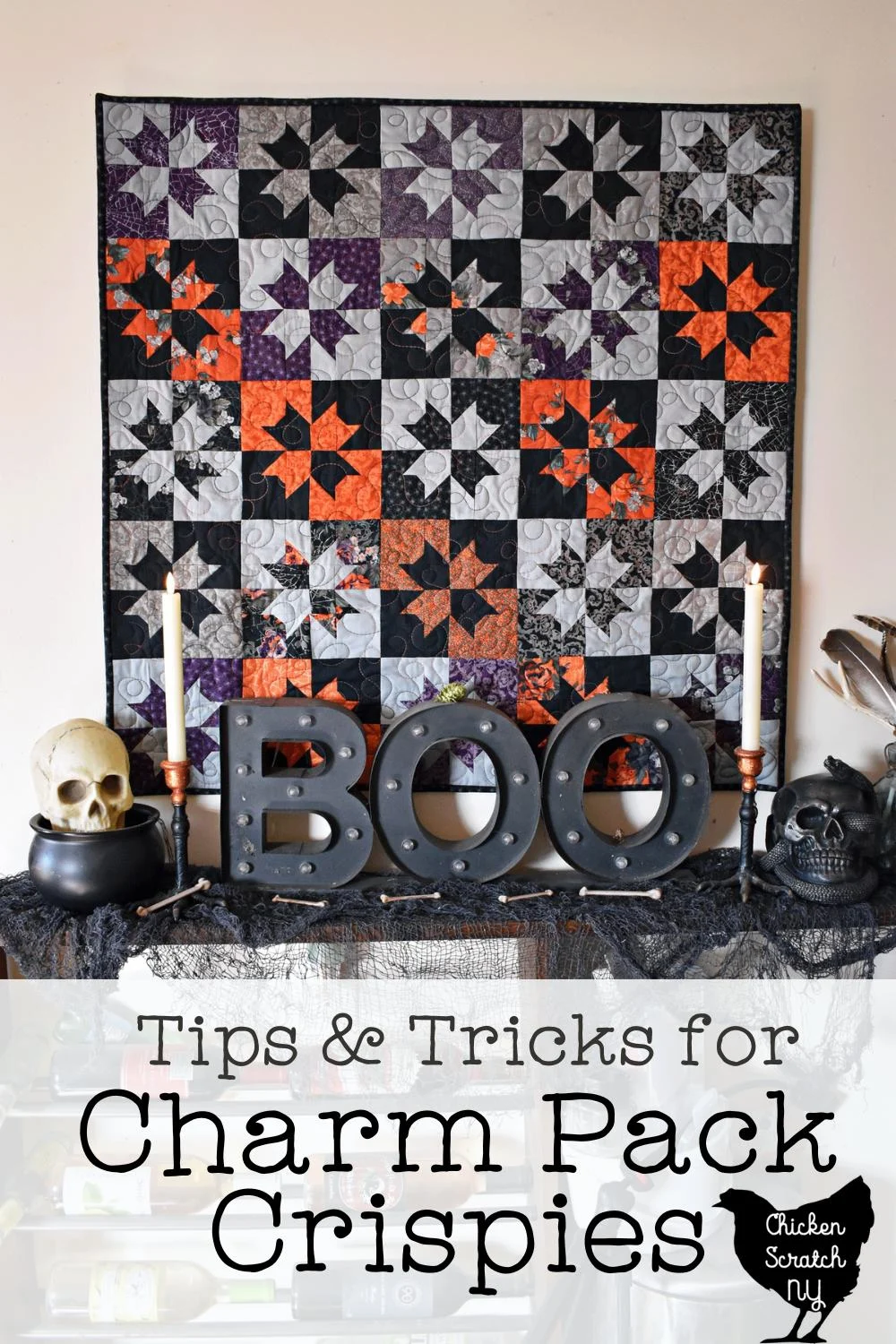 I was really excited to have the chance to work with Fat Quarter Shop for this sew-along and I was provided with the fabric in return for my participation. I am also an affiliate of theirs so I will make a small commission from anything you purchase through my links.
If you want to make your own Charm Pack Crispies quilt you can get the Free Pattern in their shop. There is also a quilt kit available using Buttercup & Slate from Corey Yoder
If you've been around here for more than 15 seconds I'm sure you can guess that I went in a slightly different direction with my quilt. I decided to use the line Web of Roses from Maywood Studios.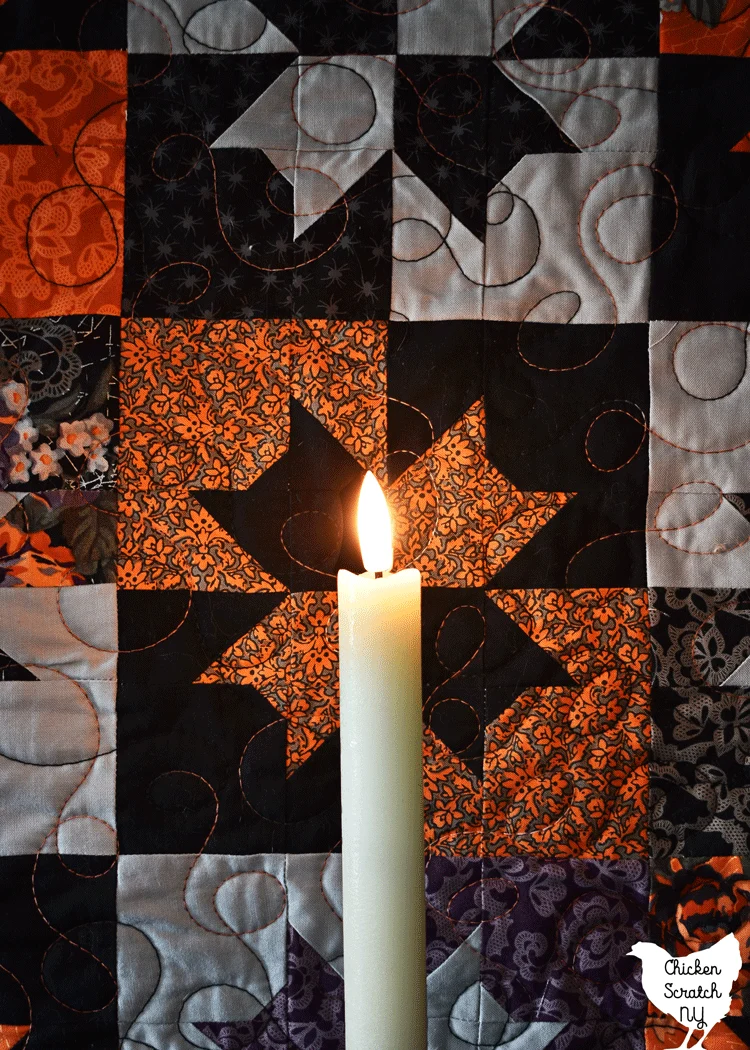 Web of Roses is a subtle spooky Halloween fabric line featuring lace, spiders, imperfect spider webs, and roses in two shades of orange, purple, grey, and black with hints of metallic silver. For me it was a no-brainer, I love a good subtle nod to Halloween (after all I'm the woman who made a beautiful wreath with white flowers and then dripped fake blood out of them).
Of course, picking different fabrics wasn't the only way I changed up the pattern. The original pattern called for a single background color but I ended up using two different ones.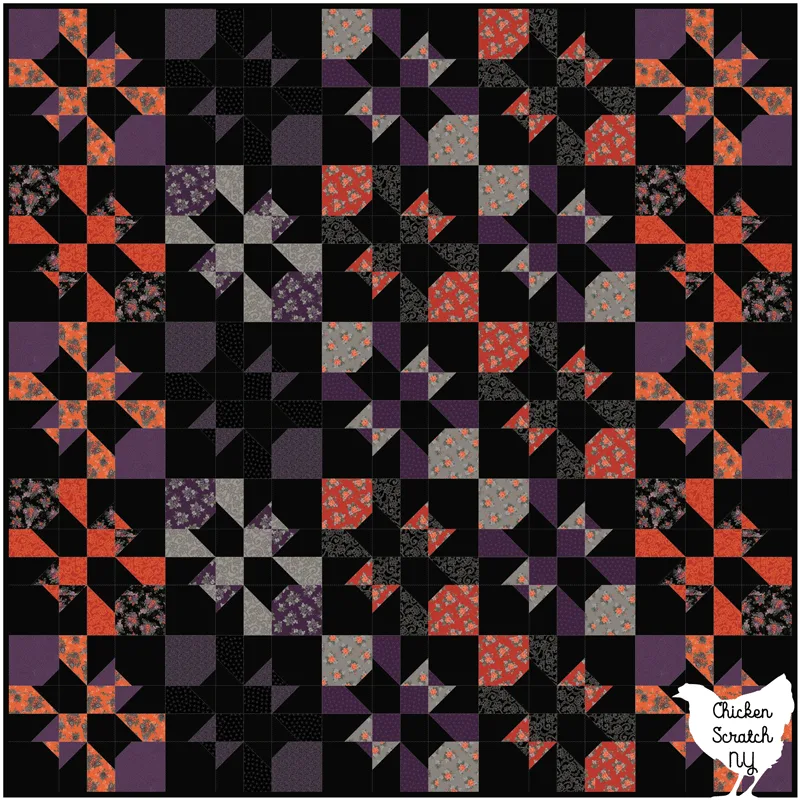 It was both a design choice and it was necessary from a practical standpoint. The main colors in Web of Roses are black, grey, orange, and purple.
If I used all black for the background I'd lose the contrast in the black prints and the same for the grey print with a grey background. Trying to get another color to coordinate with the orange and purple seemed too risky and white quilts have no place in my home.
The pattern calls for two background charm packs anyway so I split it and bought one Black Moda Bella Solids charm pack and one Steel Moda Bella Solids Steel charm pack.
I divided my Web of Roses charm packs into two piles, one with the black and purple prints, and one with the grey and orange prints. I paired up the purple and black with the grey solid and the grey and orange with the black solid.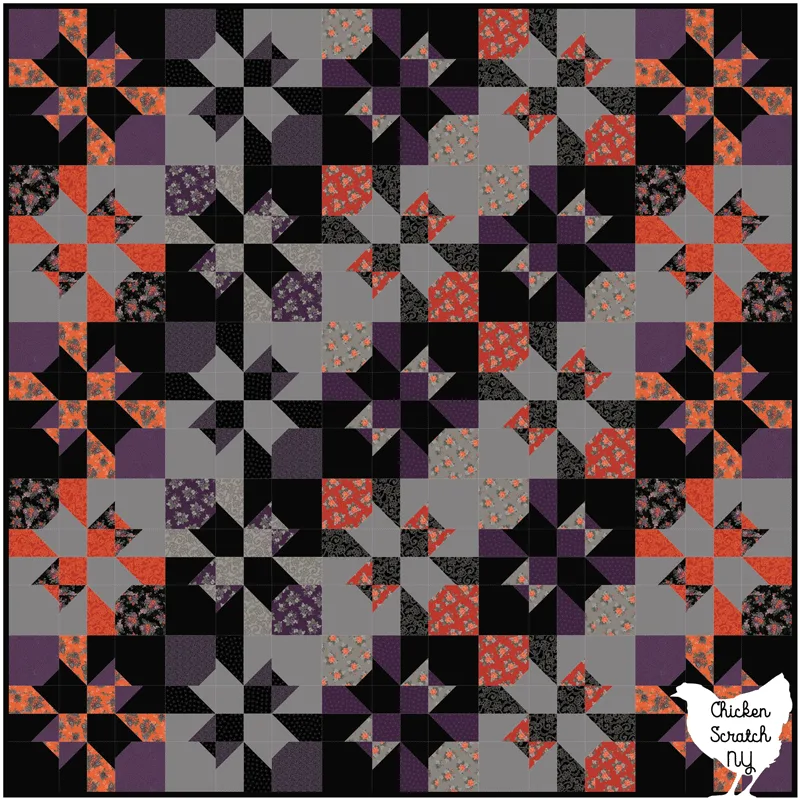 The other big change I made was keeping the print fabric the same in each block. The original pattern is scrappier with two different fabrics per block and, with a single background color, I really like it that way.
But after mocking up both options in Electric Quilt 8 I decided it was just too busy and I liked the simple version more.
There were a lot of repeats in my charm packs (you'll need 2 matching charm squares to make one block) so I didn't run into any issues, and even if you don't have a bunch of repeats you're using 2 charm packs so you should be good anyway.
On top of my over-the-top fabric changes, I did make two more subtle changes. The original Charm Pack Crispies pattern is 6 blocks by 6 blocks but I ended up making mine 5 x 5 so it would fit on my kitchen wall.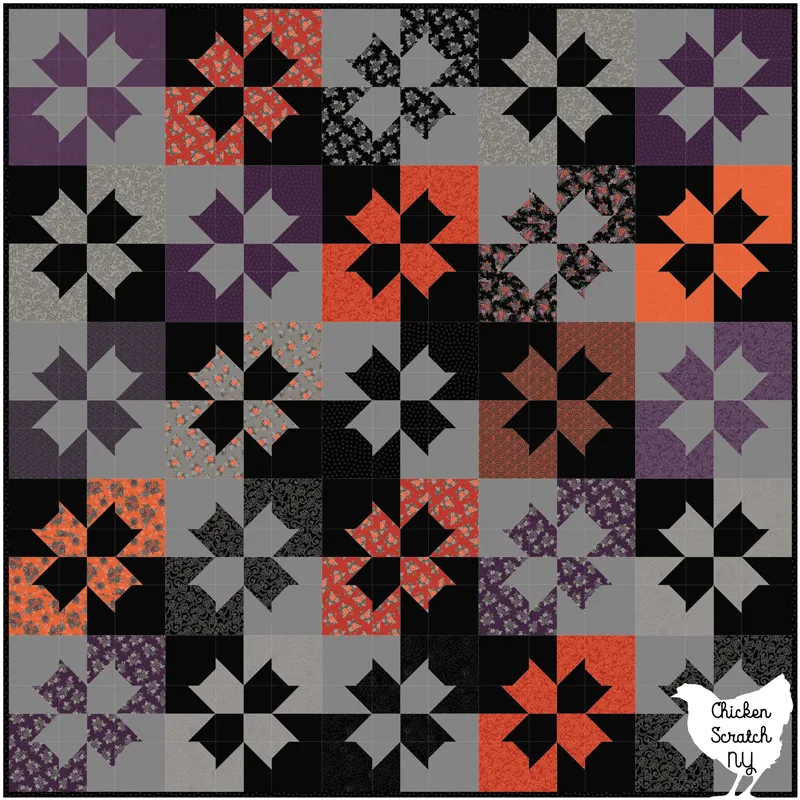 I think it's really important to make your quilts work for you and changing the number of blocks is a simple way to make things fit.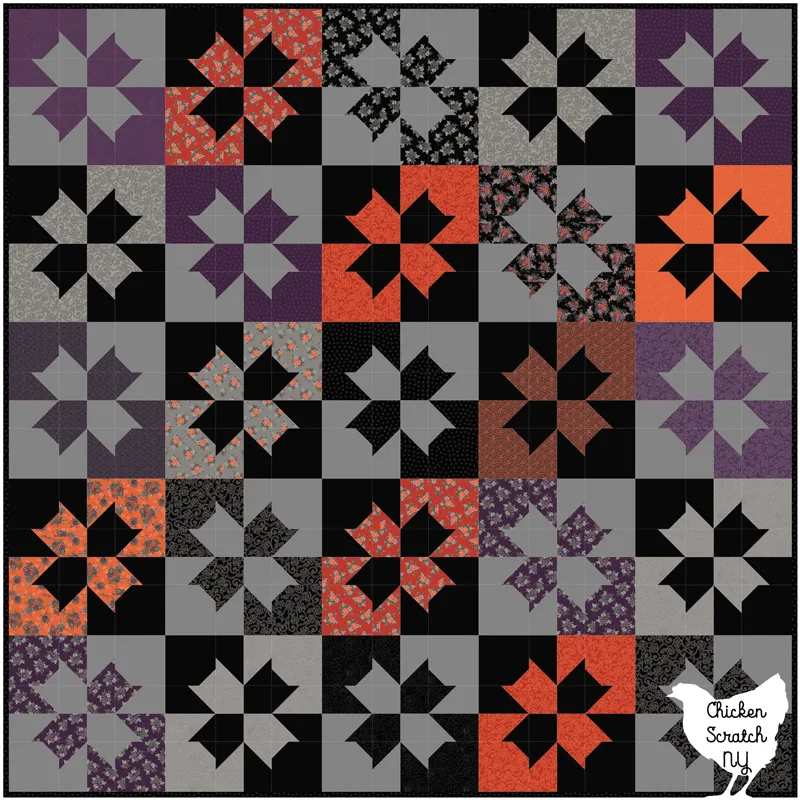 The final change I made was the orientation of my blocks. I wanted the solids to touch solids and the prints to touch prints, so I rotated the blocks before sewing them together.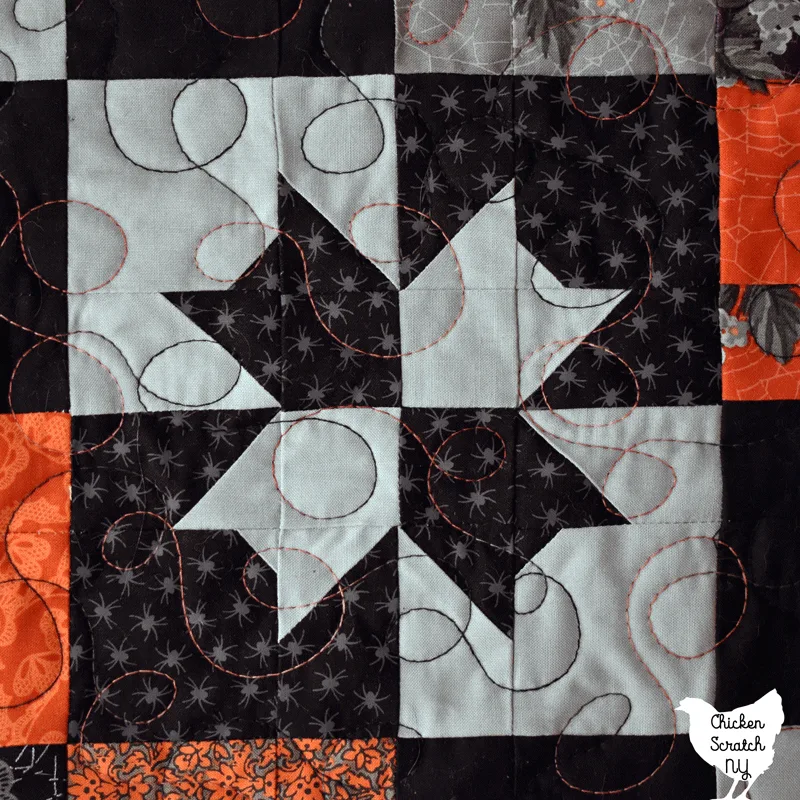 For the quilting I used Cold Lava thread from Valdani, it's a variegated cotton thread that shifts between black, gray, and orange. The simple loopy meander was a quick way to finish the quilt that let the pattern, fabrics, and thread all work together to create something amazing.
---
If you just can't get enough half-square triangle action be sure to check out:
---
Charm Pack Crispies Sewing Tips
There is a lot of repetition with the quilt, all of the blocks are made the same so over time you'll get a routine down. I always recommend making a sample block first, just to test things out.
My first block was a bit sloppy, I really struggle with matching corners when I press my seams open so I eventually abandoned that all together and started pressing to the background.
It did make things a little harder when it came time to sew my blocks together but sometimes you gotta make that trade-off.
One tool that I found incredibly helpful for this project was a rotating mat. When you're making your original blocks 'disappear' it's really nice to be able to make one cut, spin the block, make the next cuts, etc until all the cuts are made you never have to pick up or move the block itself.
I also used a lot of pins, not to line up my seams but just to keep the pieces together. If I can't chain piece something I'm going to procrastinate for at least 5 months before I get to it.
Pinning my block pieces together meant I could just grab from my pre-lined-up pile and sew without paying too much attention until I ran out, then could take them all to the ironing board all at once.
One more great thing about these blocks is all the empty space around the star. That means you have quite a bit of room around the star to trim without getting anywhere near the points.
If you are struggling to keep your blocks square there is absolutely no shame in just cutting them down. I do it all the time, in the end, I'd rather have a slightly smaller quilt than a pile of blocks hidden in shame.
I hope you enjoyed my version of the Charm Pack Crispies Quilt! Make sure you head over to Fat Quarter Shop to get the free pattern
---
Check out my Quilting page for more info or start here: