I wanted my Halloween wreath this year to be subtle and spooky. Something that didn't scream but merely whispered "I'll kill you in your sleep" I think I nailed it with this Bleeding Flower Wreath.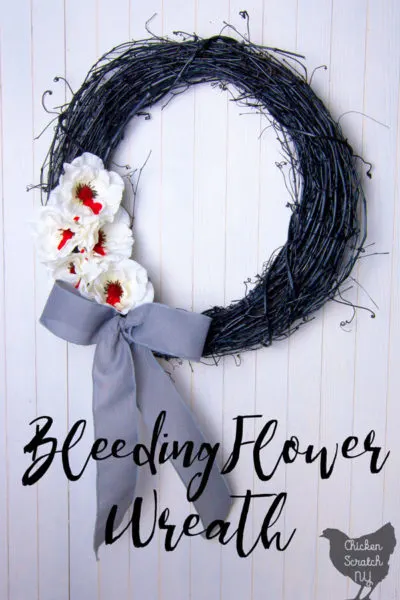 After I finished the wreath I sent a picture to my sister, her response was "ohh that's pretty!" So I told her to look closer. Then.. she saw the blood.
Much like my eye shadow this wreath looks nice from afar but when you get closer you realize something isn't quite right.
The inspiration came from a very old post of mine on Bloody Flowers. I thought that idea was cool and I wanted to do more with it.
All of the craft supplies were picked up at Michael's, the syringe I used came with infant Tylenol. There's a whole drawer devoted to them in my bathroom at this point.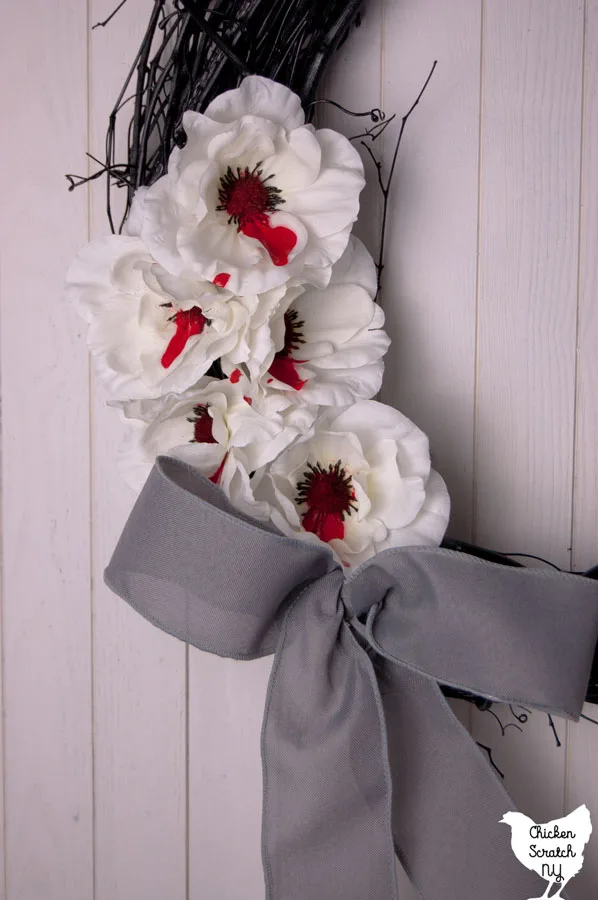 Grab any ribbon you life, make sure it's wired for the best bow results. I'm hanging my wreath outside and un-wired ribbon gets very floppy with the wind and rain.
Bleeding Flower Wreath Supplies:
White Flowers
Medicine Syringe (optional)
Wired Grey Ribbon
Instructions:
1. Spray paint the wreath with the glossy black paint. You need to go at it from a variety of angles so do a few light coats and don't sweat it if you miss a few spots.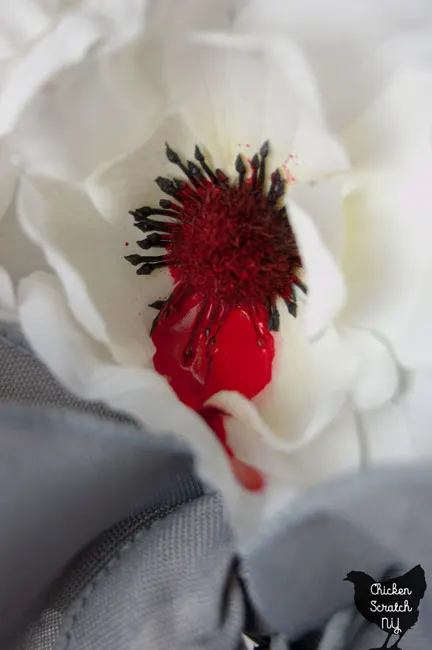 2. Pull the flowers off the branches they come on and toss the leaves & stems. Paint the center of the flowers red. I found a stabbing motion helps if your flowers are fuzzy like mine.
3. Suck up some paint in the syringe, and carefully squirt it right below the center of the flower. Hold the flower so gravity pulls the paint down into a drip pattern.
If your paint is stubborn you can give it a shake to get it moving. Set the flowers on a plate to dry over night.
4. Cut a long piece of ribbon, I never measure I just scrunch it up and hold it to the wreath until I'm happy with what I see. Cut a six inch section and tie it into a knot.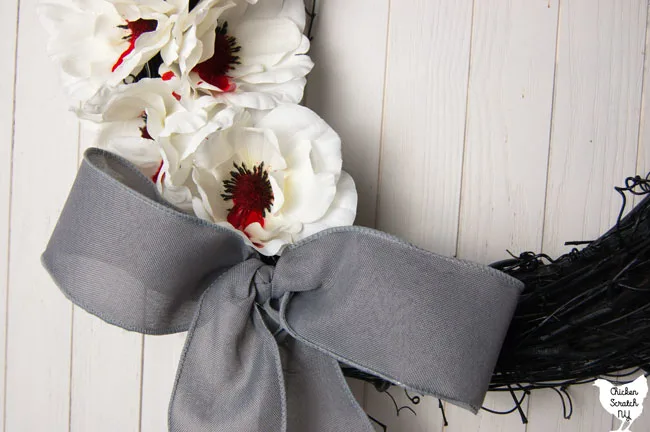 Fold the longer ribbon into a bow and then tie the shorter piece over the center. It makes the middle of the bow look a little nice, and really, we're going for classy here 😉
5. Hot glue to bow to the bottom left of the wreath.
6. Glue the flowers on so the blood drips are pointing down.
Hang your subtly spooky Bleeding Flower Wreath on the door and wait for some one to notice.
Don't forget to PIN this to your Halloween Board!
Check out my Halloween Page for more ideas or start here: