Quilting is a great way to work out nervous energy and make something beautiful and practical. If you're anything like me, the only thing stopping you being being a quilter is you.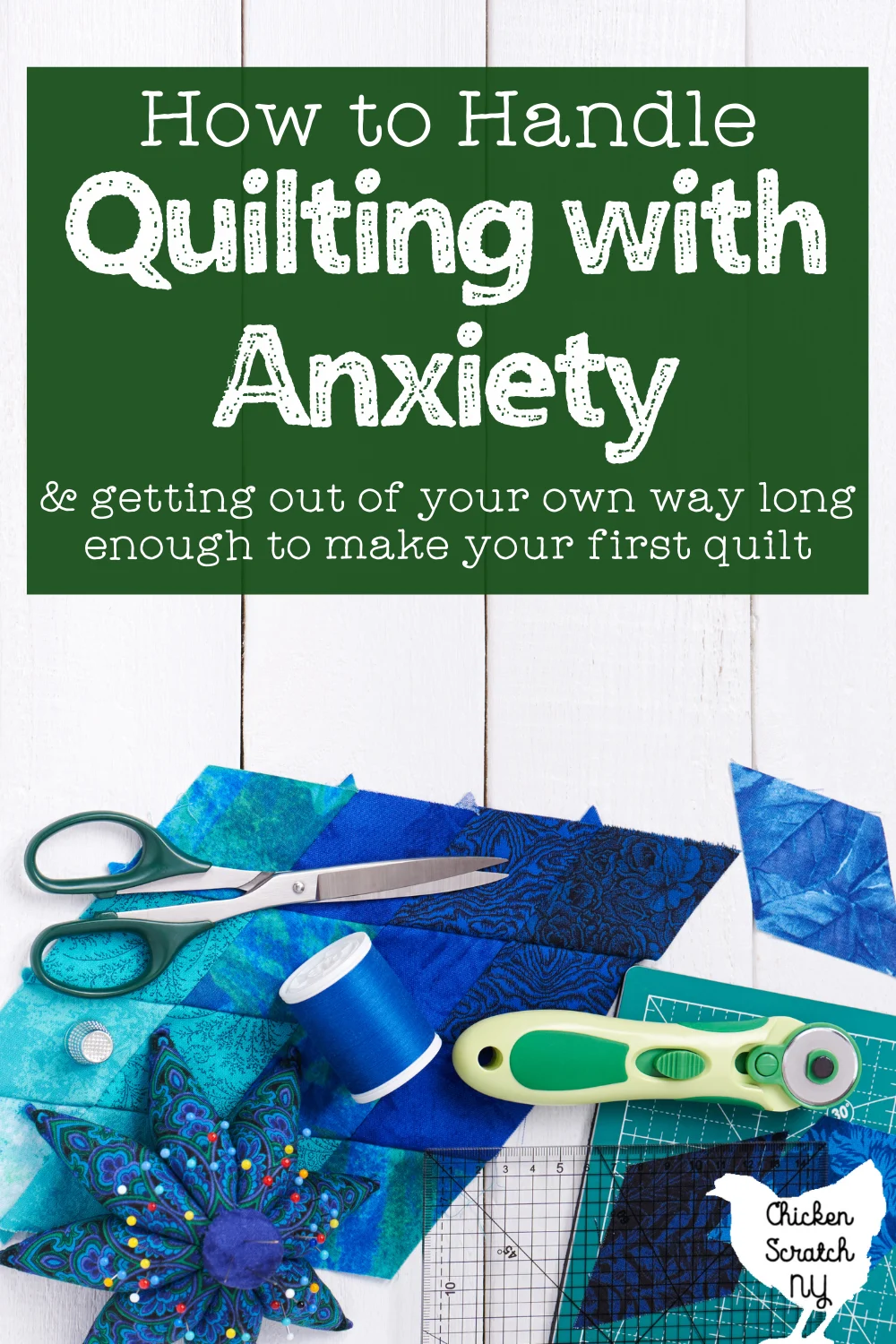 This is not intended to be mental health or medical advice. I have struggled with anxiety and depression my entire life, I've been in therapy and on medication, this is just a look at how I handle my brain.
My goal is to share my own experiences and hopefully help someone currently standing in their own way.
I've been sewing for over a decade but I had a serious mental block against quilting that I didn't get over until a global shutdown kept me in the house for a year.
I have always loved the idea of quilting, I love quilts, I'm lucky enough to have an aunt who is an amazing quilter and I have quite a few from her. But actually making a quilt? It always seemed impossible.
It really comes down to this: I've always had a problem doing something unless I already know I can do it. This character flaw has never served me well in life.
My craft room is lined with quilting magazines and quilting books picked up at garage sales and used book stores over the last 10 years and I still didn't make my first quilt until 2020.
Not to mention, I've literally been sewing since I was 12. I've made really ornate dance costumes that took 10x as much work as a quilt, every pair of curtains I've ever hung and so many Halloween costumes. I just had a mental block the size of Texas about quilting.
It took 2020 to finally get me to make my first quilt and if anything I'm sad for all the time I've wasted (and all the cool fabric I've missed out on!).
Getting Started
While you could take the route I did, collect quilting books & patterns for 10+ years, paint quilt blocks on plywood & sheet metal, and stalk online fabric stores buying fabric until you think your dog is going to change the wifi password unless you actually use it for something. I'd recommend a more direct path to making your own quilts.
We kicked off quarantine in the end of a New York winter and my kids and I spent a shameful amount of time watching YouTube. It started out with soap making tutorials and eased into my watching hours and hours of quilting.
Watch Quilters on YouTube
If I had to name the one thing that really pushed me to get out of my own way more than anything else was watching people make quilts.
More importantly, watching people make imperfect quilts.
There are four channels that really helped me get over my perfection issues. They're all incredible quilters who make gorgeous quilts and really push the idea that nothing has to be perfect.
Jordan Fabrics
One of the first people that really sold me on the idea that I could make a whole quilt on my own was Donna Jordan from Jordan Fabrics. I've also bought a lot of fabric from them and they have amazing customer service.
There is an entire section of free patterns on the Jordan Fabrics website and most, if not all, have video tutorials that go along with them.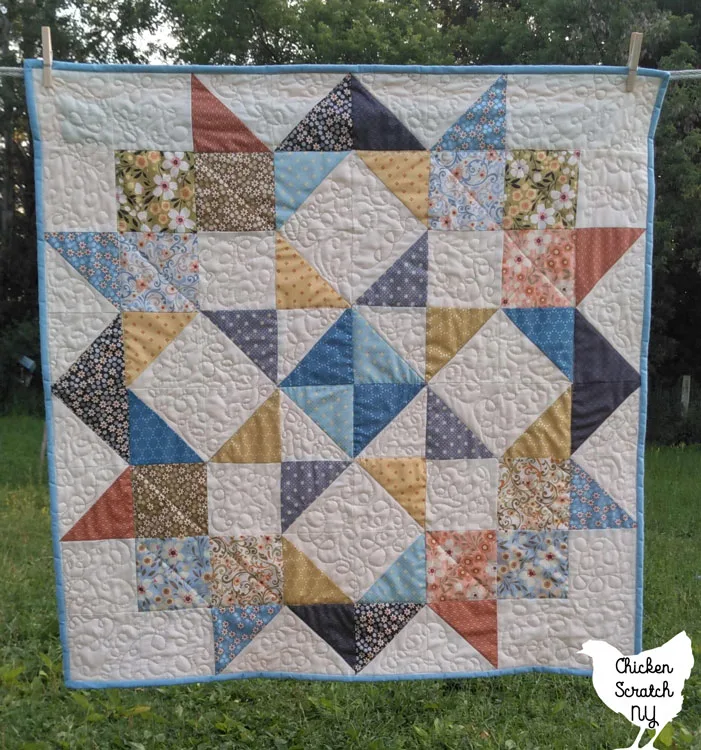 The first quilt I ever made from start to finish is the Moda Love Wall Hanging. It's hanging in my kitchen and it is terrible. Maybe 1/4 of my points match, it's supper wavy and pretty unevenly quilted.
I kept it to remember where I started, every quilt I've made since then has gotten better.
Also to remind me that I'm my own worst critic. It's the first thing you see when you walk into my house and no one has ever said anything negative, even when I point out all the flaws.
They also have a really good video on How to Tie a Quilt. We'll get to this in a minute but finishing a quilt is often the hardest part.
Missouri Star Quilt Company
Missouri Star is a powerhouse in the quilting world, along with the YouTube channel they have a magazine, a huge online store and basically a town of fabric shops.
Their patterns really focus on quick and simple construction methods and they use a lot of precuts. Cutting is my least favorite part of quilting and I've never met a Jelly Roll I didn't love (more about precuts in a bit!).
My favorite videos are all from the Triple Play series, where they highlight one block, tool, or theme in 3 different ways.
They also have The Final Stitch which covers what to do when your quilt top is finished. When I told my aunt I'd started making quilts the first thing she said was "you're going to end up with so many unfinished tops!" and she was right. At the moment I have 5ish completed tops just waiting for me.
Angela Walters
So what do you do with all of those finished quilt tops (aka unfinished quilt)? You quilt them of course, which is much easier said than done.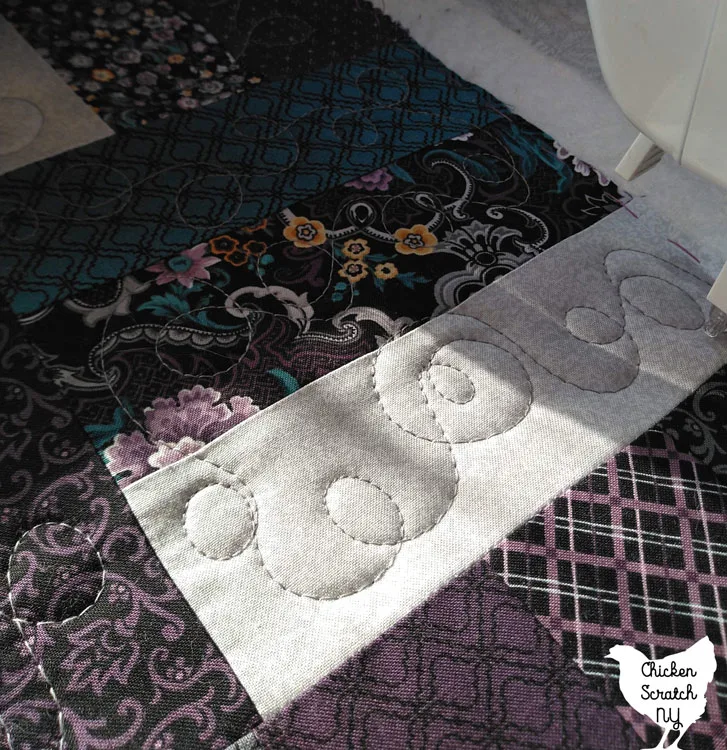 Unlike the other people on this list, Angela Walters' is largely focused on the actual quilting. She is an expert machine quilter and she teaches free motion quilting with and without rulers.
If you're new to quilting you're probably confused right now. A quilt is comprised of three layers, the quilt top which is usually (but not always) pieced, an inner batting layer, and the backing.

The actual quilting is the stitches that sew those layers together. After you finish the top you make a sandwich of the three layers, quilt it and then add binging to cover the raw edges.
Her channel does have quilting patterns but the real value is in the quilting videos. She also has regular live chats about different quilting topics like thread and batting along with Free Motion Quilt-a-long challenges.
I really love her personality, she is super positive without being annoying which can be hard to balance! If you plan to finish up your quilts instead of sending them out to a long armer you really should check out her videos.
Just Get It Done Quilts
The final channel, Just Get It Done Quilts has a little bit of everything, one big difference from all the others I've mentioned is she's not selling anything.
Karen has really unique videos on quilting techniques, color theory, scrap busting, and quick, quilt in a day patterns.
Some of my favorite videos are on Making Flying Geese Blocks (something I avoided for 6 quilts) and this one on 10 Fast and Easy Quilting Designs for finishing quilts.
Join a Quilt-a-long
I started quilting while the world was shut down and as a result, I've never been to a quilting class, not that I would go anyway (social anxiety amirite?). Instead of a class, I joined in on two online quilt-a-longs.
I started the 2020-2021 Meadow Mist "Moorewood Mystery Quilt". It's a year-long project, every month you get another step and by the end of the year, you have a completed quilt.
3 Reasons to Join a Mystery Quilt Along
Even though it's a mystery quilt you can sign up for a sneak peak so you'll know what kind of quilt you'll be making before you get started. I went with the mystery option and went into it completely blind.

Looking back, I don't know if I would have done the quilt along if I had seen the design in the beginning so I'm happy I kept it a mystery.
The real benefit to this project wasn't the resulting quilt, it was the community aspect. There is a free Facebook group for the participants in the QAL.
In the group, the quilt designer shared video tips for every step of the project and answered questions. On top of that, anyone who had a question or just wanted to show off their blocks was able to add to the conversation.
Any problem you can imagine was brought up in a helpful community and everyone was willing to help. There was a great mix of beginners and advanced quilters who have years of sewing under their belts.
I also did another, much shorter mystery quilt hosted by The Fat Quarter Shop. The Jelly Snowflake Mystery Quilt was a month-long project with a different block posted every week along with a video tutorial.
That project lacked the community aspect of the Morewood Mystery but it was easier to keep up, when I put something away for a month I'm just as likely to lose it in my craft room as I am to finish it.
Both of those quilt-a-longs were free which is always nice! And they both had printable PDF instructions along with video tutorials which made them very beginner-friendly.
Making a Quilt
Now that you're inspired and amped up it's time to get behind your sewing machine and make a quilt.
Start a Project
I'll admit to making silly tutorials (the first project to ever go viral on this site was literally a tin can painted white) but this might actually be the most obvious piece of advice I've ever given.
The best way to get over your quilting anxiety is to make a quilt.
Pick an easy pattern, I recommend a basic rail fence pattern using a jelly roll, and start sewing.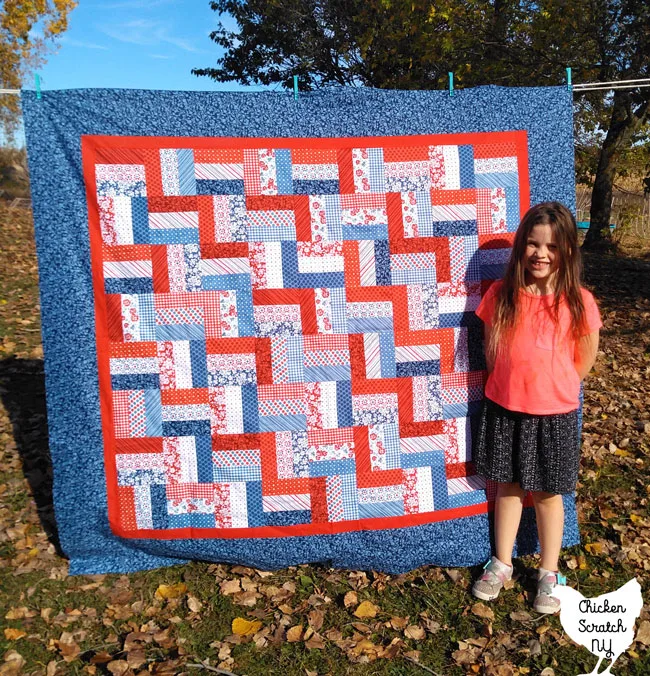 One thing about quilting is you end up doing things over and over. We all know you get better the more you do something so by the time you finish this quilt you'll be much better at 1/4 inch seams than you were in the beginning.
I already showed you the first quilt I ever finished, but this baby is the first quilt top I ever made. After sitting in a box for over a year I finally got it quilted in time for the 4th of July fireworks (literally finished the binding while kids swam in the pool on July 4th).
It's a simple 3-color rail fence, every block is made from red, white and blue jelly roll strips. I added a few borders to make it a perfect picnic blanket.
In my opinion Rail Fence blocks are very beginner friendly, if you start with a Jelly Roll you don't even have to cut anything! They work up really quickly so you get that mental reward of finishing a project fast.
The blocks are also really forgiving even if your seams aren't perfectly straight or even. The ironing and seam pressing on these blocks don't really matter because there are no matching seams!
After you've got your first project under your belt keep building your skills by picking a pattern that focuses on something new, like half-square triangles or flying geese.
At that point the sky is the limit because you've already done it, so you know that you can do it and you might as well do it. Yes, that sentence is a mess but you either get where I'm coming from or you're a very lucky person.
Buy Extra Fabric
One of the hardest parts of making a quilt for me is actually cutting into the fabric. With the exception of picking up some binding, backing or solids at Joann's, I buy almost all of my fabric online.
If you've been sewing for more than 3 months or so, you know that fabric lines don't stick around for very long and it's not always easy to get more of something.
I tend to buy a ton of fabric at one time, usually when there is a sale or when I can get free shipping. That means by the time I get around to starting a project I can't always get more of anything if I mess up.
The best remedy I have for this is to buy about 1/4 to 1/2 yard more than I think I'll need. Right now most online places have a 1-yard minimum anyway so you might be getting extra fabric no matter what.
You will end up having left over fabric most of the time but it keeps the pressure off when I'm cutting. And when the tension is lower I'm a lot more likely to start a project.
Use Precuts
Another way to do away with the fabric cutting anxiety is to work with precuts. Whether you're using charm packs (5-inch squares), layer cakes (10-inch squares), jelly rolls (2.5-inch strips) or honey buns (1.5-inch strips) most or all of the initial cutting is already done for you.
Read more about Jelly Rolls & Jelly Roll Quilts
Moving back to that Railfence quilt pattern, you can make the whole quilt without cutting anything. Piecing is a lot easier when your fabric pieces are cut correctly and accurately and you can't beat precuts for that!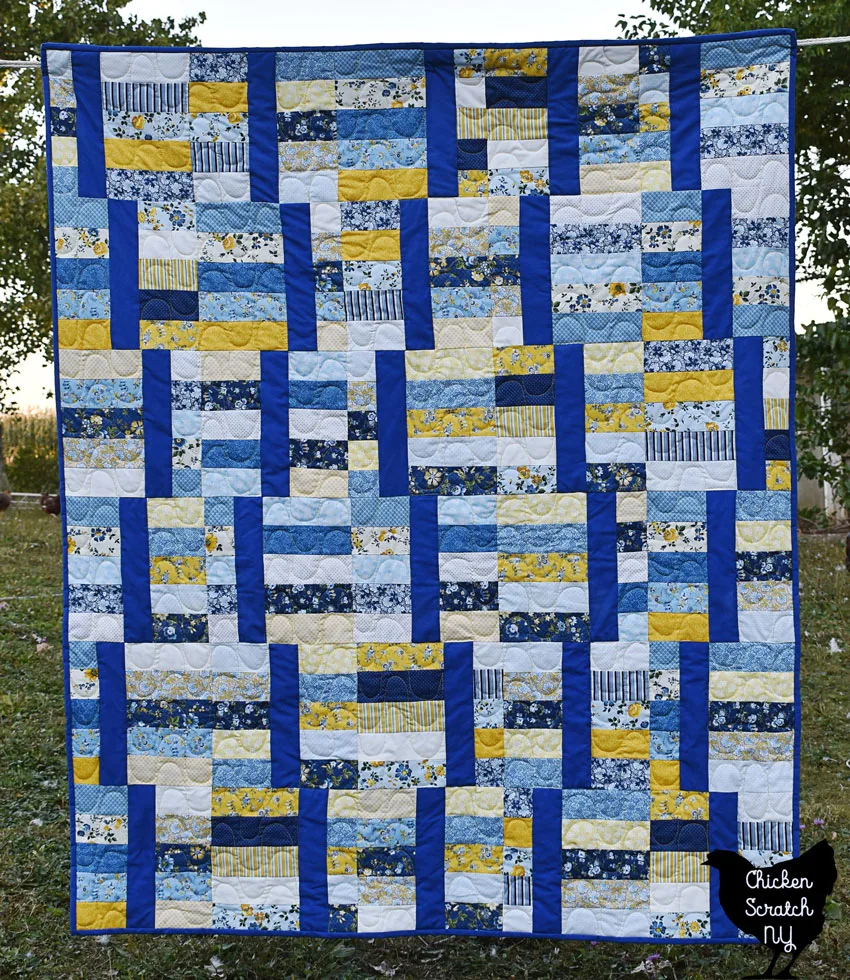 This quilt is made from one of my patterns, I called it Jelly Waves and it's made very similarly to a rail fence quilt with pieced strip units that are cut up into smaller blocks and then put back together.
It uses one jelly roll and a bit of a contrasting color for the waves. The entire quilt is made of 2 different blocks with a bit of rotation for variation. I was able to finish the entire thing in one day.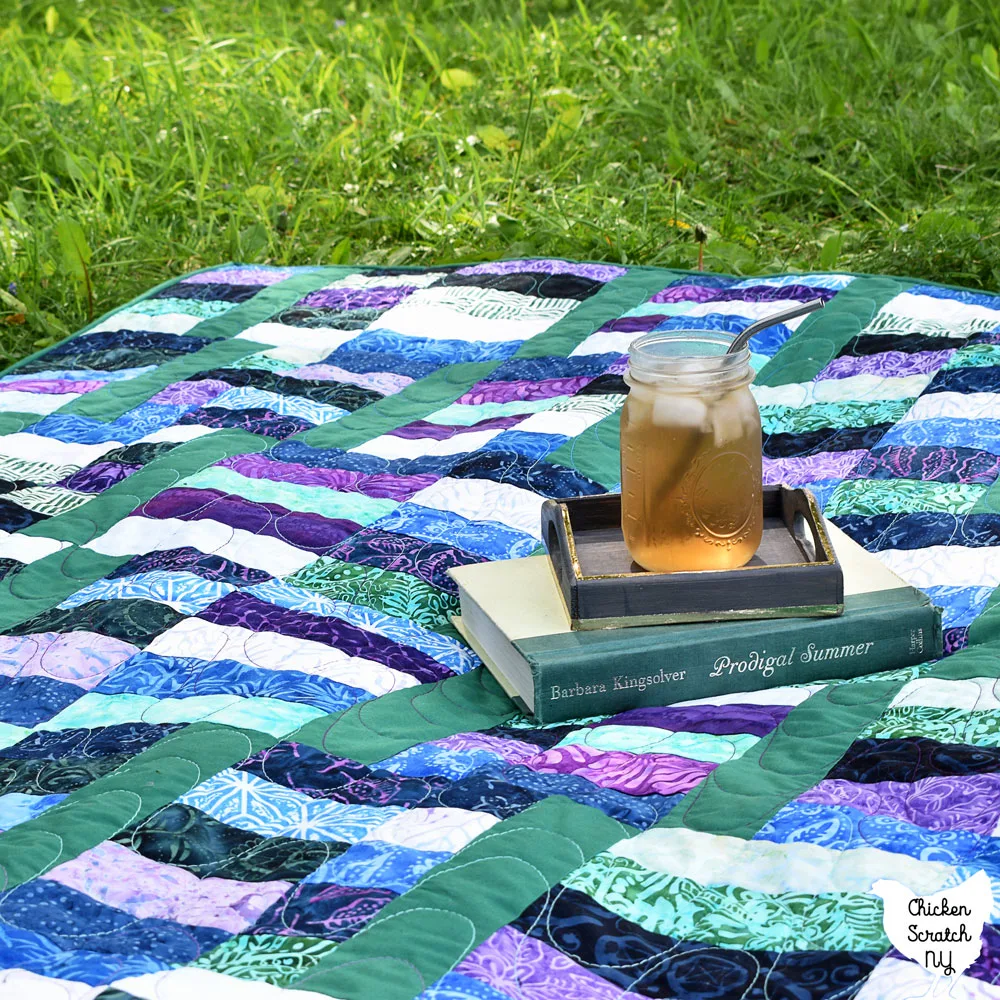 I love quilts that look harder than they are, I would never make a quilt like that if I had to sit and sew each individual rectangle together. I recently remade the pattern and I think I love it even more in the batik strips.
Work on More than One Project at a Time
I will admit that this seems counterproductive, if it's impossible to finish one quilt how will working on 2 or more at a time help you get anywhere?
The secret to this method is to have your projects staggered so you're at a different point in each of them. One quilt ready for cutting, maybe a pile of HST blocks that need to be squared up for a second project, a third ready for quilting and a final one that just needs binding.
That way if I want to do something mindless in front of the TV I can work on binding (I finish my bindings by hand), if I want to listen to a podcast I can stand at my cutting table and square up blocks, or I can sit at my machine and chain piece my stress away.
Give your Quilts Away
This final tip might seem strange, if your early quilts aren't perfect they should obviously be used in the dog crate or hidden away in the linen closet of shame right?
Wrong.
One thing I learned working in a sewing studio for 10 years is that you are often the only person that will see a mistake. When you're really into a project every missed point on a pinwheel or unevenly quilted border will stand out to you.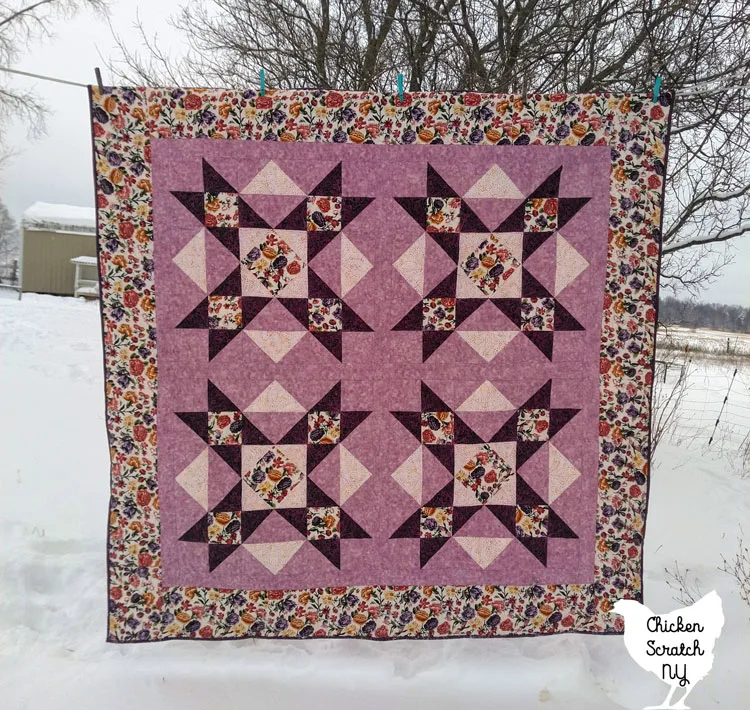 But, only to you. Quilts tend to have a lot going on all at once, between the piecing, the fabric colors & patterns and the quilting itself.
I made this quilt for my Grandma for Christmas. Up close she's pretty rough (the quilt, not my Grandma, she's awesome) but my Grandma loves it and when I showed my mom she said "Wow".
If you're curious, most of the flying geese blocks are missing their points, I completely forgot to add one border, one of the large center blocks is cut differently than the rest, and the quilting… oh the quilting….
It's really important to look at the big picture and not get lost in the details.
Unless you have a giant hole in it or it's on fire no one else is going to notice any beginner errors. So give those quilts away, they get to get loved and enjoyed, and you don't have to stare at all the issues that only you can see.
---
Check out my Quilting page for more info or start here: