Jelly roll quilts are a great way to jump into quilting. They are good for beginners because they come together quickly, your fabrics are pre-picked and most of the cutting is done for you.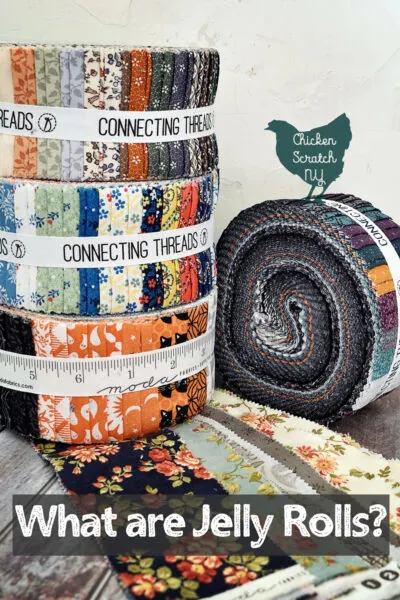 What is a Jelly Roll?
In the quilting world, a jelly roll is a set of pre-cut 2 1/2 inch strips of fabric cut from selvage to selvage. You can find 'junior' jelly rolls with ~20 strips but most jelly rolls are 40-42 strips.
Most jelly rolls include all of the fabrics from a single line, making them great for scrappy quilts. You can also find jelly rolls in single colors, usually in basic solids like white or black.
Not all 2 1/2 inch strip bundles are called jelly rolls Riley Blake calls their strip sets "Rolie Polies", Robert Kaufman uses the term "Roll Up" and Andover strips are called "Double Scoops".
Easy Jelly Roll Quilts
There are lots of options for easy jelly roll quilts, most rely on creating strip sets and cutting those down to smaller blocks.
One of the most common jelly roll quilts is the Rail Fence pattern. It can be made with any number of strips but the most common patterns use 3-4.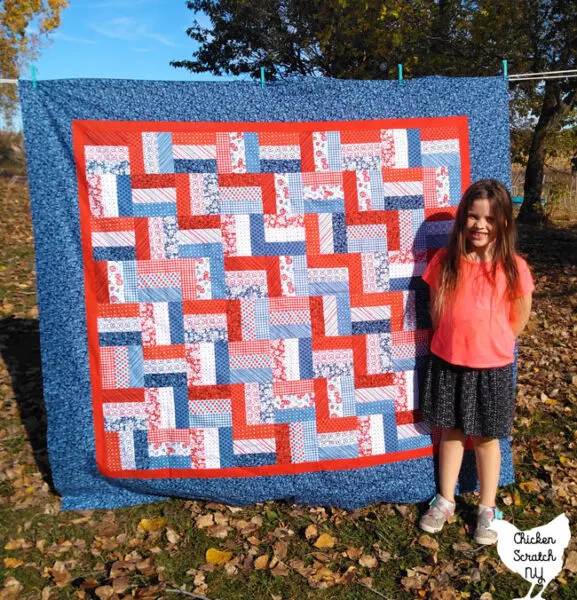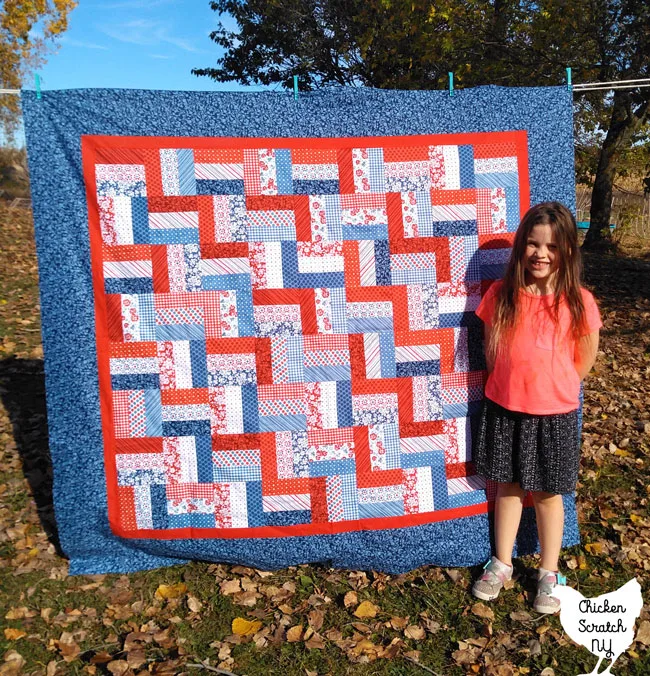 I made this Rail Fence quilt using the Summertime Jelly Roll from Wilmington Fabrics. I believe it's discontinued but you can get the same effect from any red, white, and blue collection.
All you need to do is make all of your strip sets with red and blue on the outside and white in the middle. Then you just need to pay attention to lining up red with red and blue with blue and you'll get two zig-zag lines running across your quilt.
This is one of the first quilts I made and I still haven't finished it. It's also the biggest quilt I've made and I'm not looking forward to getting it under the needle on my tiny home machine. I finally picked up a walking foot and I'm planning on lots of straight lines with this one!
This is a great example of how big a single jelly roll quilt can be, this will be our "picnic quilt" for our outdoor summer meals. I added a skinny solid red border and a wide border using one of the prints from the fabric line.
Watch How to Make a Rail Fence Quilt on Youtube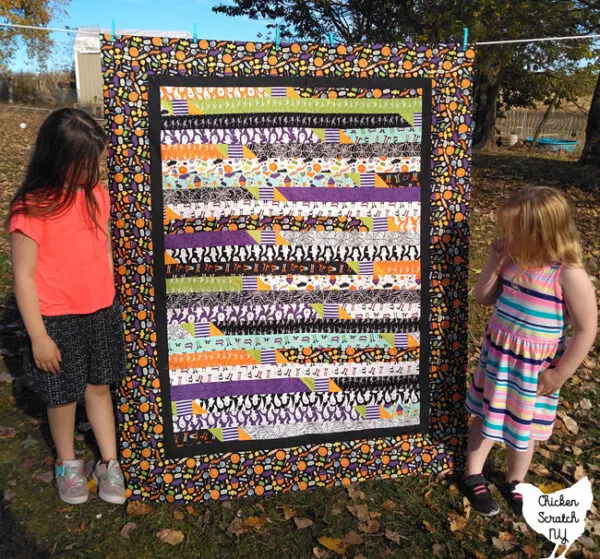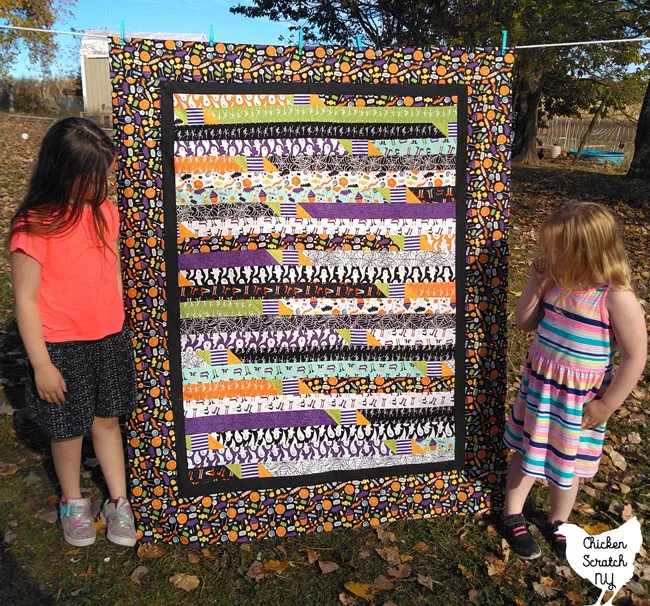 The other really popular jelly roll quilt pattern is the Jelly Roll Race. This was the first pattern I ever made that wasn't my own and I messed it up so badly that I ended up with two quilts.
It's not a hard pattern, I just wasn't paying attention and let my quilt fall off the table and stretch my strips all out of shape. It's ok in the end because now both of my girls have their own Halloween lap quilts perfect for watching Halloweentown 100 times.
Watch How to Make a Jelly Roll Race Quilt on Youtube
Both of these quilt patterns can be made really simply or spiced up a bit buy adding borders or extra pieces to the patchwork.
What's so Great about Jelly Rolls?
Obviously, I'm a fan and I'm going to tell you why. But before we jump in let me give you some background on myself, I'm super impatient, I get overwhelmed easily and I might be called a lazy craftsperson.
Fast Quilting
My favorite this about quilting with jelly rolls is that most of the cutting is done for you. All you need to do is open the roll, give it a quick press and you're good to go.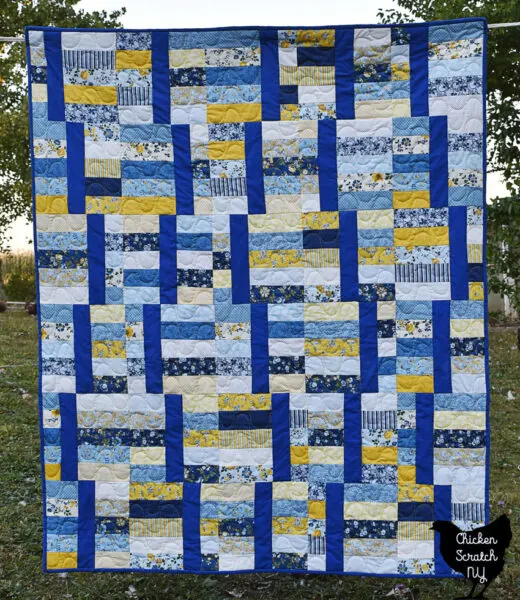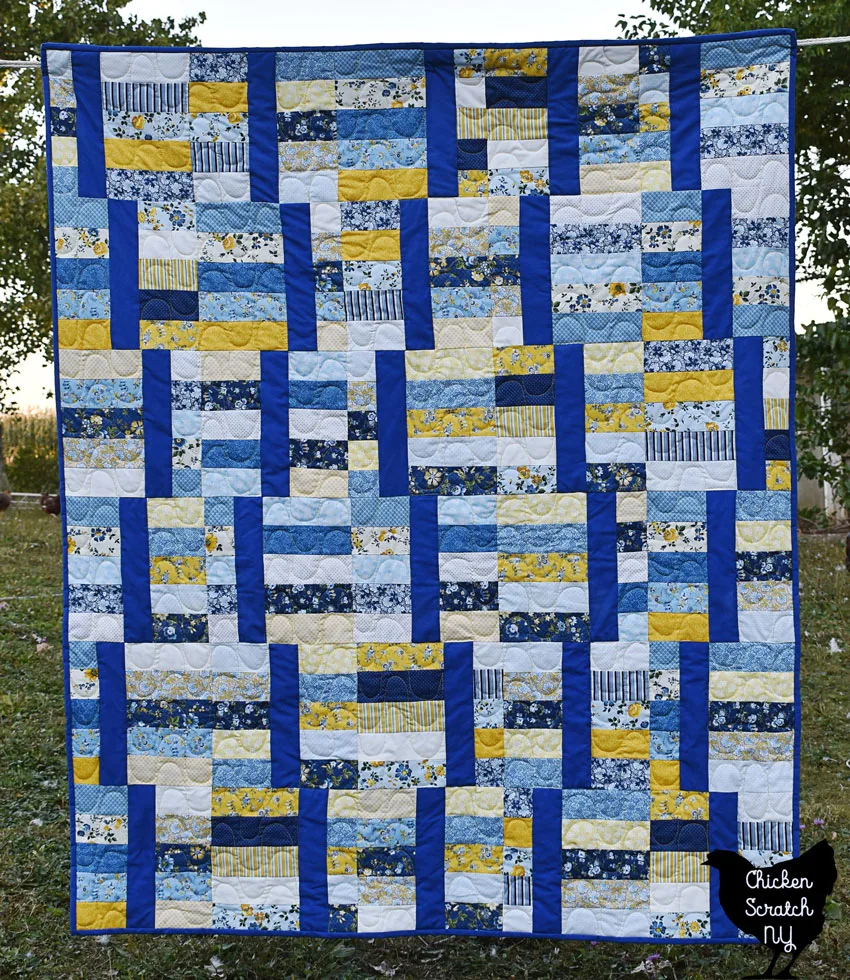 You throw together a few strip sets, cut them up and sew them back together and voila, a quilt! I finished this entire quilt front in one day.
The most time-consuming part of this quilt was the five roll strip sets, once they're done the quilt basically put itself together.
Easy to Store
Jelly rolls come wound up in a fancy little spiral. Which might make them too easy to buy.
Different brands sell them differently, you will see them rolled up or packed flat on a piece of carboard. I think the roll is more common but the flat pack is easier to store.
No matter how they're folded they'll be contained in some way, either with a rubber band, a ribbon or shrink-wrapped in plastic.
Color Coordinated
Most Jelly Rolls contain all of the fabrics from one line, making them perfectly color-coordinated.
If I'm buying a Jelly Roll with no definite plans in mind I like to pick up a few yards in one of the larger scale coordinating prints. I can either cut it down for borders or using it for backing the quilt.
The biggest problem with buying fabric online is color matching, if you want to give yourself a headache head to your favorite online quilt shop try to match reds.
If you buy a jelly roll you're safe in the assumption that everything is going to match.
Balanced Scale
One of the old school quilting rules I vaguely remember is that you should use a balanced mix of small, medium and large scale prints. Fabric designers are aware of that and when they put together a line they have a little bit of everything.
If I'm left to pick my own fabric that advice goes straight out the window. I will buy every single large scale print offered and maybe one or two of the mediums. I can't help it, it's just who I am.
But if I get Jelly Roll that's all taken care of, making them a great choice for beginner quilters and people like me with terrible impulse control.
Scrappy Quilts
This can go either way, I love a scrappy, rustic look but I've talked to people that hate using more than 5 fabrics in a quilt top. If you don't like the busy look you get from scrappy quilts with lots of different fabrics you won't like working with jelly rolls.
I love being able to make a quilt top with 15, 20, or more coordinating fabrics without having to buy a 1/4 yard (or a yard, most online fabric shops have upped their minimums lately) of everything.
Pre-cut Binding
One more great thing about jelly rolls is having a whole pile of pre-cut binding strips ready to go. If you have a few leftover strips from a quilt, you can sew them together for a scrappy binding.
Earlier this year the Fat Quarter Shop released a free Jelly Snowflake Quilt-Along that used up part of a jelly roll, leaving the rest of the strips for a pieced backing or binding.
Versatile
Jelly Rolls are good for more than just quick quilts. The two and a half inch strips come in handy for all sorts of projects.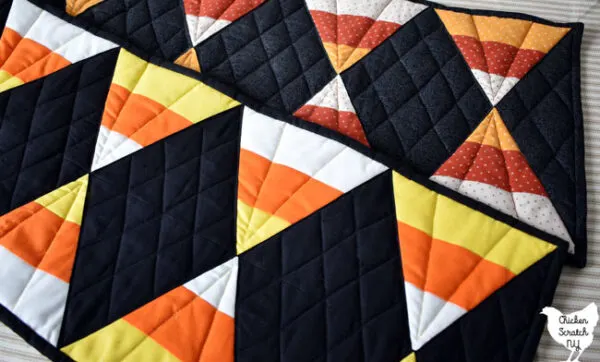 You can use them to make practically instant table runners and even fabric rugs!
Downsides to Jelly Rolls
There are a few negatives, which are really more neutral than truly bad. They don't stop me from working with jelly rolls but you might feel differently.
Higher Costs
Buying 2 1/2 inch precut strips is more expensive than buying yardage. A jelly roll is about 2 3/4 yards of fabric and most cost about $35-$42 making the fabric about $13/yard.
You can save some money by buying them on sale or catching them on clearance. I've also picked up a few from the Connecting Threads house lines for $29.
Connecting Threads fabric is high quality, right on par with the fabrics I've bought from Moda and other big brands.
Modern Vibes
Obviously there are exceptions but I can honestly say the majority of 2 1/2 inch strip quilt patterns have a very modern vibe. I think it comes from the ease of strip piecing and tendency of jelly roll quilts to lean toward quick projects.
I love looking at old school quilts with a billion pieces but when it comes down to making them? I'm all about getting the idea from my head into fabric without 6 months of tedious piecing.
That said jelly roll strips can be cut down to 2 1/2 inch squares and used for any traditional quilt block like itty-bitty half-square triangles, four patches or nine patches.
Large Prints get Lost
One undeniable truth about jelly rolls is they suck for large prints. You have no control over where the cut the fabric so sometimes things are a bit off.
Our Halloween Jelly Roll Race quilts are made from the Riley Black Hocus Pocus line. There is an awesome dancing skeleton print that's off-center just enough to frustrate me every time I look at it.
Really large scale prints, whether they're giant florals, animals or geometric are chopped up into randomly placed two and a half-inch strips.
That's one of the reasons I like to pick my favorite large print, like the spooky cupcake and centipede print in the Hocus Pocus line, and use it as a border. I get my easy sewing and my awesome giant prints all in one!
---
Have I sold you on Jelly Rolls? I hope you'll give them a shot, whether you're new to quilting or looking to get back into an old hobby!
Check out my Jelly Roll Projects: