Mystery Quilts or mystery quilt sew alongs are a fun way to make a new quilt but they can be intimidating. Today I'm going to tell you how to get the most out of your Mystery Quilt Along and 3 really important reasons you should give one a try.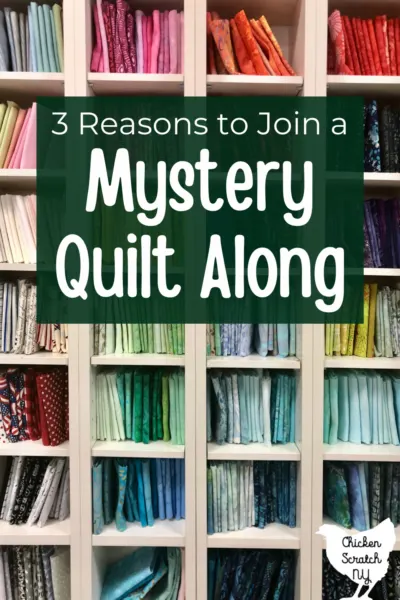 Mystery Quilts Alongs are usually released by designers or shops. In the beginning, you're given your fabric requirements, a time frame and that's about it.
Sometimes you'll know the final size of the quilt and sometimes you'll be given some advice on choosing fabrics. Usually, the advice is broad like don't use directional fabric for A or fabrics 1-6 should be low volume.
Mystery Quilt Alongs can run for a month or so, with clues being released weekly or longer for a year or more with clues being released monthly. Personally, I prefer the shorter projects, I tend to lose steam when I have to set something aside for 4 weeks.
I don't think I've ever seen a mystery quilt along that you had to pay for but that doesn't mean they aren't out there. I have seen it set up where the pattern is free during the sew along but once it's over you can only get the pattern if you pay for it.
A lot of the mystery sew along I've seen are still available for free months (or years) after being finished. But to be on the safe side I always recommend downloading or printing whatever information you need ASAP so you don't end up losing it forever.
3 Reasons You Should Join a Mystery Quilt
I think everyone should try out a mystery quilt at least once. If you hate it, you don't have to ever do it again but you might find out that you love it!
Mystery quilts are really fun if you don't get too caught in the end results and instead focus on the process. Which can be a really helpful skill for any creative activity.
Ho9nnestly I can't think of a single non-mystery quilt I've made that didn't make me pause at some point and ask myself "Is this… good? Should I even bother finishing this?"
The only possible downside is you don't like the quilt at the end, in that case, you can use it to practice free motion quilting or hand quilting without worrying about ruining something you love.
Mystery Quilt Alongs can Move you Out of your Comfort Zone
I'm a habitual person, I know the way I like to do things and I tend to stick to it (whatever it is). When it comes to quilting I know what I like and I know what I absolutely don't.
Every year I force myself to do at least one mystery quilt project to push me away from the way I like to do things. As a result, I end up experimenting with techniques I'd never willingly choose on my own.
I have an avoidant perfectionist personality, I hold my work to very high standards and I don't like doing things until I know I can do them. Sewing along with a mystery quilt makes me force myself to step out of my quilting safe zone.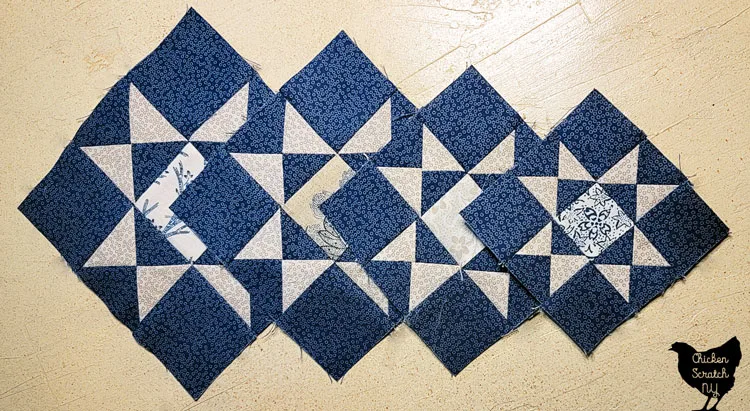 One thing I hate is sewing tiny things, it's fiddly and frustrating, and I just. don't. want. to. Then I started the Winter Walk in the Woods sew along from Fig Tree and on week 2 we had to make the tiniest quarter square triangles that were trimmed to 1.5″.
I really didn't want to work with anything that little but I had already bought the fabric and started cutting so I had to. And if you can believe it I survived.
In the end, I did adapt the directions to fit my preferences (I did the sew then cut method instead of working with tiny baby bias edges) and while I won't be adding 1.5″ quarter square triangles to any of my patterns any time soon I'm more confident in my quarter square triangle making abilities.
Sense of Community
When you find a mystery quilt along you'll probably also find a community to go along with it. Sometimes that community will be on Instagram and you'll be able to stalk other people's progress by following certain hashtags.
Other times you'll find them on Facebook in groups or on pages. As much as it hurts to admit, Facebook groups are the most helpful.
You'll find a whole crew of people in the same boat working your way through the steps clue by clue. If you're stuck on a step or feeling less than confident there is always someone willing to help (and probably more than one more person with the same question!).
It's also nice to be able to show off your work. I don't have a lot of quilty people in my day-to-day life and my poor fiance can only stare at so much fabric before his eyes glaze over.
Get New Ideas
I'm saving the best for last. The best part about doing a mystery sew long is seeing how other people adapt and change the project to suit themselves.
Quilters are like snowflakes and everyone has their own way to do things. Everyone's brain works differently and exposing yourself to other quilters will give you a better chance at finding what works for you.
I consider myself a very creative and well-educated crafter but every time I do a sew-along I learn something new. It's a great atmosphere for experimentation and experienced quilters are full of ideas.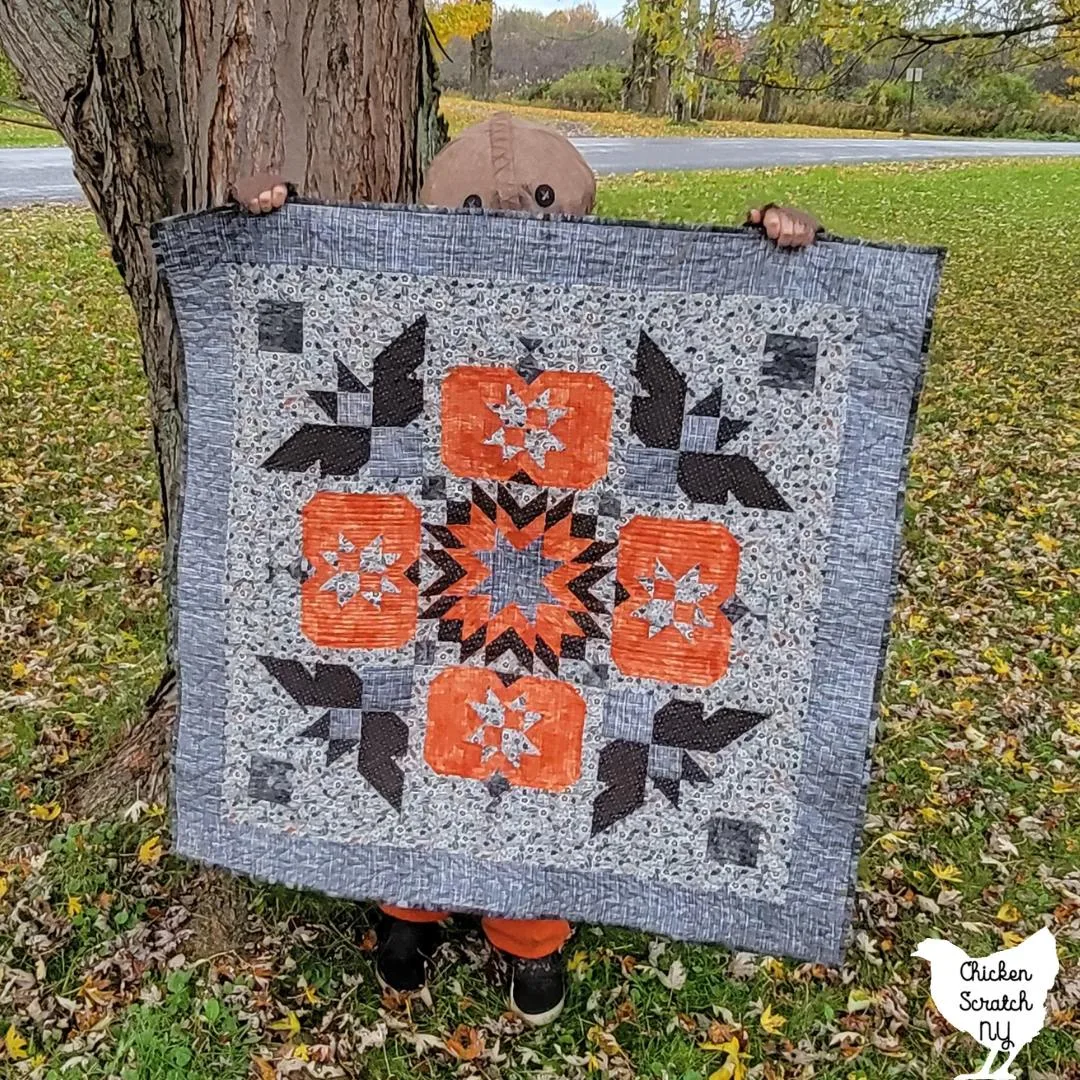 One of my favorite mystery quilt alongs was the free Bats and Boos Mystery Quilt Along from Fat Quarter Shop (it's no longer a mystery but it is still available for free). It was a small Halloween quilt with bats, pumpkins, and a very elaborate star that I would never have picked on my own.
If you check the #batsandboosqal on Instagram you can see hundreds of variations made by quilters all following the same pattern. People changed everything from fabrics to color placements to the size and number of the borders.
I ended up choosing a very busy print for my background (I hate using any amount of white!) and changing up the color placement on the center star.
There are even people that threw the setting out the window and turned to blocks into a table runner or part of a larger project. Personally, I find it very inspiring to see what can be done with one set of directions in the hands of many creative people.
3 Ways to Get the Most out of a Mystery Quilt Sew Along
I am a control freak when it comes to my quilting. Even my 'random' placements are engineered within an inch of their lives.
For this reason alone, mystery quilts are hard for me. But I'm a big believer in doing hard things and I think it's good to test yourself from time to time.
Trust the Process
The biggest thing you need to do to succeed with a mystery quilt is trust the process. You start with fabric and by the end, you will have a quilt top.
Think of it as taking a class in school. By the end, you will learn something (that something might be that you hate mystery quilts but you still learned something!)
You can even double up the learning potential and use the pieced top as a practice sandwich for free motion quilting or walking foot quilting.
Even if it doesn't end up being a work of art that you redesign your living room around it's still a warm blanket. If you really hate it you can donate it.
Start out with a Short-term Project
For your first mystery sew along I really, really recommend choosing something short-term. It's really easy to lose momentum if you're waiting a month between clues.
I really like the Fat Quarter Shop seasonal mystery quilts, they are usually 4-5 weeks long and each week includes a free PDF pattern and a video that demonstrates how to sew the blocks which makes them perfect for visual learners.
Here are a few older short term Mystery Quilts that might not be a mystery anymore but are still fun to sew along with:
Choose Fabric Wisely
My last tip is about choosing your fabric for a mystery quilt. I think it's really important to pick fabric that you like but not something irreplaceable.
Sewing with fabric you like is the best way to get you excited about sewing.
If you just grab a bunch of ugly (yes, we all have some ugly fabric) somewhat mismatched prints because you don't want to waste anything good, you aren't going to be motivated to work on the project. And it will just sit in a box ignored and neglected, just like it was before you assigned it to this project.
If you don't have anything in your stash I recommend heading to a local quilt shop or Joann's and buying some lower-priced fabric that you really like.
Sticking with a lower price point just makes everything seem less scary. It's also nice to know you can always pop back into the store if you accidentally mess up cutting and need to try again.
I made my Bats & Boos quilt from fabric I picked up at Joann's. First I found the background print and then I picked the rest to balance out the super busy print. It was much easier to do that walking around a store than looking online.
While I stand by my position that you need to like your fabric I think it's also important that you don't pick something you love too much.
If you decide to grab that stack of irreplaceable fabrics you bought 6 years ago for a quilt you have no control over, you're probably going to hesitate and second guess every step of the way. And that's just no fun.
So save the extra special stuff for something extra special and pick something you like but aren't emotionally invested in.
I'm a fabric lover from way back, long before I started quilting I was sewing costumes and clothing and I know what it's like to have fabric that's too good for your current skill level. Eventually, you need to use those fabrics but a mystery quilt probably isn't the right choice.
How to Find a Mystery Quilt Pattern
Now that I've got you convinced to join up and sew along with a mystery quilt it's only fair that I help you find one! I've had the best luck finding them through Instagram or in Facebook quilting groups.
Of course, those tips are only helpful if you're already on the quilting side of Instagram or in a good Facebook group.
Here are a few current mystery quilts that I'm aware of:
I will be doing the Halloween one in June and right now I'm doing Winter Walk in the Woods. If you're curious about how I'm doing I post all my updates on my CSNYsewing Instagram page.
---
Check out my Quilting page for more info or start here: