This fun table runner looks like a lot more work than it is! If you can sew a nine patch you can make these blocks. Starting with a charm pack or any precut 5" squares will make your project super quick but of course, you can cut your own squares from your stash.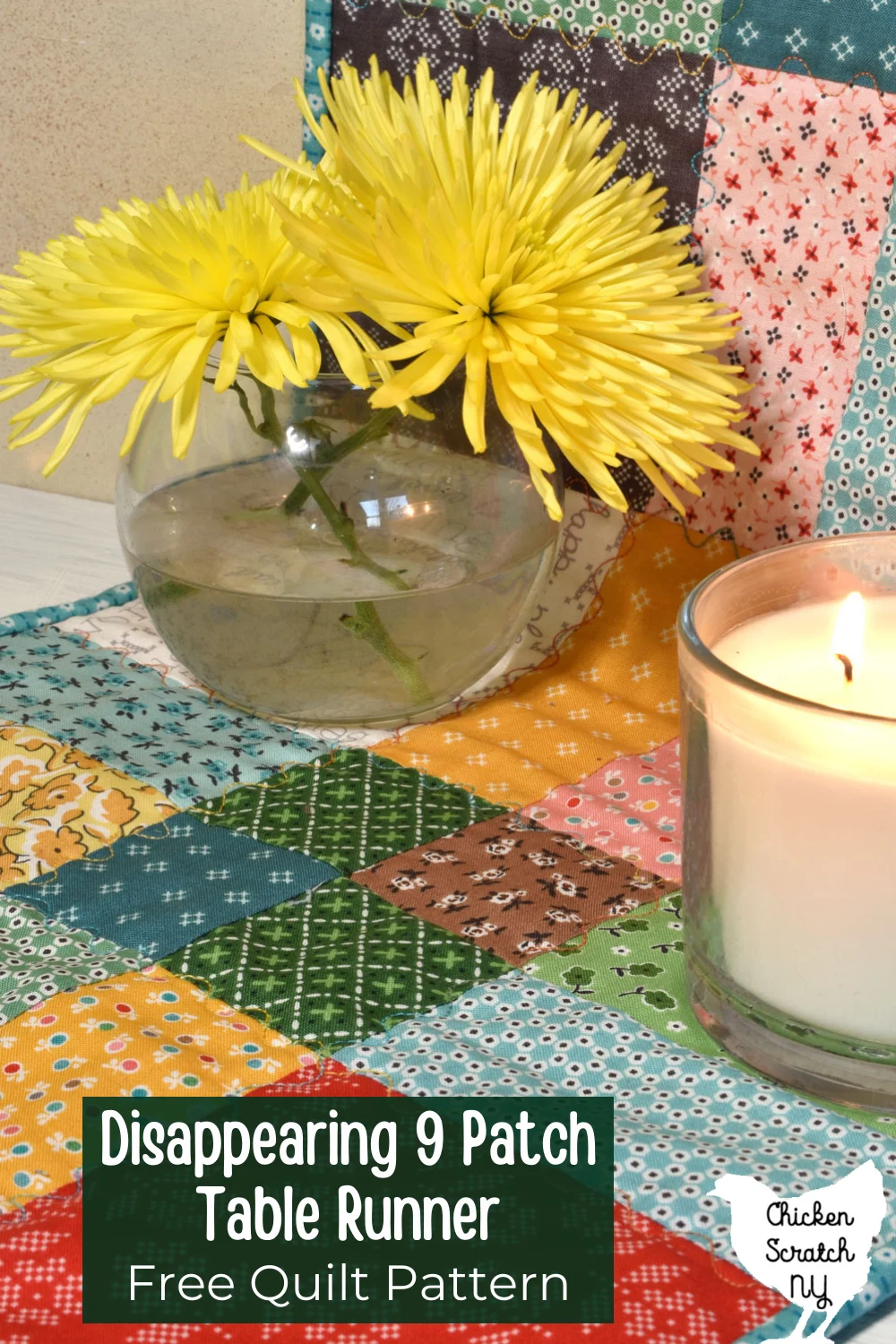 This free quilted table runner pattern only uses 27 – 5 inch squares along with some yardage for backing and binding. It's a quick project you can whip up in a day making it a great project for a gift when you need to brighten up your home or even if you just feel stuck and need to sew something to get the inspiration going.
Get the Free Printable PDF Disappearing 9 Patch Tabel Runner Pattern from my Shop
I used a "Stitch" charm pack from Lori Holt and corresponding yardage (Nutmeg Applique for the backing and Cottage Daisy Chain for the Binding) for my runner. It's a fun and bright color scheme that I thought would be perfect for the end of winter when everything is so bland and grey.

Stitch is a pretty big collection, there are 42 different fabrics, so I didn't have any repeated fabric in my runner. If you're using a fabric line with fewer than 27 fabrics you'll just have to be a little more careful with your layout and avoid using the duplicates in the center squares of the 9 patches.
How to Make a Disapppearing Nine Patch Block
Making nine patches is oddly relaxing to me. There's a lot of repetition and it works really well for chain piecing.
The most important thing is to start with squares. You can make this block with any size square, I made a few cute disappearing nine-patch blocks from 2.5″ squares and they turned out really cute, you just need to make sure your blocks are square.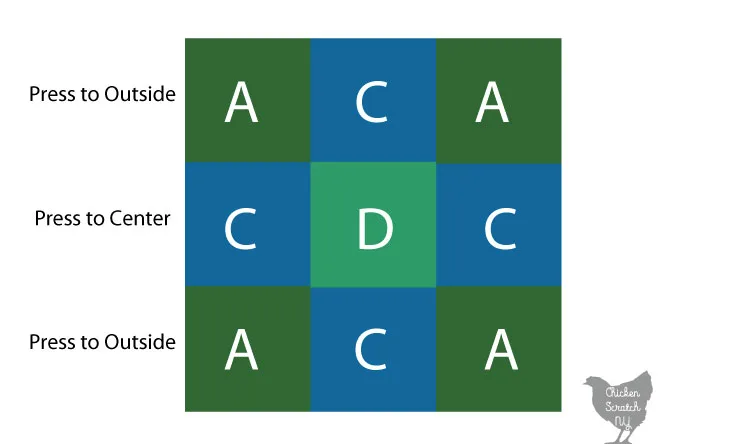 Start by sewing three rows of three blocks and press your seams as indicated above. Then sew those three rows together, nesting your seams.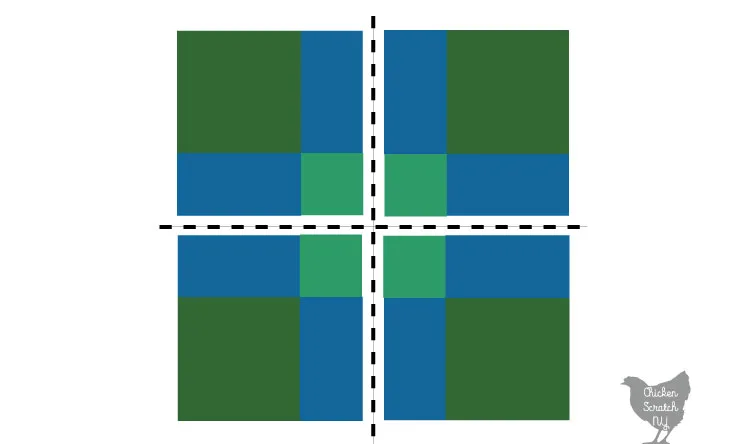 Press the block open and then cut in half down the center in both directions. For this table runner, you'll need to repeat these steps 3 times.
For this variation on the block, the next step is to mix up the pieces from your three blocks and sew them back together in the same orientation. Then sew your three blocks together.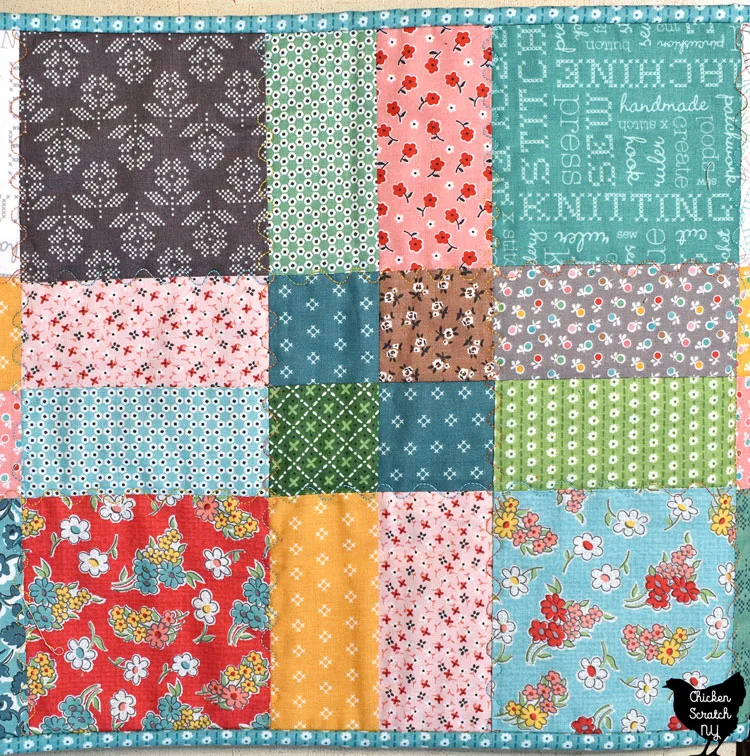 Learn more about Disappearing 9 Patch Blocks & how to use them in a quilt
How to Resize this Pattern
I'm a huge table runner fan, they work well with my limited attention span and it's always nice to have a quick project in your back pocket if you need to whip up a gift. But I don't want you to think this block is limited to table runners!
Starting with a set of 5″ squares is going to give you a block that finishes at 13 inches square. In order to get the mixed-up patchwork look you'll need to make at least two sets of 9 patches but beyond that, the sky is the limit.
Large blocks like this are great for quick projects because you don't need to make that many of them. If you do decide to go big with your quilt and you want that fun, scrappy look grab a layer cake and cut it down to 5″ squares, it will save you quite a bit of money in the long run.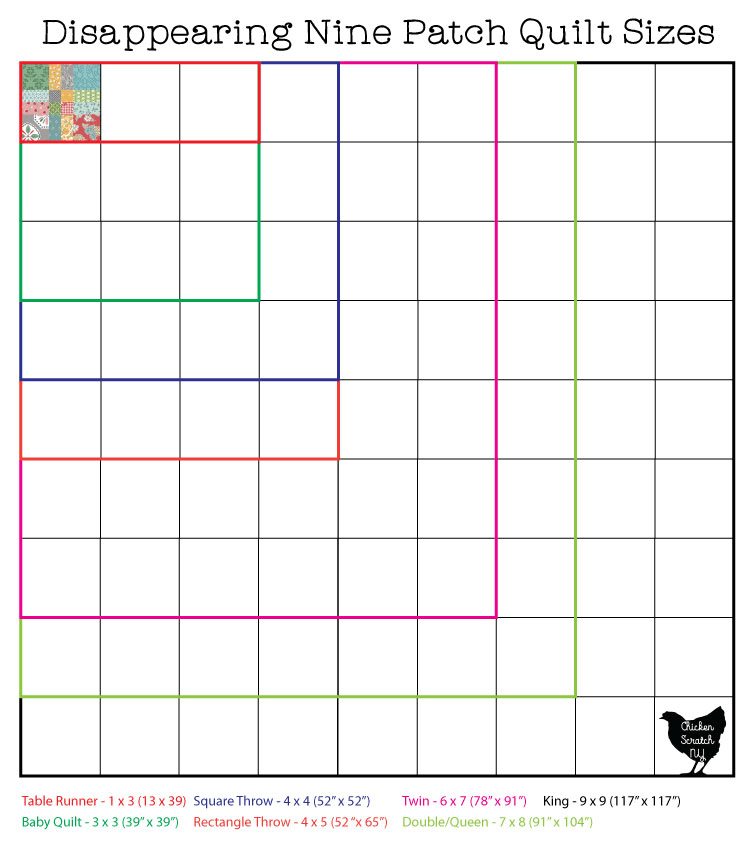 To calculate how many 5″ squares you'll need for your project take the number of blocks and multiply it by 9. You'll get 40-42 squares in a Charm Pack (enough for 4 blocks) and you can get 160-168 5″ squares from a Layer Cake (enough for 18 blocks).
I created this table runner pattern with a charm pack in mind but if you're in love with the pattern and you want to make it bigger I'd recommend picking out yardage and cutting it down to 5-inch squares yourself.
Table Runner – 3 Blocks (27 – 5″ squares)
Baby Quilt – 9 blocks ( 81 – 5″ squares)
Square Throw – 16 blocks (144 – 5″ squares)
Rectangle Throw – 20 Blocks (180 – 5″ squares)
Twin Quilt – 42 blocks (378 – 5″ squares)
Double/Queen – 56 blocks ( 504 – 5″ squares)
King Size – 81 Blocks ( 729 – 5″ squares)
When you're picking out your yardage remember you can get 56 – 5″ squares from one yard of quilters cotton. Dividing the square requirements above by 56 means you'll need about 6.75 yards of fabric cut down to 5″ squares for a twin-sized quilt, 9 yards for the double/queen and a whopping 13 yards for a king
---
Check out my Quilting page for more info or start here: