The disappearing nine patch is a deceptively simple quilt block. It's perfect for beginner sewists and a great shortcut block with tons of variations that everyone should keep in mind for quick quilts.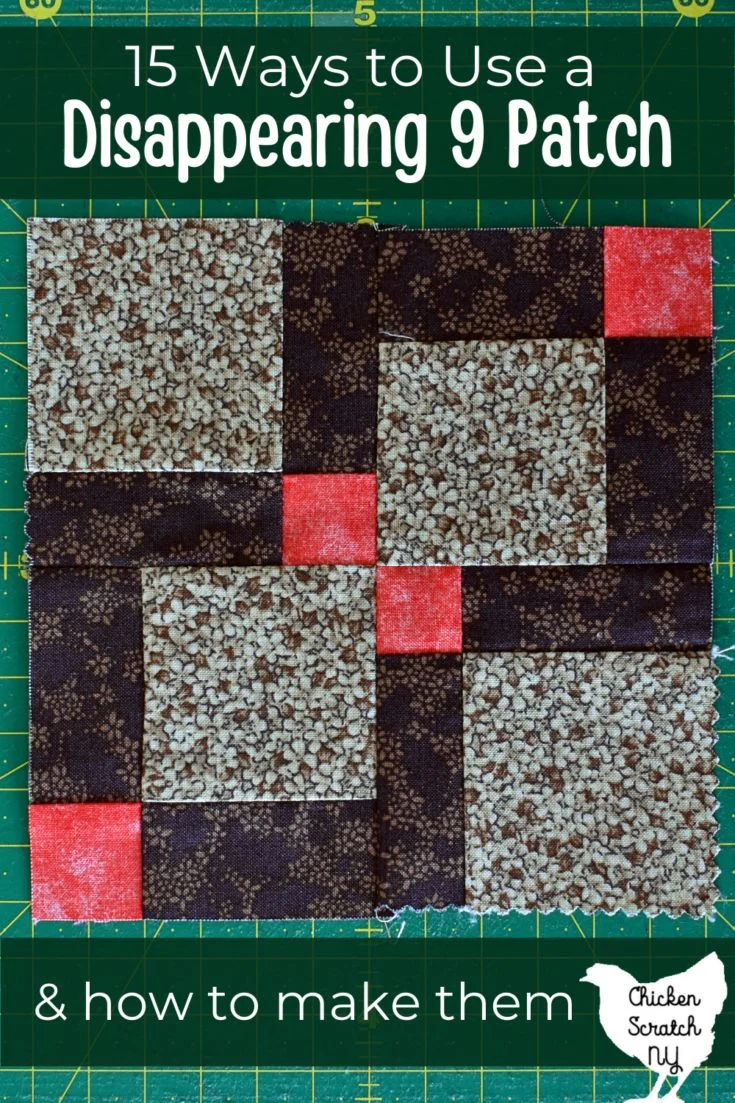 You start with a simple nine patch, which is a great block on its own, and cut it up. Then you rotate the blocks and sew them back together into a new block.
How to Make a Basic Nine Patch
You have to walk before you can run and you have to make a nine patch before you can make it disappear. 9 and 4 patch blocks are some of the most common building blocks you'll find in quilting so it's a pretty good skill to practice.
One of the best things about the disappearing nine patch is you can make it from any size squares. 2.5 inch, 5 inch, and 10″ squares a great to practice with because they're easily available as precuts.
If you're new to sewing and you want a quick project, grab a Charm Pack (precut 5″ squares) and make a few nine patches disappear.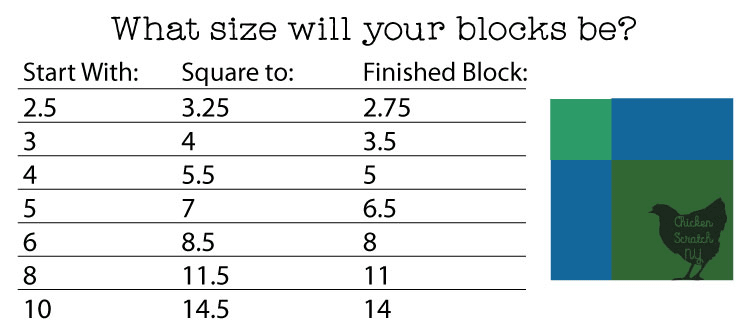 If you're looking to make your blocks a certain size, check out the chart above. The first column is the size of your 9 starting squares, the second column is the size of your individual block (you will have 4) after cutting them apart, and the third column in the finished size of the block, or the size it will be once it's sewn into a quilt top.
The first and most important step is to make sure your blocks are all the same size and square. Skipping this will make the rest of your sewing much more difficult than it needs to be.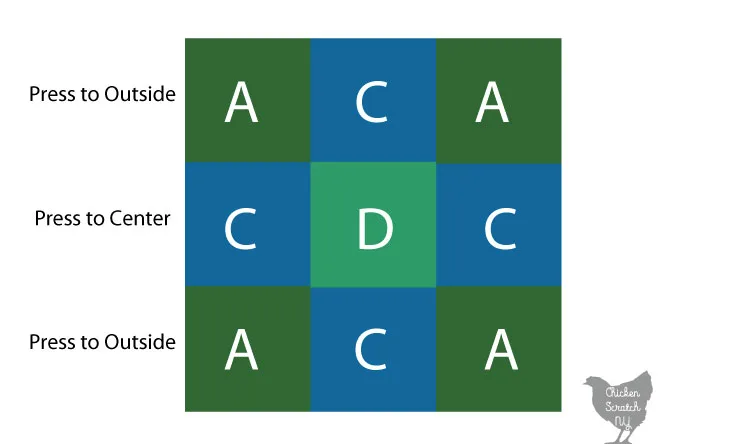 When you're laying out your blocks keep the following in mind:
[A] squares will not be cut. This is the best place to put your favorite prints and larger scale prints that will get lost with cutting.
The [D] square will get cut into 4 quarters. I like to use a dark, small scale print here and I usually use the same fabric in the center for the entire quilt. You can mix it up if you want an even scrappier look.
[C] squares will be cut in half. If you plan to use a direction print (like a stripe) make sure the pattern running the same way on the top and bottom and the opposite way on the sides.
Once you're happy with the way your blocks look it's time to sew.
I like to lay mine out in the nine-patch pattern and sew 3 rows, one for the top (ACA), one for the middle (CDC), and one for the bottom (ACA). I sew all my rows then head over to the iron.
Press the top and bottom rows to the outside, the seams will go toward the A blocks. Press the middle rows inward towards the D blocks.
Line up the top and middle row, the seams should nest or butt up against each other and it will give you the best corners. You can add pins to hold the blocks together if it makes you more comfortable but it's not necessary if your seams are locked together.
Repeat to add the bottom row and press the blocks open. You can press in toward the center or out or all to the top or to the bottom, at this point it really doesn't matter.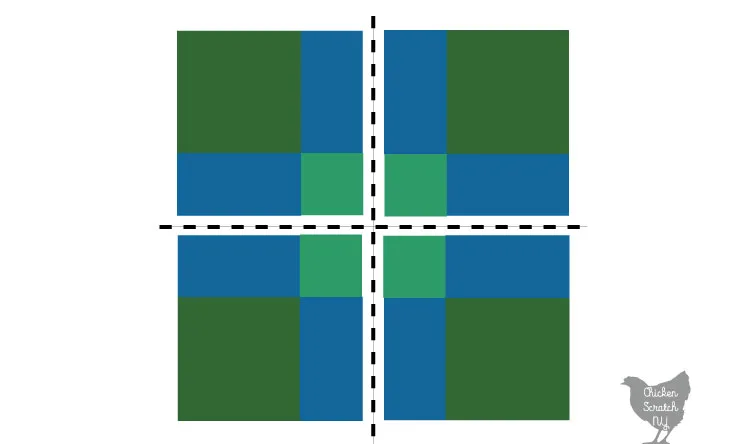 Once everything is pressed nice and flat it's time to make your nine patch disappear. Cut directly down the center in both directions.
Just like that you've gone from 9 squares to one block to four blocks! Now that you've got the technique down, how about we go over a few ways to make the most of these oh-so-versatile blocks?
Disappearing Nine Patch Variations
We're going to start with basic layouts and move up the scale in complexity. All of these examples are made from the same blocks we created above.
When you're trying to fit your blocks together you might end up with seams that will not nest, in most cases, you'll be able to repress the seams in a different direction to make everything fit together cleanly.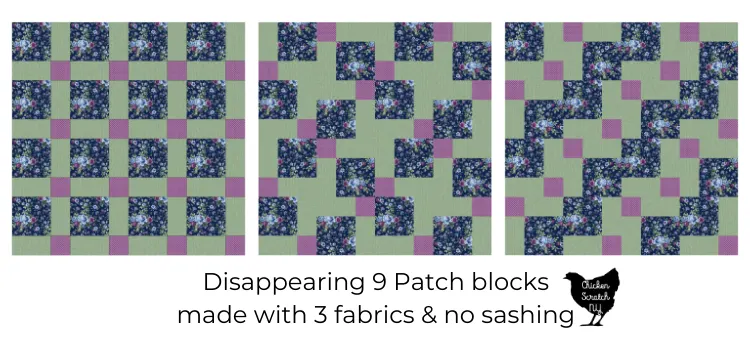 First up we have three basic options laid out in a 4×4 grid. I only used three fabrics for this set of mock-ups.
This set of disappearing nine-patch blocks really shows off the different looks you can get from a basic block with a limited fabric selection.
The first example would also make a really cute I Spy quilt where you use a different print in all of the large squares and keep the same fabric in the other blocks that get cut.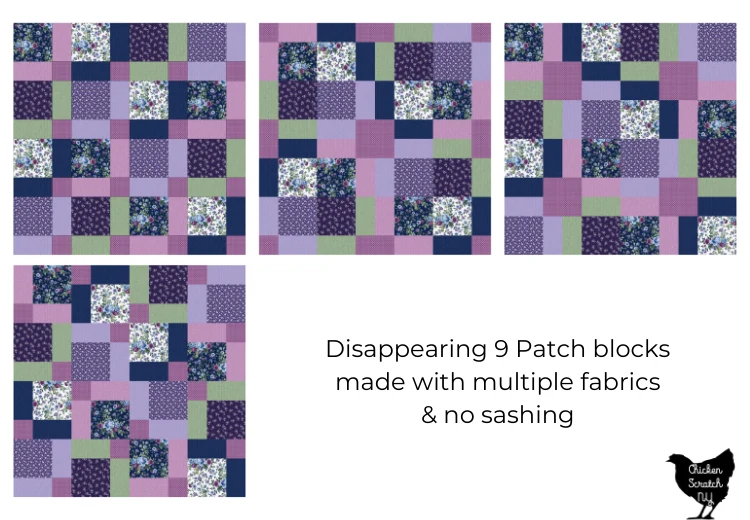 This set of disappearing nine patches is exactly the same as the ones above, the only difference is I used 8 different fabrics instead of three.
Your blocks will look more like these if you're working with a charm pack or a layer cake.
If you're looking to recreate this look you'll need to make 4 sets of disappearing nine patches. You'll need to use the same fabric in the center [B] for all of the blocks.
Then pick one large print for the outside corners [A] and a smaller print or solid for the [C] blocks. Use 4 squares of fabric A and 4 squares of fabric B for each block.
Once your blocks are cut apart you can mix them up to create the scrappy patterns.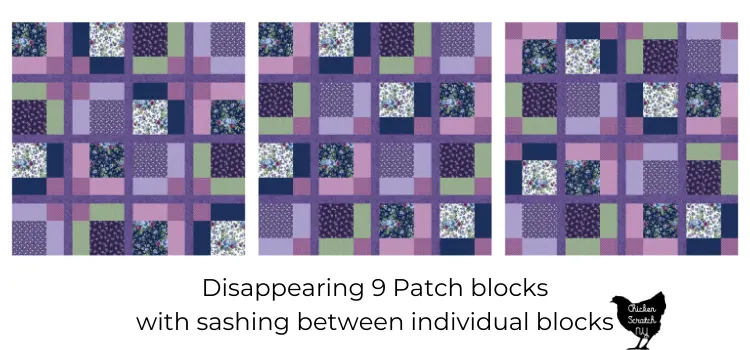 If the super scrappy look isn't your thing you can break it up with the addition of some sashing. Adding strips of a solid or low-volume print between your busy blocks will break up the chaos and give everything room to breathe.
You can rotate your blocks to create secondary patterns like split 9 patches in the first example quilt and the squares in the third example quilt.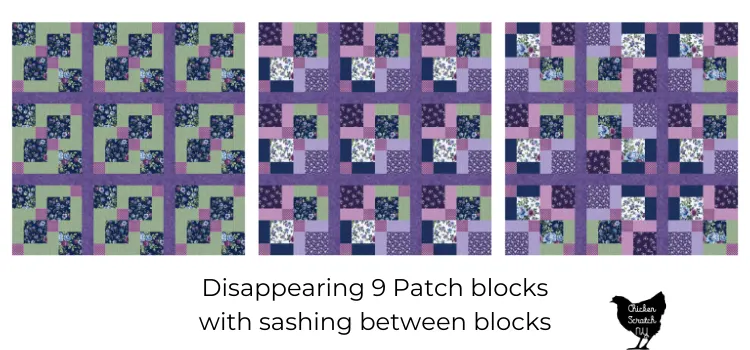 Taking that sashing one step further, these are examples of disappearing nine-patch blocks sewn into a four-patch with sashing between the 4 patch blocks.
It looks more complicated but it's really not any different than any of the other mockups I've shown you. The best thing you can do with these blocks is toss them up on a design wall or lay them out on the floor and play around.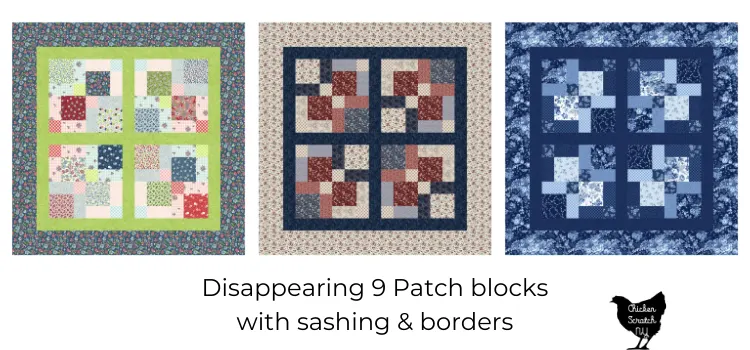 Just for fun I wanted to add a few more colorways, I mocked up these quilts in a scrappy reproduction brights line, a subdued Americana red, white and blue, and with a line of tone on tone blue and white.
The patterns are all exactly the same, the only thing that I changed was the fabrics.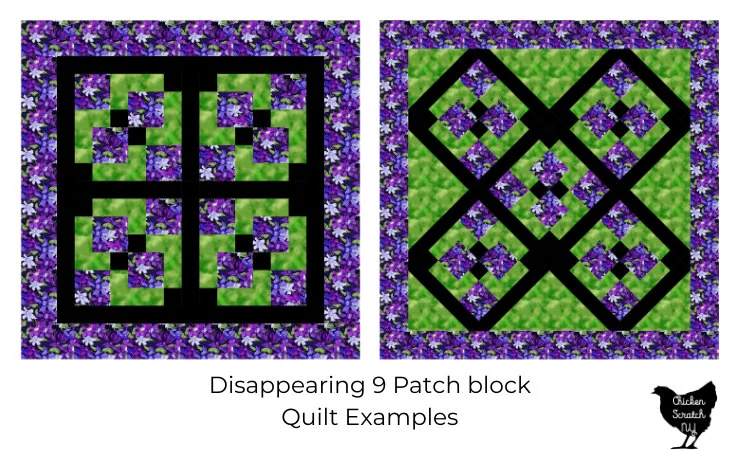 One final example (because I don't know when to quit) shows how you can change up the look even more by changing your blocks from a regular grid to an on-point setting.
---
Check out my Quilting page for more info or start here: