If you're looking for a fun and forgiving fat quarter quilt pattern Crystal Lake is just what you've been looking for! Large blocks & multiple layouts mean you're going to end up with a quilt you love quickly!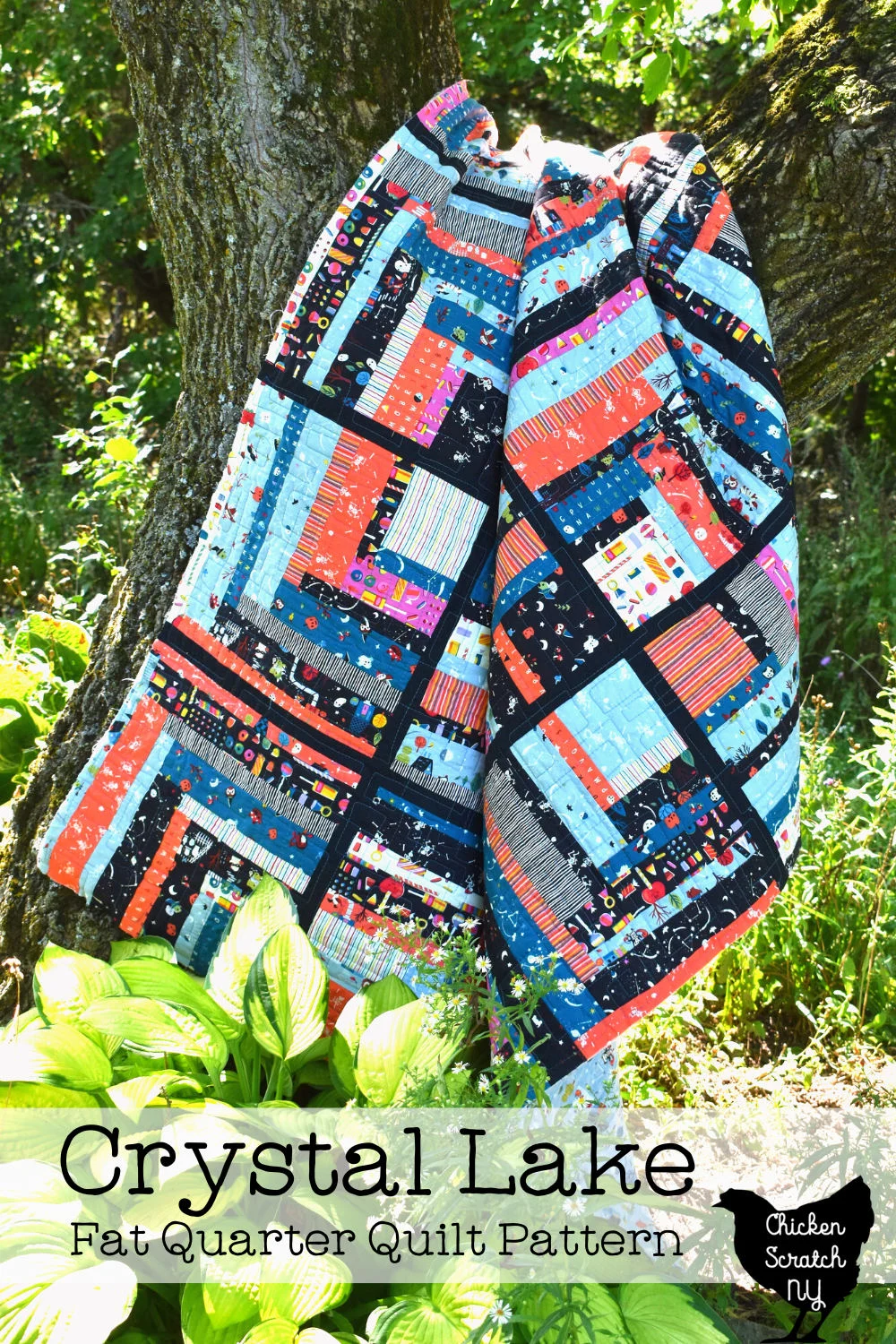 I went a little too hard on some Green Fairy Quilts fat quarter clearance sales and as a result, my craft room was getting a bit claustrophobic. Naturally, the best remedy was to make a quilt (or two!).
The Crystal Lake quilt is based on a log cabin block, but instead of working around all four sides of the center, you'll only be adding strips to two sides.
To add an extra bit of interest I used two different size strips, 2.5″ and 1.5″. Sewing with narrow strips can be tricky and it's easy to pull them out of shape so take extra care with those rows.
Get the Free Crystal Lake Quilt Pattern
About the Crystal Lake Quilt Pattern
Most of my quilt patterns come from the angle of trying to solve a problem. For example, my Cozy Corners layer cake quilt is all about making a big quilt quickly without needing any background fabric.
The goal for the Crystal Lake quilt pattern was to use as much of each fat quarter as possible and to make the math easy for resizing.
Each fat quarter is cut the same way, into 15 pieces. Each block has 15 pieces.
See where I'm going with this? For each block you make you'll need one fat quarter.
If you want something small you can get a cute quilt from 4 fat quarters. For a decent-sized throw grab a fat quarter bundle with at least 20 fat quarters and pick your favorites.
Of course, you can go even bigger, the blocks themselves are big so they add up quickly and you could make a large bed-size quilt with a big fat quarter bundle or two smaller ones.
Fabrics with a lot of contrast will give you a very scrappy and somewhat chaotic (in the best way) quilt. Choosing something with less variation will give you a more traditional and relaxing vibe.
Personally, I think this pattern works best with mostly small or dense medium-scale prints. The 1.5″ strips will finish at only 1″ and that doesn't give you a lot of room to show off large images.
Crystal Lake Layouts
One thing I really struggle with (other than sewing straight lines and working on one project at a time) is knowing when to stop. That's pretty obvious when we get to this next section on layouts.
I use Electric Quilt 8 to mock up my quilt patterns and sometimes I get really carried away. This time I think that works out in the best way possible.
The quartered log cabin blocks are very directional and that means you can really switch up the look of your quilt just by rotating your blocks.
Adding sashing between those blocks makes it really easy to pick a layout you love without having to worry about matching up seams.
In my opinion, the easiest way to find your place in the pattern is to figure out where the larger center square should be and then rotate your blocks until it's in the right place.
Basic Layout
I don't think anything makes this quilt look basic but this is the simplest layout.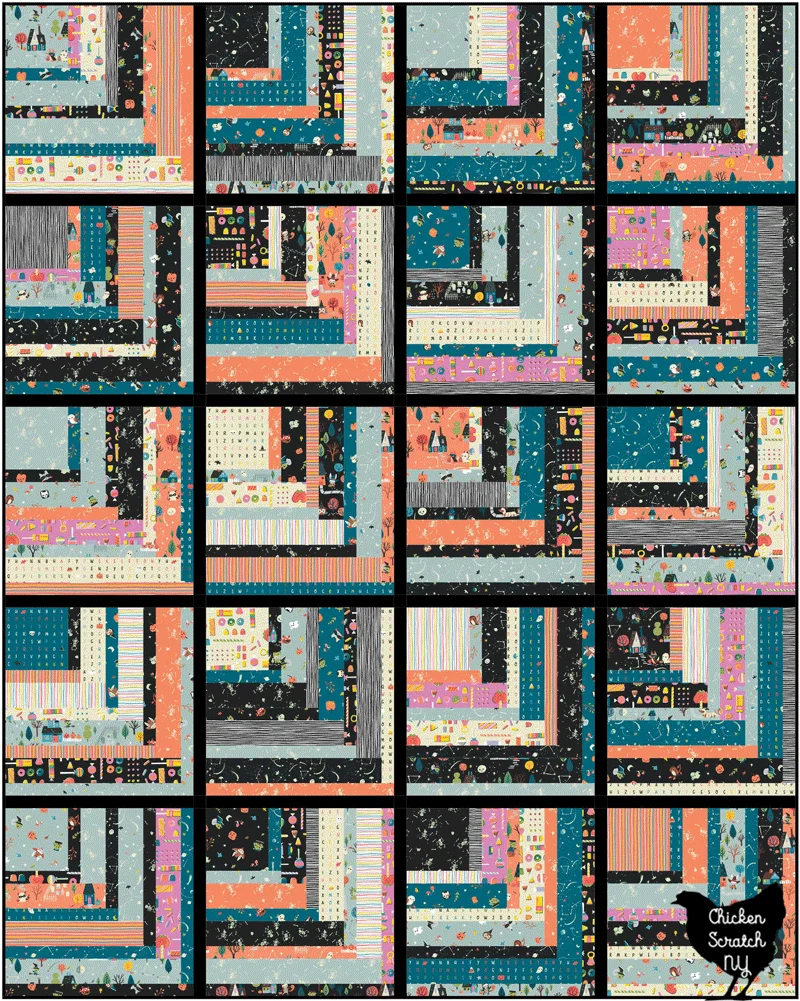 All of the blocks are oriented the same way with the large square in the upper left corner.
Box Layout
This is the layout I used for my Tiny Treaters Crystal Lake Quilt and it's also the layout I used for the small four-block sampler quilt I made.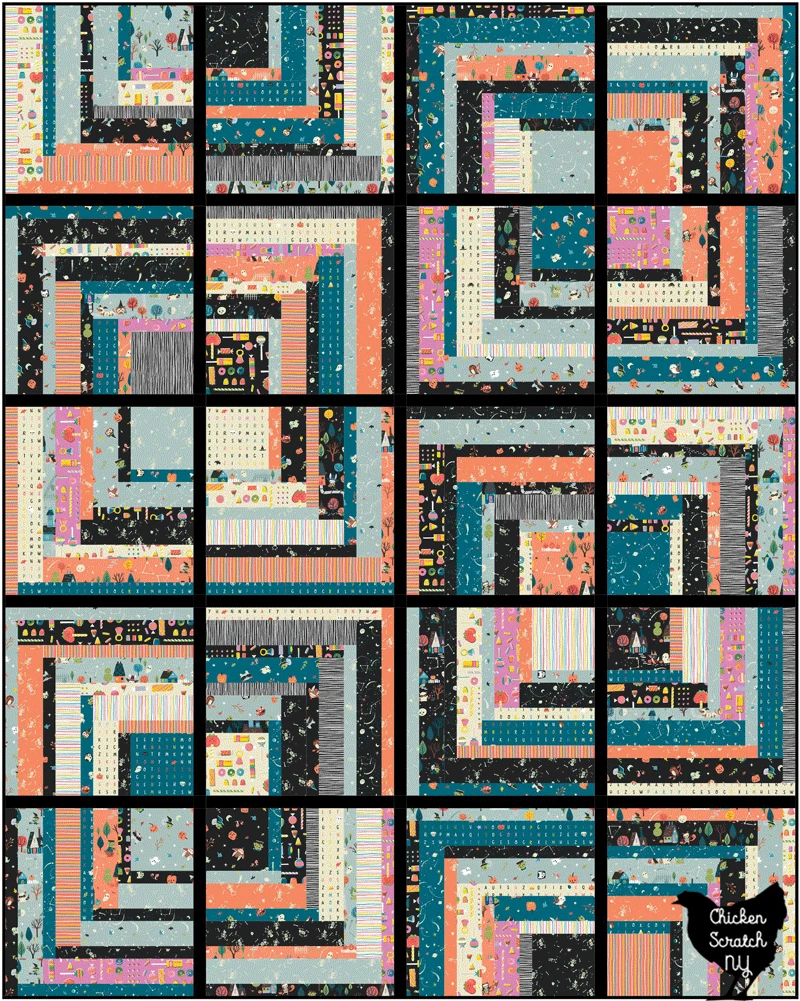 Lay out the blocks so the large squares come together to create large 4 block boxes. Each half will have two full boxes and one half box, lay out one half box on the top and one on the bottom to get the look above.
Snake Layout
I called this layout 'Snake' because the way the stripes move into each other reminded me of a snake slithering from side to side.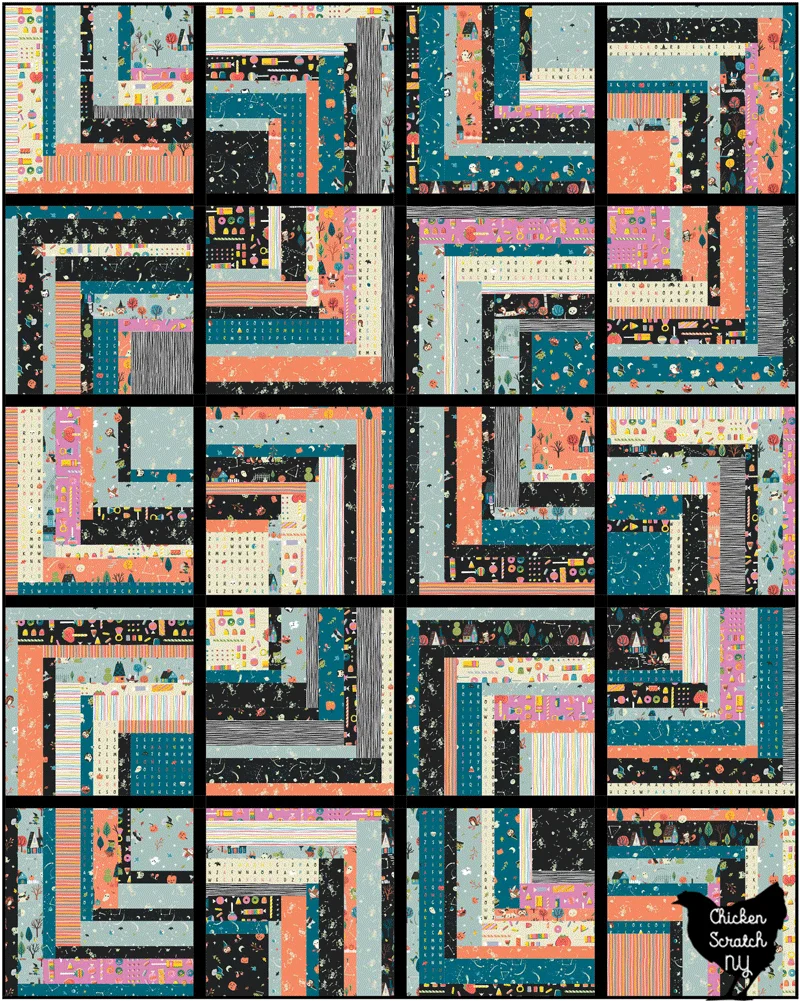 There are no actual snakes involved (unless your fabric has them in which case please send me pictures!). This layout is very similar to the Box layout, but the 2nd and 4th columns are shifted up one block.
Zig Zag Layout
The final layout is the Zig Zag which has rows that zig zag on an upward diagonal. It has a slight resemblance to a rail fence pattern, just in a very different way.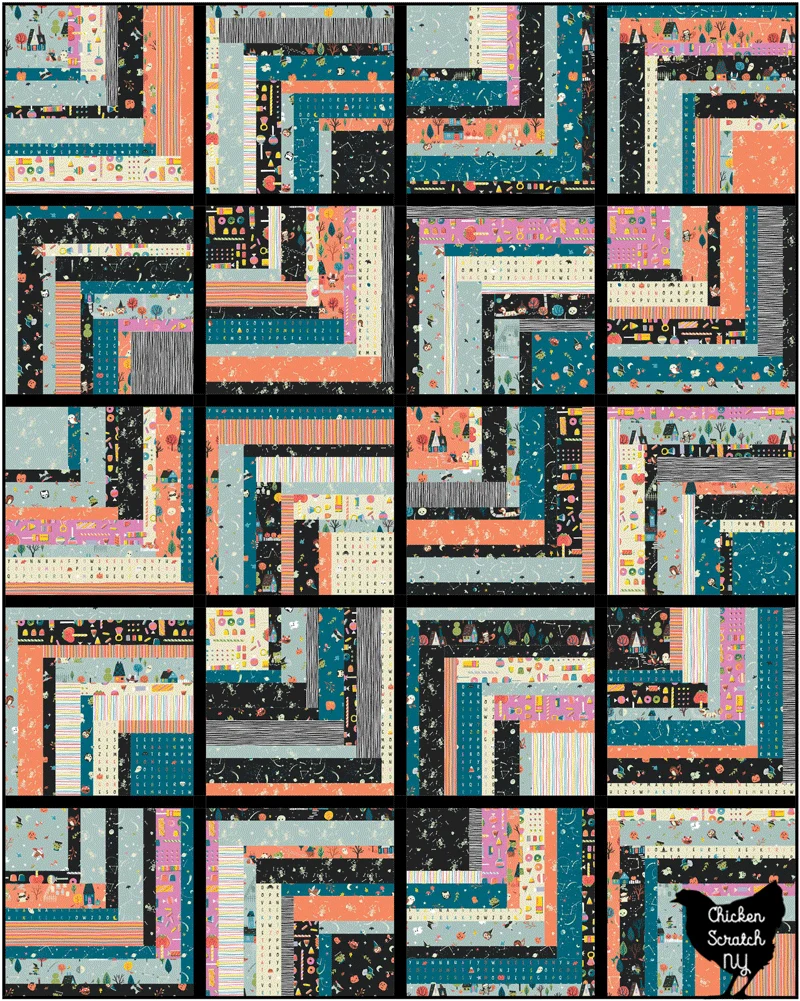 To set your blocks up in this layout remember the large squares only go in the top left and bottom right. The next row will be shifted over one block, so you start with your large square in the bottom right and the, next in the top left.
Crystal Lake Quilt Trouble Shooting
The best advice I can give you is to embrace the wonky and square up as you go.
There are a lot of seams in these blocks and being even 1/8 of an inch off will add up over time. The first time I made this quilt I didn't square up anything and my blocks were… bad.
I ended up needing to cut them all the way down to 14.5″ squares just so I could get them all consistent. I still love my quilt and I think the wobbliness adds to the charm.
For round 2 I was a bit more careful and squared up my blocks a few times after adding the 2.5″ strips. There is more fabric to trim on these rows and it won't be as noticeable.
After struggling to trim up my blocks with my regular rulers I did break down and buy a giant 20.5″ ruler to help me out. I don't use it every day but I love giant quilt blocks and when I need it it's my favorite thing in the world.
As long as your blocks are flat you're golden. Trimming them up will hide a lot of sins and no one is going to know your 14.5″ blocks were supposed to be 15.5″!
---
I would love to see your Crystal Lake quilts! Tag me on Instagram @CSNYSewing and use #CrystalLakeQuilt
---
Looking for more Free Quilt Patterns?
---
Check out my Quilting page for more info or start here: