Buy your favorite quilter something they'll love this holiday season! You'll find something for everyone from beginners to experienced quilters for any budget.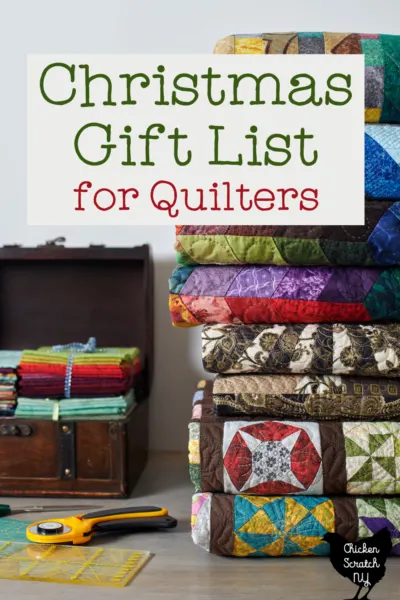 Even though gift-giving is my least favorite part of the holidays (I tend to give a lot of hand-crafted gifts and it's an anxiety roller coaster from start to finish) I always want to give the people I love something they'll use and enjoy.
I hope this list will give you some ideas for the quilter in your life or maybe even a few ideas for your own list!
Quilting is very personal and I know that not everyone is going to love the things that I do. Never underestimate the value of a gift card for fabric & thread (check the boxes in the recycling for shop names) or a long armer to help finish up some of those back-piled quilt tops.
On to the quilter's holiday gift list in no particular order:
Seam Ripper
When my daughter was first learning to sew she was heartbroken anytime I needed to take out her stitches. I explained to her that her mother, literally a professional seamstress, still needed to use one daily. I'm not sure she believed me but it's 100% true.
No matter how experienced you are or how carefully you sew it's inevitable that you'll eventually need a seam ripper. So you might as well have a nice, comfortable one right?
My favorite seam ripper is the Dritz Ergonomic Seam Ripper, it has a thick purple handle that doesn't make your fingers cramp and as a bonus, the large size makes it harder to lose!
I keep one by my sewing machine/ironing board and another by my quilt frame. It's not the thinnest blade out there but I've never had a problem getting into seams with it.
Scissors
If you want to upset a sewist, threaten to cut paper with their fabric scissors (actually don't because I'd hate to get anyone stabbed!). Even though the majority of quilting-related cutting is done with rotary blades these days, scissors are still a valuable tool.
Few things are more satisfying than the sound of sharp scissors cutting through crisp cotton fabric. I'm not a big ASMR person but that sound makes my brain so happy.
There are a lot of nice scissors out there, from spring-loaded Fiskars (great for people with weakness in their hands & for hand-shearing alpacas) to heavy metal dressmaker shears and super sharp lightweight fabric scissors (my current favorites, so sharp!). You can even get scissors for left-handed people!
And while you're in the scissor section don't overlook the little snips, they're great for keeping near the machine, by the ironing board, or even in a little sewing kit for on-the-go binding or English Paper Piecing. I'm a sucker for spring-loaded snips but you can also find ornate versions like these bird snips from Gingher.
Thread Cutter
This Thread Cutter one of the only things on this list that's actually on my Christmas list (I already own just about everything else). I've often joked that if I can't chain piece something I'm not interested in sewing it.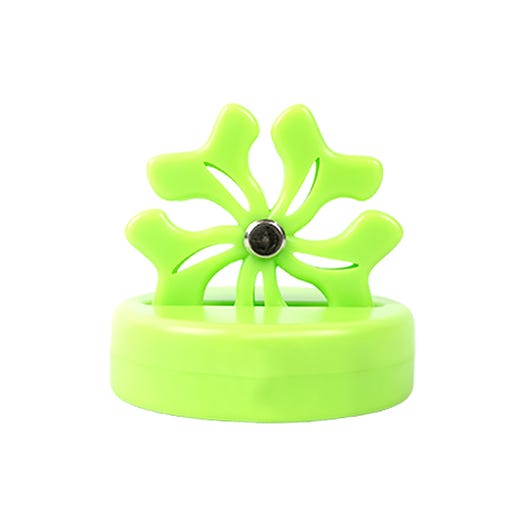 As a result, I often end up with miles of blocks that need to be cut apart. I usually end up using the little hook cutter on my machine or cutting them apart with scissors but this little gadget could change my life.
To use this thread cutter you first need to install a cutting blade. This is a great way to get some more life out of an old blade that isn't working for cutting fabric anymore.
Then you place the cutter on the table, line up the threads with a gap in the cutter where the blade is exposed and you can quickly turn miles of chain piecing into individual blocks.
Giant Ruler
The next item on the list is something I avoided buying myself because it was expensive and I wasn't sure how much I would use it. Then I did a terrible job on a whole quilt worth of blocks and in an act of desperation purchased a 20.5 x 20.5 ruler.
And I LOVE it. It's so big I have to store it under my cutting table but when I need to cut something wider than 5 inches I get giddy.
The large size makes it perfect for squaring up blocks and cutting large pieces of fabric. It made cutting the large fabric pieces for my Santa Claus Quilt take about 30 seconds and I didn't have to count spaces on my mat!
If you have a quilter in your life that hates spending money on themselves (other than fabric, that doesn't count) pick them up a giant ruler.
Specialty Rulers
If you're not familiar with quilting you might not know that most (99%+) of the cutting is done using a three-part system, a self-healing cutting mat, a rotary blade, and a hard plastic ruler or template.
Most rulers are square or rectangular but there are some fancier options out there. Fancy rulers that someone might not purchase for themselves but that they'd love as a gift.
Stripology XL Ruler
Starting out strong with another thing on my personal Christmas list. I love strip piecing and working with jelly rolls but they get expensive and being able to cut my own in the blink of an eye sounds incredible.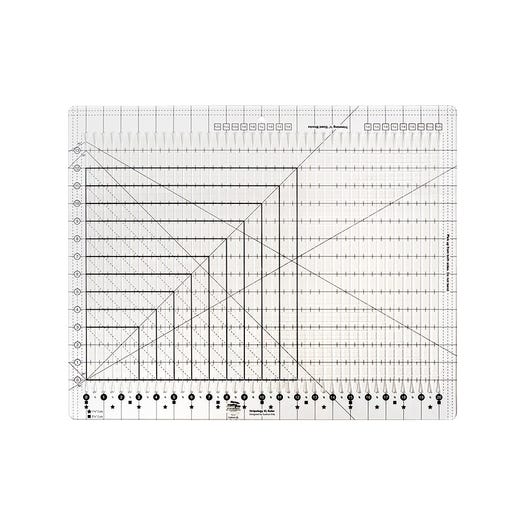 The Stripology family of rulers have groves for your rotary cutter that let you cut a bunch of strips without needing to move your ruler or adjust your fabric.
The biggest version, the Stripology XL, can be used to cut up to 12″ squares and has marks for 1.5″ and 2.5″ strip increments.
This is another beast that would likely get stored under my cutting counter but just the idea of cutting all my binding without moving rulers and fabric gets me a little giddy.
60 Degree Ruler
The 60-degree ruler does its job very well but without a doubt, it's a one-trick pony. You use it to cut 60-degree triangles (bet you figured that one out on your own!) from strips of fabric.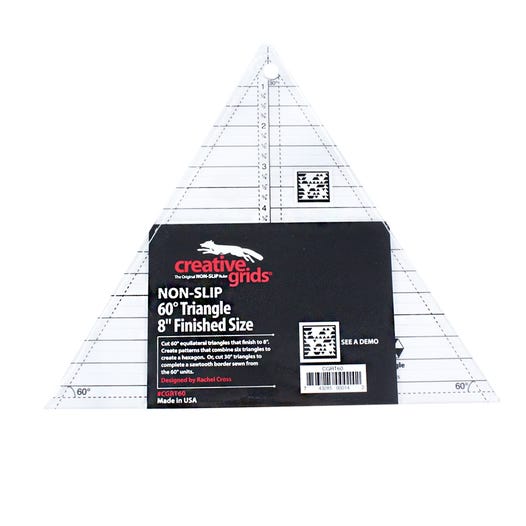 You can get it in two sizes, an 8″ ruler and a 12″ ruler, and I think it would make a great gift for someone starting out who may not have a bunch of gadgets but likes to experiment.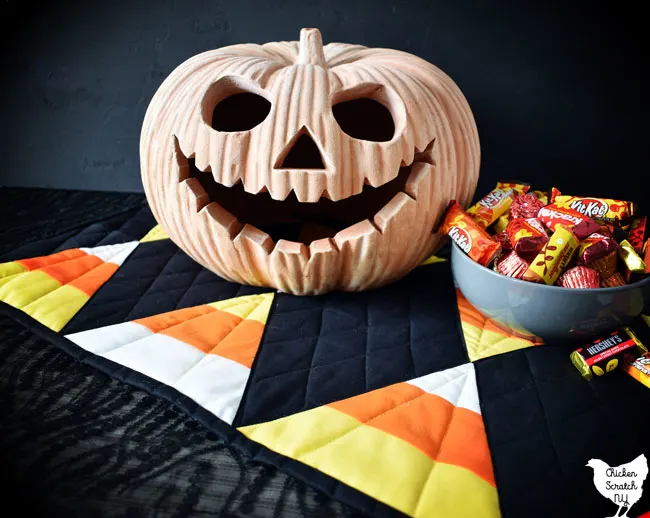 Those triangles can easily be pieced into hexagons or used to make other blocks. I don't reach for mine all the time but it was perfect for my Candy Corn Table Runner and I think it makes the best pine trees.
Half Rectangle Trimmer
I was sent this little guy when I made the Black Diamonds quilt for Fat Quarter Shop and I fell in love with it. Half rectangles are 100x trickier than half squares and without this tool, I'd never look twice at them.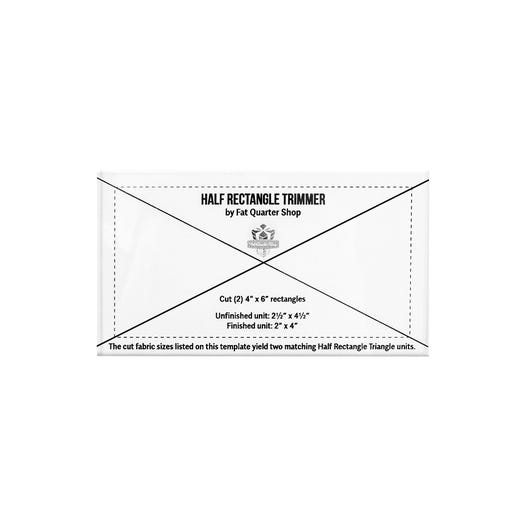 The Half Rectangle Trimmer from Fat Quarter Shop is only about $6 (great stocking stuffer!) and makes 2″ x 4″ finished half rectangles.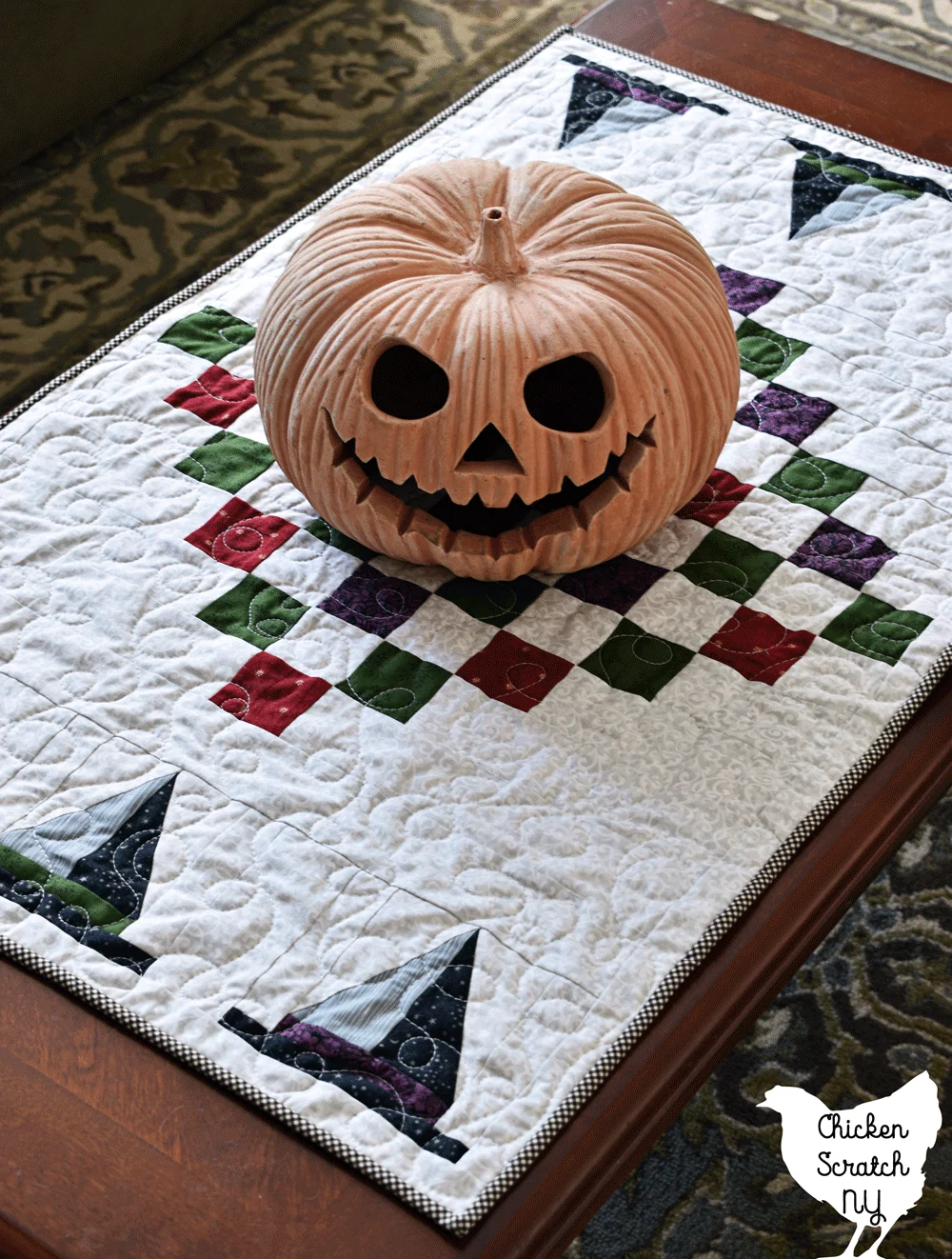 These little blocks make the best leggy stars and you can also turn them into adorable witch hats! Make sure to check out my write-up about the Black Diamonds Quilt for more tips & tricks for working with these blocks.
Bloc Loc Rulers
Half-square triangles are the backbone of quilting, I swear if you can master this skill you can make 90% of pieced quilts out there without an issue. There are a lot of ways to make half square triangles but no matter how you do it, the most important part is squaring them up.
Just for example, a table topper quilt I almost finished recently had 168 2-inch half-square triangles. As an inaccurate sewist squaring up blocks is the only thing that saves me.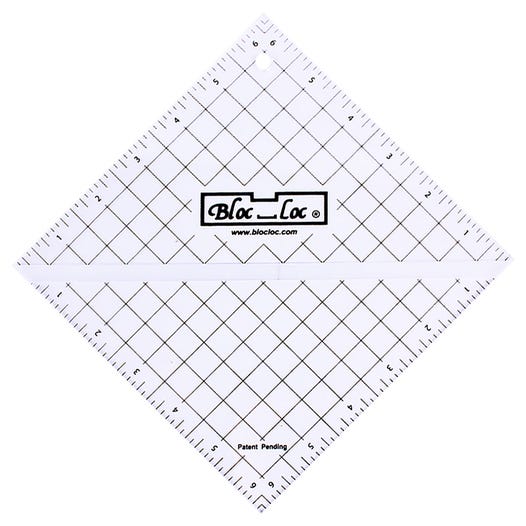 The best way I've found to square up blocks is with a Bloc Loc ruler. The specialty rulers have a groove in the underside that hold the block in place and makes squaring up a dream.
They come in a variety of sizes, I use the 6.5″ Bloc Loc ruler for everything but I can see how a smaller size would be useful for someone who regularly sews on a smaller scale.
1/2 Inch Seam Marker
The 1/2 inch seam marker wins the award for the most confusing quilting notion. I can only imagine how creative the answers would be if you asked a non-quilter what it was used for.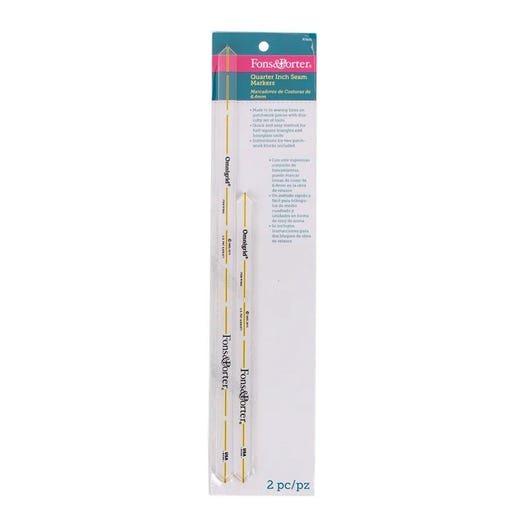 This 1/2 inch acrylic ruler is used to mark diagonal lines for half-square triangles (and half-rectangles). I'm telling you, it all comes back to those triangles and making them easier!
Rotating Cutting Mat
Taking a step away from rulers, but not from cutting, our next gift option is a rotating cutting mat. The crazy thing about squares is they have 4 sides and you usually need to cut all four of them.
I don't know how your wrists and elbows work but chances are you're going to eventually need to spin something about. And by eventually I mean every single time you sew.
The rotating mat is a huge help when it comes to trimming, squaring, and just cutting in general. Disappearing nine-patch blocks and 8 at a time half-square triangles are a breeze when you don't have to worry about properly realigning everything in order to make the second cut!
This mat won't replace your main cutting mat but it's a great tool to have in the arsenal.
Giant Cutting Mat
If you've made it this far you might have noticed that I haven't mentioned anything that actually relates to sewing. That might seem strange to a non-quilter but the truth is a lot of the work is in the cutting/prep work and the squaring/finishing.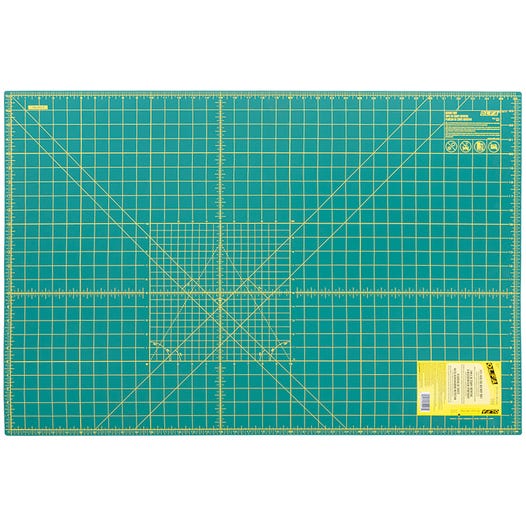 And all of that gets done on a cutting mat. Unlike rulers where you pick the best one for the job, when it comes to the cutting mat you usually stick to one (unless you have a rotating mat but that serves a different purpose).
I have a very old and loved 24×36 cutting mat and I love her. It's the most used item in my craft room and it's the only surface that doesn't end up covered in clutter.
Small cutting mats are fairly inexpensive but the price goes up quickly when you get into the larger sizes. Unlike most things where I think it's work making do with the smaller size I highly recommend getting the largest mat you can afford and find room for right from the start.
Rotary Blades
Now that we've covered the rulers and the mats, let's talk about blades. I know you're supposed to change them regularly but I don't.
I tend to forget that I need to replace them until I realize my arm hurts from having to push down really hard.
Electric Quilt
I'm saving the best, most expensive, and possibly most divisive for last. Electric Quilt 8 is a computer software that you can use to create your own quilt patterns.
Electric Quilt is running their Black Friday Sale for the entire month of November 2022! Use code EVERYTHING for 25% off your order
As a computer person, I love it. It's so easy to take the slightly formed ideas in my head and turn them into real, fully fleshed-out projects.
If computers aren't your thing or you're looking for a gift for someone that would rather sleep in a chicken coop than touch a computer mouse this isn't the gift for you.
This software can do so many things, and I ignore most of them. Despite that, it's still the best money I've spent on quilting other than my quilting frame.
If you have the software, are buying it, or just thinking about it I recommend checking out the Electric Quilt Instagram account where they share tons of videos walking you through different things you can do with the software.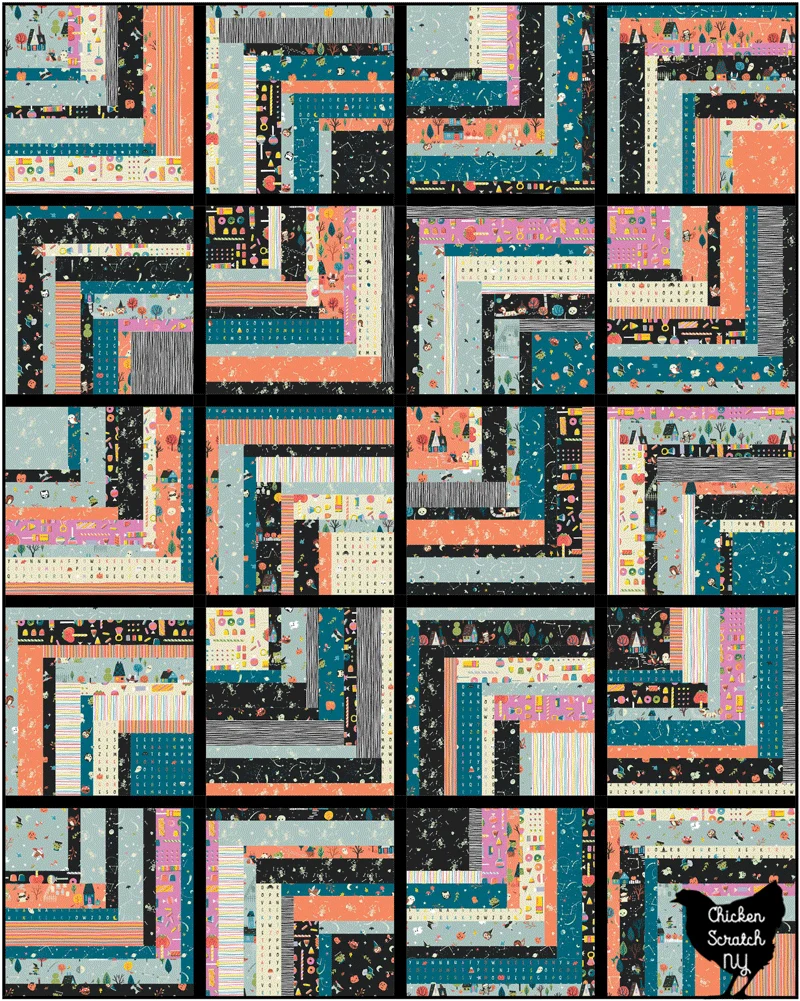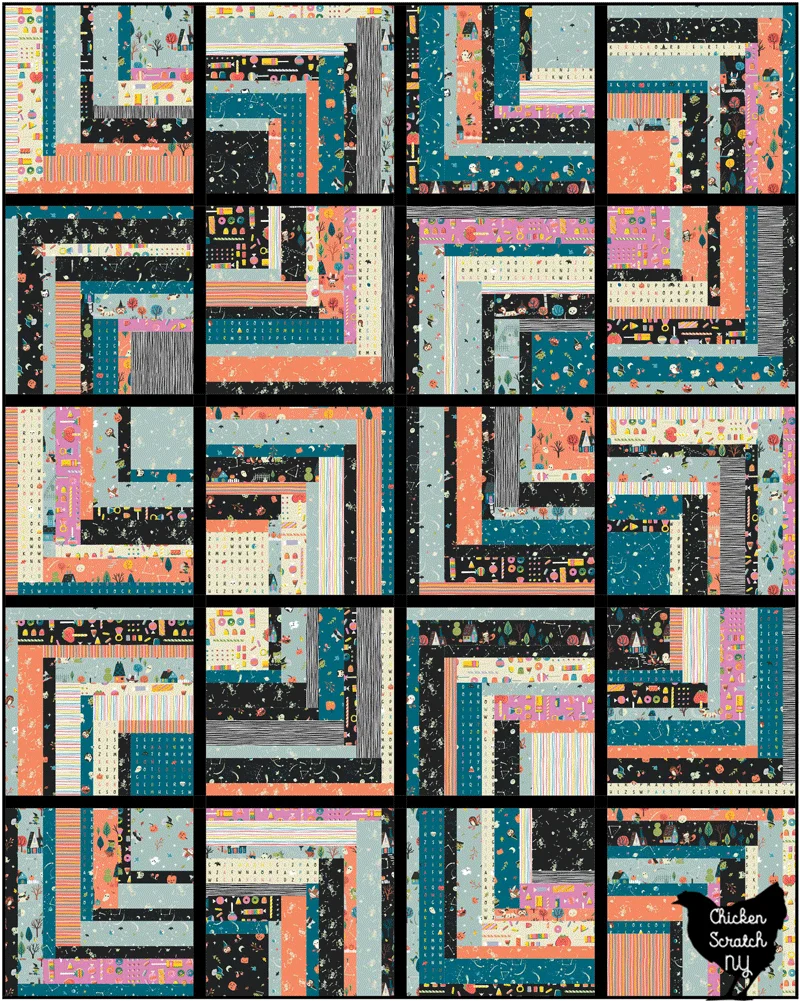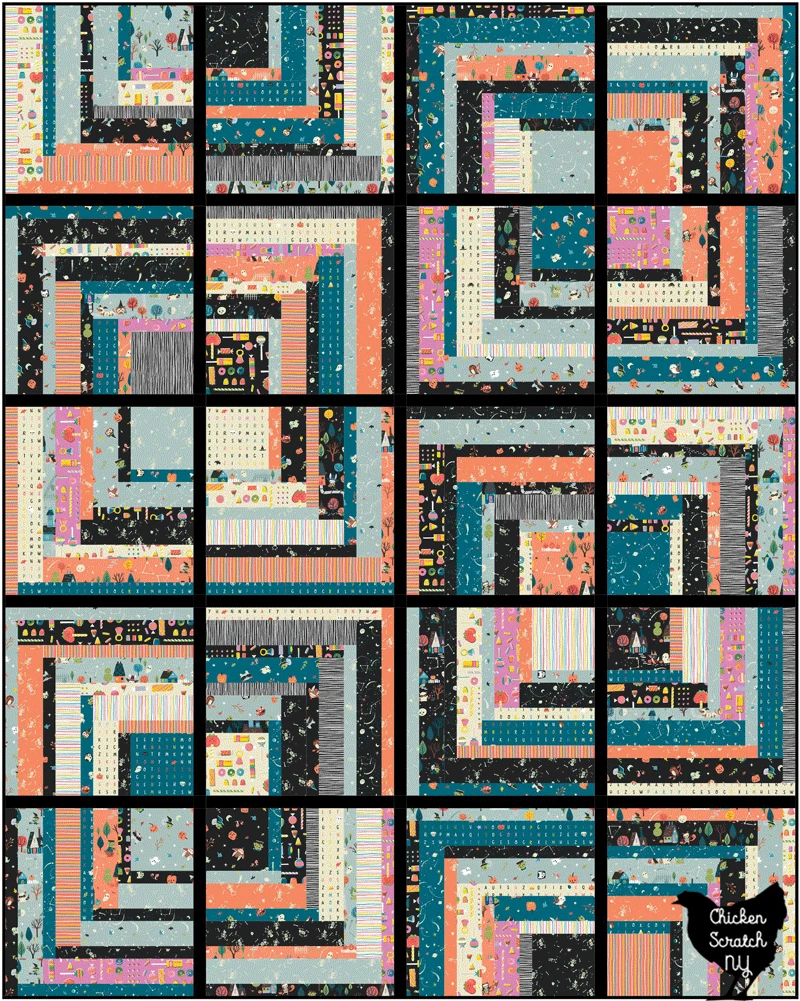 My favorite thing to do with EQ8 is mocking up quilts in different fabrics and switching up layouts. The pictures above are three different ways to lay out the Crystal Lake quilt.
Even though the blocks are the same you can really get a different vibe from each quilt just by spinning them. Which you can do with the click of a button in Electric Quilt.
It could possibly be considered an addiction at this point. On the bright side, it has probably saved me a lot of money by scratching that 'what if' itch but also costs me a lot of money when I make a tiny change and decide to make a whole new variation…
Another thing I love is the Yardage Calculator, it's usually a bit high but anything that saves me from doing math deserves a gold star.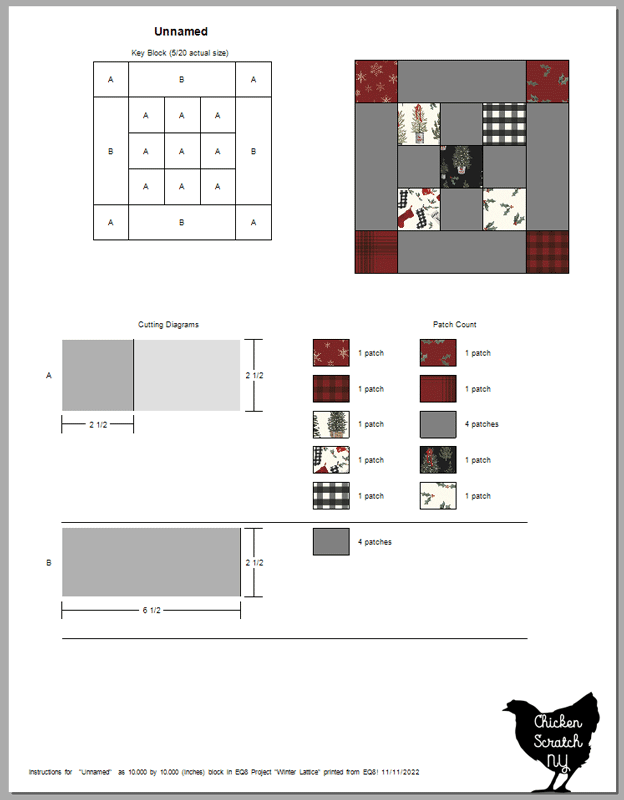 Another feature I like is the ability to get the rotary cutting guide for any block you create. It's not always helpful if you do a lot of flip & stitch/snowballing or strip piecing but it does give you a general idea of where to start.
This block is part of the Winter Lattice quilt, which is almost entirely strip pieced, but I was able to double-check that the block would work with jelly rolls by making sure all my squares needed to be cut at 2.5″

EQ8 Lessons for Beginners
from: The Electric Quilt Company
If you like the idea of this quilting software but you're not confident with computer they offer two lesson books, one book for absolute beginners and another with more advanced lessons.
---
Check out my Quilting page for more info or start here: