Half Square rectangles can be tricky to wrap your mind around but by the time you finish up your Black Diamonds Quilt from Fat Quarter Shop, you'll be able to make them in your sleep!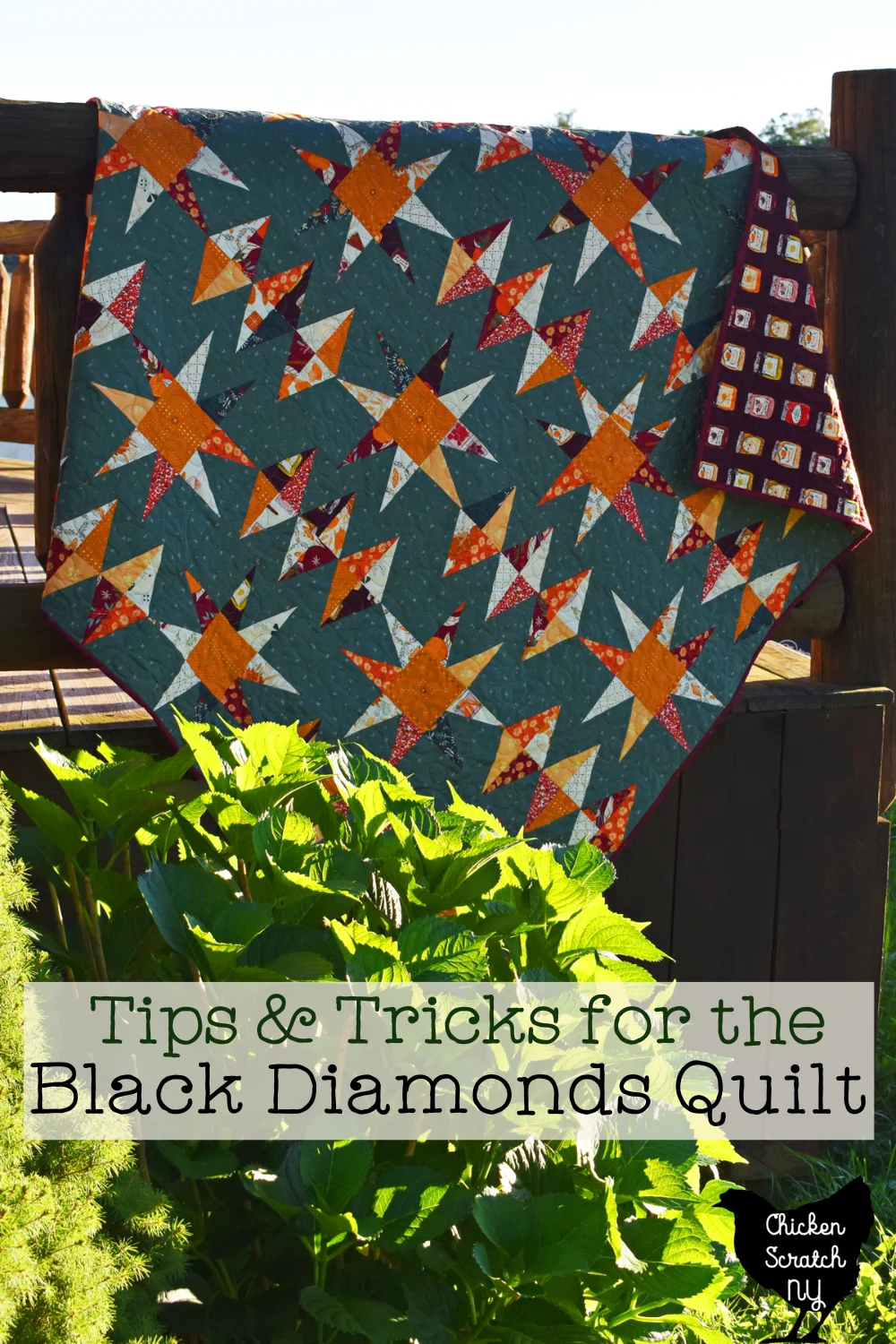 The Black Diamonds quilt certainly looks more complicated than it is, when I first saw the pattern I though there was no way I'd be able to pull it off. But I did and I'm going to share a few tips and tricks that I learned along the way to make your quilting go a little bit smoother.
I was provided with the Half Rectangle Trimmer and the fabric to make this quilt from Fat Quarter Shop for my participation.
Fabric Selection
You may be looking at my quilt and wondering where exactly the black diamonds are. It's a great question and if you head over to Fat Quarter Shop to get the pattern you'll see that they made their quilt in black and white fabric.
They are offering a Black Diamonds Quilt Kit made with the Create fabric collection by Allie K Designs. It's a very modern mix of black and white prints.
If you're looking for some guidance you can also check out the video tutorial for the Black Diamonds quilt from Fat Quarter Shop. I didn't sew my quilt the same way (no starching & no pressing open), but that's whats so great about doing it yourself!
I went in a different direction. When I was looking through the fat quarter bundles I was immediately drawn to Season & Spice from Art Gallery Fabrics.
The collection is filled with rich burgundy, rusty orange, gold, and deep blue-green colors offset with white prints with a lovely combination of large and small florals, novelty jam jars & farmers market produce, and geometric prints.
Along with the Season & Spice fat quarter bundle, I picked Seeded Eucalyptus yardage for the background, Handkerchief Nectar yardage for the accent color (star centers), Sweetened Jams yardage for the backing and Decostitch Elements Borgogna yardage for the binding.
I love using a print for the background, especially when there are larger open areas of the background. I tend to go really simple with my quilting and having a print in the open areas makes them feel more interesting. There are 5 (out of 16!) white prints in the Season & Spice line so I knew I wanted a darker background to really make the colors pop.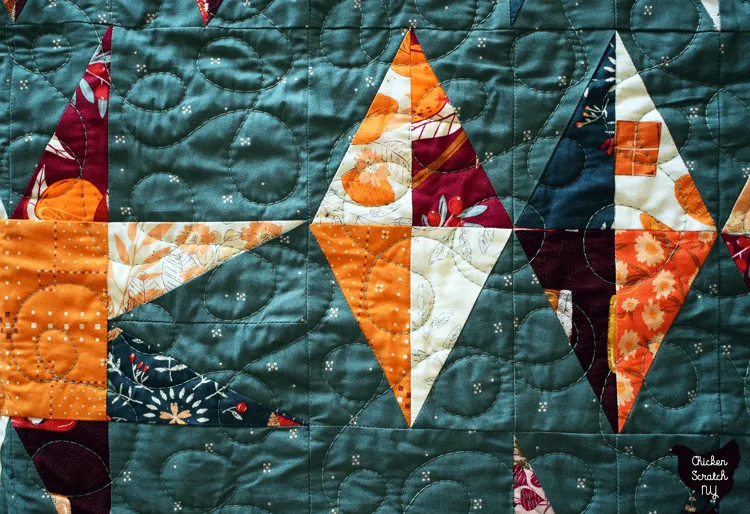 The Seeded Eucalyptus seemed like the best choice because the print was small enough it wouldn't get mangled in the half-square rectangles and it contrasted with almost all of the other prints. I ended up not using three of the fat quarters from the bundle, the Seeded Eucalyptus, Seeded Cranberry, and Handkerchief Spruce (too similar to the background).
When I was making this quilt I was surprised to see how some of my favorite fabrics in the collection ended up rather meh in the finished quilt. I loved the little jam jars so much that I used them for the back of the quilt but in the piecing, they are barely recognizable and just not that interesting.
When you're cutting the fabric for your half-square rectangles you have very little control over where things are going to end up. If you start with a sparse print you're going to end up with a lot of boring blocks.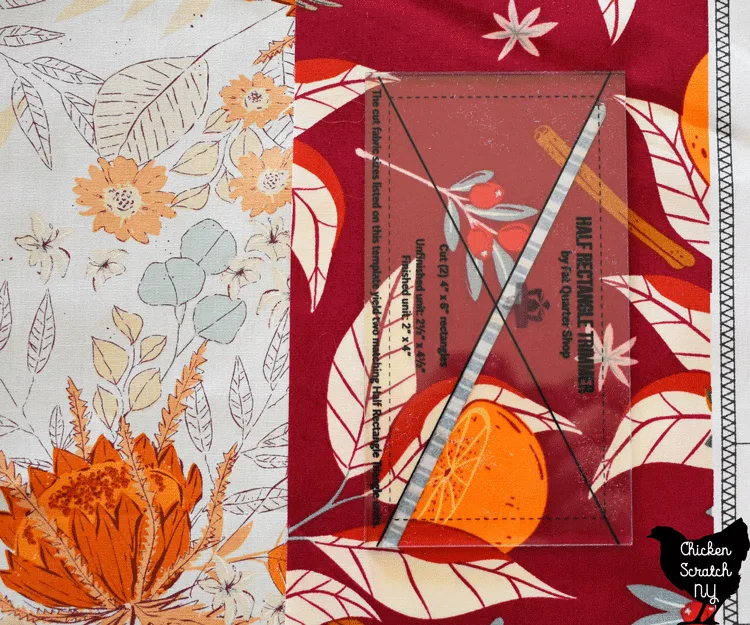 It's not so much the size of the motifs of the fabric as it is the blank space between them.
The Autumnal Spice yardage features large orange slices, cinnamon sticks, greenery, cranberries, and star anise scattered on a burgundy background. That fabric made some of my favorite blocks in the quilt because there was so much going on and such little empty space in the background.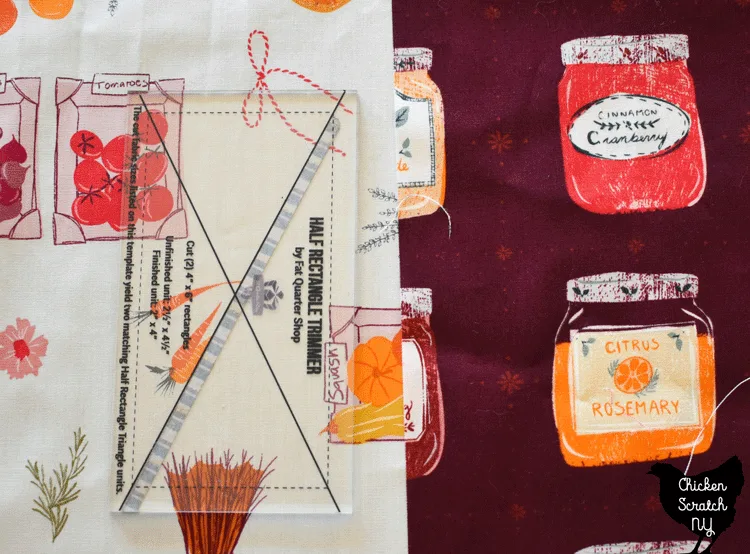 On the other hand, the Farmers Market yardage resulted in a few really cute blocks and a lot of mostly solid white blocks. You can get a decent feel for how your blocks will turn out if you place your template over the fabric and move it around, make sure you're looking inside the dotted lines to account for seam allowance.
If you're pulling fabrics from your stash or looking for something online I highly recommend avoiding any prints with large spaces between the motifs. Instead, look for prints where everything is jammed right up together.
Black Diamonds Sewing Tips
This quilt pattern utilizes the Half Rectangle Trimmer from Fat Quarter Shop, you'll need it to trim up your blocks and I can't imagine making this quilt without it.
On the trimmer, it lists the finished & unfinished block sizes along with the size you need to cut your original rectangles. I made a set of sample blocks and I wasn't happy with the amount of fabric waste.
I'm all about useable scraps but the pieces I was trimming off were too small to be usable. I did another set of test blocks and found out I could cut my rectangles at 3.5 x 5.5 and still end up with perfect half-rectangle units using the trimmer.
You should do a bit of experimenting before you cut into your final fabric to see what works for you.
---
If you're used to making half-square triangles you might think this quilt will be a piece of cake. You'd be wrong!
Unlike half square triangles when you make half square rectangles you need to make two separate sets of blocks, one with the print on the right and one with the print on the left.
The best way I found to not mess this up was to do all my cutting and immediately divide the prints into two piles. Then I grabbed my trusty 1/2 inch ruler, put on a long podcast, and drew all the lines.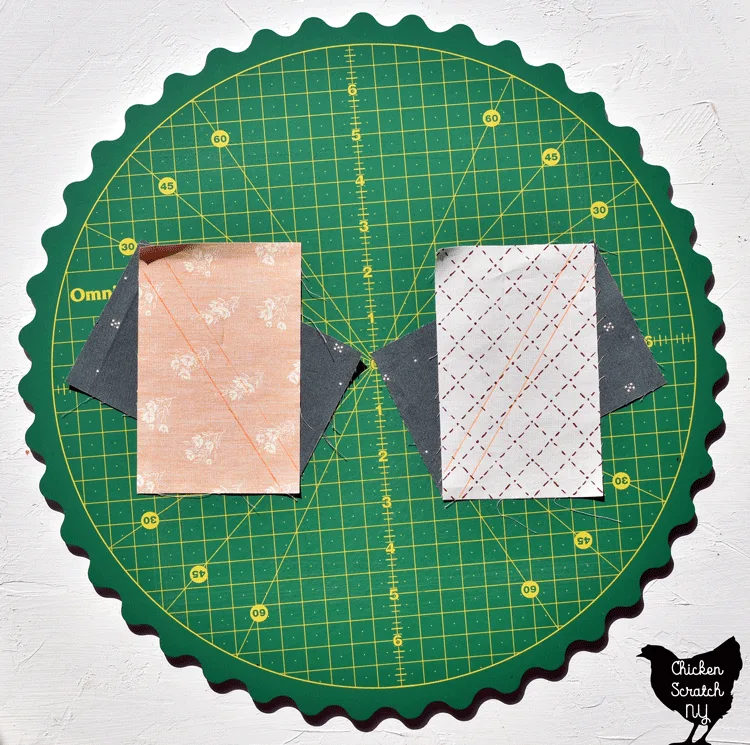 That way I could be absolutely certain that in the end, I'd have half of my blocks going one way and half going the other way.
I refused to press my seams open and instead I pressed one set towards the background and one set towards the print. That way I was able to nest all my seams.
---
Once you've got your blocks sewn, cut apart, and pressed open the real fun starts. This quilt requires over 300 half-square rectangles, anything you can do to make the trimming process faster and more streamlined is going to be a big help.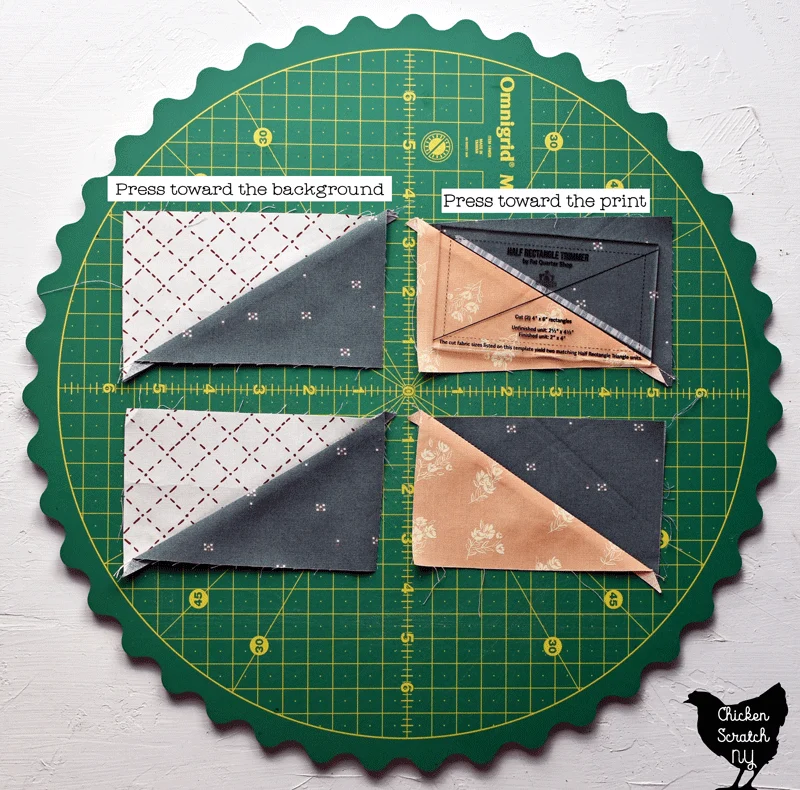 The first thing you'll need is a roll of washi tape, stick 2-3 layers of tape directly to the side of one of the diagonal lines. This will give you a ledge to push up against while you're trimming.
Washi tape is great for marking rulers because it's low tack, cheap, and easy to reposition. You will need to switch the tape to the opposite diagonal to trim the second set of blocks.
The second thing that will make this process 100x faster is a rotating mat. You need to trim all four sides and the fastest way to do that is on a mat that spins.
Rotating mats can be expensive but if you wait for a sale or use a coupon you can usually get one for a decent price.
---
Will you be making the Black Diamonds quilt? Let me know in the comments!
---
Check out my Quilting page for more info or start here: