Cold dry air can leave your skin feeling rough and parched, give it a boost with a homemade Sugar Scrub Bar made with your favorite scent!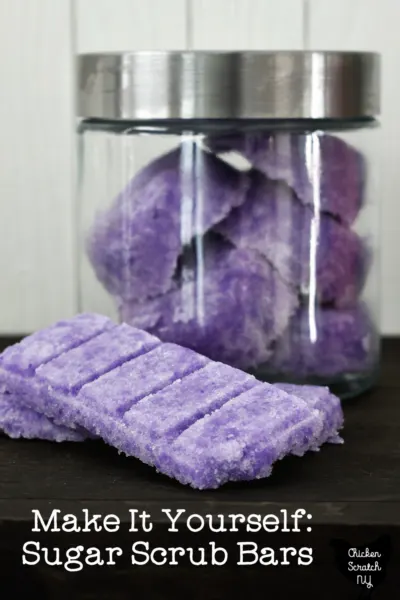 Sugar scrubs are popular for bath time exfoliation, the sugar crystals remove dead skin while the carrier oils leave your body feeling moisturized and smooth. But they can be really messy.
Sugar scrub bars take this concept to the next level by combining melt and pour soap with the sugar and oils for an easy-to-use exfoliating bar.
You could say that I don't know when to stop, so I also added some color with soap dye and fragrance. You can use any skin-safe fragrance oil or essential oils for scent and soap dye or mica pigments for color.
For fragrance, I used NG Nappa Valley Harvest from Nature's Garden. It's a dupe for a discontinued Yankee Candle fragrance and it's one of my favorite fruity fragrances. It doesn't have any artificial sweetness to it and it has just enough floral notes to make it interesting.
It's amazing in candles and I couldn't stop myself from using it for a batch of sugar scrub bars. I'll be gifting a few to my mom for the holidays and I know she'll love them too.
I also dumped in an undetermined amount of purple mica into this batch, if I had to guess it was around a teaspoon but there was an incident.
When it came time to pick a mold I wasn't sure which way to go so I grabbed my old standby, the Silicone Muffin Pan from Wilton, and a breakaway chocolate bar mold.
The chocolate mold was easier to stretch out of shape while I was filling it but I think the bars turned out super cute and they're great for a quick shower.
I like the larger size for a bath or when I'm shaving my legs and I really want to go to town with the exfoliating. With this batch, I was able to fully fill 6 candy bars and 6 of the muffin cavities about 2/3 of the way full.
If you want your bars to really stick together make sure you pack them into the molds before the soap is fully set, if not they'll be more on the crumbly side.
On a similar note, if you make a batch of bars and they won't stay together, try adding more soap the next time. It might take a bit of experimentation to get the bars just right for you.
Yield: 12 Bars (Muffin Pan Size)
Sugar Scrub Bar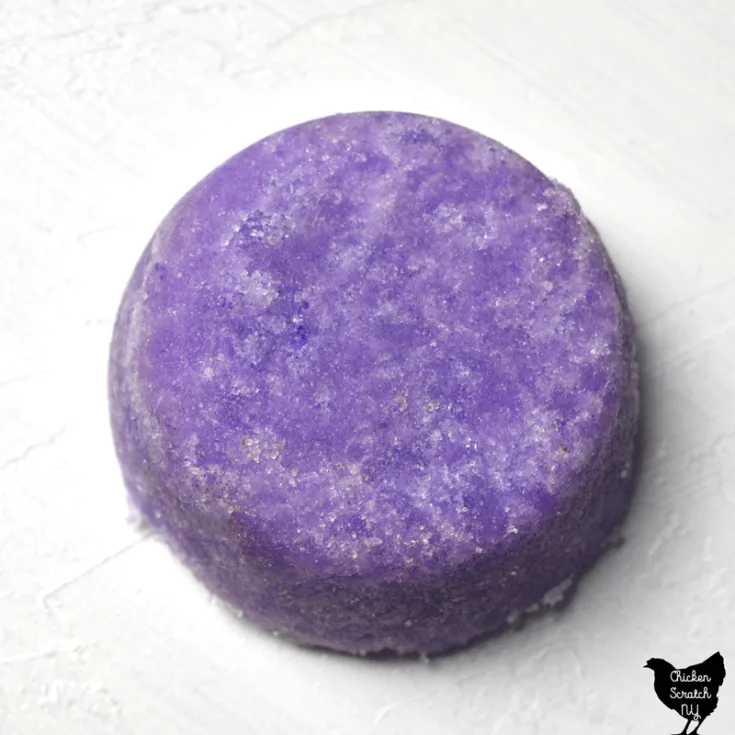 Cold dry air can leave your skin feeling rough and parched, give it a boost with a homemade Sugar Scrub Bar made with your favorite scent!
Total Time
2 hours
15 minutes
Materials
6 oz. Melt & Pour soap
6 oz. Almond Oil
18 oz. White Granulated Sugar
1/4 oz. NG Nappa Valley Harvest Fragrance Oil
Optional - soap colorant or mica powder
Tools
Silicone Mold
Glass Measuring Cup
Microwave
Large Bowl
Instructions
Melt soap following the directions on the package
Stir in Almond Oil, Fragrance Oil & optional colorant
Immediately stir the soap mixture into the sugar, the soap will harden as it cools so try to work quickly
Press the sugar mixture into the mold using a gloved hand and allow it to set until hardened
Carefully remove from the mold and store in an air-tight container
To use the bar break off a piece and rub it over damp skin in the shower or bath and rinse clean
Notes
Sugar scrub bars can be used as soon as they have hardened
Recommended Products
As an Amazon Associate and member of other affiliate programs, I earn from qualifying purchases.
---
Check out my DIY Bath & Body page for more ideas or start here: