Autumn doesn't have to be in the air to be in your bath when you have a Pumpkin Cheesecake Sugar Scrub Bar on hand!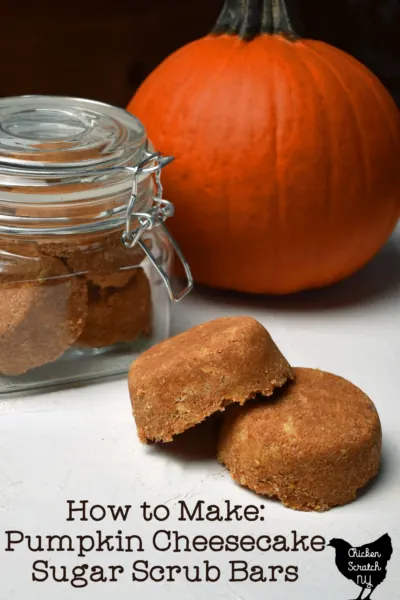 I had a lot of fun making basic sugar scrub bars but I wanted to make something a little fancier. Digging through my tub of bath and body supplies I was inspired by a few autumnal ingredients and this recipe was born.
Learn How to Make Basic Sugar Scrub Bars
Sugar Scrub Bars are a solid-ish version of a sugar scrub used to exfoliate and moisturize your skin. Melt-and-pour soap acts like a binder, holding the sugar and oils together into an easy-to-use and store block.
Take one in the shower or bath and rub it over damp skin to remove dead skin and leave your limbs feeling silky smooth.
Pumpkin Cheesecake Sugar Scrub Bar Ingredients
The basic ingredients for sugar scrub bars couldn't be simpler, all you need is melt and pour soap base (you can find it at Michael's or Joann's), skin-safe oil, and sugar.
Learn How to Make Basic Sugar Scrub Bars
But this isn't basic (or it's more basic, depending on which version of basic we're using because these bars would go great with a PSL) it's fancy, the best kind of fancy, fall fancy.
This recipe is pretty much an excuse for me to put a bunch of pumpkin things on my body. And by that, I mean Pumpkin Seed Powder and pumpkin seed oil.
Both are used in cosmetics and body care for their antioxidant, skin-softening, and skin-nourishing properties. Pumpkin Seed Oil is expensive so this is a smaller batch than my Basic Sugar Scrub Bars.
Our last pumpkin addition is the fragrance oil, which doesn't actually contain pumpkin but it smells incredible.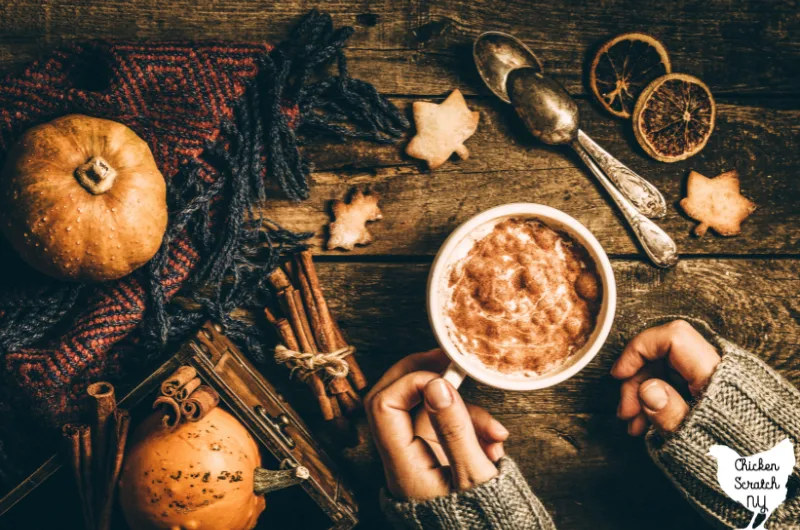 Long ago, in another life, I made and sold wax melts, as a Target Mom who loves all things fall I made it my mission to find the best pumpkin fragrance oil and the winner was Pumpkin Cheesecake from Nature's Garden.
I can not put into words how good it smells, it has pumpkin, it has spice, and it's sweet without being cloying. My daughter and I made a few candles with it and we can't stop smelling them.
When it came time to turn my autumn obsession into a body scrub bar I knew it was time to break out my bottle of Pumpkin Cheesecake.
The final addition is Morrocan Red Clay, this is going to give the bars a nice color and adds a little to the exfoliating properties which will help with the overall skin softening.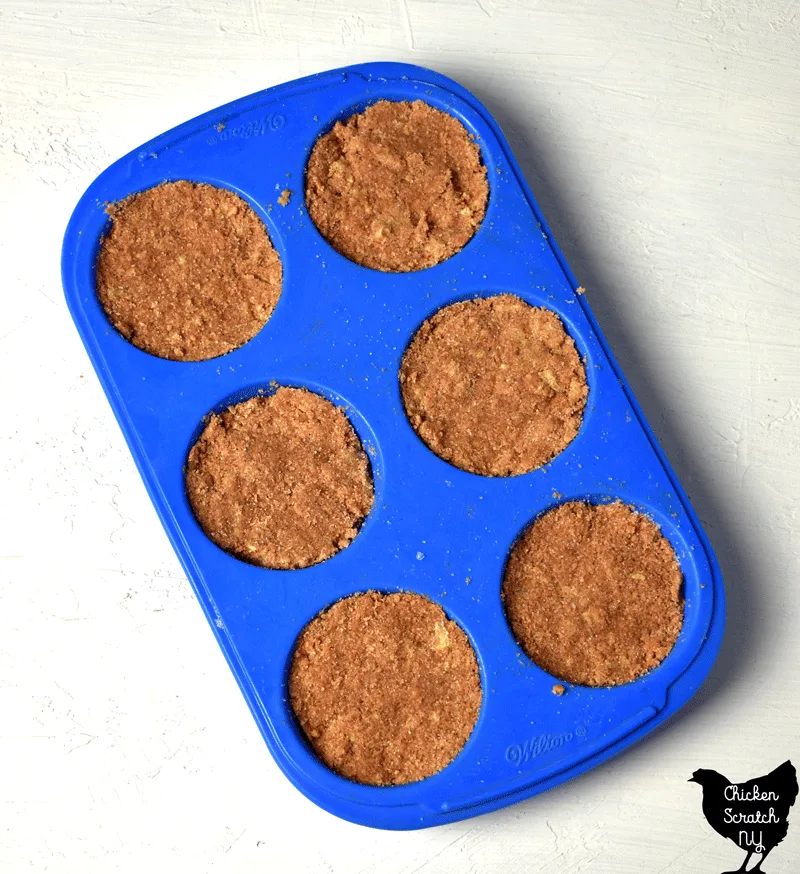 I made my Pumpkin Cheesecake Exfoliating Sugar Scrub Bars in a silicone muffin pan that I use for soap and bath and body products like this.
Silicone molds are great because you can really push on them to make sure all the bubbles are out without worrying about cracking them and the finished products pop right out when they're set.
Yield: 6 Bars
Pumpkin Cheesecake Sugar Scrub Bars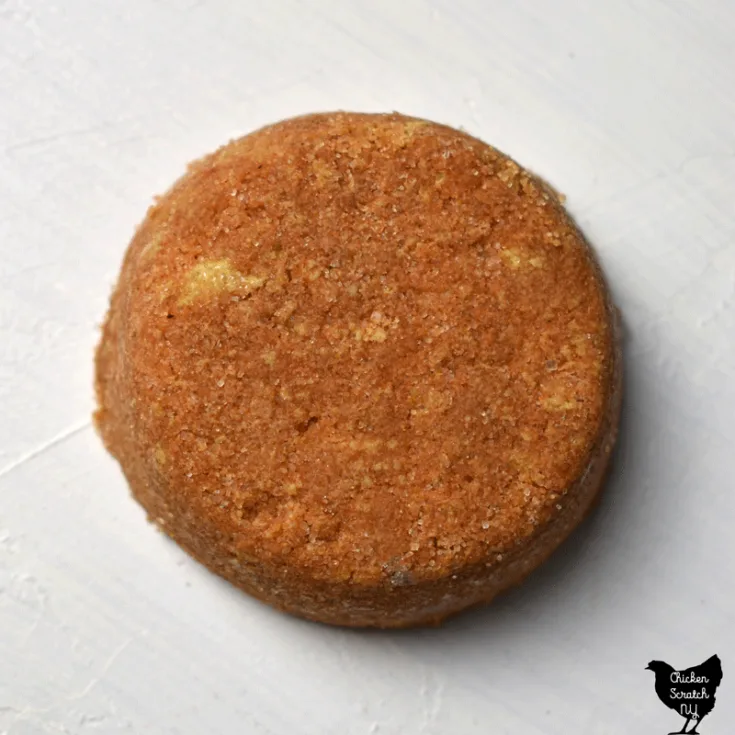 Autumn doesn't have to be in the air to be in your bath when you have a Pumpkin Cheesecake Sugar Scrub Bar on hand!
Total Time
2 hours
15 minutes
Materials
4 oz Goats Milk Melt and Pour soap base
3 oz Pumpkin Seed Oil
1/2 teaspoon Pumpkin Cheesecake Fragrance Oil
10 oz White Granulated Sugar
1 tablespoon Pumpkin Seed Powder
Optional - 1 tablespoon Moroccan Red Clay for coloring
Tools
Glass Measuring Cup
Microwave
Disposable Gloves
Large Bowl
Spatula
6 Space Silicone Muffin Pan
Instructions
Whisk together sugar, pumpkin seed powder and optional Moroccan Red Clay in the large bowl
Melt soap following the package directions in the glass measuring cup
Stir in Pumpkin Seed Oil and Pumpkin Cheesecake Fragrance Oil, if the soap hardens pop it back in the microwave for 15 seconds.
Pour the soap mixture into the sugar mixture and fold until fully combined, when you get to the end it might be easier to use a gloved hand
Transfer the sugar mixture to the silicone molds, pressing with a gloved hand to pack the mold and remove any bubbles
Allow bars to solidify
Carefully remove from the mold
To use, rub over damp skin in the shower or bath
Notes
You can substitute any type of melt-and-pour soap base and fragrance
You can adjust the texture of the bars to be firmer by adding more soap
Recommended Products
As an Amazon Associate and member of other affiliate programs, I earn from qualifying purchases.
---
Check out my DIY Bath & Body page for more ideas or start here: