My first memories of canning involve lots of tears. It wasn't anything painful or traumatizing (well, maybe a little), it was the onions. You see, my mom only canned two things; strawberry jam and tomato sauce.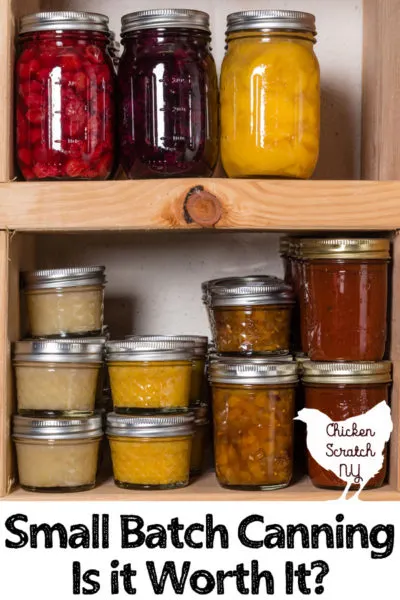 This post contains affiliate links, check my disclosure policy for more information
It was the sauce that did me in. It wasn't the sort of cheerful 1950's sitcom experience you'd like it to be. It was an all day exhausting exercise in food preservation. The recipe didn't call for mere cups of vegetables, rather the ingredients were measured in bushels.
The tomatoes were halved and thrown in a pot to cook until squishy and then run through a hand-crank (my hand thank-you-very-much) food mill to remove the seeds and skin. The same happened with the onions and green peppers.
We'd take turns chopping and running outside with tears burning our eyes from cutting pound after pound of onions. The house was hot and steamy and we all emerged limp and lightly coated with a sticky vegetable residue. I remember making the sauce much more than eating it.
I'm the only one in my family who cans anymore, my mother only eats lettuce and my sister would rather buy a frozen pizza than chop a tomato.
These days I find myself drawn to smaller batches rather than large ones and my childhood experiences are probably why.
The only thing I can in large quantities is applesauce and that's usually done in 7 pint batches because that's how many apples I can fit in my cooking pot for whole apple, no peel applesauce.
If you're interested in starting or switching to small batches I thought I'd list out some pros and cons from my personal experiences.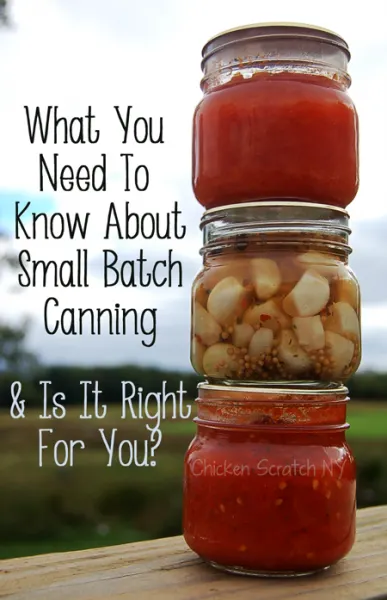 In favor of small batch canning:
Less Time
You can easily cook up 2 pints of pizza sauce in less than an hour. Larger batches require more peeling, chopping and time to reduce.
The 7-pint batch of tomato sauce took almost 2 hours just to cook down, that didn't include the time I spent running them through the food mill or washing and cutting the onions and peppers.
I can get a little done every night when I'm only doing small batches, usually by the time the water is boiling in the canner I've got my sauce or jam cooked down and ready to go.
Less Daunting
Destroying 20 pounds of peaches when you burn the peach butter is an awful experience. I know, I've done it. It's just less scary when you've only got 10 peaches on the line.
Small batch canning also great for beginners. Baby steps are key in the homesteader lifestyle, no matter how slow you're going you're still moving forward
No one wakes up one morning, boils some water and puts up 1,000 jars of food on their first shot. Start with something easy and forgiving and then get crazy ans complicated.
If you're looking for a more in depth tutorial on canning than I can offer I recommend Simply Canning School. It's a very comprehensive program that focuses on safety and staying up-do date with best practices. No one wants to hand out botulism with their pickles right?
More Variety
Would you rather have 20 pints of one type of salsa or 5 pints of 4 types? That's what I though.
We're a heavily divided family, my mom wants her salsa hot enough to melt the cooking pot while I like to taste my food. So now I make some for her with scotch bonnets and some for me with a few jalapenos.
It also gives me the option to seek out my perfect salsa recipe from the thousands available out there. So far I'm a big fan of the Zesty Tomato Salsa from the Ball Canning Book but that coveted spot is up from grabs every year.
Experiment
Every year I try to grow something unique that I haven't grown before. One year it was tomatillos, then ground cherries, followed by cucamelons. I like to grow things you don't see in stores.
But since it's the first time I've grown something I'm not always sure what I should be doing with it. I try to find a handful of recipes in my favorite canning and preserving books and then I try as many as I can (ha! can).
What ever I like I can double or triple the recipe next year.
Use Up Left Overs
Chances are you've had a few stragglers in the garden. A few tomatoes that waited to ripen, a hidden bell pepper or a handful of beets that just won't fit in the jars you're pickling. Small batch recipes are a perfect way to use those up.
Specialty produce
Gardeners are an odd bunch, I include myself when I say that.
We all have one or two plants that are just more special than the rest. Maybe it's an apple tree that finally produced or some corn grown from seed you saved. A small batch is perfect for preserving that special produce all on it's own.
Smaller quantities
The biggest canning regret I've ever had was the time I canned something like 20 pints of strawberry jam. I'm not a big sandwich person and my kids like grape.
If you're sticking to small batches you're less likely to be sick of something by the time you run out.
Argument Against Small Batch Canning
Not worth the mess
Even though your using smaller quantities you're still using about the same number of dishes/utensils. There is a limit to how many dishes I'm willing to wash for the sake of 2 pints of pizza sauce.
I prefer to use my food strainer that attaches to my mixer over peeling tomatoes but there is no way I'm cleaning it out for that little reward. This is my main issue with small batches.
Easy to Over-cook
When you aren't starting out with that much it can go from perfect to overcooked in a flash. But since it generally takes less time you're less likely to get distracted and wander away (not that I've ever done that, see the peach butter example above)
Specialty Ingredients
I've noticed a lot of small batch recipes use a variety of ingredients. You'll end up buying more types spices/vinegars/seasonings than if you were just going with one recipe.
Running Out
I made 6 half-pint jars of peach sriracha jam one year, I was licking the pan after I finished filling the jars. I already know there won't be enough to keep me happy.
Are you still canning or have you happily stashed the giant pot away for later? Do you prefer one giant marathon session or breaking it up into smaller batches?
More Canning Posts: