I've said in the past that I would never make a yarn wreath. And apparently I lied.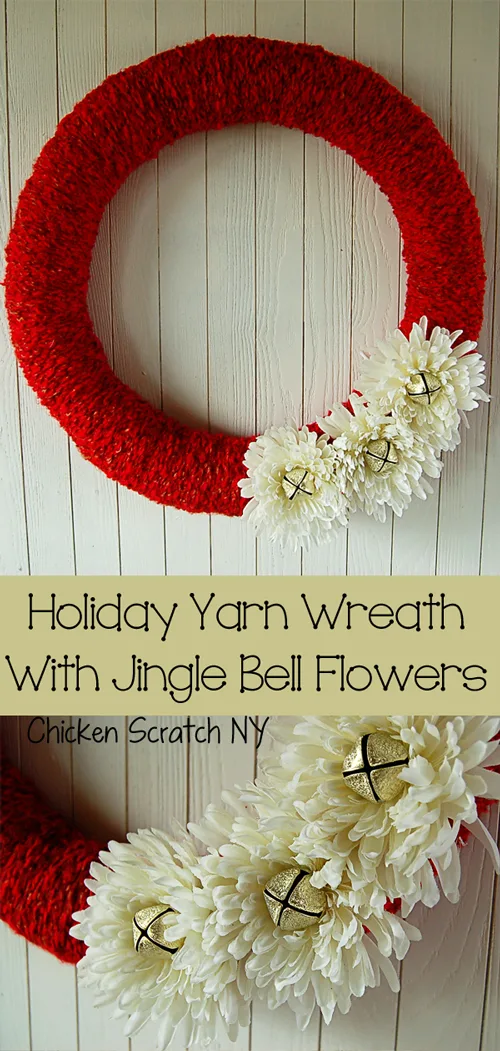 My version of the pinterest favorite uses chunky yarn and only takes two episodes of The Big Bang Theory to complete. This is a case of the original vision and the final product not looking at all the same.
I was going to use a thick green wool-look sweater yarn and white roses but this wreath will be living at my sisters and her door is an odd olive color (something I didn't realize until I delivered the Glittery Witch Halloween Wreath). So green was out, and there weren't any roses for cheap so I ended up with mums.
Believe me when I say you can alter this in any way to fit your budget, supplies or tastes.
Picking Yarn for a Wreath
You can use any yarn you like or have in your stash. However. If you plan to finish before your youngest child graduates from medical school pick something thick.
I talk about my favorite chunky yarns in my Simple Crochet Scarves turtorial but the general idea is to pick something with a 5 or higher on the label. Thicker yarn will make the process much quicker and you'll get a nice texture on the wreath that you can see from more than 3 inches away.
Picking Flowers for Wreath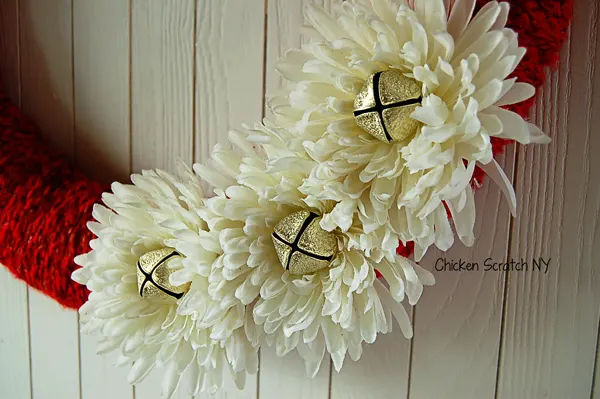 A general rule in decorating is that odd numbers look better than even. This wreath uses three, my Bleeding Flower Wreath uses five and Dogwood & Dahlia Wreath uses one. The exception to this is when you're using a mass of small flowers.
We're not using small flowers here though. Instead we're using big flowers that we can rip apart and put back together with jingle bell centers.
If you spend a lot of time dismantling flowers you'll notice they're all put together pretty much the same way. You have a hard plastic center with layers of fabric petals and finally a heavy plastic disk. Sometimes the disk is cupped to push the flowers forward.
Make sure you can get those pieces separated when you're in the store or this won't work for you. While you're at it make sure your jungle bells will fit nicely in the flowers.
Yarn Wreath Supplies:
❄️ Straw wreath form
❄️ Thick yarn – I used Loops & Threads Country Loom in Hollyhock which has been discontinued
❄️ Duck tape
❄️ Scissors
❄️ 3 flowers
❄️ 3 jingle bells
❄️ 6 inch piece of scrap craft wire folded in half
Instructions:
1. Leave the plastic on the wreath! Use a 4 inch piece of duck tape to attach the yarn to the wreath form, leave a 4 inch tail.
Start wrapping, and wrapping. I found it went fastest if I tossed the ball of yarn though about 5 times then went back and fixed the yarn into place
2. When you reach the beginning cut off the ball of yarn leaving about 4 inches, tie it to the tail you left in the beginning
3. If there are any spots where the straw peaks through cover with a few loops of yarn and tie them off on the backside. I used the Hollyhock Country Loom yarn to make a scarf a few years ago, I really like the flecks of gold and the fuzziness helps to hide any *ahem* errors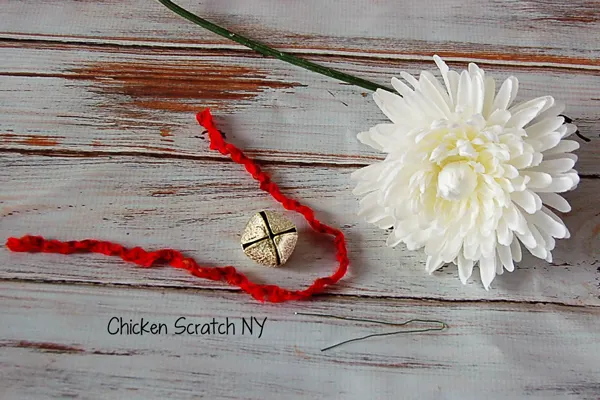 4. Now that your wreath form is done it's time to start dissecting the flowers. First pull of the stem and any plastic pieces holding on the petals.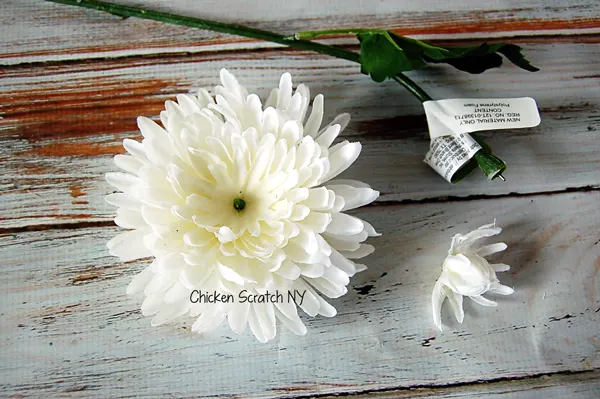 5. Now pry out the center, it's different on all flowers sometimes its just a plastic piece that pull out easily but on these mums it was an odd cone surrounded by petals. What ever it is pull it out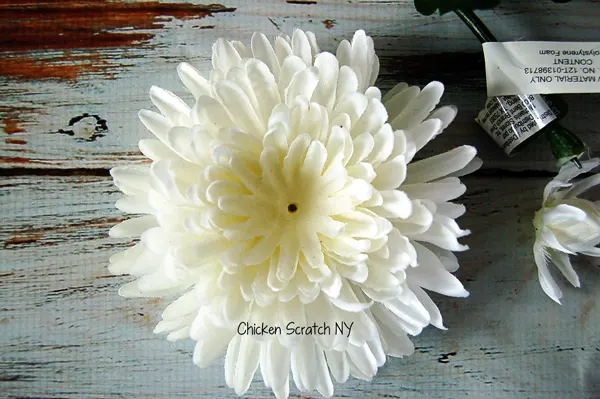 6. Sometimes you'll end up with a plastic tube left in the middle of the flower, if you do get rid of it. You should be left with a stack of petals with a hole punched right down the center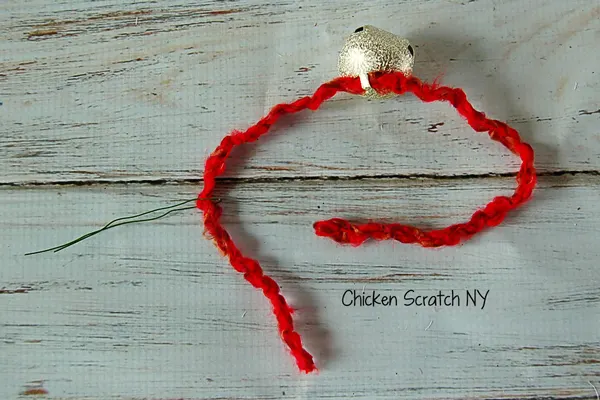 7. Take a 12 inch piece of yarn and using the craft wire as a needle run it through the loop on the bell and adjust the yarn so the bell is in the middle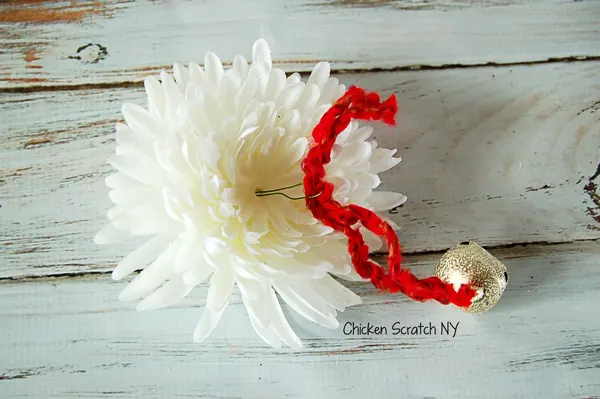 8. Using the wire again pull both end of the yarn through the flower petals and pull it snug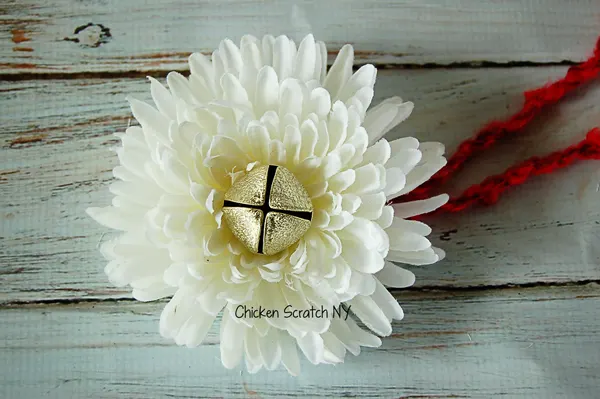 9. Tie the end of the yarn around the wreath and secure with a knot. Repeat with the other two flowers
Hang the wreath up with a metal wreath hanger, they bend and keep the wreath snug, plastic ones might snap if you try to force the thick wreath in them, or stick it on a nail in the wall.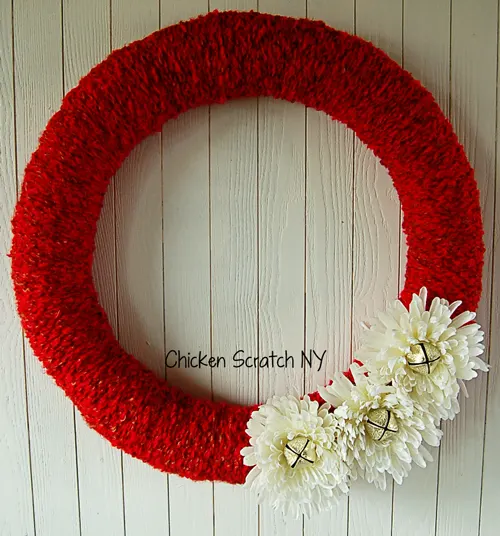 Don't forget to PIN this to your Christmas Boards!
Check out my Christmas Page for more ideas or start here: