I'm getting into Christmas gift mode. I feel like I've been crocheting constantly for the last week or so. Most of the ladies on my list will be getting handmade simple scarves. Don't tell on me but I'm pretty lazy about the whole thing. I thought I'd share my old stand-by plan for super easy scarves.
It all started two years ago. I made the Super Fluffy Scarf of Awesomeness. I got lots of compliments and people asking me to please make them one. Now that give-people-stuff time had arrived the decision has been made. Scarves for all!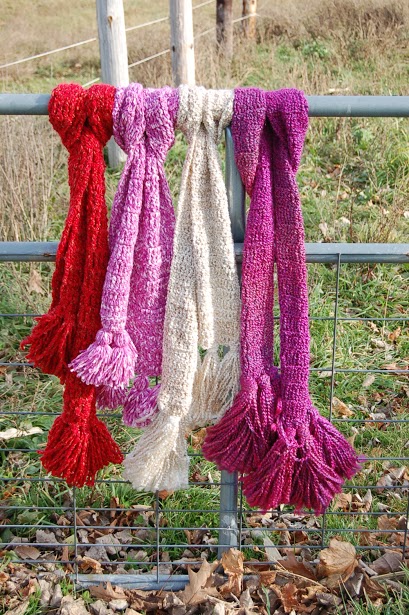 This is a really basic pattern. Super basic. So basic it really isn't a pattern.
Instructions:
Buy yarn. This is where you get to be fancy.
Decide how wide you want your scarf. This will change with the yarn you use.
Start your chain
Double Crochet until the first ball is gone. If it's too short add some from the second ball.
Add something fun to finish it off. Tassels, fringe or even pompoms.This is why you needed 2 skeins.
Ooo! See what I did there? Yeah. That's the pattern. Do you feel cheated? You shouldn't, you didn't pay for it.
Yarn Reviews:
I've made my share of scarves over the
years
months
weeks and I'd love to share my experiences with you.
Homespun by Lion.
This is the yarn that started it all. My super fluffy blue scarf of fun is made from Homespun (Montana Sky). I used Mixed Berries and Pearls for the Christmas Scarves.  One skein makes a decent scarf. I used half-double crochet for the white one, the scarf ended up being quite a bit shorter.
Cons:
The colors are pretty limited and the yarn is on the expensive side. I found it cheapest at Michael's on sale for $4. Regular price at Joanns was around $7 dollars.
Country Loom by Loops and Threads


I've only made some scarf from this, it crocheted really easily, sometimes with nubby yarn you get the hook stuck in the yarn, didn't happen with this one. I used the Hollyhock color, a really pretty true red with golds in it. I wasn't crazy about it before I crocheted it but the color really came out once it was in scarf form. There are lots of pretty colors, I'm thinking I might need one from Solarium color. This made a thicker scarf than the homespun which was nice for the frigid winters her in good old CNY. Only available at Michael's, it's been on sale the last few times I've been in.
Cons:
One ball isn't enough for a scarf, not even close. I'd cut what fringe/tassles/flowers/decorations you want first and then use up the rest of the second ball on the scarf. Cuts down on the extra mini-yarn balls left rolling around the craft room
Find more holiday projects on my Christmas page