Crochet scrunchies are a quick and addictive craft, you can't make just one. Take the simple scrunchie pattern up a notch by using luxurious yarn for a velvet crochet scrunchie!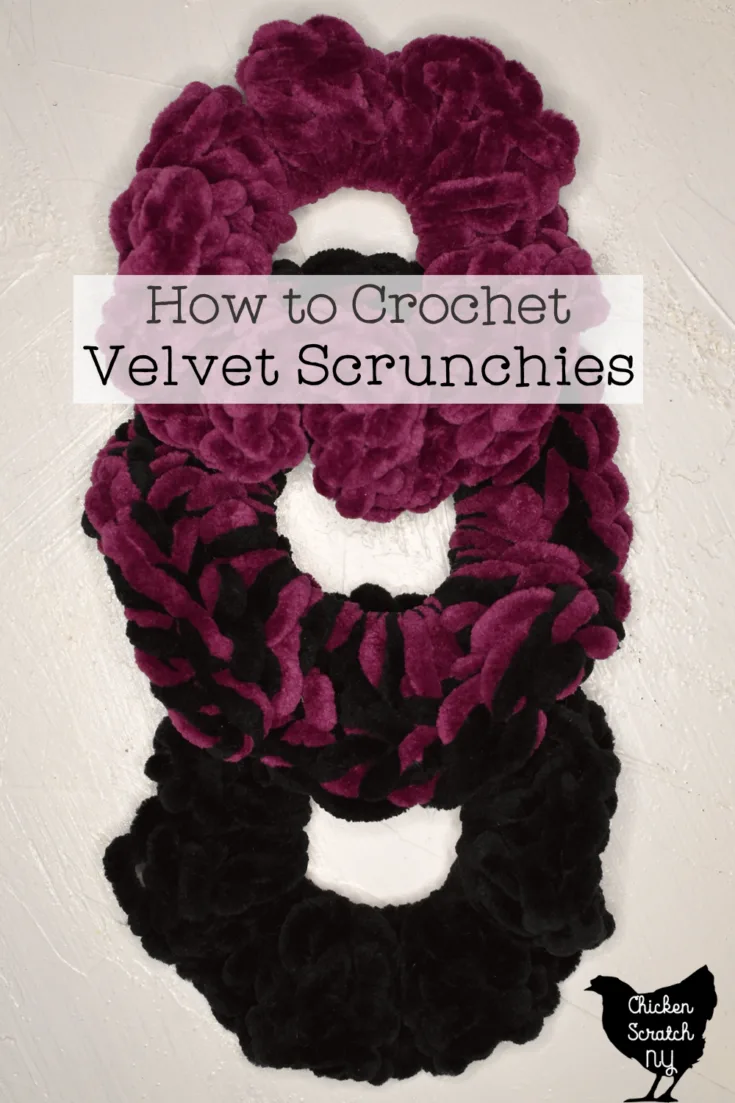 Velvet or Chenille yarn creates a delightfully squishy scrunchie that you'll find yourself petting when it's not holding back your hair!
Velvet Crochet Scrunchie Supplies
At the risk of sounding obvious, you're going to need velvety yarn. My favorite yarns for scrunchies by far are the Chenille Home and Chenille Home Slim yarns by Loops & Threads from Michael's.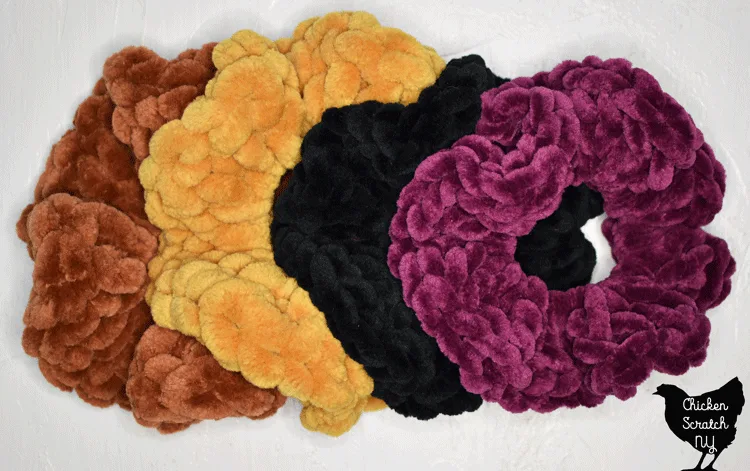 Chenille Home is a Jumbo or 7 yarn, it comes in 26 colors, most are deep, saturated jewel tones. Chenille Home Slim is a Super Bulky or 6 yarn and it comes in 22 colors. There is a lot of overlap between the two.
I used two of the Chenille Home colors, Mustard & Terracotta and two of the Slim colors, Black and Boysenberry for the scrunchies in this post.
If you're looking for a lighter or brighter color head across the aisle to the Sweet Snuggles and Sweet Snuggles Lite yarns. As far as I can tell they are exactly the same but in a different color palette.
Sweet Snuggles is a Jumbo yarn and comes in 28 colors and Sweet Snuggles Lite is a Super Bulky yarn and comes in 19 colors.
At about $10 each those yarns might be too much if you're just looking to make one or two scrunchies. Fortunately, the Dollar Tree has been stepping it up in the craft department and I found skeins of "Just Chenille" yarn.
They don't have that many colors, my store had black, green, blue, baby pink, and a mustard color. The skeins are small, only 65 yards but for $1.25 you can't go wrong!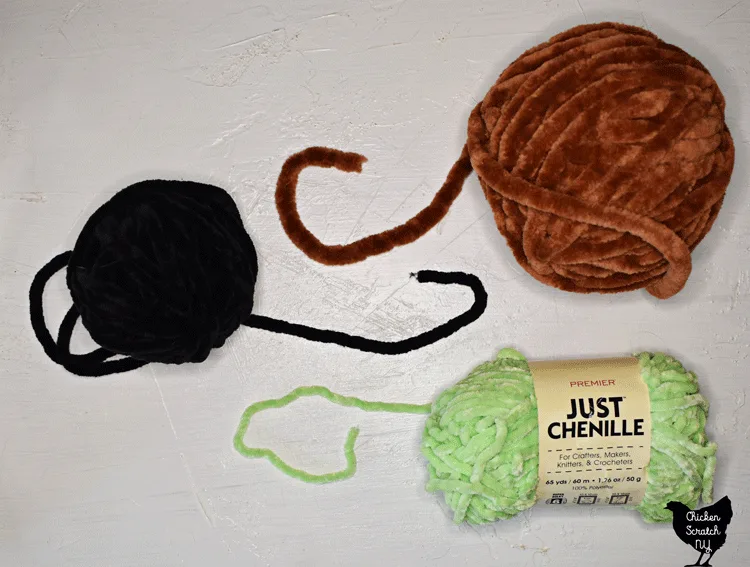 The labels say they're super bulky like the Chenille Slim yarn from Michael's but to me, the yarn is thinner and closer to a bulky weight yarn. It works really well for the scrunchies, you'll just need more stitches.
You will also need crochet hooks, gauge doesn't really matter for this project so you can use whatever feels comfortable for you. If you tend to be tight with your stitches I recommend moving up a hook size or two because the yarn does tend to stick to itself.
You will also need hair ties. Color doesn't really matter but make sure you get the seamless kind.
We usually use the large hair ties, they're easier to double up around ponytails, but I actually liked the smaller hair ties for the velvet scrunchies,
They end up pretty thick and it's hard to fold them over for a second loop. The larger size works really well for buns or if you have thick hair but for a regular ponytail, I'd recommend the smaller ties.
Finally, you'll need scissors and a yarn needle to help weave in the ends.
Double Crochet Scrunchies
This isn't really a pattern so much as a method. Getting started and finishing it off are the most complicated parts, the crocheting in the middle is pretty simple.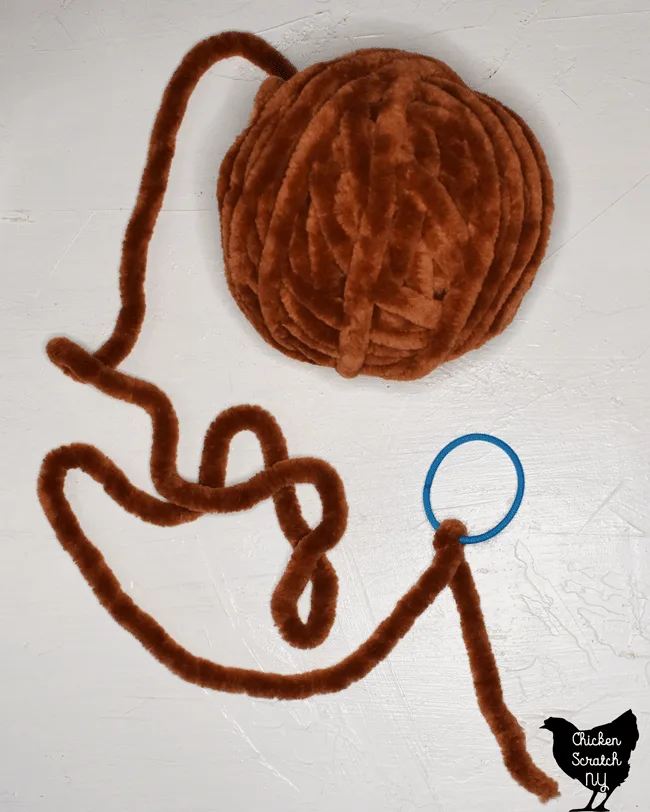 To start your scrunchie, tie the end of the yarn around the hair tie, leaving about a 6″ tail for weaving in later. You don't need to make a full knot, just one time around is good.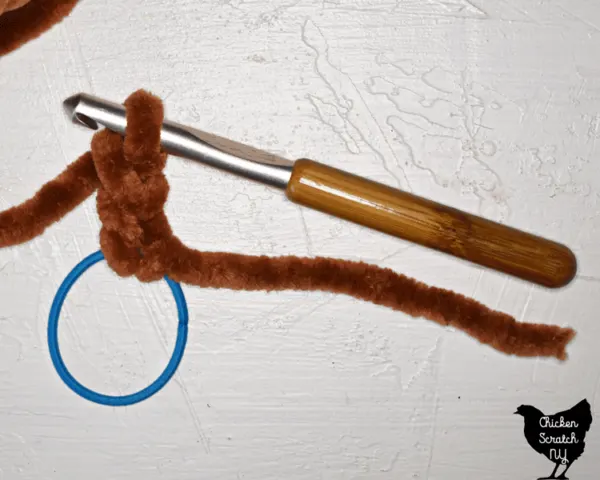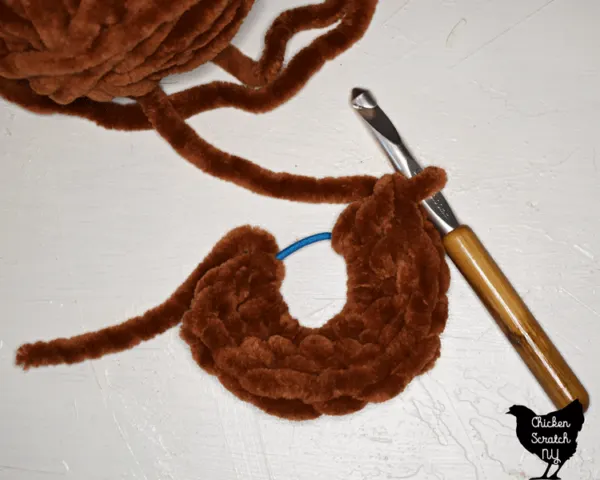 Then put your hook through the hair tie, pull up a loop, and chain 3 times. Now start double crocheting around the hair tie:
Yarn over the hook, put the hook through the hair tie & yarn over (3 loops on hook)
Pull through 2 loops (2 loops on hook)
Yarn over & pull through two final loops
Repeat
As you work your double crochets you'll start moving around the hair tie, when you get about 1/2 way around push the stitches together to make more room and keep going. The more stitches you add the more ruffly your scrunchie will get.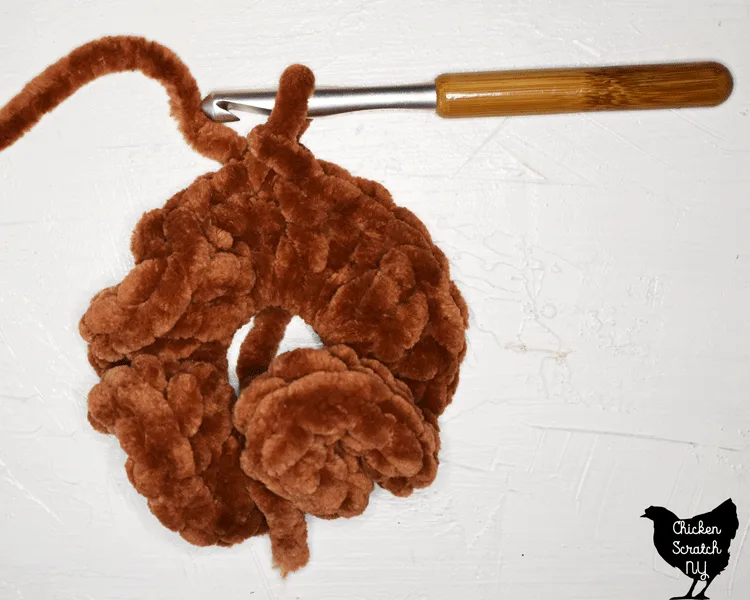 When you're happy with the number of double crochet stitches make a single slip stitch to make your stitches into a circle.
Cut the yarn, leaving at least a 6″ tail and pull it through the final loop on the hook and pull tight.
Now let's deal with those ends! The biggest issue with chenille yarn is the shedding, unlike most yarns it's a bunch of short fibers held together by a few stands of tightly twisted thread running through the center.
When you cut the yarn those threads untwist and you end up with a lot of fluff. This shedding behavior is why you need to leave a pretty generous tail on the yarn.
Thread your yarn needle with the tail that's tied to the hair tie and weave it up to the edge of the scrunchie. Obviously, there is going to be a lot of stretching going on in the center and if you weave your end in there it's not going to take long for it to escape!
Moving the yarn to the edge of the scrunchie will help keep things contained a bit better. Now make a few stitches and then remove the needle.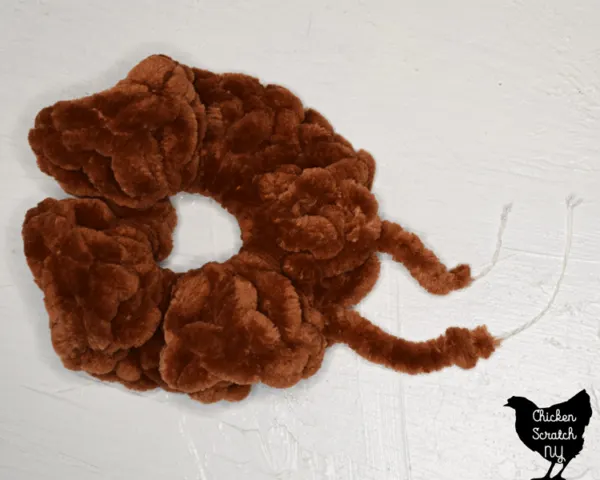 Tie a knot in the tail of the yarn and pull it tight, then use the scissors to clip ~1/4 inch away from the knot. Don't cut too close or the knot will come out.
Use your fingers to pull off any loose fluffs and then bury the knot in your stitches with your fingers or with some help from a crochet hook.
Repeat this with the other end and you've got yourself a squishy velvety scrunchie!
Velvet Crochet Scrunchie Options
Now that we've got the basics out of the way it's time to have some fun! I really went overboard experimenting and I have a giant pile of scrunchies to show for it.
Let's start with the thickest yarn, the Chenille Home. Based on the yarn label I started out with a P (11.5 mm) hook.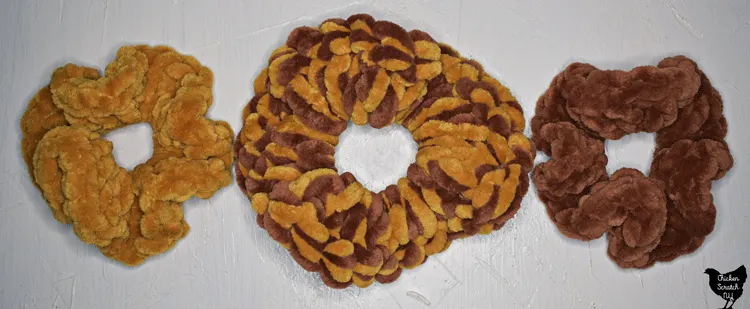 I did end up switching to an N (10 mm) because I was not loving the feel of the plastic hook on the yarn, everything just moved nicer with a metal hook. I didn't notice a huge difference in the size of the scrunchie and as I said in the beginning, gauge doesn't matter!
Just for fun I made a scrunchie & dismantled it in order to measure out my yardage, for a large hair tie scrunchie made with 40 double crochet stitches with a P hook I used 10.5 yards of yarn. Obviously, this is going to change based on any of those factors along with your personal tension but I think it gives you a good ballpark to start from!
When I doubled up the thick yarn I needed to use a Q (16 mm) hook which is the largest hook I own and honestly it was probably still too small! It gave me a giant scrunchie and the yarn was so thick it barely ruffled.

For the thinner Loops & Threads yarn, I used an L (8 mm) hook. For the 2 color scrunchie, I moved up to my N (10 mm) hook.
A single color, large hair tie, 40 double crochet scrunchie made with an L hook took about 8.5 yards of yarn.
The scrunchies made with the thinner yarn are smaller, more because of the smaller hook than the actual yarn, but they also ruffle a lot better and I think they're easier to double up for a tighter ponytail holder.
The Slim yarn also works well for a two-color scrunchie, just make sure you bump up your hook size a little bit.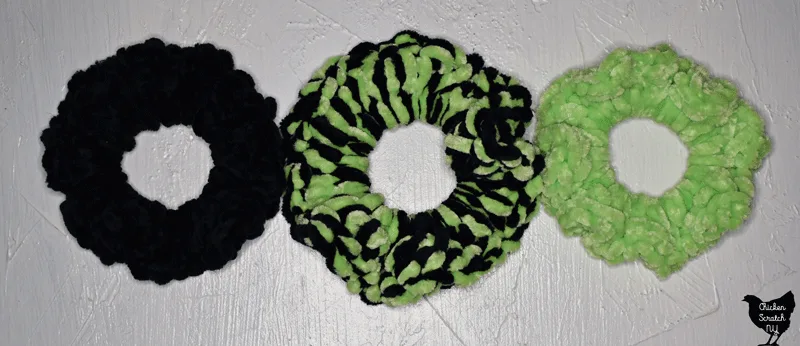 On to our final chenille yarn, the Just Chenille Dollar Tree option. This yarn is much thinner and took quite a few more stitches. I ignored the label on this one and used a K hook for the single color and an L hook for the double.
There were too many stitches for me to rip up so I didn't but I can tell you how much yarn I needed but I was able to make 4 scrunchies from a single skein (including 2 two-color scrunchies) and had quite a bit left over.
This was my favorite of the 2 color scrunchies, they didn't lose the ruffles and that Beetlejuice color combo is A+. The single color ones turned out a little small for me but they're perfect for the kids.
I was really shocked by how nice this yarn is, it's thinner but just as soft and squishy as the expensive stuff.
---
Check out my Crochet page for more projects or start here: