Handmade gifts are filled with love and what better way to keep your loved ones cozy than with a simple crocheted scarf? With this beginner-friendly project, you can let fun yarn do the heavy lifting and keep your stitches simple.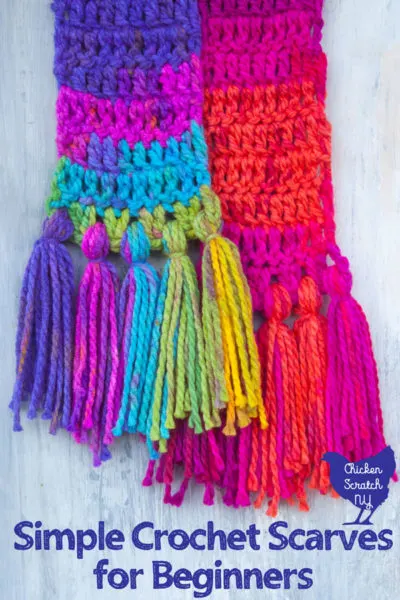 When the temperatures drop I start getting into Christmas gift mode and for me that usually involves a crochet hook.
Most people on my list will be getting handmade simple scarves. Don't tell on me but I'm pretty lazy about the whole thing. I thought I'd share my old stand-by plan for super easy scarves.
It all started a few years ago when I was in college. I made an amazingly fluffy blue scarf, it got lots of compliments and I had people asking me to please make them one.
I think practical and thoughtful homemade gift are always a safe bet so I ended up making piles of homemade scarves.
This is literally the easiest 'pattern' you'll ever see so buckle up buttercup and prepare to be amazed.
Picking Yarn for a Crocheted Scarf
This is without a doubt the hardest part. My preferences are: on sale, pretty and bulky. Look for variegated or multicolored yarns, they make the simple scarf pattern look a little fancier with no extra effort from you.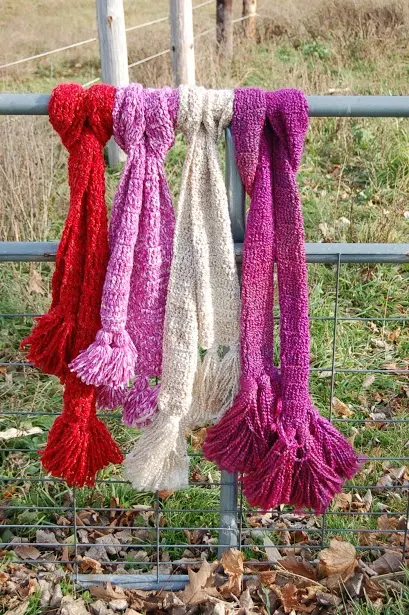 On the side of the yarn wrapper, you'll see a box with a number. Look for a 5 which means Bulky.
That means it's a thick yarn, so you can use a bigger hook and the whole thing will go more quickly.
You'll find another box in the same location with the recommended hook size. It's a guideline but it will give you a place to start.
Experiment with different hooks and yarn. Sizing or gauge doesn't matter for this project, it's really all about the way it looks.
One of the great things about crocheting is if you don't like the look of something you can just rip it out and start over. This is called 'frogging' because rip it sounds like ribbit.
And don't forget, done is better than perfect. I had some trouble with the orange and pink scarf but my kid doesn't know or care. She's just happy to have a bright, happy scarf with fluffy tassels.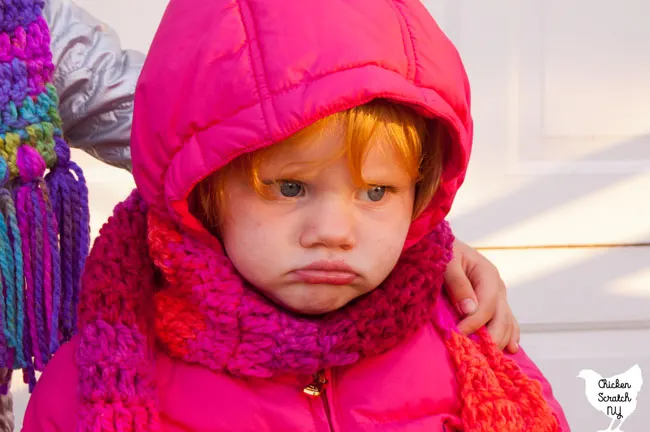 You'd never know it from the pictures. Terrible two's hit hard.
This 'pattern' assumes you know basic crochet stitches, all you need here is a chain and a double crochet. This page explains a double crochet much better than I could.
Simple Double Crochet Scarf Pattern:
1. Chain 13 for a kids scarf (10 + 3 for turning) or 19 for an Adult (16 + 3 for turning)
2. Double crochet (dch) in the 4th chain from the hook, dch across the row
3. Chain 3, dch in the second stitch, making sure to catch both loops
4. Continue until you run out of yarn or are happy with the length of the scarf
5. Finish the ends with tassels, pompoms or flowers
And that's the pattern. Do you feel cheated? I hope not, you didn't pay for it.
Double Crochet Scarf Yarn Recommendations: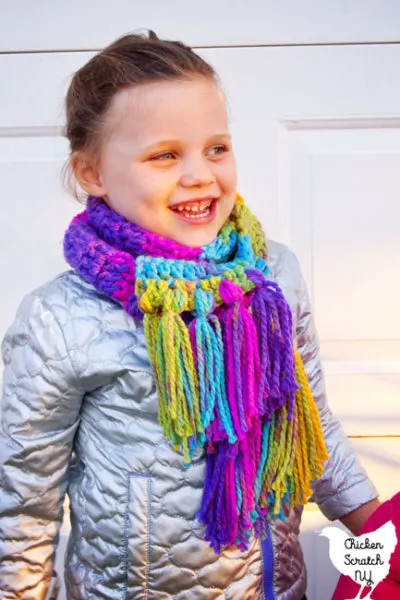 This is the yarn I used for my daughter's scarves shown here. I have mixed feelings because while I loved both colors they were not consistent.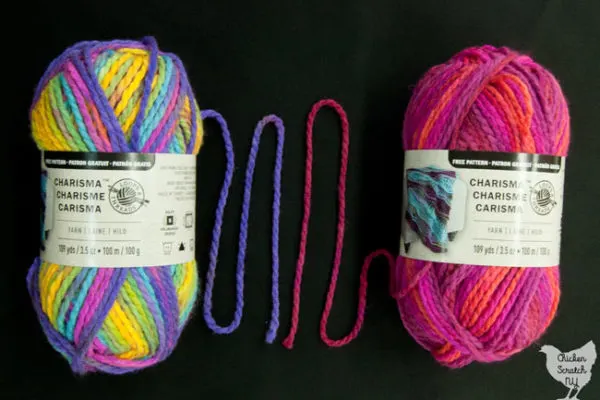 The rainbow yarn is the color Passion and it's perfect for this project. I used a whole ball for Mary's scarf and used the second to make her tassels and a matching doll scarf.
Then we get to Bright Pop, the variegated orange and pink. I went right along with my regular pattern, 10 double crochet stitches per row. Then I compared the two and noticed Kat's scarf was much longer and I still had yarn left.
Looking closer I realized the Bright Pop yarn was much thinner than the Passion yarn. Had I noticed before I would have moved down a hook size and it probably would have made a nice scarf. It's too late for me, but not for you.
If you pick up a few balls of Charisma yarn from Michael's (and you should, it's constantly on sale) check out how thick it is. The label recommends an L or 8mm hook, I used a J (6mm) and still could have gone smaller for the orange and pink scarf.
This is the yarn that started it all. I made a giant fluffy blue scarf from Homespun (Montana Sky) years ago and it's still one of my favorites.
More recently I've used Mixed Berries and Pearls for the Christmas Scarves. One skein makes a decent scarf.
This yarn has a bit of a reputation in the crocheting world, it's beautiful and it will catch your eye but it's not always that easy to work with.
It can be hard to see your stitches which can easily lead to adding or eliminating stitches unintentionally.
It is miserable to frog, all those little fluffs get stuck to each other and you just can't undo your work without some frustration.
It also sheds like a Golden Retriever in the spring. If you're making tassels with this be prepared to tie a knot at the end to keep them from unraveling or keep a lint roller handy!
Chenille Slim & Sweet Snuggle Lite by Loops & Threads
Without a doubt my favorite discovery of 2022 was velvety chenille yarn. I know I'm late to the party but I was hesitant to deal with the shedding and it took me a while.
You can find both the Chenille Slim & Sweet Snuggle Lite yarns at Michael's where they run about $10 a ball when they aren't on sale. As far as I can tell they're the same yarn in different color palletes.
The are the thinner counterparts of the Chenille & Sweet Snuggle yarns, they have a nicer drape and are great for wearables.
Chenille style yarns are actually a few thin strings twisted tightly around lots of tiny fibers. When you cut the yarn the threads untwist and the fibers go every where.
The best way I've found to deal with this is to keep your cuts as minimal as possible, leave long tails and tie very tight knots in the ends of the yarn.
Chenille yarns are pretty sticky and if you're having trouble with your stitches move up a hook size.
---
Check out my Crochet page for more projects or start here: