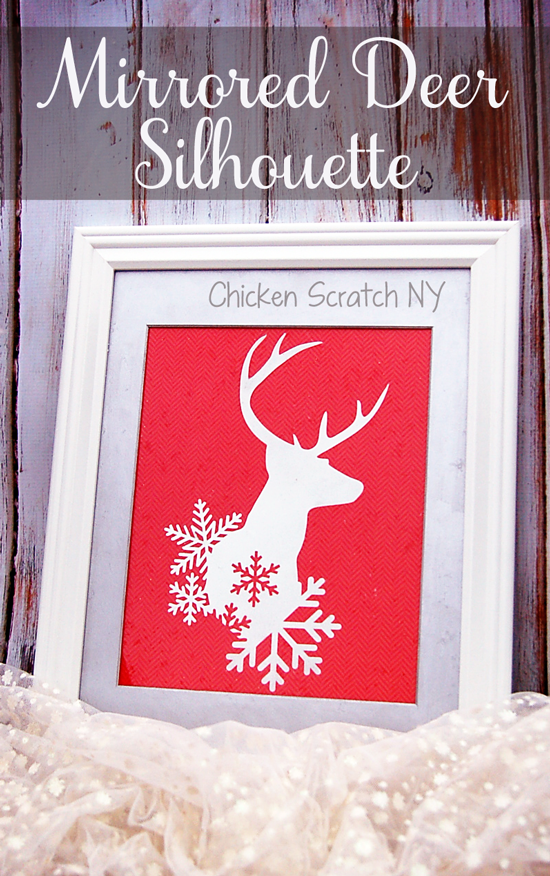 I've had this idea rolling around in my head to make photo mats with Krylon Looking Glass spray paint since last winter, I even bought the spray paint I just never quite figured out what I wanted to do. When I was looking around the Silhouette Design Store and I found this stunning deer and snowflake silhouette. The stubborn wheels in my head started turning and I came up with this idea!
Now, I know you probably hear this a lot, but the photos really don't do this justice. It turns out its incredibly irritating to take photographs of a mirror without getting something undesirable in the shot (like my face ba-dum ching!). Anyway, if you a can track down a can of this spray paint in time for the holidays you won't be disappointed! AND another bonus, at the bottom of this post you'll find not one, but two chances to win your very own Silhouette!
Supplies:
11×13 picture frame with a mat for an 8×10
Silhouette Cameo + mat + weeder
Vinyl + scraps/painters tape
Transfer tape
Krylon Looking Glass Mirror Paint
Metallic silver paint
Sewing pin or Weeding tool
Paint brush
Scrapbook paper that matched your holiday decor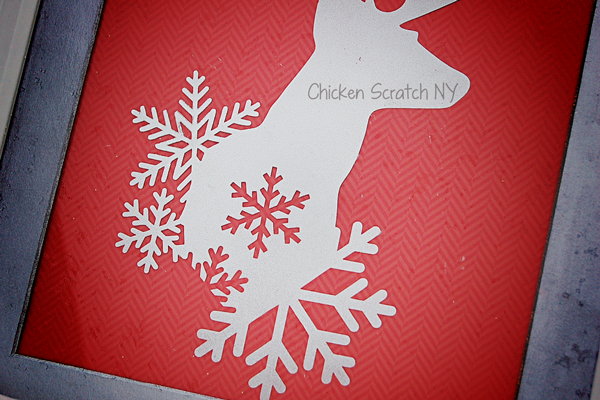 Instructions:
Open up a new window in Silhouette Studio. Draw an 8×10 inch box, then draw another box about 1/8 inch bigger on all sides around it (this is optional but I think it helps with weeding)
Go to your library and find the deer shape (or whatever) and double click to open it . Move it into the boxes you drew. Select the deer and both boxes and center it all by clicking 'center' under the align tab
Cut the deer/box combo on your vinyl, it's on;y going to be a stencil so this is a good time to use that odd lime-ish green color you aren't sure why you have. I actually used vinyl for this one, not contact paper and contact paper.
Weed the stencil, removing the section in between the two boxes and the deer head (be careful about the snowflake in the center). Apply the transfer tape and get out the frame, if there are any stickers on the front you'll need to remove them
Using the photo mat as a guide place your stencil on the glass. Keep the whole deer inside the hole from the mat. Press down evenly and carefully remove the transfer tape
Take the frame apart, removing the back, the mat and the glass along with any filler. Carefully place the glass stencil side up on a sheet of scrap cardboard or newspaper. Mask off the sides of the frame with painters tape or scraps of vinyl/contact paper
Shake up your can of Looking Glass paint, then shake it some more. Do several light coats of paint over the stencil. There must be alcohol or something in this paint because it dries almost instantly. You can watch it go from wet to cloudy to dry in a few seconds.
CAREFULLY remove the stencil, even why completely dry the paint scratched if you look at it wrong. I had to scrape the paint off and start over because I was a little bit careless removing the original stencil. After the vinyl is removed set it aside
Paint the mat from the frame with one or two coats of silver paint and let it dry
Lay the frame down on a table, place the mat in first then the glass. Make sure the painted side of the glass in facing up. Add the piece of scrapbook paper, I went with a subtle red on red chevron to go with all the red I've got going on this year. Place any cardboard or paper that came with the frame on and then add the back.
If you've put it together right you should be able to see your face in the mirrored silhouette, as long as you don't have to photograph it you should be golden.
Want to Check Out More Silhouette Projects?
My Silhouette Challenge buddies and I are all sharing projects on our blogs today, so peruse the projects below for a wealth of Silhouette inspiration!
1. Pineapples and Pinecones // 2. Simply Kelly Designs // 3. Architecture of a Mom // 4. Just a Girl and Her Blog // 5. Two Purple Couches // 6. Chicken Scratch NY // 7. Creative Ramblings // 8. One Dog Woof // 9. Ginger Snap Crafts // 10. The Thinking Closet // 11. Please Excuse My Craftermath… // 12. Designer Trapped in a Lawyer's Body // 13. weekend craft // 14. Dragonfly & Lily Pads // 15. Practically Functional // 16. Living My Given Life // 17. My Paper Craze // 18. The Kim Six Fix // 19. Home At Eight // 20. Queen of Everything // 21. Tried & True // 22. McCall Manor // 23. unOriginal Mom // 24. Create it. Go! // 25. From Wine to Whine // 26. GetSilvered // 27. It's Always Ruetten // 28. Nearly Handmade // 29. Mama Sonshine // 30. Silhouette School // 31. It Happens in a Blink // 32. Create & Babble // 33. Sowdering About // 34. Where The Smiles Have Been // 35. My Favorite Finds // 36. Lil' Mrs. Tori // 37. Designed Decor