Pea shoots are a great way to get in some winter gardening and add some fresh food to your diet when the days are cold and short. You don't have to be an experienced or patient gardener to grow your own and they're ready to eat in only a week.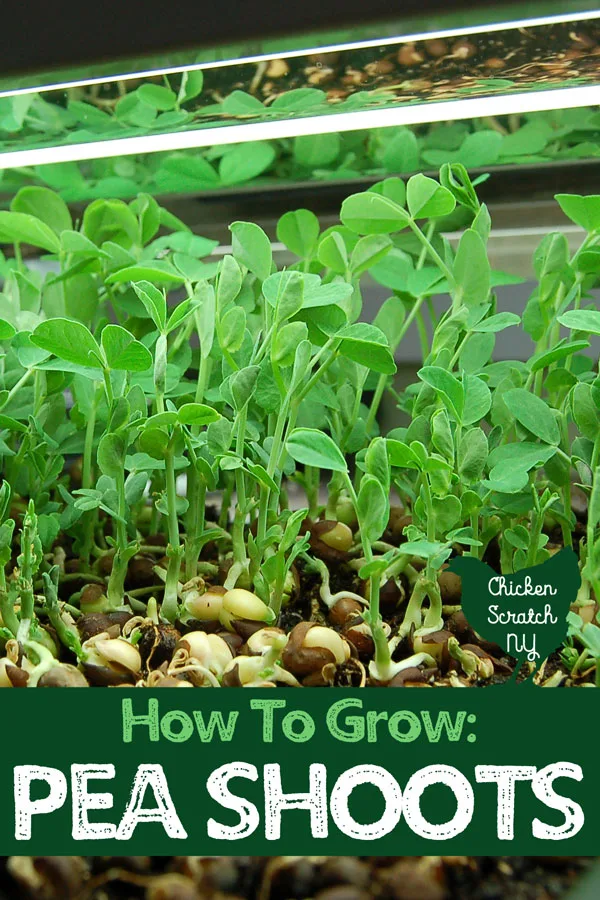 Pea shoots are one of my favorite gardening 'fast foods'. They're eaten just past the baby stage, maybe we can call it the tweens?
That short term commitment makes them perfect for people who are just getting started with gardening or more specifically indoor food gardening.
What are Pea Shoots?
Pea shoots or pea sprouts are the legume equivalent of baby greens. They're not like traditional sprouts that are germinated and 'grown' in water then eaten roots and all before any true leaves form.
Instead, pea shoots are grown in a soil mix and they are allowed to grow true leaves. You don't eat the roots, you clip them off with scissors and toss the root/soil leftovers to the chickens or in the compost.
The idea time to eat pea shoots is at 3-4 inches tall, they'll have that delcious, snappy pea flavor but they won't be stringy. Luckily for all of us, it's a fast process, only taking a few weeks from seed to table.
Supplies for Growing Pea Shoots Indoors
Growing pea shoots doesn't require much in the way of equipment. I use my grow light and 10×20 trays but you can easily grow a smaller batch in a pot on the windowsill.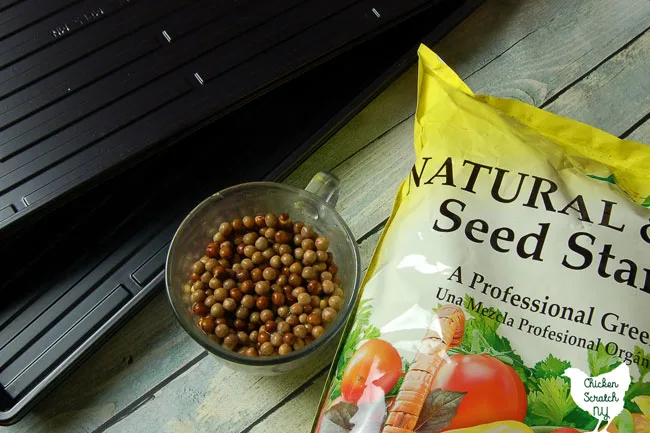 A 10 x 20 tray gives you a lot of pea shoots, unless you're planning to share them or you realy, really like pea shoots I reccomend starting with a smaller container.
Pea seeds– I buy mine in bulk from either Johnny's Seeds or Botanical Interests.
Large Jar
Water
Seed Tray or opaque shallow container
Something to cover the seeds (I use another tray)
Seed Starting Mix
Watering jug (I use a milk jug with holes popped in the top, it works really well for the sturdy peas)
Space under a grow light or in a sunny window
I've only grown pea shoots from seeds that were specifically packaged for that purpose. I know with sprouts you should only use sprouting seeds due to potential contamination but I'm not sure you'd have the same problems with pea shoots becuase you aren't eating the actually seed.
I use a grow light because I have one. I have grown them in a sunny window, they get a little leggy but they still taste good.
How to Grow Pea Shoots: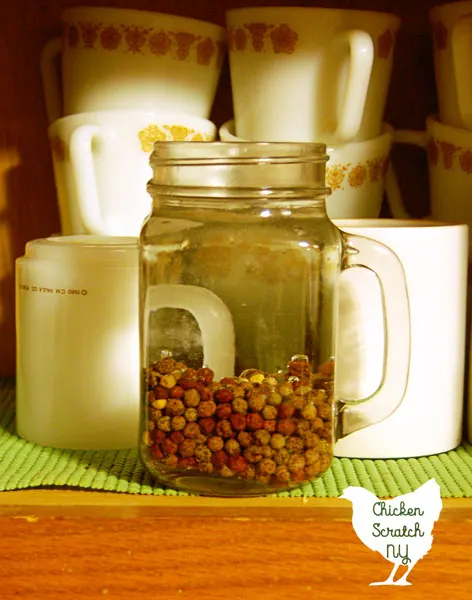 1. Pour 1/2 cup of peas into a jar and fill with water.
Let them sit overnight soak up the water and get plump. I keep mine in the cabinet with the coffee cups, I never forget to check that cabinet in the morning!
2. Spread about an inch of seed starting mix in the bottom of the tray. I use shallow trays so I can keep the light closer but use whatever you have.
3. Drain the water off the peas, and scatter them over the soil mix.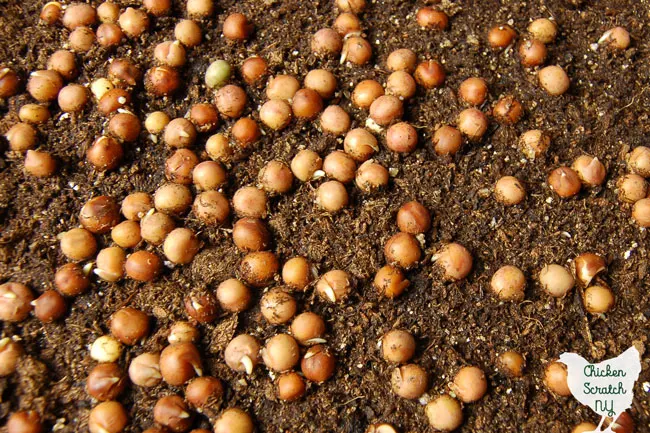 4. Water lightly. Place another tray on top and gently press down.
5. Move the tray to a warm place and leave it until the seeds germinate and start to push the tray up. Check daily and make sure the soil doesn't dry out.
Exactly how long this takes will depend on the temperature in the room and the peas themselves.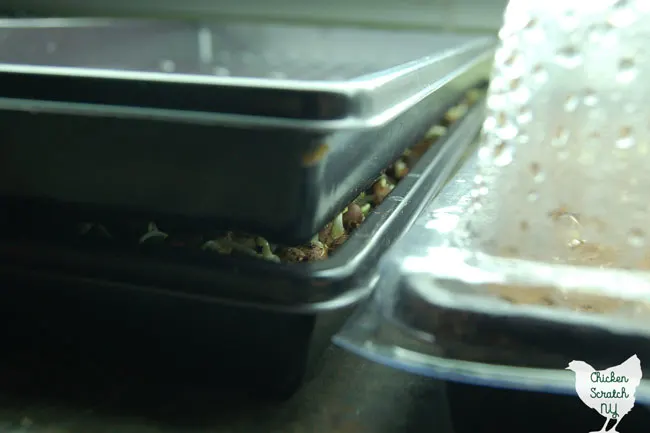 6. When you see the plants pushing the tray up, remove the top and start turning on the grow light in the morning or move the peas into a window.
If you have a grow light set it up on a timer aiming for about 14 hours of light. The plants will look very yellow at first but will turn green quickly with the light.
7. It's pretty hands-off from here, keep the lights going, water when things dry out, and try to keep the cat from chomping on your hard work.
8. You can start snacking at any time, I usually wait for them to get to about 4 inches tall. Clip them off near the roots.
9. When the tray is done toss it in the compost or out to the chickens.
How to Eat Pea Shoots
Chances are you've never eaten a pea shoot and let me tell you, you are missing out. Pea shoots are tender, sweet, and juicy. They taste like snow peas and if you cut them young enough they aren't stringy.
Everyone I've shared them with has been skeptical and then immediately won over. It doesn't seem like they'd be anything good to eat but they really are full of flavor.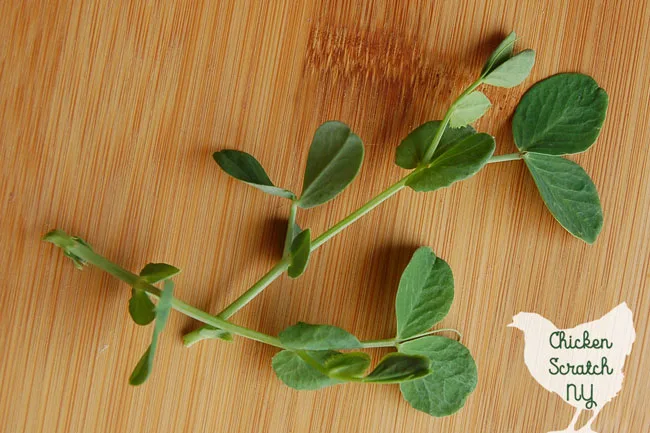 Put them in your mouth. Really that's all I do, they're a great snack. I think they would make a really nice salad topper or a whole salad if you grew enough.
I put them in sandwiches and add them to veggie stir-fries at the very end.
You can toss them in a blender if you're into green smoothies. I believe fancy restaurants are using them as a garnish but I think they're too pretty to just be decoration.
---