It's almost time! You've ordered your chicks online, or planned a trip to TSC or the local feed store with your sights set on a bundle of fluffy babies. But before they arrive it's important you're prepared  so I put together this post on getting ready for baby chicks.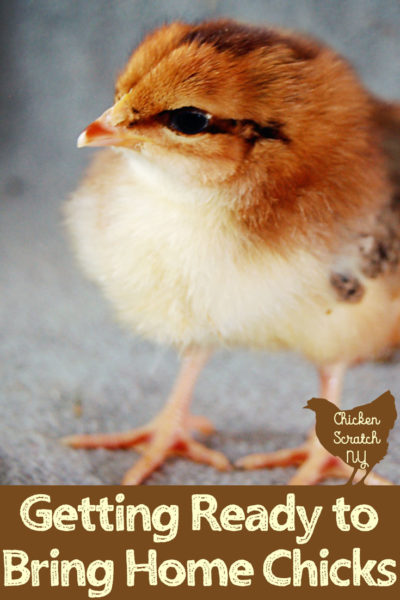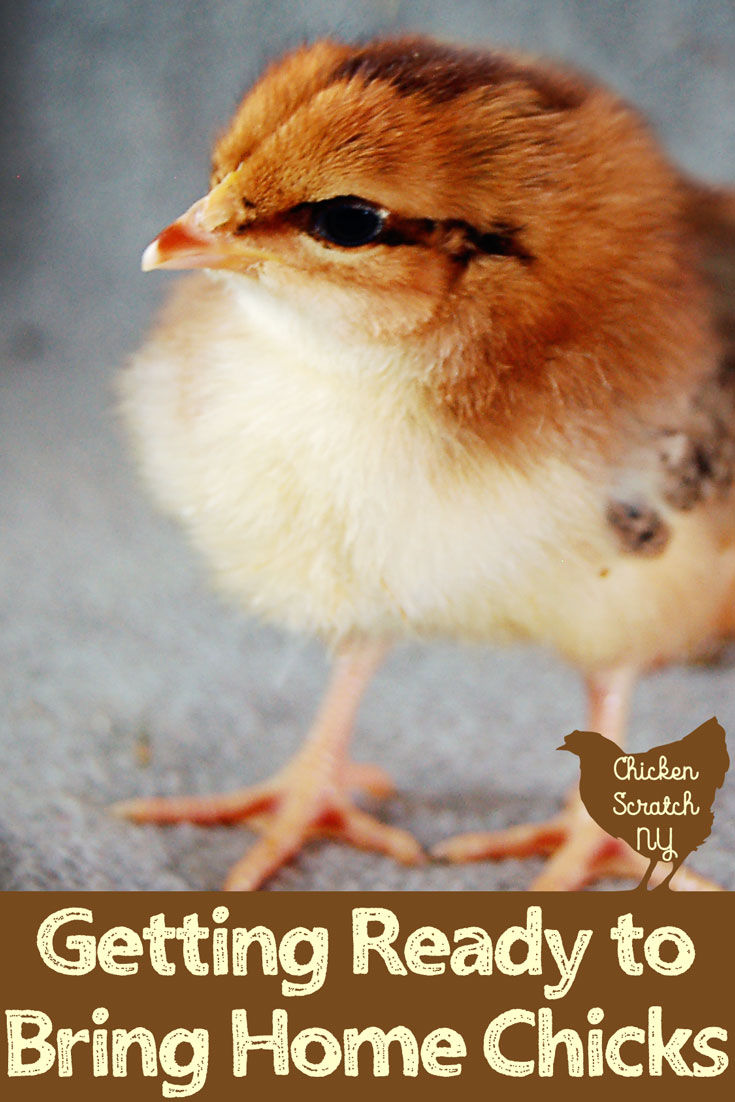 If you order online you should get a ship date well ahead of time and a either an email or phone call when the chicks ship. They will be fine in the mail for a few days. Expect a call from the Post Office very early on the day the chicks arrive.
When I lived in another, less rural town I would get a call very early in the morning but where I live now I got called a little after 7 am. You should have the brooder set up and heated when you go to get the chicks.
Knowing when you're chicks are coming in should give you plenty of time to prepare, if you impulse by them at the feed store because you made the mistake of going in to TSC with your kids during chick days never happened to me ever… Then you'll need to get everything together much faster.
I use a large black 110 gallon livestock tank for my chicks. It's big enough to hold a decent number of chicks, it's sturdy enough to last forever and it's easy to clean.
It's important to keep your tub in a draft free area, your chicks won't have a mama hen to protect them! Tall sides will offer some protection but it's best to keep them away from breezes if you can avoid it.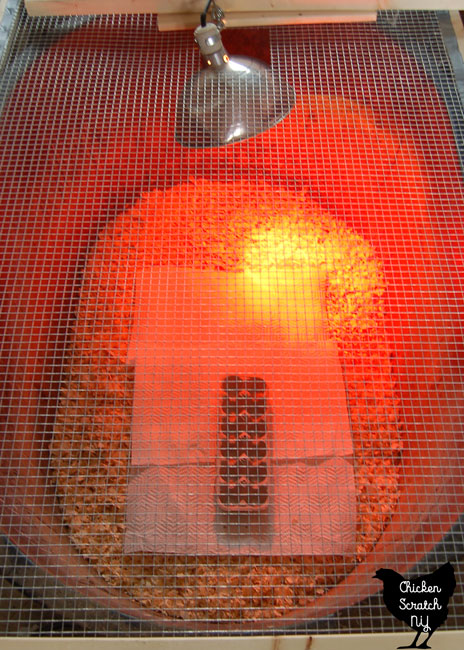 I built a cover for my brooder this year. I've never bothered in the past but between the cat and the mouse problem it seemed like a good idea. It has the added benefit of keeping the chicks in the brooder.
It also makes it really freaking hard to take pictures… It's a pain to take off right now because the light runs through it so I'm sorry. Bad blogger.
I took this picture before I added in the waterer or any of the food but you get the idea.
It takes a lot less time than you would think to for the cute little babies to turn into ugly teenagers ready to wander the great unknown. The cover is built from 2×1 and 2×2 boards with 1/4 inch hardware cloth.
I covered the edges of the hardware cloth with duck tape and used my super fancy pneumatic stapler to attach the cloth. That stuff is sharp, miserable and very wobbly.
I cut a hole in the wire, added more duct tape around the edges and then made a 'door' to cover the hole. I attached it with a zip tie and I keep a scrap of wood and the roll of duct tape on top to keep it closed. I'm a classy lady.
A few years ago I bought an air compressor combo kit with a stapler and two nailers. I've gotten my moneys worth with the stapler alone! That's how I rebuilt the chicken coop, fenced the vegetable garden (almost done there!) and built the chicken run without going crazy.
Keep them Warm
You'll need a heat lamp to keep the chicks warm. I use 250 watt red bulbs in a metal light fixture. There are different styles of heaters for chicks, Premier One makes a plate brooder than the chicks can huddle under, it's supposed to be more like a mama hen.
They're expensive and I haven't found the need to swap out my lights but I'd love to know if you have any experience with them. I think the lights are more versatile, when I got the goslings I had to move them outside and we had a cold snap.
I was able to set up a light out in the old turkey coop to take off the chill. I couldn't have done that with a plate brooder because they grow so quickly and like, half a baby goose would have fit.
The bulbs are 250 watt and you adjust the temperature by raising and lowering the bulb. That's another reason you want to get everything set up well ahead of time. It can take some fiddling to get everything set up correctly.
ALWAYS KEEP EXTRA BULBS ON HAND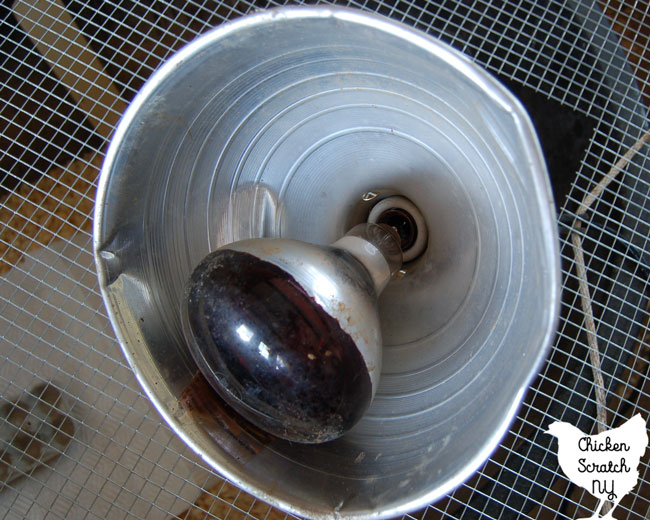 You never know when one will blow or even fall apart. That's what happened to me on Monday when I was setting up. I went to adjust the light and the bulb separated from the socket. I unplugged the bulb and used pliers to remove the old bulb.
To check the temperature you'll need your tub, set up with bedding, the heal land and a thermometer. Confession time, I never keep a thermometer in with the chicks. If you keep a thermometer down with them they just poop all over it and you can't read it anyway!
You're supposed to do it but I find it much better to watch the chicks and adjust the light until they're comfortable.
If the chicks are all clumped together crying their fluffy heads off they're too cold. If they'll pressed to the edges of the tub as far away from the light as possible, it's too warm. They should be scattered around doing chick things, like eating, sleeping and pooping.
Sleeping chicks very, very often look dead. You're going to scare yourself once or twice until you get used to it. Sometimes they lay down all stretched out. They'll usually sense you coming and jump up right as you're about the plan the funeral.
Adult chickens play dead too, usually when dust bathing in the sun. I'll never forget the day my sister came into my house almost in tears because she thought I had a pile of dead chickens on my deck. Nope, just a bunch of lazy fuzz butts that ripped open a bag of potting soil and took a dust covered nap.
Add the bedding to the tub, I use wood shaving because they're easily available and easy to clean. Place the thermometer on top of the bedding and turn on the light. Check it after about 20 minutes. If it's too hot move the light up. Keep checking until it's 98 degrees.
Make sure there is no way the bulb can fall into the pen. You obviously don't want broken glass in with the chicks or a fire. Probably should have put fire first… I tie a rope to the clamp and secure it to a hook in the ceiling. That way if the clamp fails for whatever reason the light can't fall to the ground and break.
I always keep my heat lamp to one side, that way if the chicks get hot they have somewhere to go. I put the food and water near the middle.
Keep them Fed & Watered
Chicks aren't that smart and they don't have a mom around to show them the roped so it's a good idea to give them some assistance in the beginning. Some people cover all of the bedding with paper towels but I just cover the center where the food and water are.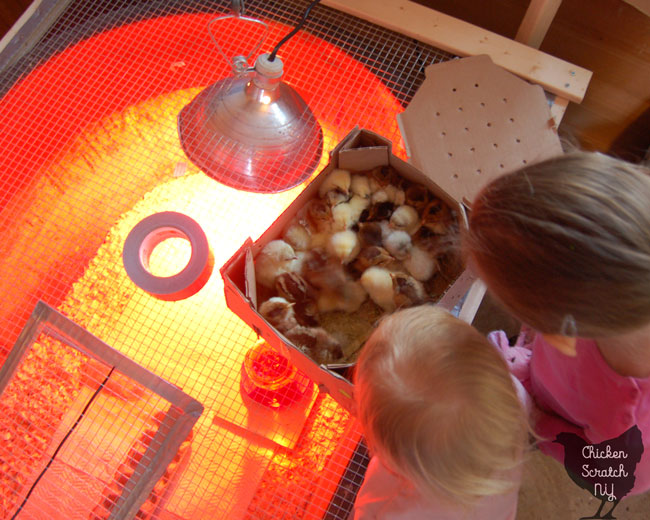 Don't use newspaper! It's slippery and you can mess up your baby birds. I've used old fleece blankets in the past but I didn't have any on hand this time so I went with the paper towels.
I use old paper egg cartons for feeders. I rip off the tops and the side flaps and fill them with nonmedicated chick crumbles. There isn't a top so there is a little more waste but I don't have to scrub anything.
When the feeder gets gross I just toss it and grab another. Everyone I know gives me egg cartons so I always have a healthy supply on hand
For the first day or so I scatter a little bit of feed on the paper towels.
I use a quart sized mason jar with a screw on lid for water. In the beginning I give them warm water. They don't have a lot of mass and cold water can shock them. Especially when they're right out of the box.
When you unbox the chicks dip the beak of each one into the water to get them drinking. This is also a great time to count the chicks and check them over.
I put my waterer up on a hard surface, this time I used a wood scrap, the wood needs to be scraped off but you don't get am many shavings in the water and there are a lot fewer spills.
I ended up with 34 chicks an they go through this quart quickly. I refill 2x a day, it's usually down to a quarter remaining. I need to swap it put with a bigger waterer but my old one cracked and I haven't made it to the store yet.
Let them Be but Watch the Butts
Don't stress them out by handling them the first day. Give them a while to settle in.
Keep an eye on the little butts. Literally. Make sure they don't get any poop stuck on their butts covering the cloaca.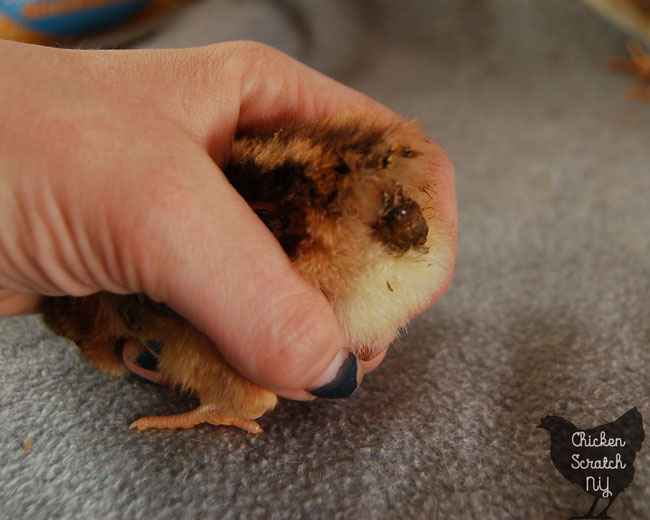 Soak with a warm wet paper towel to remove, you might be able to snip it off with little scissors. Don't try to rip it off, you could tear their skin.
It's most likely to happen due to shipping stress but it can happen later. I will tart small and then build up until they can't poop and have a giant honking poop nugget.
This is a healthy butt: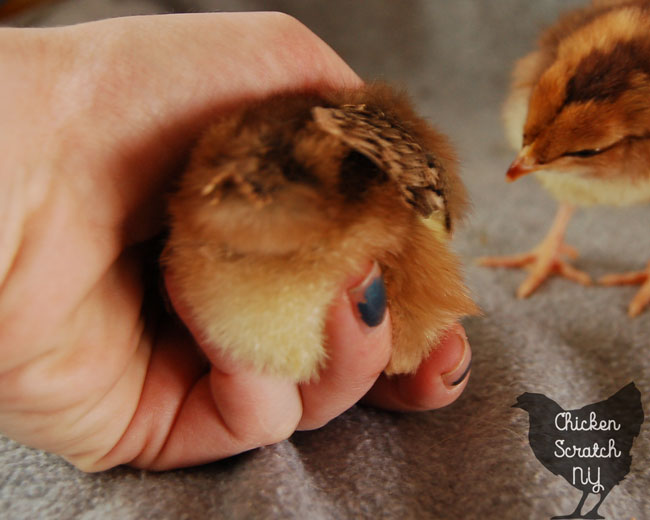 I hope you're ready for your chicks! If you have any questions leave them in the comments.
Don't forget to PIN this to your Chicken or Homesteading board!
Check out my Backyard Barnyard page for more ideas or start with these: