Sneak some coal into your little ones stocking this year with a DIY Lump of Coal Bubble Bar! Made with easy-to-find ingredients and simple enough to put together during nap time you'll have your kids wishing they were on the naughty list!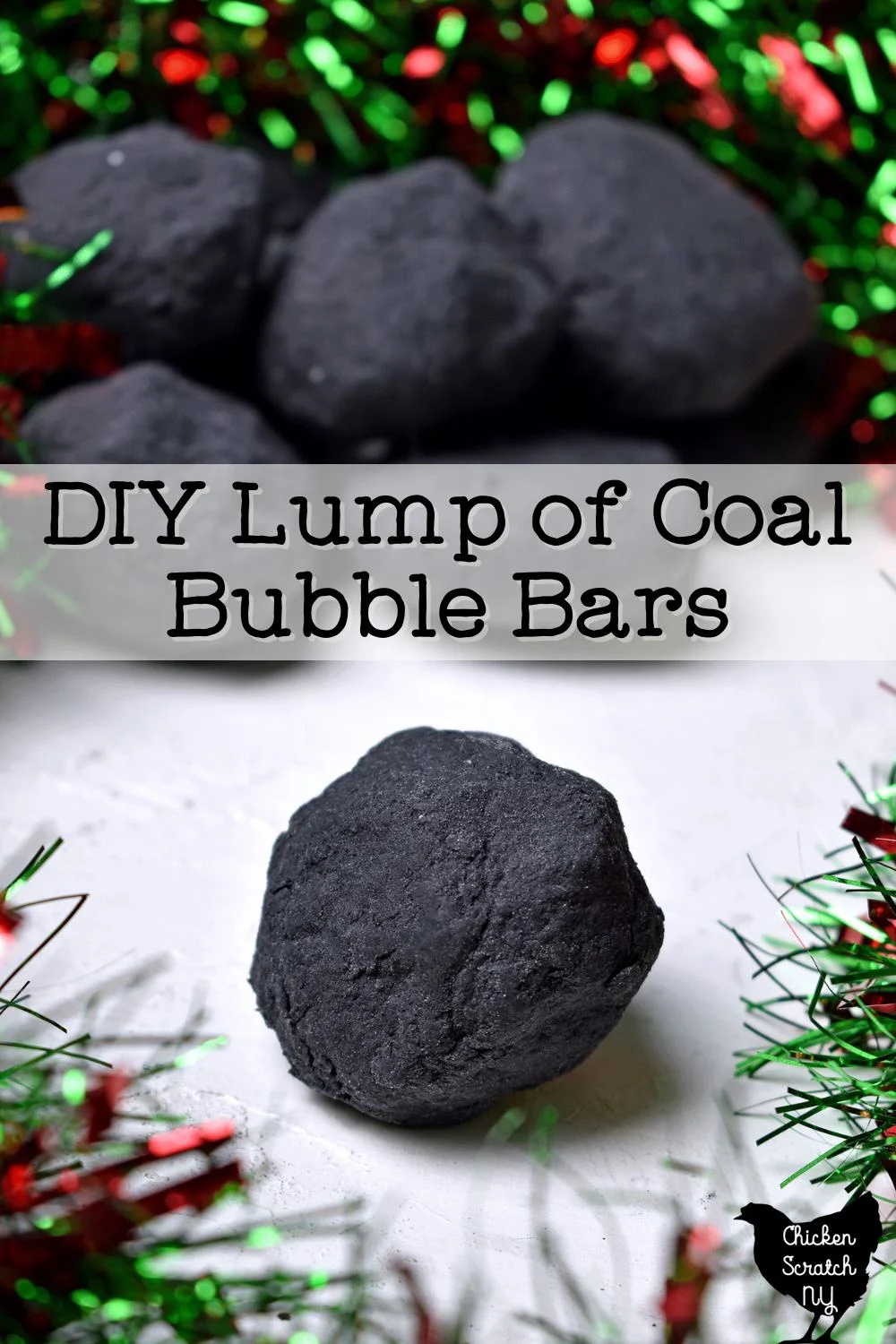 Bubble bars are a close cousin to bath bombs and in my opinion, they're much easier to make. They don't have the super fuzzy qualities we all know and love but they do leave you with a bathtub filled with delightfully foamy bubbles.
If you're familiar with the idea of a bubble bar (basically a solid bubble bath) it's probably from Lush. The fragrant store is filled with mountains of expensive and luxurious bath items.
They sell quite a few different bubble bars but at $13 a piece I've never been able to make myself buy one. Lush Bubble Bars are known for their signature swirl of two colors, but with Christmas right around the corner, I thought it would be much more fun to make bubble bars (balls?) that look like lumps of coal.
If I'm being honest the real inspiration for this is my youngest daughter, every year she asks for coal. I don't think she even knows what coal is but she's so insistent we've seriously considered buying her a bag of charcoal briquets.
Instead, I'm going with these DIY Lump of Coal Bubble Bars. She lives for a good bath so it's a double win in my book.
There is a drying period and for this ball shape, it's going to be a little longer than the typical flat slices. To be safe I'd make sure you get the bubble balls made and hidden away at least a week before you give them out but more time is better.
I asked my eldest to give one a test and since she's in her Wednesday Addams phase she really loved the black bath water but she did say the bubbles were nice too. Even better, the tub wasn't stained black at the end!
Coal Bubble Ball Ingredients
Most of the ingredients are pretty easy to track down, either in the grocery store or drug store. But you're going to need one thing for this recipe that you'll likely need to find online.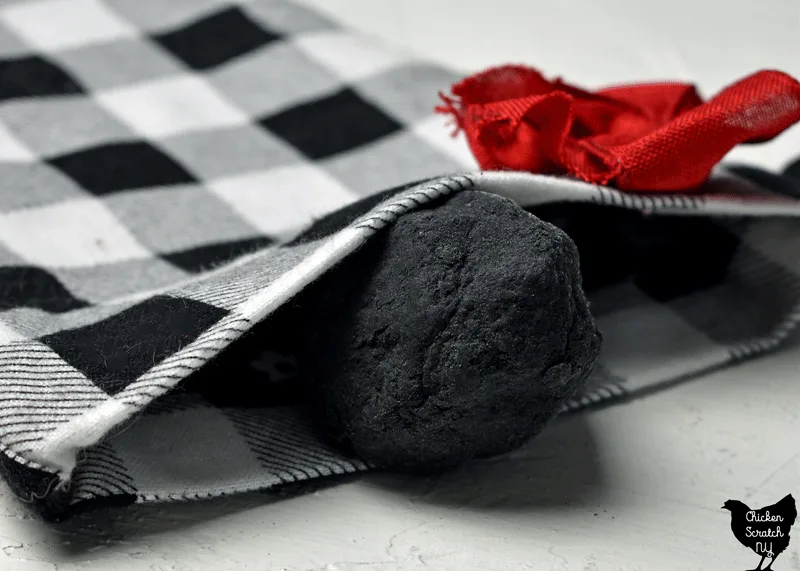 I order most of my bath and body supplies from Nature's Garden but you can also order from Amazon. Nature's Garden is a candle and bath and body supplier so they sell in more useful quantities for bath and body items.
WEAR A MASK when you are working with these ingredients, preferably an n95 that fits tight enough to leave marks on your face. These powders are very fine, very light, and will get everywhere when you stir no matter how careful you are.
Baking Soda
The bulk of this recipe is made up of two ingredients, baking soda, and Sodium Cocoyl Isethionate. Fortunately, baking soda is super cheap and really easy to find.
The baking soda will make your bath water feel silky and it serves as a carrier holding the rest of the ingredients together.
Sodium Cocoyl Isethionate or SCI
Sodium Cocoyl Isethionate is an alternative to Sodium Lauryl Sulfate, that harsh surfactant we all decided to avoid a few years back. It's used in bath and body recipes to create bubbles.
SCI is derived from coconut and along with the bubbles, it adds a silky feeling to your bath water and skin. For this recipe make sure you're getting powder, not prills, so you can completely combine it with the baking soda.
If you can't find SCI you can substitute an even amount of Sodium Lauryl Sulfoacetate (or SLSA). I happened to have SCI on hand so that's what I used.
Corn Starch
Along with the baking soda, the job of the corn starch is to give your bathwater a silky feeling and it adds more bulk to the dough.
Cream of Tarter
This is one of the ingredients that you can easily find in the grocery store but you'll probably want to pick it up online. A tiny jar of Cream of Tarter in the grocery store will run you $3 for 1.5 oz but you can get 4 oz for $5 and 16 ounces (a whole pound) for $16.
In this recipe, the cream of tarter acts like a stabilizer (the same role it plays when making meringues) and adds strength to the bubble bars.
Vegetable Glycerine
Getting into the wet ingredients, the main reason we need vegetable glycerine is to turn all the dry ingredients into dough. It also works as a humectant, drawing in moisture and making the bubbles in your bath last longer.
Sweet Almond Oil
What's the point in taking a fancy bath if you don't come out of it with silky soft and moisturized skin? The almond oil in these bubble bars adds to the luxuriousness of your bath and increases the moisture needed to form the dough.
You can substitute almond oil with grapeseed oil, coconut oil, or another liquid body-safe oil.
Activated Charcoal Powder
You can't call them coal if they don't look black and the best way to get that look is with activated charcoal powder. Charcoal can be drying but with all the other super moisturizing ingredients in these bubble bars, we haven't had any issues.
When you mix the activated charcoal with all of the white powders it will look gray but it turns much darker when you add the wet ingredients.
Fragrance Oil
I can't think of a better time of year for fun scents than Christmas! For these bubble bars, I used Jack Frost fragrance oil from Nature's Garden which is a mix of peppermint and vanilla.
Whatever fragrance you decide to use, fragrance oils or essential oils, make sure it is skin safe!
Polysorbate 80
The last ingredient, and another one you'll need to find online, is Polysorbate 80. It's an emulsifier that allows the oils in your bath bomb to mix with the water instead of just sitting on top.
It's not absolutely necessary but it will give you a better product and leave your tub less slippery at the end of you bath.
Yield: 10-12 Coal Bubble Balls
Lump of Coal Bubble Bars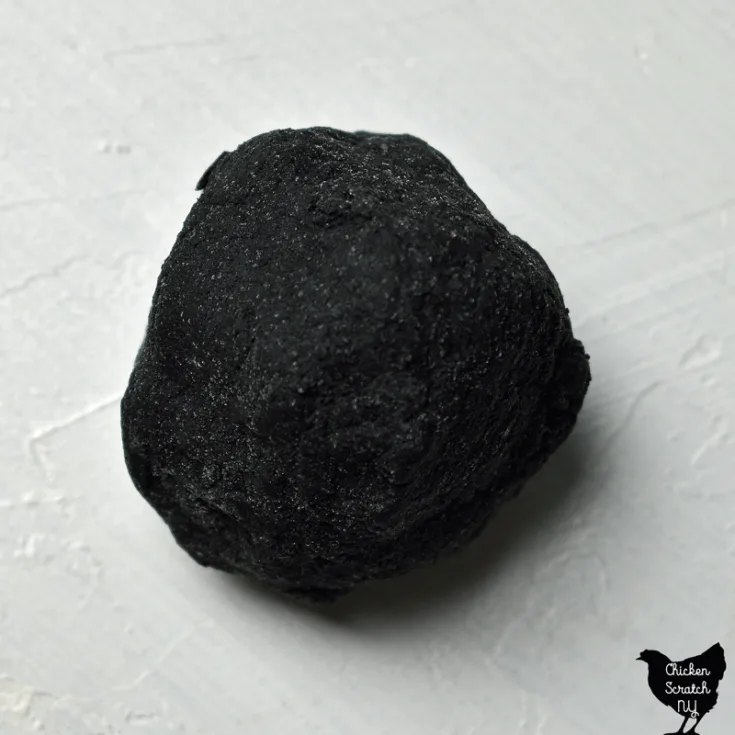 Sneak some coal into your little ones stocking this year with a DIY Lump of Coal Bubble Bar!
Total Time
7 days
15 minutes
Materials
1 cup Backing Soda
1 cup Sodium Cocoyl Isethionate (or Sodium Lauryl Sulfoacetate)
1/3 cup Cream of Tarter
1/3 cup Corn Starch
1 tablespoon + 1 teaspoon Activated Charcoal Powder
1/3 cup Vegetable Glycerine
1 tablespoon Sweet Almond Oil
1 teaspoon Jack Frost Frangrance Oil
Optional - 1 teaspoon Polysorbate 80
Tools
Gloves
Mask
2 Bowls
Parchment Paper
Instructions
Combine Backing Soda, Sodium Cocoyl Isethionate, Cream of Tarter, Corn Starch & Activated Charcoal Powder in one bowl, carefully stir and break up any lumps with your gloved hands
In a separate bowl combine Vegetable Glycerine, Sweet Almond Oil, Fragrance Oil &
optional Polysorbate 80
Add the wet ingredients to the dry and stir until fully combined. Use your hands if necessary
The mixture should have the consistency of wet sand and should hold together in a ball when squeezed, if it is too dry slowly add more vegetable glycerine
Use your hands to squeeze balls of dough into lumpy coal shapes, the more irregular the better!
Allow the bubble balls to sit for at least a week to fully dry and harden before use
Notes
WEAR A MASK, when you make these and keep the kids and pets out of the room
All of the powders are light and will get everywhere and you DO NOT want them in your lungs
Make sure you get all of the clumps out before you add the wet ingredients, I was a little lazy and it took me forever to break up the little white clumps that stand out really well against the black dough
The charcoal powder will look gray when you mix it with all the white powders, it turns back to black when you add the wet ingredients
---
Check out my DIY Bath & Body page for more ideas or start here: