This adorable quilted Halloween Candy Corn Table runner is a great introduction to working with a 60-degree ruler. It's a fast and easy project that can be finished in less than a day to get you all set for the autumn season!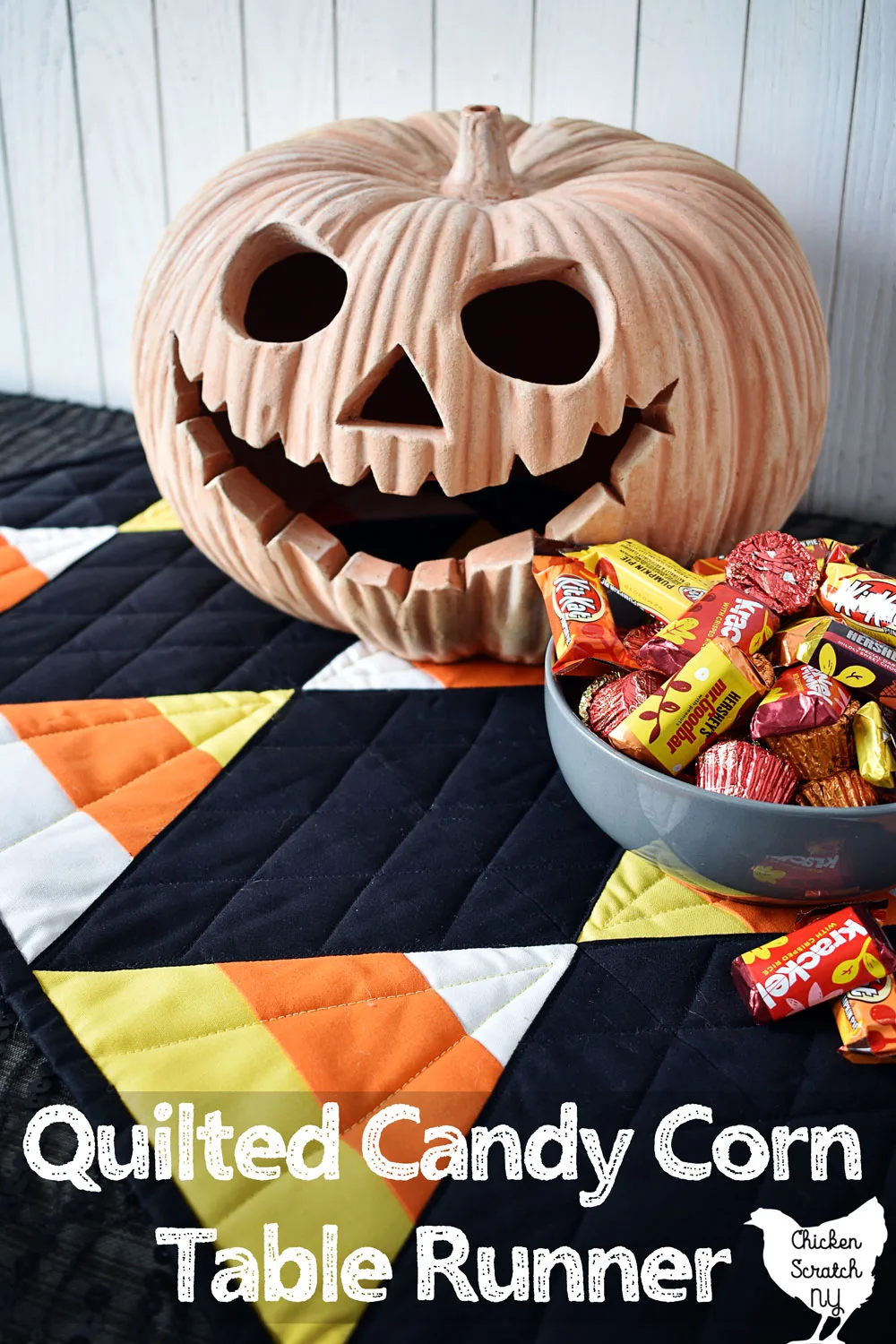 After years of quenching my quilting thirst by painting quilt blocks on everything from my barn to my garden gate, I've finally started using all that fabric I've hoarded over the years.
And all it took was a global pandemic.
I may have changed my title but I'm still the same person deep down and I'm all about fast and easy projects that hold my attention long enough to complete.
This quilting project was so fast and easy I made two. My kids prefer the bright and classic solid color variation with the candy corn backing but the muted fall tones speak to my heart and soul.
No matter what color scheme you pick I know you'll fall in love with this simple Candy Corn Table Runner.
Fabric Requirements
All of the fabric I used for these runners came from Joann Fabrics. The Geo Harvest print was in the fall section. The colors are perfect and the + signs add just enough to satisfy my boredom with solids.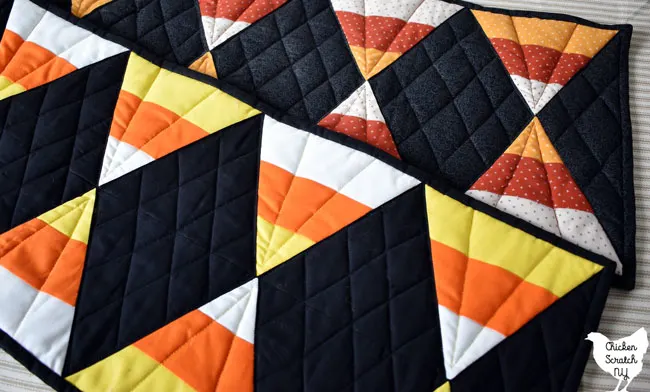 The candy corn sections of this runner are put together with a2 1/2 inch width of fabric strips. This pattern works well with strips from a jelly roll or you can cut them from yardage.
You need three 2.5 inch strips, one in white, one in orange, and one in yellow for the candy corn blocks.
You will also need a coordinating background fabric for the piecing and binding. I used the same fabric for both but mix it up and bust your stash if that's more your style. In order to get enough black triangles you will need two 6.5 inch strips that are the width of the fabric.
For the binding cut 3 WOF strips, I used 2.5 inch strips. The patterned fabric I used for the fall runner was slighter wider than the solid black and I was able to finish the binding with two strips but it was too close for comfort and I wouldn't bet on it working out.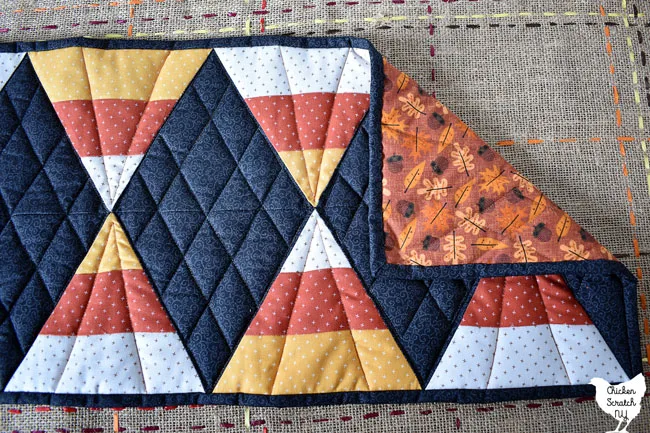 The last piece of fabric you'll need is for the backing. I like to pick a fun print, partially because it hides my sloppy quilting and partially because I just really like fabric ok? I used this Harvest Leaf print for the more muted runner and this Candy Corn Dot for the solid runner.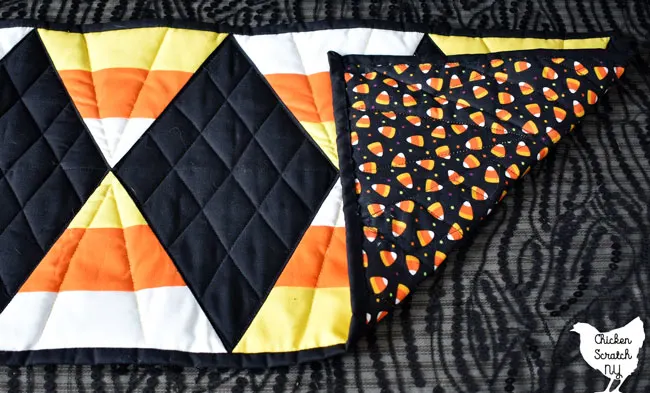 A 16-inch wide width of fabric piece will give you about 2 inches on either side of the runner. That works out to be an odd measurement so if you're buying fabric for this project just get a 1/2 yard (18 inches) and you'll have a few extra inches to save for another project.
60° Ruler
The easiest way to make this table runner is with a 60° ruler. I used the Quilt in a Day Ruler, it has marks at every inch and half-inch up to 8 1/2 inches.
There are other 60° rulers, as long as your ruler goes up to 6 1/2 inches it will work. I'm sure you can work this out using a 60° mark on a regular ruler but I can't imagine it's going to be easy.
Making the Candy Corn Table Runner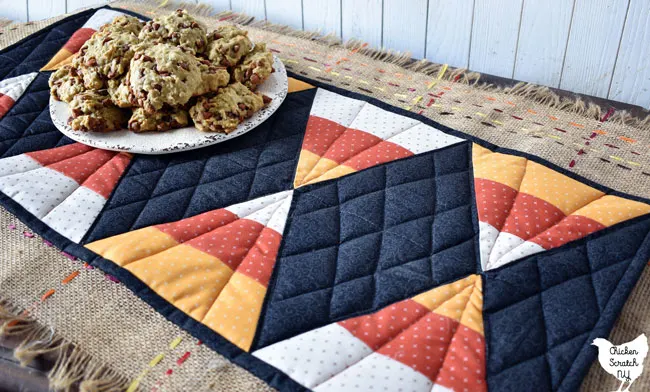 Strip Sets & Cutting 60° Triangles
The first step in making this 60° triangle runner is to make your candy corn strip set. Sew the yellow, orange and white strips together making sure the orange is in the middle.
We won't be matching any seams so you can go right ahead and press your seams whichever way you want. I pressed them to the center where the darker color is.
Do yourself a favor and press this as straight as possible. I was a little bit too lazy with my solid color strip set and it was much more difficult to piece everything together.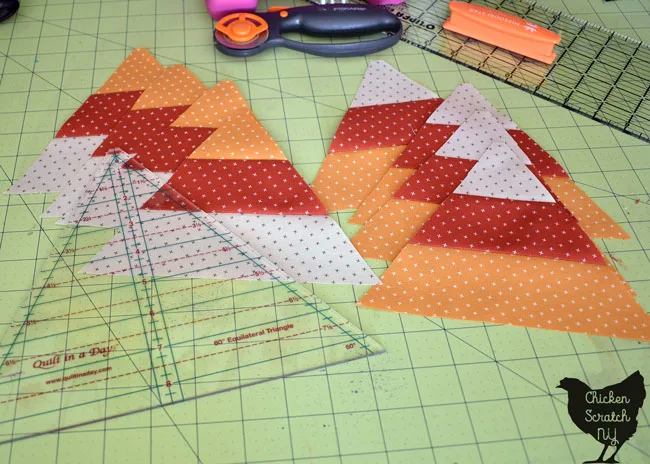 Line the 6 1/2 inch mark of your ruler up with the bottom of the strip set, the flat top of the ruler should be lined up with the top of the strip set. Cut your first triangle and then flip the ruler 180° for the second triangle.
It's a little fiddly at first and you might find it easier to flip the fabric around. On the other hand, if you're feeling good (and confident in the straightness of your strip set) you can fold it in half and cut two triangles at once.
The strip set will give you 9 triangles and you'll only need 8 for this runner. The extra triangle will be the same orientation as the first one you cut so if you're planning on using it for a bonus project cut it with the yellow at the bottom so it's a recognizable piece of candy corn.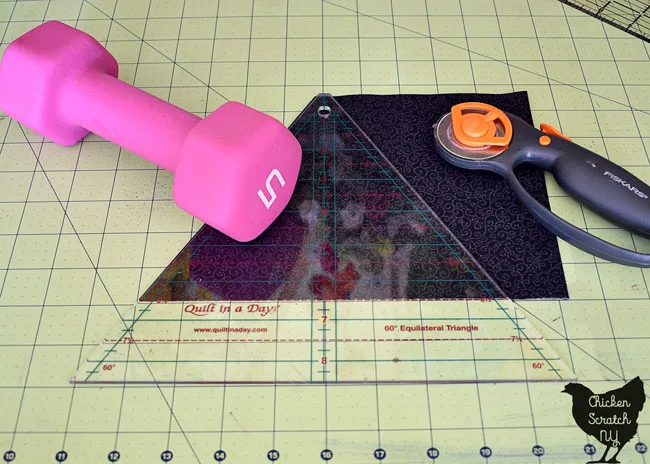 Repeat the triangle cutting with the background fabric strips. If you're trying to save fabric you can cut 1/2 triangles using the center line on the ruler. I'm a very inaccurate piecer and I like having a little more wiggle room for squaring up so I used full triangles.
Piecing the Runner
This runner is made from two identical units. Lay out the triangles, alternating the yellow at the top and bottom of the candy corn.
Sew the triangles together, if you're a little bit off with your cutting it's more important that the seams across the top are even. I found it easier to sew from the fat end to the point.
One thing to watch for is making sure the candy corn lines are running horizontal through the entire runner. I'm pretty proud of myself that I only messed that up once.
Once all the triangles are together it's time to put it together. Flip on of the units over and match the triangle points. If there's a time for pinning this would be it. Press the runner open and take it back to the cutting table.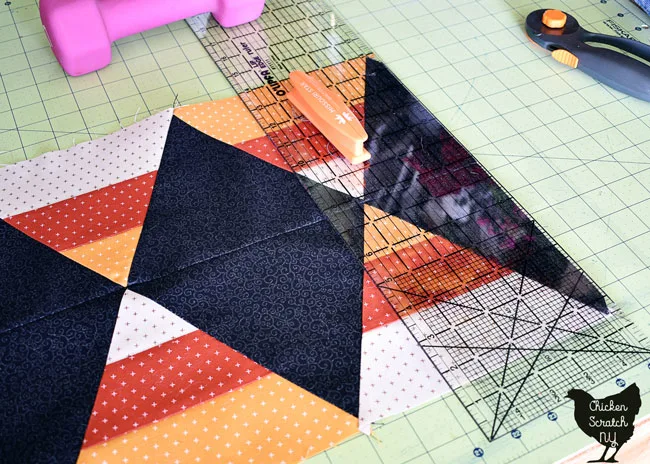 Line up the ruler about 1/4 inch to the outside of the candy corn points on the top and bottom and cut off the excess. Repeat on the other side for a rectangular runner.
Make your quilt sandwich with the backing, batting and pieced front. Now you're ready for the quilting which may be your favorite or least favorite part.
Walking Foot Quilting Diagram
I've been trying my hand at free-motion quilting but I wanted to highlight the angular points in this piecing so I went with straight lines and used a walking foot.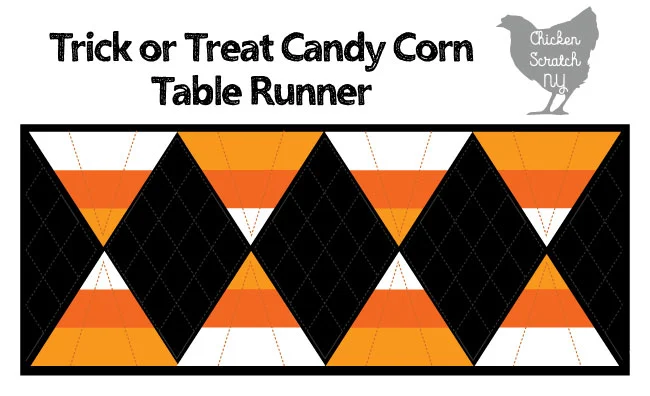 I quilted the diamonds with black thread and the candy corn with a tone that matched the corn.
I hope you've enjoyed this walk through of the Trick or Treat Candy Corn Table Runner!
A PDF of the pattern is available in my shop
---
Check out my Halloween Page for more ideas or start here: