I'm beginning to think I have a serious problem with burlap. BUT IT'S SO FUN! Since I still have piles of the stuff I decided to make an autumn hued table runner. I love the natural burlap with the fall colors, it reminds me of a scarecrow in person (a friendly one, not an evil one).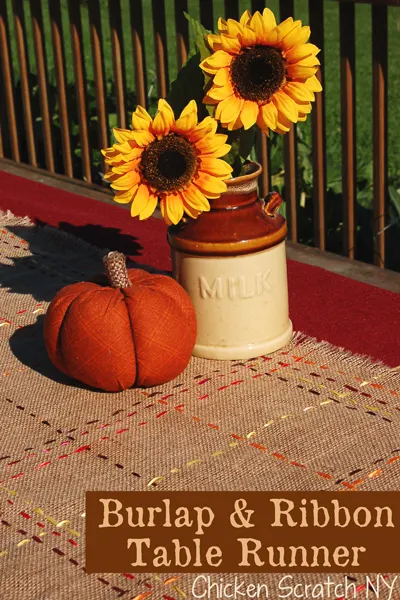 I'm not sure if this is technically no-sew but I'm gonna say it is. Yes, you use a needle, but you aren't actually putting anything together. You can adapt it to any holiday by changing up the ribbon and burlap colors. You could even glam it up with metallic cord or ribbon.
You need: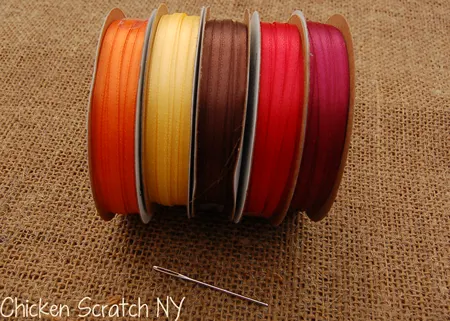 Burlap cut to your desired final size (a looser weave is easier)
Blunt needle (this is the time to dig out the super blunt, giant eye one you never use)
Spools of thin ribbon (mine are the 50 cent 1/8 inch sating ribbons from Joanns)
Once you get your burlap cut to where you want start unrolling ribbon. Figure out how long you need it to be to go completely across add a few inches and snip it. Thread one ribbon through the needle.
Weave the needle randomly (or following a pattern if you like to count) across the burlap in a straight line. When you reach the end, unthread the needle, make sure the burlap is flat (if it is puckered and you trim it then flatten it our the ribbon will be too short) and trim the ribbon even with the edge of the burlap.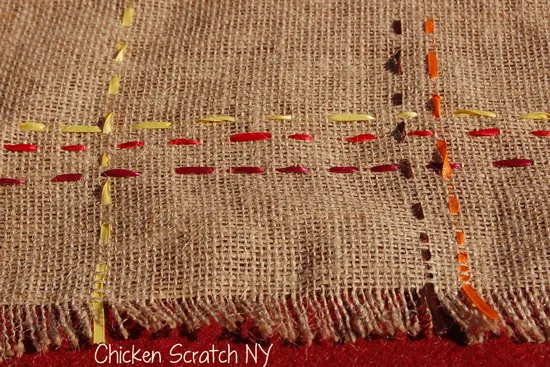 Repeat. Repeat. Repeat. Go across both ways using all your colors. You can secure the ends by weaving over-under every string for the first and last inch.
Pull off the edge strings to fray the burlap if desired, I made a 1 inch fringe. One tip, unless you have lots of time and patience, don't make a huge runner. I could have made a dozen place mats in the time it took me to make one table runner. So make those instead, or just a smaller runner.