Stuffed cabbage is one of my absolute favorite foods but I'm lazy so I tried my hand at turning it into a casserole of sorts. I came up with this recipe for a Stuffed Cabbage Casserole. It tastes just like the real thing without all the blanching and rolling.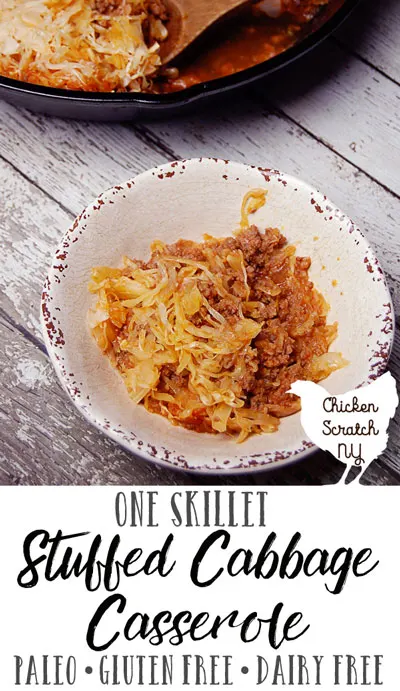 Years ago I did the 'paleo diet' and cut out grains, sugar and dairy. I actually lost weight and felt really good but then I got pregnant and my body decided meat was the enemy. I never went back to it but I still use some of my favorite recipes from that time in my life like baked chicken wings.
Recently I've been having some heath problems and I know I need to overhaul my diet. I'm 100% not giving up dairy but I'll be saying goodbye to bread & sugar.
You know, everything that makes life delicious. One of my new goals is to get back to healthy, whole foods and cabbage just might be the key.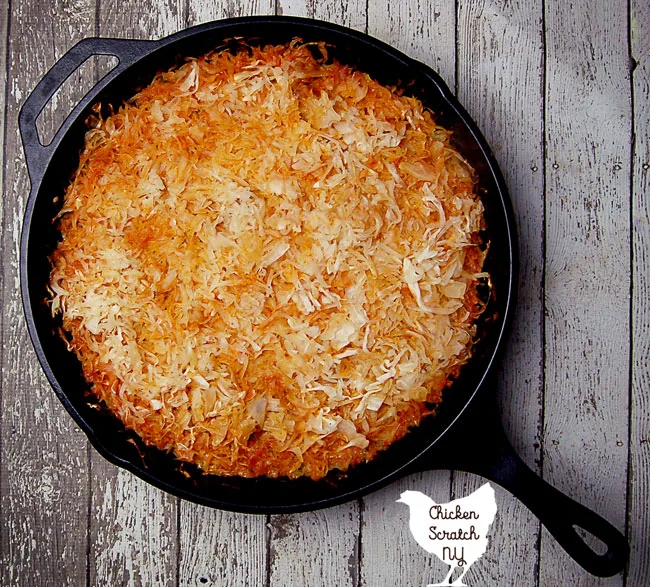 Fortunately for me I love cabbage and it has a lot going for it! It's cheap, healthy, versatile & delicious. I have a weird sort of amnesia with cabbage, I just forget all about it. Then I eat it in something, a light bulb goes off and I remember how much I love it.
Stuffed cabbage is the perfect comfort food to me. I've always enjoyed it as rice and beef wrapped in cabbage and cooked in tomato sauce. I always think of rice as a filler and I didn't think it would be missed.
Especially since I replaced it with riced cauliflower. Cauliflower is another one of those amnesia foods, it's SO GOOD, why don't I eat it all the time?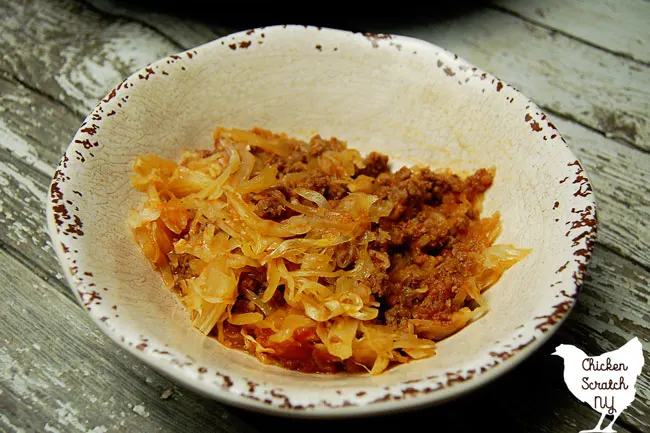 This recipe is really quick to throw together if you use your food processor. Chop the onion up with the regular blade in the bowl, then pull it out and switch to the shredder blade. I use the slice side for the cabbage and the shred side for the cauliflower.
Even better it's a one pan meal! The meat gets browned in the same pan you bake the "stuffed cabbage" so fewer dishes.
This isn't the kind of recipe where you really need to measure things either, just get in the ballpark. I used the Lodge cast iron skillet that never leaves my stove.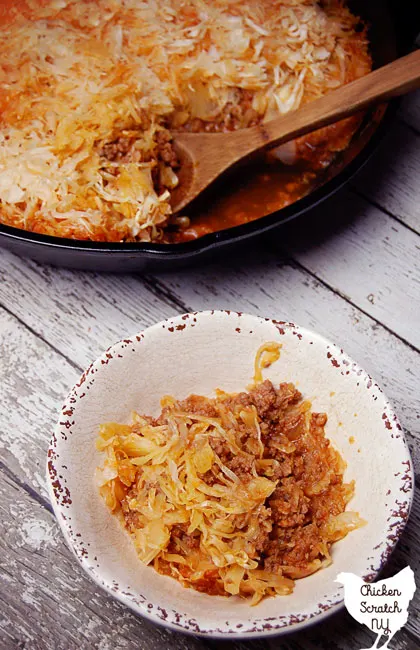 It's actually pretty fun to watch this cook. The cabbage goes in the oven raw and gets cooked by steam. When you pull the foil off and look at the top it gets progressively more reddish moving from the outside in.
Yield: 6
Stuffed Cabbage Casserole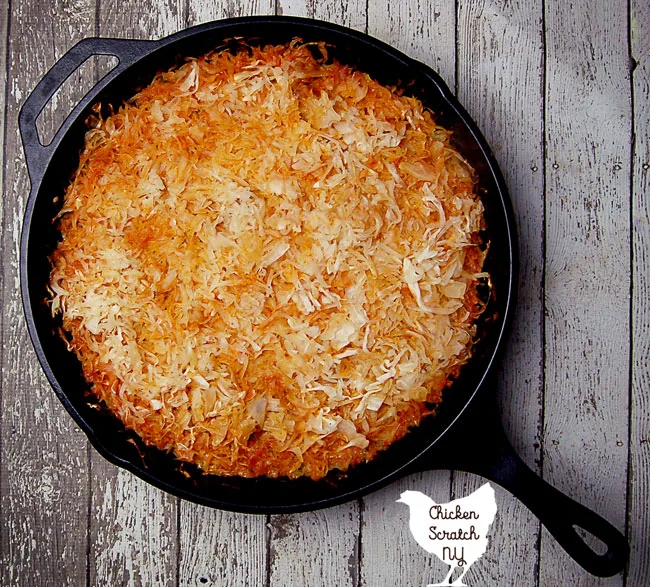 Turn a classic but tedious recipe into a quick, one skillet dinner with this recipe for Stuffed Cabbage Casserole. It's Paleo friendly, gluten free and dairy free too!
Total Time
1 hour
10 minutes
Ingredients
2 lbs 80/20 Ground Beef
3 cups Cauliflower, Riced
1 cup Onion, Chopped
1 teaspoon Salt, Kosher
1/2 teaspoon Black Pepper
3 cups Tomato Sauce
6 cups Cabbage, Shredded
Instructions
Preheat oven to 350, heat a large cast iron skillet over med-high heat
Brown ground beef in skillet, drain off excess grease
Stir in cauliflower, onion, salt, pepper and tomato sauce
Lightly flatten with the back of a spoon and top with shredded cabbage
Cover with aluminum foil and bake for 50-60 minutes or until cabbage is softened and turns reddish from the tomato sauce
You'll also love: