It's Spring! No really, even though there's a two foot snow bank in front of my house that makes coming and going much more of a hassle than it needs to be.. It's spring.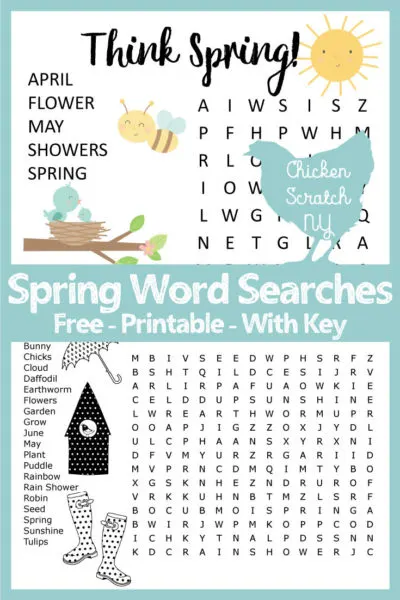 Life is about to get chaotic, I have 30 chicks coming, 40+ fruit bushes, new fencing and a handful of fruit trees. Everything but the fencing is set to ship in a two week period in early April.
I'm doing a lot of things that I've been putting off. No time like the present right?
But you're not here to hear about my lofty ambitions. You want spring word searches!
I made up a new batch with all my favorite spring things. Except dandelions… Not sure how I forgot about my favorite flowers but I did get my second favorites in with the daffodils.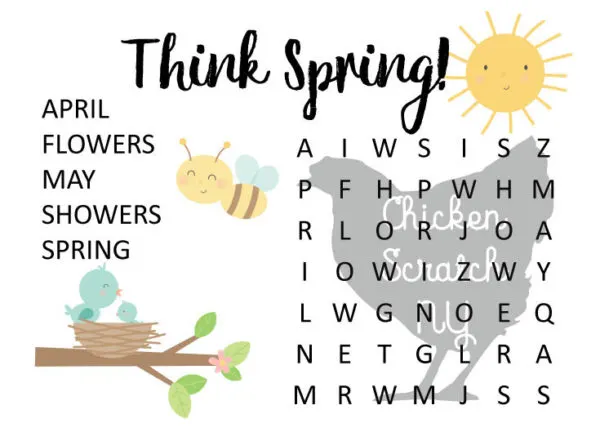 Tulips also made the cut, aside from my Species Tulips in the front bed I don't think I'll have that many coming up this year. It's been at least 3 years since I planted a tulip bulb! It's crazy how time flies.
I'm sorry I couldn't find black and white graphics for the easy spring word find. I ended up buying this cute little graphics pack and I can't get over how cute the little bee is!
Have you seen any bees yet? I have to find some better epoxy and fix my butterfly and bee waterer soon.
I was able to get black and white graphics for the more difficult version. I love those rubber boots!
I have giant feet, I need an 11 so I'm almost always sized out of anything fun. I guess I'm stuck with my damaged Muck boots forever!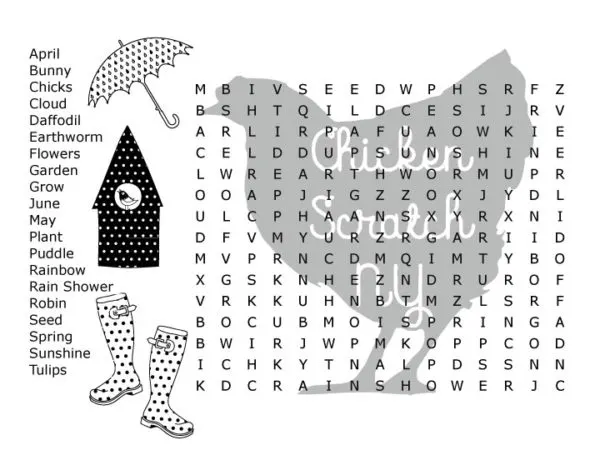 Speaking of damaged boots, spring is also Alpaca Shearing time! If you've never hand-sheared an alpaca you haven't lived.
I'm feeling generous so I'll let you stop over and try your hand on Fred and George (hint, he's much nicer!)
What are your spring plans this year?
You can download the PDF puzzles directly from my site, I had a lot of problems with Google drive and schools not getting along! I make these puzzles available for free so please don't sell or profit from them. You can print one copy for yourself or enough for your whole school class. The PDFs do not have the giant chicken watermark on them 😉
Make sure you PIN this to your Spring or Printables Pinterest board!
And don't forget to check out my Printable Puzzle Page for more Word Searches, Crossword Puzzles and Mazes