It's officially spring. The bees are out in full force and we all know they need as much help as they can get. I haven't seen any yet but the butterflies won't be far behind. A few years ago I pounded a few pieces of electrical conduit into the ground in my front flower bed with the intention of turning them into either something for the birds or a Bee and Butterfly Waterer. You could easily make this into a platform bird feeder by filling it with birdseed but I decided to go with pretty gems and water. The glass gems make it pretty but also serve a practical purpose. They attract the bees & butterflies with their pretty colors and they give them somewhere to land so they don't get stuck in the water and potentially drown. Like my ladybug vs bumble bee tic-tac-toe game this is an easy afternoon project that doesn't require skill.
Supplies:
Electrical conduit, 1 inch, cut to size (desired height plus 12-16 inches) they'll do this at the store
Wooden dowel, fits easily but not loosely into pipe, 12 inches
Outdoor rated super glue
Dinner plate, make sure it's deep, a shallow plate won't hold enough water
Glass gems
Water
Instructions:
Either pound your pipe into the ground or make someone do it for you (I like to use the "I'm pregnant" excuse but it's not that hard). I pushed it in as far as it would go and then placed a piece of 2×4 over the post and hit it with a hammer until it was about a foot in the ground. Each spring I check to make sure they're still secure.
Glue the dowel to the bottom of the plate as close to center as you can get. Let the glue set according to the package directions.
Stick the dowel into the pipe, add gems and water
Be impressed
Eat ice cream, you earned it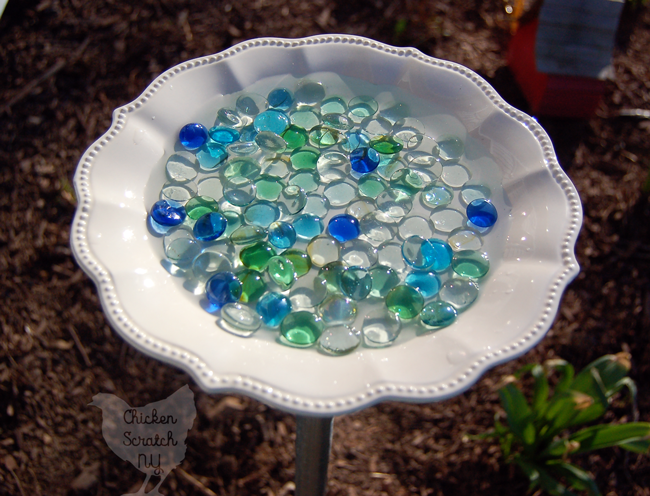 Depending on where your butterfly waterer is located you might need to add water every day or every few days, same with cleaning. Luckily it's easy to pull up the plate, give the rocks and plate a quick cleaning (in straight water!) and put it all back together. Obviously direct sun will lead to more algae and water loss but if you stick it under a tree you'll be cleaning out leaves and tree residue.
I have every intention of putting together a few of these and sticking them in all the flower gardens but I'm really good at making plans and then getting distracted (by things like having a baby in 6ish weeks). This pipe is only about 3 feet tall and gets largely enveloped by the purple cone flowers and other assorted flowers surrounding it. The other pole in this garden is closer to 6 feet tall and will need to be covered, I have a plan but that's a secret for now! Hopefully I'll have something to share in a few weeks with that mission.
I'll update this post over the summer as the flowers grow in and there is more to look at than last years mulch and frost burned globe allium foliage.