Celebrate fall in style with a glass of home made Pumpkin Pie Bubble Tea. It's shockingly easy to make and once you master the basics the sky is the limit for flavors.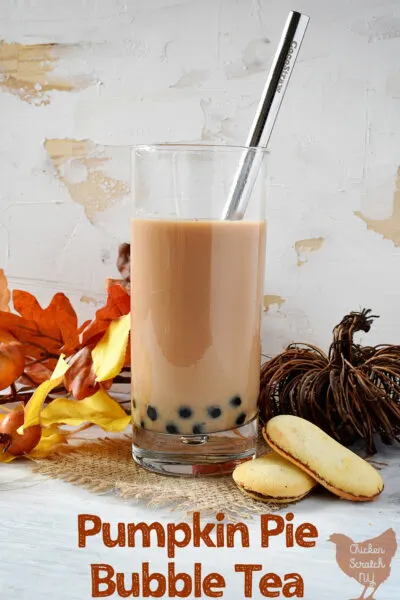 I've been fascinated by Bubble Tea for a long time, mostly because it's such an odd concept to me to add giant black tapioca to anything, never mind a drink.
With Amazon Prime and a few blogs on my side I jumped head first into making my own. Obviously I had to start with a fall version, so today we're making Pumpkin Pie Bubble Tea.
The Tea
You can use any strong tea for this Pumpkin Pie Bubble Tea. All the recipes I found for used strong black tea but I have trouble sticking to tradition. You want the tea to be stronger than you'd normally drink it because you're adding in milk, sweetener and the tapioca.
I went with Caramelized Pear Rooibos Tea from Culinary Teas. It's delicious on it's own but the fruity, nutty and perfectly autumnal flavors blend really well with the pumpkin syrup.
It's a loose tea and I doubled up on the tea to water ratio, I used about 1/4 cup for 2 cups of water. There was an unfortunate incident with my electric kettle and gravity so I made my tea on the stove top.
I brought a little over 2 cups of water to a boil, turned off the heat and dumped in the tea. Then I forgot about it. I found this really cool article on boiling water for tea (I know, it sounds about as interesting as watching paint dry but it's really interesting).
Eventually I remembered I was making tea and strained it through a fine mesh sieve into a mason jar and let it cool. Then I popped it in the fridge to chill.
You can make your tea by the glass, quart or gallon. Keep it stored in the fridge and it's ready whenever you need to get your bubble tea on.
Making Boba
Unlike the tea you really don't want to do this too far ahead. The boba pearls go from delightfully chewy to hard and it's not a good thing.
On the bright side, you can whip up instant boba in about 6 minutes. Bring the water to an aggressive boil and dump in a quarter cup.
Don't use your tiny saucepan for this, those pearls look small going in but they expand quite a bit. Keep them boiling for about five minutes.
Strain them and transfer them into a glass bowl. You don't want them laying out in a single row, pick a container that will keep them bunched up or you're going to need a TON of syrup to cover them.
This is where the pumpkin pie comes into this pumpkin pie bubble tea. I used Pumpkin Pie syrup from Monin as my sweetener.
I used 3-4 pumps of syrup to cover the boba, then I let it sit while my tea cooled down. You can your any kind of flavored syrup including homemade honey simple syrup.
This post isn't sponsored by Monin, I'm just a really big fan of their syrups. Some other recipes I've made with them: Pistachio Meringues & Lavender Hot Chocolate
Putting It Together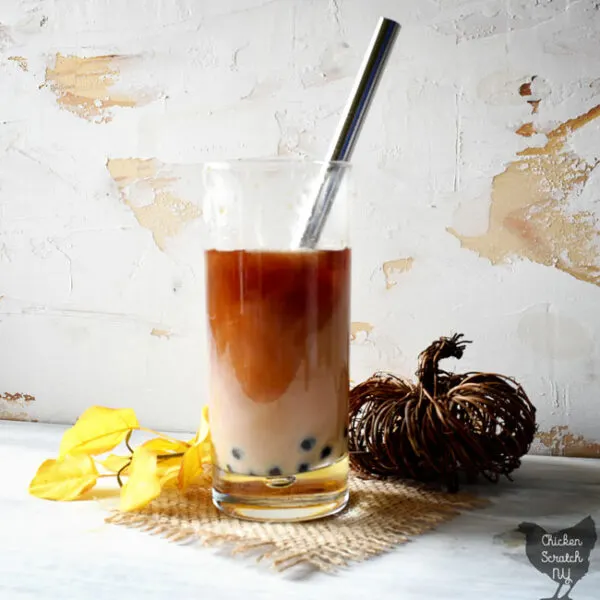 Split the syrupy boba between two glasses. The glasses I used are full sized drinking glasses (they're the ones I etched with the names of poisons, check out that tutorial if you're a bit twisted) I recommend you stick with that size, you'll need more room than you anticipate.
Add in the cold tea and give it all a nice stir with your fancy bubble tea straw. You will need a large straw for this, unless you plan to drink all the tea and then gulp down the boba at the end.
Personally that sounds really unappealing so I'd just get the straws.
Finally add in the milk and give it a taste. If you don't have any milk because your kids drank it all and put the empty carton back in the fridge give it a whirl with some pumpkin pie cream liqueur.
After that you won't even mind being out of milk.
Check out my site Tipsy Chickens for lots of Fall Cocktails including a few using pumpkin pie liqueur like a Pumpkin Pie Caketini & Pumpkin Spice Latte Shots
Don't forget to PIN this to your fall boards for later!
Yield: 2 Servings
Pumpkin Pie Bubble Tea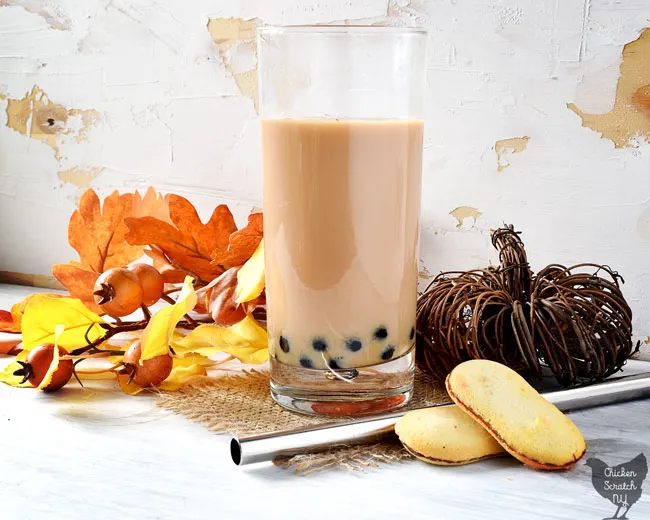 Enjoy the fall weather with a glass of home made Pumpkin Pie Bubble Tea. It's shockingly easy to make and once you master the basics the sky is the limit for flavors. This recipe used pumpkin pie syrup and flavored rooibos tea for a relaxing autumnal treat
Ingredients
1/4 cup Boba tapioca pearls
1-2 oz Pumpkin Pie Syrup
2 cups prepared Pear Rooibos tea, chilled
Milk, to taste
Instructions
Bring a medium pot of water to a hard boil, add boba
Cook for 5 minutes, apioca will expand and look glossy
Strain and split between serving glasses
Add pumpkin pie syrup to each glass and stir to coat boba
Pour in chilled tea
Top with milk to taste
Notes
If you have extra boba store in the fridge covered with syrup. They will harden over time so it's best to only make what you'll use immediately
Recommended Products
As an Amazon Associate and member of other affiliate programs, I earn from qualifying purchases.
Check out my Recipes Page for more ideas or start here: