Let's start out my saying this recipe for Apple Pie Cinnamon Roll Monkey bread is a tad on the messy side. And by that I mean you're going to have apple pie filling all over your hands by the time you're done.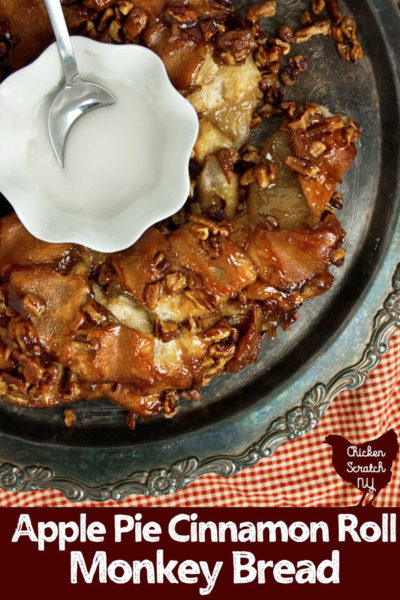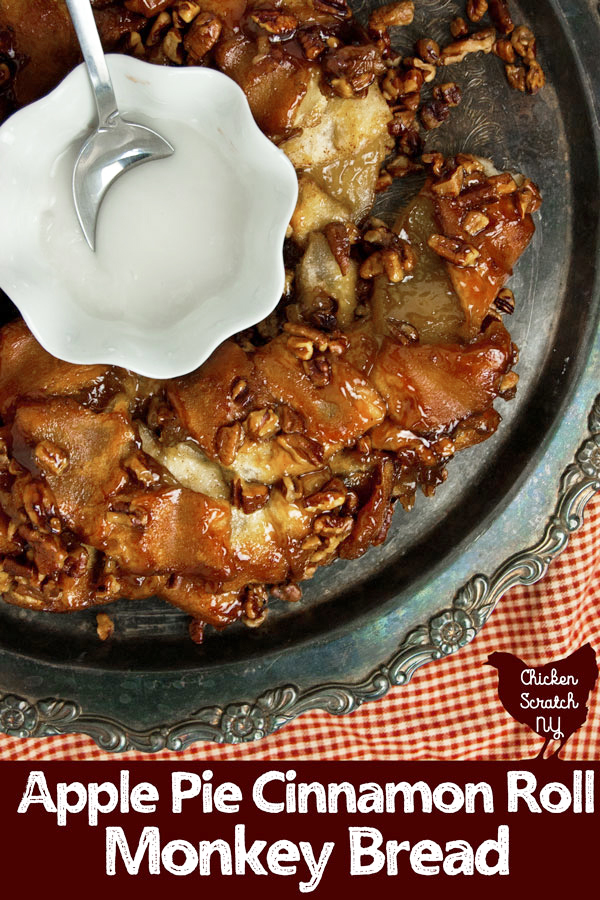 But it's worth it. It's really not that much work, you're using canned apple pie filling and a tube cinnamon rolls after all! And the flavors more than make up for the mess. Pro tip: Make sure the apple pie filling is in slices!
You can serve this for breakfast or dessert. It's sweet enough to hold it's own against a pie but no so much it makes your teeth hurt (especially if you leave off the extra icing!).
Cinnamon Roll Monkey Bread Supplies
You're going to need a few things to get this recipe on the way. First is parchment paper and a rolling pin. You'll need them to roll out the dough a bit.
You will lose some cinnamon along the way, but it's fine. You're adding in even more spice with the apple pie filling so it works out in the end.
I baked mine in a bundt pan because I'm fancy but you can use a loaf pan if that's more your style of what you happen to have on hand. This doesn't fill the bunt pan, it's only about 1/3 – 1/2 way full.
You could probably double it without a lot of trouble if you need to feed an army but I haven't so I can't even guess on the time it would take to bake.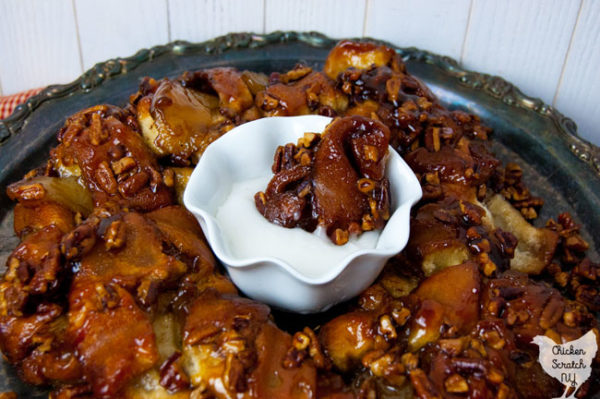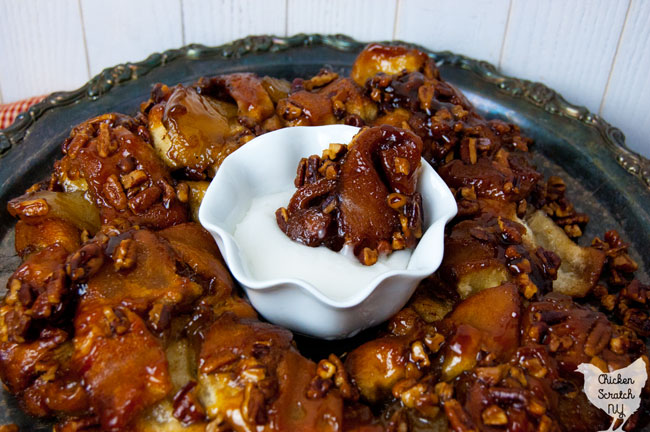 Prepping the Dough
Open the tube of cinnamon rolls. If you need to take a PSL shot to steady your nerves I won't judge you. I made my boyfriend do it because I hate the sudden pop.
Unroll the cinnamon rolls and cut them in half. Now there are 16 pieces of dough.
Lay out a large sheet of parchment paper and fold it in half like a hotdog bun. Open it up and place a few strips of the cinnamon roll. Fold the paper back over and lightly roll with you rolling pin.
When the strips are about 2x as wide as they were and uniformly thin cut them in half. Now you have 32 pieces.
Making the Caramel & Pecans
Heat the butter over medium heat and whisk in the brown sugar. It takes a minute to come together so just keep whisking and don't give up. Set aside off the heat.
Heat a dry heavy skillet or small griddle over medium heat and add the chopped pecans. Stir carefully until pecans are toasted and fragrant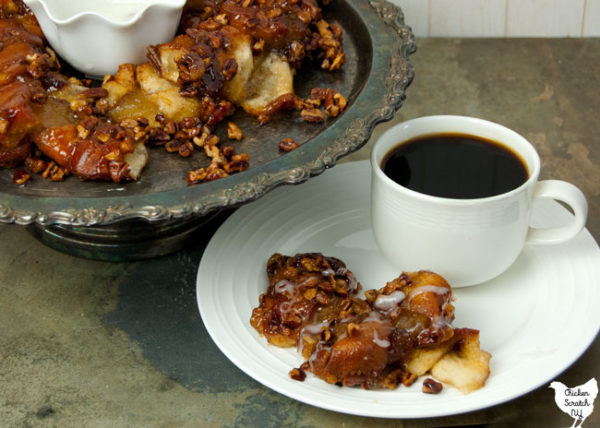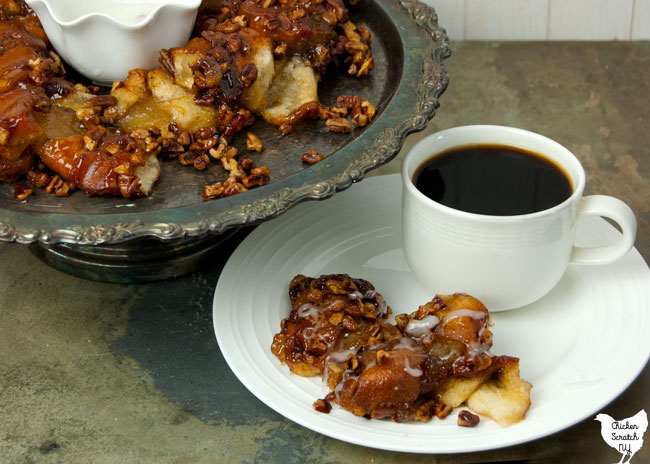 Building the Monkey Bread
Preheat the oven to 350 and generously spray the pan. This is a sticky mess and you want it to flop out when it's done.
Pour 1/3 of the caramel into the bundt pan and sprinkle with 1/3 of the pecans. Open the apple pie filling and dump it in a bowl. You're going to be using your hands for the next bit so wash them well and keep a towel handy.
Pluck a slice of apple pie filling from the bowl and wrap in a slice of dough. Drop it in the pan and repeat. Try to keep an even but overlapping layer. When you're half way though drizzle in another 1/3 of the caramel and 1/3 of the pecans.
Keep going, you're almost there! Add the rest of the dough wrapped apples and top with the remaining caramel and pecans.
Bake for 40 minutes. It will look very wet and soupy if you check it around 30 minutes, its normal you didn't mess up! It takes a bit for the liquid to cook down and when it cools the sugary caramel will harden up.
Let it sit in the pan on a wire cooling rack for 15-20 minutes. Wearing oven mits place a plate over the top of the ban and quickly flip over. You should hear the monkey bread plunk onto the plate. Serve warm with the icing from the cinnamon rolls on the side.
Don't forget to PIN this to your Autumn Recipe Board!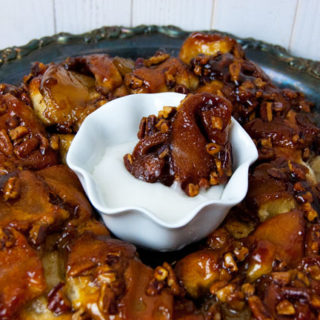 Apple Pie Cinnamon Roll Monkey Bread
Yield: 8 servings

Prep Time: 10 minutes

Cook Time: 40 minutes

Total Time: 50 minutes

An easy autumn monkey bread made from cinnamon rolls and apple pie filling with homemade caramel sauce and toasted pecans for a sweet breakfast or dessert
Ingredients
1/2 cup brown sugar
1 stick butter
1 tube cinnamon rolls
1 can apple pie filling
1 cup chopped pecans, toasted
Instructions
Preheat oven to 350 and coat a bundt pan in non-stick spray
Open, separate and unroll the cinnamon rolls. Cut in half
Sandwich the cinnamon roll sections between sheets of parchment paper and flatten with a rolling pin. Cut in half again (each cinnamon roll with give you 4 pieces)
Melt butter in a small sauce pan and whisk in brown sugar until melted and completely combined. Remove from heat
Drizzle roughly 1/3 of the caramel into the bundt pan, top with 1/3 of the toasted pecans
Wrap a section of cinnamon roll dough around a slice of apple pie filling, drop in the pan
Continue with the other dough pieces. When half the wrapped apple slices are in the pan top with another 1/3 of the caramel and pecans
Add the remainder of the dough wrapped apples and top with the remaining caramel and pecans
Bake for 40 minutes.
Allow to cool for 15 minutes in the pan on a wire rack
Invert the bundt pan onto a plate for serving. Serve warm with the cinnamon roll icing on the side
Recommended Products
As an Amazon Associate and member of other affiliate programs, I earn from qualifying purchases.

Check out my Recipes Page for more ideas or start here: