This recipe for pistachio meringue cookies is an easy twist on my basic meringue recipe. The girls are in over drive and I have enough fresh eggs to bake a million meringues.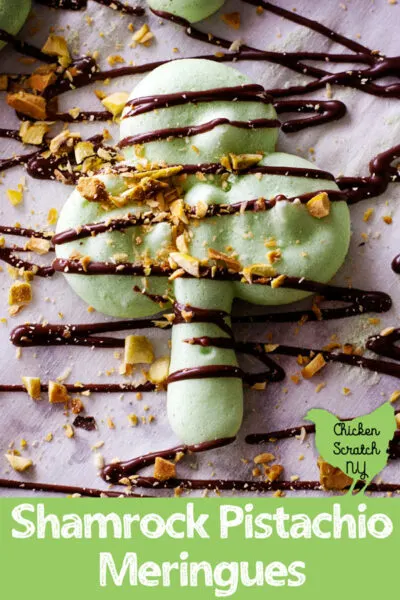 I made neon green Blobby meringues for Halloween and this batch was turned into sweet shamrocks just in time for St. Patricks days. Don't let that stop you from trying out this recipe all year round! Skip the fancy piping and stick to a basic swirl for non-Irish celebrations.
The flavor in this batch comes from Pistachio syrup from Monin. I was drinking a pistachio soda and staring at the ever growing pile of eggs on the counter and I wondered what would happen if I replaced the sugar in meringue with a flavored syrup.
Well, round one was a bit of a fail. The syrup incorporates perfectly into the whipped egg white, it's actually easier with the syrup. I put everything in the bowl and whipped it to stiff peaks.
Everything was going swimmingly until I tried to pick them up off the parchment paper. They were so soft that they pretty much dissolved in my hands.
The flavor was on point and I made a mental note to try again. Then… I forgot them in the oven until the next day when I preheated the oven to make chicken nuggets for my daughters and… I turned the light pillowy meringues into black hockey pucks of sadness.
Round two went better, I even had two little helpers. One may have ended up with more meringue in her hair than on the cookie sheet but we're making memories right?
How to Make Meringues with Flavored Syrup
Whenever you're whipping egg whites you want to make sure the bowl is completely clean. If you have any oil or fat or even a dot of egg yolk you're out of luck and all the whipping in the world won't get you anywhere.
I like to separate my eggs in a small ramekin so if one yolk pops I don't lose the whole batch. I either use the egg shells or my fingers to separate the yolk. This time I put the yolks in a dish of salt to make salt-cured egg yolks but they usually go to the cats.
Dump the egg whites into the mixer bowl, add the pistachio syrup and the cream of tarter. Start whipping with the whisk attachment on medium. I have a giant mixer and it usually takes a few minutes for my meringue to really get going.
While that's happening preheat the oven to 200 (removing anything that may be stored in there like the last batch of meringues….) and line a large cookie sheet with parchment paper.
When your meringue gets to the soft peaks stage start slowly sprinkling in the sugar. Add in the food coloring if you're going to use it. You'll need to use a lot more than you think. I ended up putting 12+ drops in this batch and they're still pastel.
Once you reach the hard peak stage of whipping it's time for piping! This is at best slightly messy so be prepared to wash your hands a lot.
I used a disposable plastic piping bag from Wilton with a round #10 tip. If I used larger bags I wouldn't need to refuil it three times but sometimes you need to live with your choices.
You don't need a piping tip, I just like to be fancy sometimes, you can snip the end off the bag and go from there. If you're skipping the clover shape I like to use a star tip for a fancier meringue cookie.
How to Pipe Shamrocks
My first batch of pistachio meringues was really just me testing 47 different ways to pipe a shamrock. I think I've found the easiest way, but it's fun to experiment so if you hate these try your own way.
Start by making two side by side circles, about the size of a quarter. Don't connect them, make one circle then the other. They should barely be touching.
Make the third circle at the top, again about the size of a quarter, this time when you get to the center pull it down to make the stem and then back up to the center.
That lovely Instagram video shows the technique that worked for me, it also shows exactly why I don't do video 😉
Baking Meringues
One of the best things about meringues is that they don't really spread. At least not if you've whipped it enough. I try to leave about 1/2 inch between cookies but really it's a free for all.
Once you've got everything piped they go in the oven at 200 for 2 hours. Then turn off the oven (leave the door closed) and forget about them for another few hours. They'll dry out even more and you'll get that lovely melt-in-the-mouth texture.
Make Them Fancy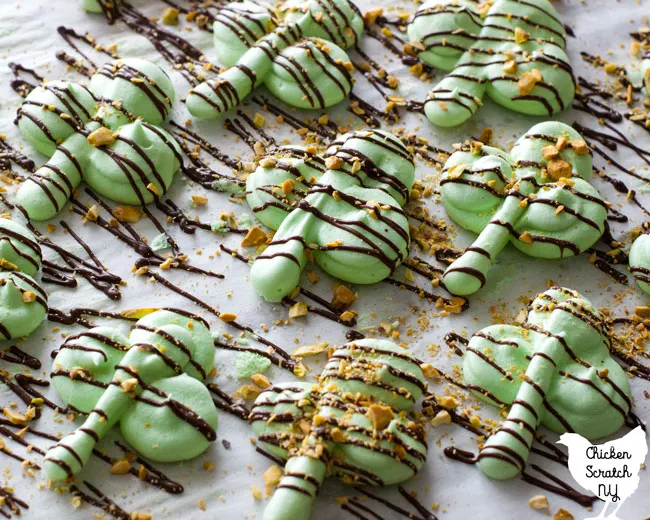 I will dip anything in chocolate and pistachio meringue cookies are no exception. My go to for chocolate coating is Dark Chocolate Ghiradelli melts.
They are basically fool proof and they taste amazing. You could even eat them on their own if you were out of chocolate and you needed some… Not that I've done that but… moving on.
You can go two ways with this, either a fancy drizzle or a generous dunking. Either way you want to have some parchment paper on the counter to catch your mess.
I also wanted to add a gentle dusting of crushed pistachios to the meringue cookies. If you're adding anything like sprinkles, nuts or edible glitter you need to do it before the chocolate sets.
Based on how warm your room is you might have some decent wiggle room or like me, you'll have to add the topping immediately. Make sure you have your topping prepared and on hand when you start drizzling or dunking.
I went with the drizzle for the shamrock meringues, they're more fragile than a large swirl and I didn't want the leaflets snapping off in the chocolate.
Chocolate Drizzle
Melt a small amount of chocolate wafers in a piping bag according to the package instructions. Knead it in the bag and make sure you're lump free.
Snip a little off the end and then go drizzle crazy. I like to have my meringues lined up with only a half inch or so between them, more chocolate gets on the cookies, less on the paper. Add your fancy topping, this time I used chopped up pistachios.
Chocolate Dipped
The next time I make these (there will be a next time) I'm going to throw on a star tip and made hearty swirls. Swirls that can stand up to a dunk in melted chocolate.
For dipping, melt the chocolate in a small bowl only slightly wider than the meringues and deep enough to get a good dunk. Melt the chocolate inthe microwave until smooth.
Dip half the meringue an set it back on the parchment and sprinkle with chopped pistachios.
Yield: 30 Cookies
Pistachio Meringue Cookies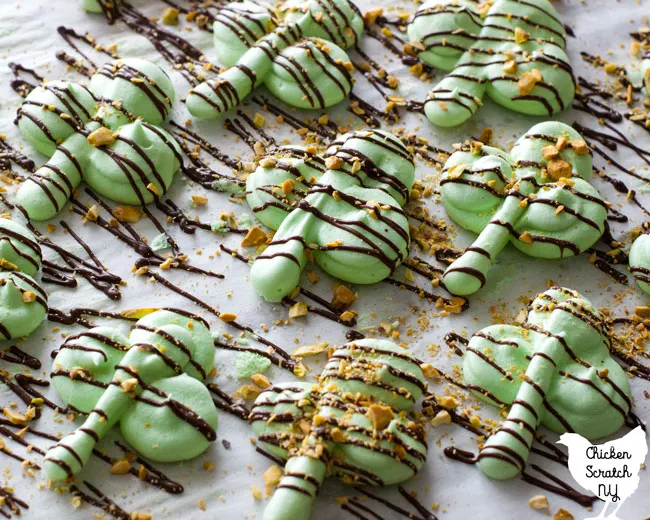 Whip up a batch of melt in your mouth Pistachio Meringue cookies with a dark chocolate drizzle and a sprinkling of chopped pistachios and learn how to pipe a perfect shamrock!
Total Time
4 hours
20 minutes
Ingredients
3 Egg Whites
1/4 cup White Sugar
Optional: Green Food Coloring
Ghiradelli Chocolate Melts
Roasted pistachios, chopped
Instructions
Preheat oven to 200 degrees and line a large cookie sheet with parchment paper.
Combine egg whites, pistachio syrup and cream of tartar in a clean, dry mixer bowl set up with a whisk beater.
Beat on medium speed until soft peaks form, slowly add in sugar a little bit at a time while beating
Stop mixer, scrape the bottom on the bowl with a spatula and add food coloring. I used 15 drops of regular green food coloring for this batch.
Beat until stiff peaks form
Transfer meringe into a piping bag with a round tip
Pipe shamrock shapes ontp the parchment
Bake for 2 hours, then turn off the oven and let the cookies continue to bake/dry
Lift meringues off the paper and then set back on the sheet
Melt the chocolate in another piping bag, snip off the tip and drizzle over the cookies
Top with chopped pistachios and let sit until chocolate has hardened
Recommended Products
As an Amazon Associate and member of other affiliate programs, I earn from qualifying purchases.
Check out my
Dessert Page
for more recipes, my
St. Patrick's Day page
for more Irish fun or start here: