Now that the freeloaders ladies are laying again I've got a kitchen full of eggs. The late arrival of winter has left my 'back 40' a mud pit and as a result I have a large bucket of un-saleworthy eggs. That means lots of breakfast foods, hard-boiled eggs and meringues!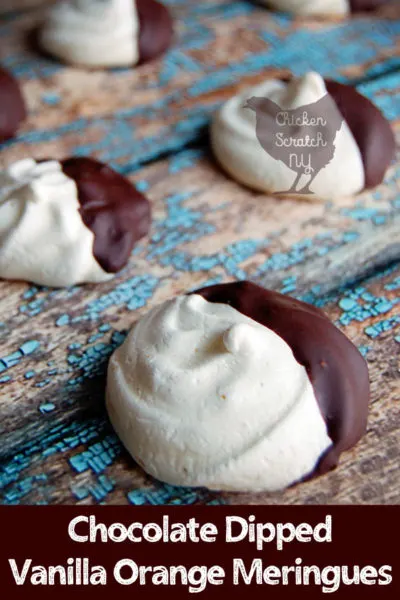 I love making meringues because it's easy, I get to use my mixer, I get to use a pastry bag and feel all professional, they are yummy and crunchy and as far as cookies go they're not horrible for you. I justified the dark chocolate dip based on the fact that the whole batch or vanilla orange meringues is a whopping 650 calories (and you can't eat a whole batch in one sitting you just can't).
And I like chocolate. You do have to work fast with this batter, the orange zest is basically a self destruct button and I'm setting you up for failure if you move too slowly but I promise it's worth it!
Once you get the basics down meringues are actually a breeze, here are a few tricks to make things even easier for you.
Fool Proof Meringue Tips:
? USE CLEAN EVERYTHING, oil and fat is the enemy of whipped egg whites, you need a completely oil free bowl and whisk, likewise make sure you don't get any yolk in the whites. I always crack my eggs into a ramekin to check for things like chicks, but it's a good habit to separate each white into a cup before adding it to the bowl and checking carefully for any specks of yolk
? Use room temperature egg whites, they whip easier
? Add the sugar a little bit at a time
? Just keep whipping, it might seem like it's not coming together but it probably will (unless you snuck some fat in), don't beat past the glossy stuff peaks or Martha says they'll fall flat. I've never gotten that far and I tend to walk away with the mixer going so you're probably fine
? Piping bags make pretty meringues but I'm sure you can just slop the meringue down with a spoon if you're even lazier than me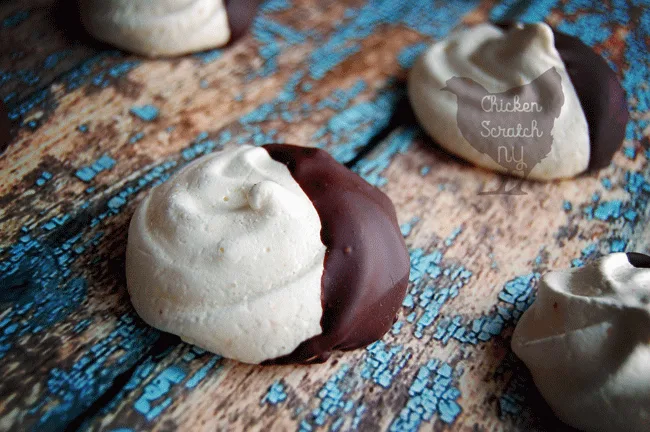 With this recipe you're adding a lot of oil at the end, and if you read the above you'll notice that that's the opposite of everything I told you. Well, I'm a rebel. And I wanted orange-y meringues. You have to work fast once you add the zest.
The oil basically starts breaking down the meringue the second it's added. Usually you can cut paper on meringue edges (no not really) but these have a much softer look to them.
That's because they were dissolving as I piped. If you move quickly and get them in the oven asap you're fine. Besides you're dipping them in chocolate and that makes everything pretty.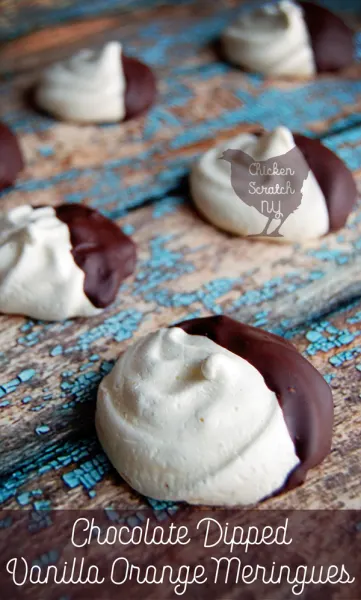 Yield: 2 dozen cookies
Chocolate Dipped Vanilla Orange Meringues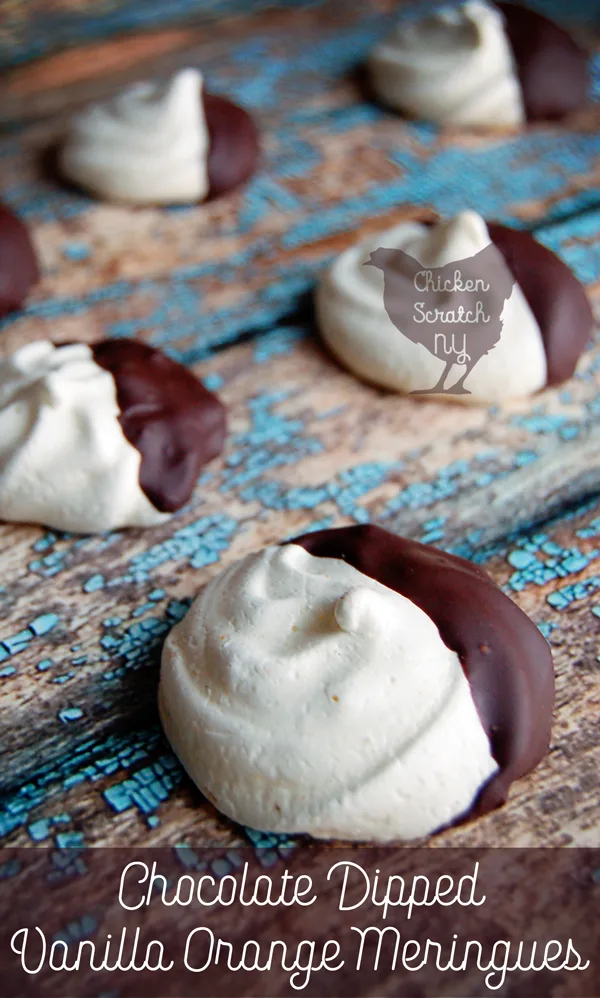 Add fresh flavor to simple meringues for a vibrant treat
Total Time
2 hours
15 minutes
Ingredients
3 egg white
1/4 tsp cream of tartar
1/4 tsp salt
1 tsp vanilla extract
3/4 c sugar
zest of one medium orange
Instructions
Combine egg whites, cream of tarter, salt and vanilla in the very clean bowl of a mixer
Whip until soft peaks form
Slowly add sugar, about a table spoon at a time continuing to whip
Scrape down the sides of the bowl and rub a little between your fingers, if its very grainy keep whipping
When stiff peaks form quickly add the orange zest and whip for a few seconds to incorporate
Quickly transfer to a pastry bag with large tip (I use a star because that's all I own)
Pipe 2inch swirls onto a cookie sheet lines with parchment paper
Bake fat 200 degrees for 1.5 hours, turn off the oven and keep the cookies inside to continue drying for another 30 or until you remember them
They should be stiff and sound a little bit hollow when you tap on the bottom, take a bite, they shouldn't be chewy at all in the center. If they are stick them back in the oven a little longer
Store in an air tight container, they last forever in the freezer
Before serving, melt chocolate in a in the microwave (or a double boiler if you're fancy) for 30 second, then 15 second intervals stirring well between heatings
Dip the cookies and place on waxed paper (or back on the parchment) to set
Check out more Recipes from Chicken Scratch NY or start with these: