Gift giving can be a struggle. Everyone I know has too much stuff but I still love giving gifts. I've found that gift baskets with a fun but practical theme are a great solution to that problem. One of my go-to gifts is a Pancake Breakfast Gift Basket.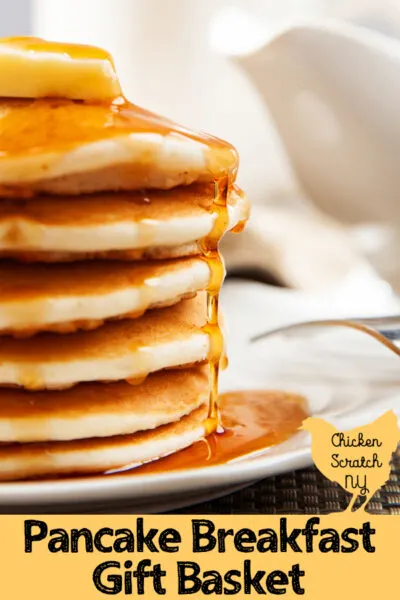 Let's be real, who doesn't like pancakes? It's also a great item to customize and you can go crazy throwing money all over the place or keep on budget while still being fancy.
Of course, Amazon is a great way to do all your shopping online, maybe in pajamas under a cozy homemade fleece and fur blanket….
But my other favorite stop for gifts is TJ Maxx, Marshall's or Home Goods. It's a great way to get fun plates, hand towels, specialty foods, etc for low prices.
I get most of my baskets from Michael's, they have a pretty large selection and you can always find a coupon to get 50% off.
Pancake Breakfast Gift Ideas: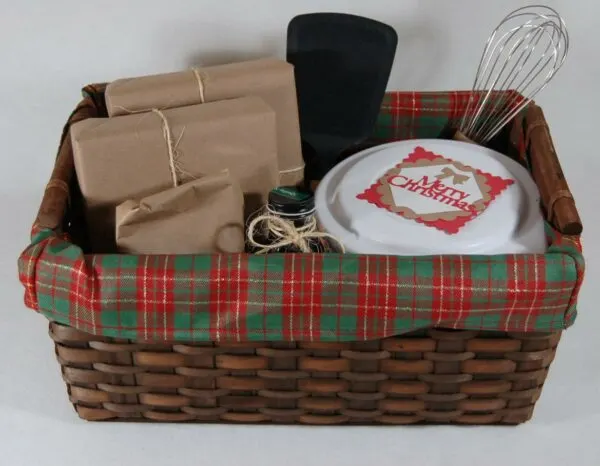 This is all a guideline, you're only limited by the size of your basket and the dietary needs of your gift receiver.
Pancake Mix
If you haven't been shopping for pancake mix lately you're in for a surprise. There are roughly 9 million options out there.
When I make pancakes I usually have a crew of tiny helpers and we run down the line with everyone getting to dump one ingredient in at a time but having a mix in the cabinet is way easier.
I'm an Aldi girl and we go through a shameful amount of their red box pancake mix (my niece loves pancake time at Aunt Alecia's so much that I buy her boxes of the mix and mini chocolate chips for her birthday each year).
You can also check the regular old grocery store, I was pretty shocked by the variety in the store last time I was there. I guess I'm very out of touch with the supermarket.
Maple Syrup
Real Maple Syrup is incredible beyond words. I prefer local syrup, as dark as possible. Grade B has a darker color and a richer flavor that screams out for fluffy mountains of pancakes. It's also pretty good in hot toddies.
If you want fake syrup we can't be friends.
Ok we can still be friends but I'm bringing my own syrup for pancakes.
Specialty Syrups & Jam
If you wanted to step outside the standard maple syrup for pancakes there are oodles of fruit-flavored syrups out there to try. You can also add a jar of honey, it's great on pancakes.
This is where TJ Maxx and amazing grocery stores really shine. You never know what you're going to find there!
Another option to go homemade, you can include jars of your own jam or jelly-like this Mixed Berry Jam from Suburban Simplicity or this Easy Orange Marmalade from The Suburban Soapbox.
It's really easy to dress up filled mason jars with fabric by sandwiching it between the jar seal and the metal ring. Just take care, not to over-tighten the ring or you could damage your seal.
Pancake Making Extras
I put a lot of effort and love into my fluffy chickens and I love giving away fresh eggs as a gift. Everyone but my sister seems to enjoy getting a carton of pretty eggs ranging in color from Easter egg blue to chocolate to tan to white.
Read more about What to Expect from Farm Fresh Eggs
You can also include chocolate chips, fresh fruit like blueberries, toasted pecans, anything that would go well in or on pancakes.
Pancake Making Supplies
You have a lot of wiggle room here and it's going to be easier if you know your gift recipient really well. If you're whipping up a pancake breakfast gift basket as a housewarming gift for a young person or a non-cooker you can go a bit heavier on the supply side.
My favorite pan for pancakes is my small Lodge cast iron griddle. I use the pan for everything, it never leaves my stovetop.
A few more kitchen gadgets that make pancake making easier are a large glass bowl with a pour spout, a good whisk, and a good flipper spatula.
Special Touches
What takes a gift from ordinary to extraordinary? That little extra!
Include a handmade note, maybe a fancy tea towel that reminds you of the person. Anything that shows you were thinking about them and that it's not just a random regift.
---
Check out more DIY Gift Ideas: