I stopped buying bread and pasta. Both of those are foods I tend to over eat so it seemed like a good idea. But life without bread is sad so I had to find some alternatives. With a full time job, two blogs, a farm and a two kids I rarely have time for hours of kneading and rising.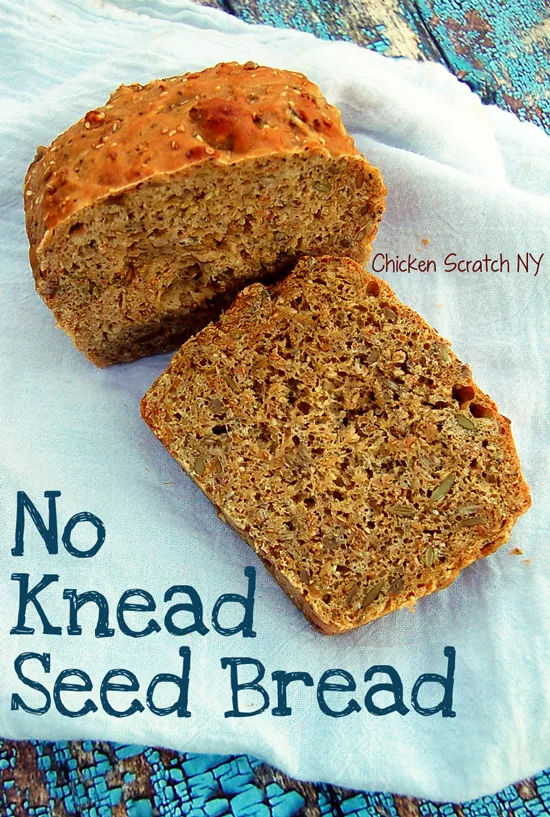 This recipe yields one 9×5 loaf of hearty seed studded bread. It's good freshly sliced but even better toasted.
I like to eat it with a bit of cream cheese, Mary likes hers with butter and Kat eats anything she can see.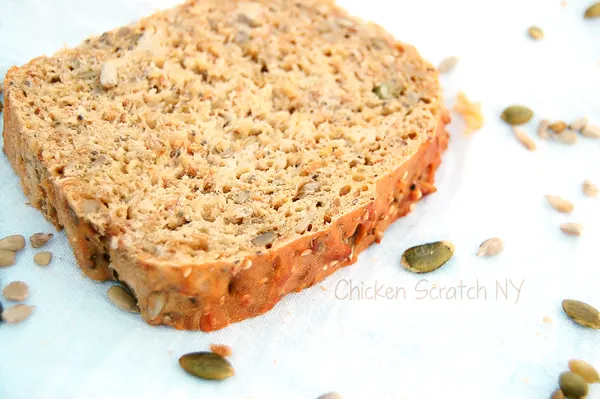 This recipe is adapted from Nick Malgieri's Bread, it's an amazing cookbook filled with bread recipes. It's a great book with lots of step by step photos and it has recipes ranging from very basic to oh-so-complicated.
Nick is a fantastic teacher and I have quite a few of his recipes in my kitchen rotation. Including the Challah that turned out roughly 2x the size of a newborn baby because I skipped the part where it made
2 loaves, not one. But that's not Nicks fault.
I try to stop the the local Mennonite market every few weeks, it's where I order my flour in 50 lb bags for $21. I also pick up bags of seeds, nuts and dried fruits.
I've made a few versions of this bread using different seeds, I even made one replacing the sesame with a 1/4 cup of coconut. It didn't taste overly coconutty but it did give it a nice texture.
Mix it up and use what you have on hand, it's a great recipe to use up that last 2 tablespoons of whatever from baking Christmas cookies.
I always keep a record of what I added so I know why a particular loaf did well or not so well (luckily I haven't had any bombs).
Yield: 1 loaf
No Knead Seed Bread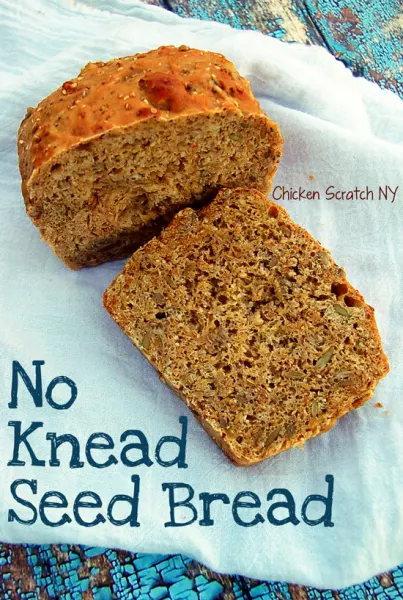 Easy and delicious, this yeast risen no-knead seed bread will be the star of your breakfast table. Serve it toasted with salted butter or smeared with cream cheese for an amazing home baked treat
Prep Time
1 hour
15 minutes
Ingredients
1 T yeast
1¼ C warm water
2¾ c flour, I use King Arthur White Whole Wheat for everything
¼ C sunflower seeds, shelled
¼ C pumpkin seeds, shelled
¼ C flax seed
¼ C white sesame seed
2 T chia seed
2 t salt
¼ C honey, I use buckwheat honey for the extra health boost
1 large egg
Butter to grease pan
Instructions
Whisk yeast and water together. Liquid should begin to get foamy.
Stir together flour and seeds
Pour in honey, yeast mixture and egg
Fold together with spatula, dough will be thick and sticky but should not easily stay in a ball. If dough is too thick add 1 T of oil (you will get a feel for this, it's hard to explain)
SUPER grease a 9x5 loaf pan, the honey makes the bread stick in the pan so do a good job. I like to save my butter wrappers for greasing pans
Allow dough to rest for 10 minutes then give it a few turns with the spatula, there shouldn't be any dry flour
Plop dough into loaf pan and cover with a towel
Allow to rise for 1 hour or until the dough reaches to top of the pan, part way through preheat the oven to 375 degrees
Bake for 35-45 minutes, the honey will make the crust brown fairly early so don't jump the gun and think the bread is done too early
When done remove the bread from the pan, if it sticks run a sharp knife around the edge and gently pry it out by sliding a thin metal spatula under the loaf from the short end, it should pop right out.
Allow bread to cool on a rack, covered with a light towel (I have a half dozen flour sack towels that I use for everything in the kitchen from draining cheese to protecting rising dough)
Notes
Mix and match the seeds based on what you have in your cabinet, aim for 1 cup of seeds
Recommended Products
As an Amazon Associate and member of other affiliate programs, I earn from qualifying purchases.
Do you have a fall back bread recipe?
Check out my Recipes page for more ideas or start here: