There is no food more tied in my memory to my mother than this pineapple zucchini bread.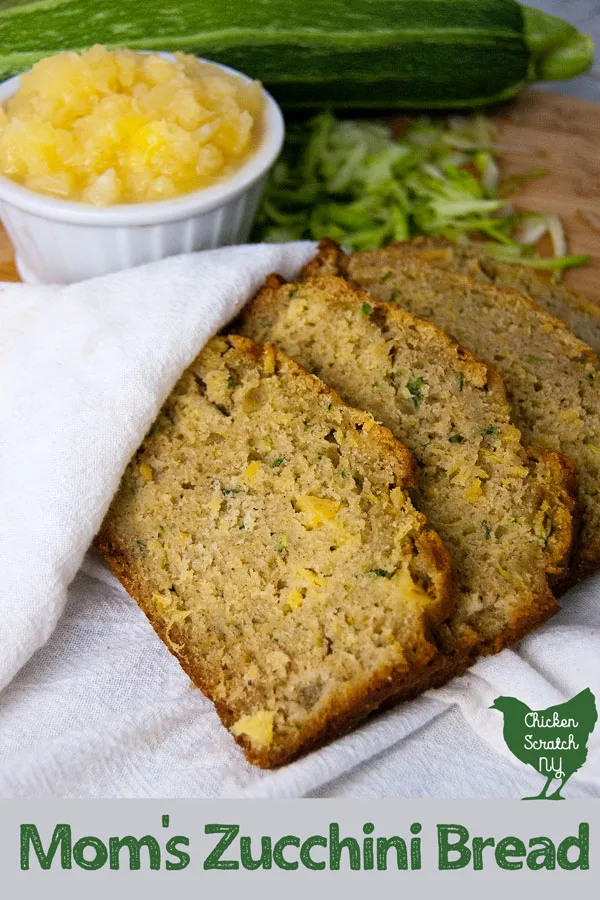 I recently dug out my very dirty hand scribbled copy of the recipe and whipped up a double batch. Trust me, you'll need a double batch!
I'm probably a little biased but my Mom's Zucchini Bread is the best zucchini bread in the world and yes, I will fight you on that. No other recipe has ever held a candle to it.
As an adult I grow zucchini just so I can make this bread. Don't worry if your zucchini are a bit over grown, just grate the outsides & avoid the spongy middle.
This recipe is truly magical. It has the perfect moist texture without being too gooey, it holds it's shape without being hard. You don't need to butter it but you should try it that way because it's a special kind of amazing.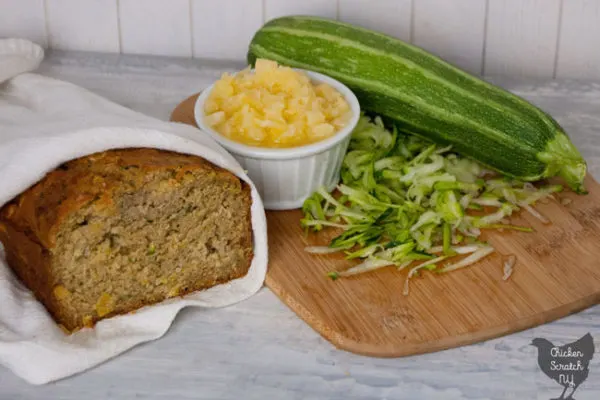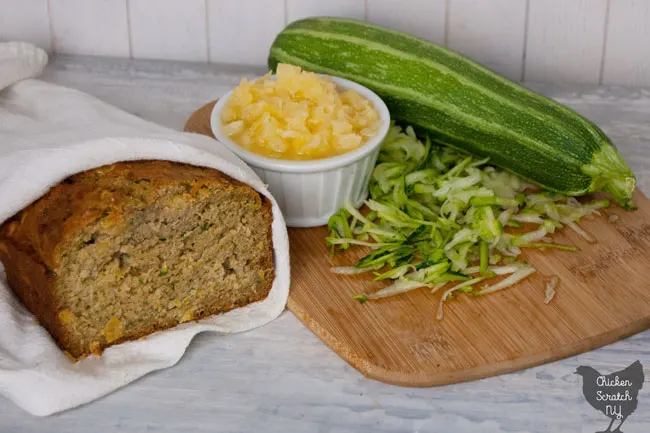 I remember summers where my sister and I loitered around the kitchen gobbling up mini zucchini muffins faster than my mom could bake them.
This recipe is responsible for many a mouth burn. I highly recommend you bite into it fresh from the oven, just let it cool a bit so you don't relive my childhood injuries.
Almost more than eating it I remember my mom making it. The first step was to dig out the giant stainless steel bowls. One for the wet ingredients and a slightly smaller one for the dry.
The only time those bowls saw the light of day was zucchini bread season and later in the year for Christmas caramel corn.
We would grate the fresh zucchini on a box grater into green speckled mountains. After measuring the sugar, vanilla, oil and eggs into the biggest bowl we got to whisk it into a pretty yellow puddle.
That was (and is) my favorite part of making zucchini bread. I don't know why but I've always been mesmerized watching the sugar dissolve. When I was a kid my mom used vegetable oil but I swap it out for coconut oil, I melt a giant scoop in a mason jar and measure once it's liquid.
Add the zucchini in to the liquid ingredients and fold it in with a spatula. It will look more or less like a raw zucchini frittata at this point.
Grab a different bowl and stir together the flour, salt, baking powder, baking soda, cinnamon and allspice. The spices are key to the amazing flavor of the final product.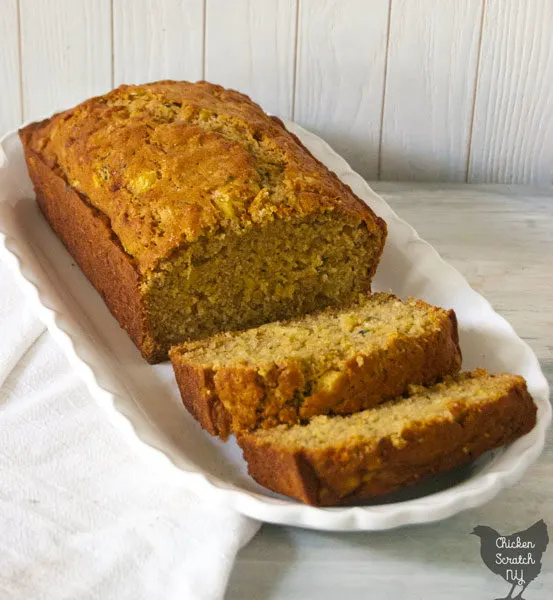 If this recipe has a secret ingredient it would be our final addition. Crushed pineapple is the key to the moist texture and sneaky tropical flavor. If you're making a single batch you need to measure out a cup but if you're going all in with a double batch you can use the whole can even though it's slightly more than 2 cups.
Alternate adding the flour and pineapple to the wet ingredients and mix it up really well. It's a very wet but thick batter. You have lots of chunks of pineapple and tons of zucchini threads holding everything together.
When it comes time to bake we get to the other magical quality of this batter. It makes delicious zucchini bread of course but it also makes kick ass zucchini muffins.
The last double batch I made turned into a regular loaf, 12 muffins and two mini-loafs. The full sized loaf is a little drier and it gets a darker crust on the outside by the time it's baked in the center.
I usually use aluminum bread pans and the loaf takes a bit over an hour. I recently tried it in my ceramic bread pan and it adds almost 15 minutes to the bake time.
It will look done before it is, give it a light stab with a chop stick, butter knife or tooth pick. It's done when you pull out a clean stabber, this goes for the bread and the muffins. Just be a little stab happy and you won't get raw interiors.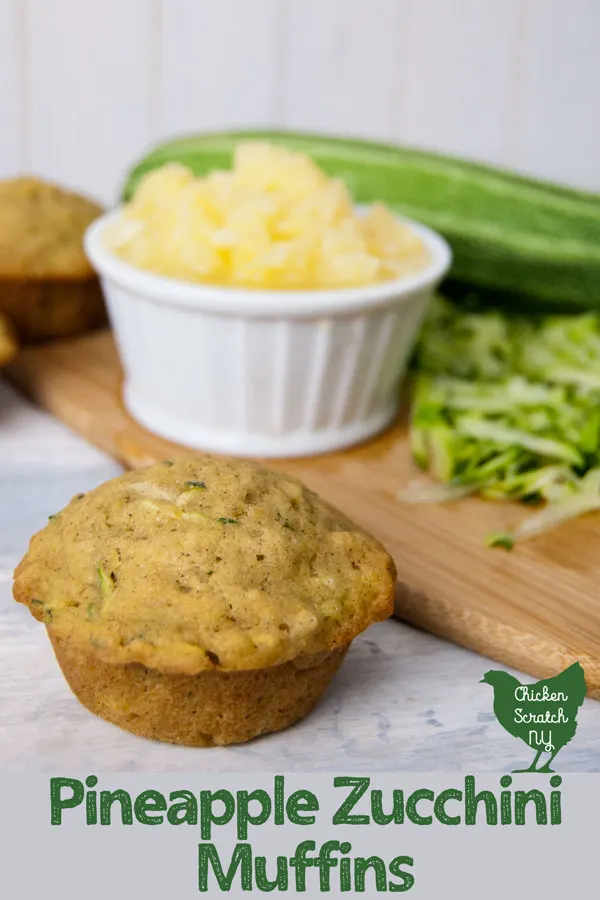 The muffins are moister than the bread. They are done before they get the dark crust. This batter doesn't rise that much so I fill the muffin tins about level with batter. The batter isn't particularly sticky (not like the Pumpkin Gingerbread!) but give the bread pans and muffin tins a good spray down with oil.
Both the bread and the zucchini muffins will pop right out of the pan. Let them cool on a wire rack. My mom claims it freezes really well if you wrap it up and store it in a freezer bag but I've never had it stick around that long 😉
Don't forget to PIN this to your recipe board!
Pineapple Zucchini Bread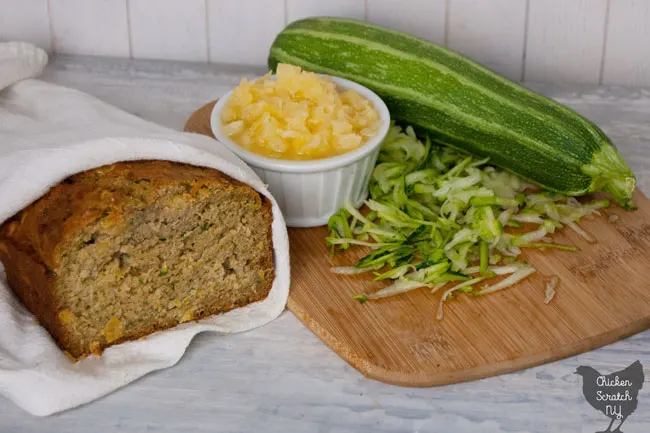 Enjoy my Mom's Zucchini Bread made with crushed pineapple and generous amounts of shredded zucchini for a special summer treat. The hardest part is choosing between a loaf of bread or muffins, whip up a double batch so you don't have to!
Cook Time
1 hour
5 minutes
Total Time
1 hour
15 minutes
Ingredients
3 eggs
1 cup sugar
1 cup oil (vegetable or coconut)
2 tsp vanilla extract
2 cups shredded zucchini
3 cups flour
1 tsp baking soda
1 tsp baking powder
1 tsp salt
1 tsp cinnamon
1/2 tsp allspice
1 cup canned crushed pineapple
Instructions
Preheat oven to 350
Whisk together eggs, sugar, oil & vanilla. Stir in zucchini.
Stir together flour, baking soda, baking powder, salt & spices
Alternate adding flour and pineapple to wet ingredients. Stir until well combined
Coat a loaf pan with cooking spray. Pour in batter
Bake 1 hour or until a toothpick inserted comes out clean
Cool on a wire rack
Notes
Bread time is for a metal loaf pan, add 10-15 minutes for ceramic loaf pan.
Bake muffins at 375 for 17-20 minutes
Check out my recipe page for more ideas or start here: