Drafty doors and windows can bring down the temperature and your spirits in no time. This easy DIY Jelly Roll Draft stop can be sewn to any length from pre-cut 2 1/2 inch strips saving you time!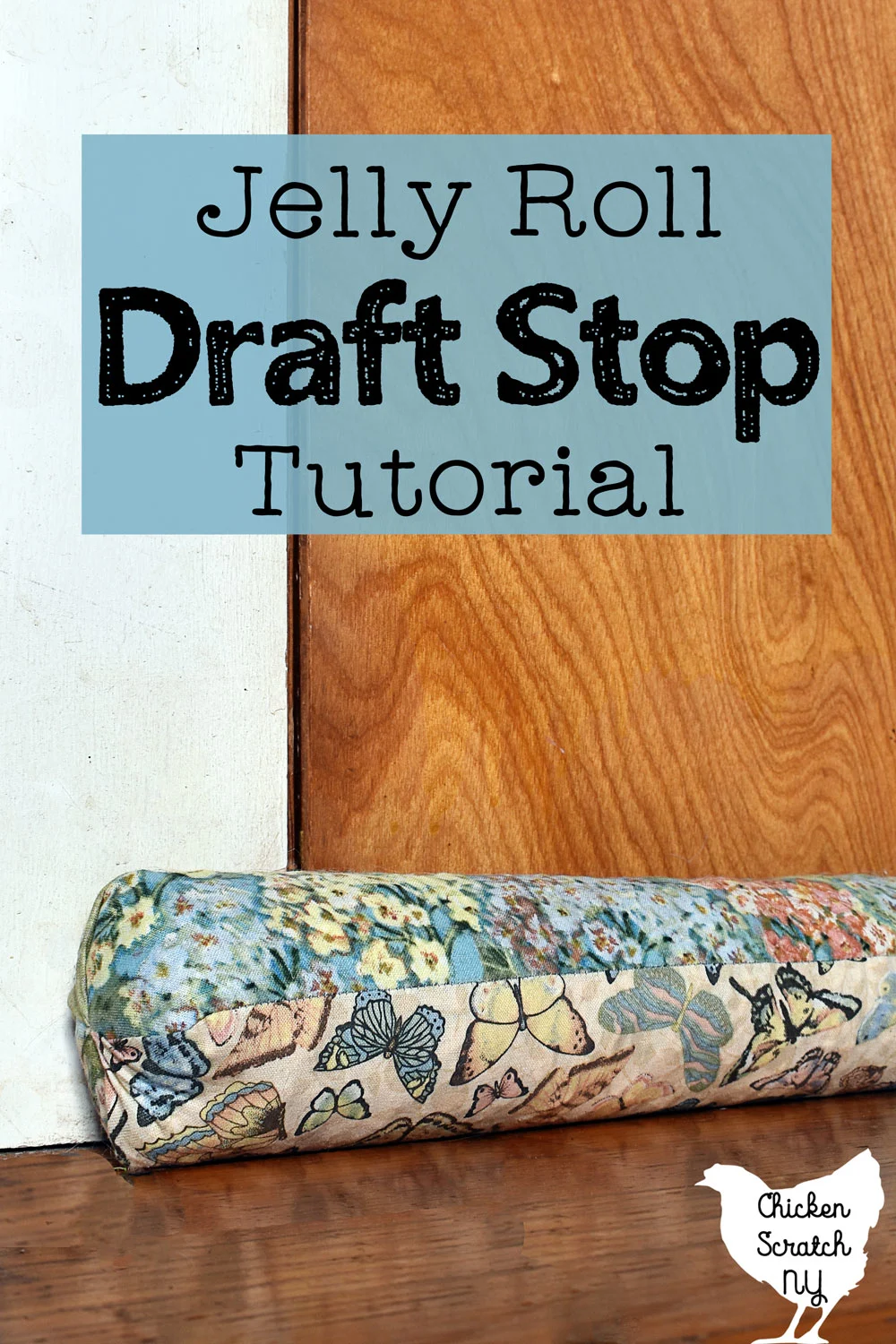 Draft stops like this are a great low tech with solution for a door that needs to be accessible. There is no installation, you just drop it in from of the door and it blocks the drafts.
If you open the door it slides with the door and then you can just kick it back into place. I grew up having a draft stop like this one at the top of the basement door, it was necessary if we didn't want the living room to be freezing.
And don't put it away when the weather warms up! The heft of the draft stop makes it an awesome door stop as well.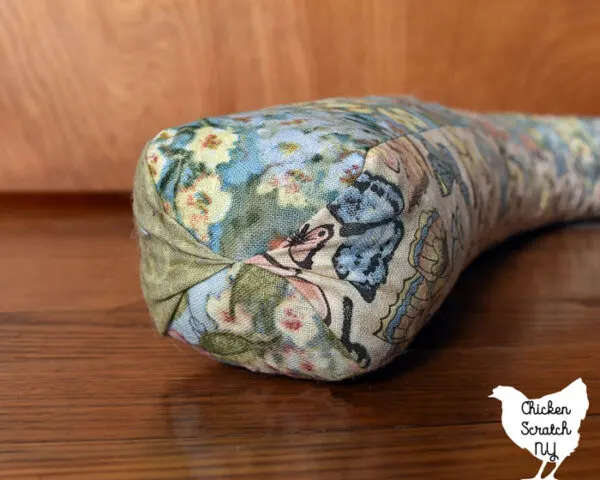 I have a terrible time keeping my bathroom door open in the summertime when the windows are open, the slightest breeze makes everything slam shut.
I just plop this baby in front of the open door and no more sudden slams. It's easy enough to slide out of the way when you need some privacy and it's soft so no more stubbed toes!
Draft Stop Supplies
The basic supplies you'll need are fabric and a filler. You'll also need a sewing machine (or a lot of patience for hand stitching) and a sewing needle and thread to close up the hole you leave for filling.
A large funnel will make it easier to fill, I used my canning funnel. If you don't have a canning funnel you can make one by rolling a piece of thick paper or cardstock and taping it into shape.
I also used an iron to open up the seams and get a nice crisp fold on the ends. If you're more interested in practicality than appearances you can probably skip the iron.
You can use any tightly woven or non-stretchy fabric for this project. I used four leftover jelly roll strips which are 2 1/2 inch wide strips of quilters cotton cut to the width of the fabric, usually 43-44 inches.
Read more about Jelly Rolls & Jelly Roll Quilts
If you aren't using precut strips check out your stash, the remnant bin at Joann's or you can upcycle an old pair of jeans for a study draft stop. You will need a rectangle 8 1/2 inches wide by the length of the door plus 4 inches.
The sedond thing you'll need is a filler. The most popular options are corn and rice. I buy #50 bags of corn for my flock so that's what I went with.
It's important to use something dry, dense and heavy. That way it will stay in place, keep the drafts at bay and not get moldy.
How to Make a Draft Stop
The first thing you need to do is turn the 4 jelly roll strips into one piece of fabric. Aim for a 1/4 inch seam but it's not critical. Press the seams to one side (doesn't matter which one or if they're all going the same way).
If you're using a single piece of fabric you can skip this step.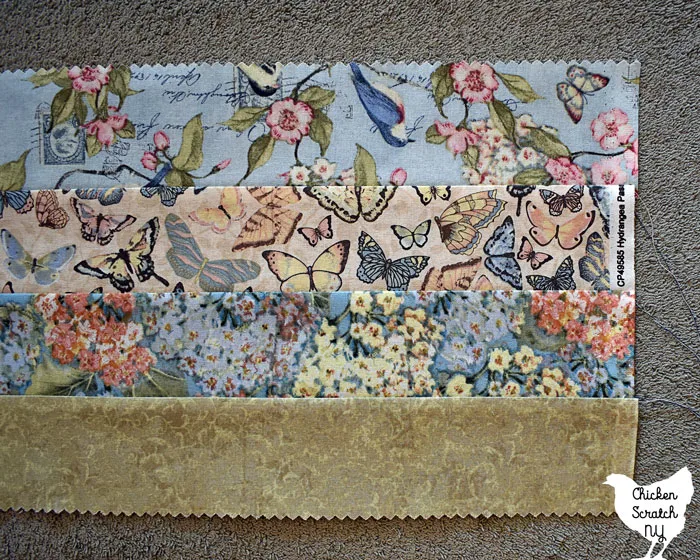 Fold your new 'fabric' right sides together and sew down the long side leaving a 2-3 inch gap for turning and filling. Now you will have a tube with an opening on each end.
I left my turning space near on of the ends and it made it really hard to fill the shorter side. I recommend leaving the gap closer to the center so you can evenly fill the tube.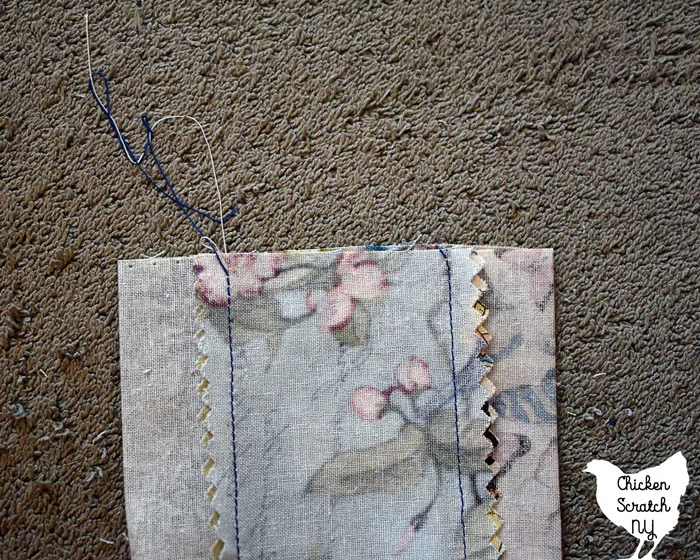 Flatten each end of the tube and match up the seams of two opposite jelly roll strips. Press with the iron to mark the centers of the folded strips.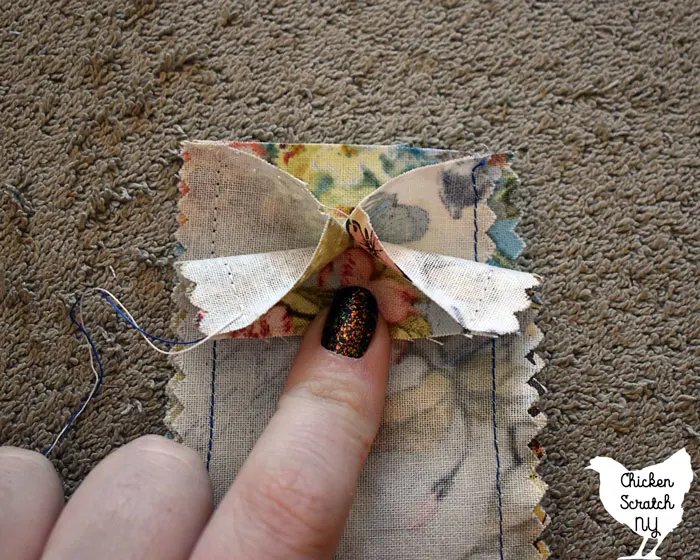 Flip the folded pieces into the center making a box pleat. Stitch across to close.
This area will get a lot of stress and I like to go over the line two or three times. Repeat on the other side.
Turn the tube right side out using the hole you left. You may need to use your fingers to push out the corners of the end pleat.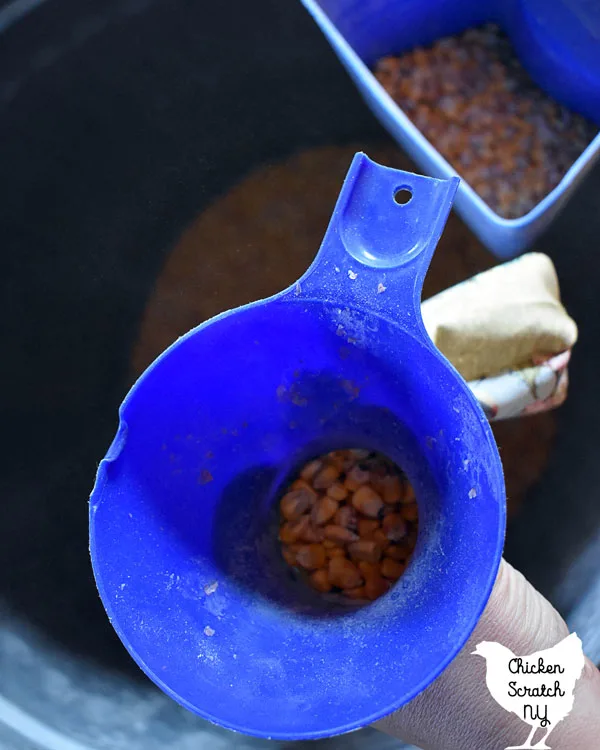 Fill the tube with corn or rice. Shake to the tube to settle the filler and add more until it's completely full.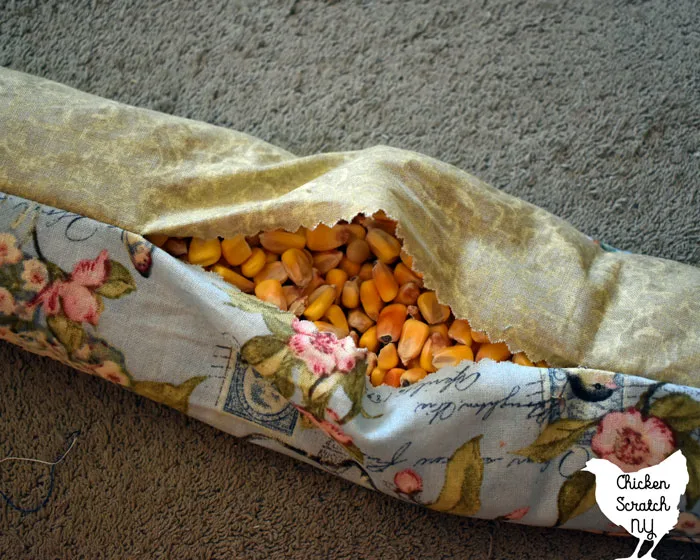 Carefully lay the tube on its side and sew the hole closed.
Place your draft stop in front of the door and go make a cup of coffee to enjoy in your nice, draft-free room!
---
Check out my Sewing Page for more projects and ideas or start here: