Turn your October gathering into something truly spooktacular with a Halloween Spider Party theme! It's easy to pull off with simple decorations, fun food and costume accessories.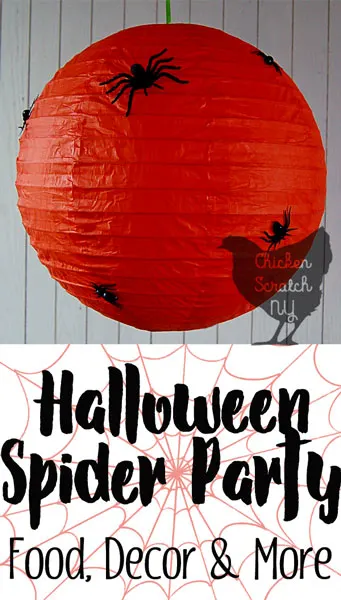 We had spiders and spider webs everywhere, even on the cake and taco dip! Irving the spider pinata made another appearance and everyone had a great time.
Anytime I can avoid having people in my house I'm going to take that option. For this party, we rented out a pavilion in a local park.
There were bathrooms, a playground for the kids, and most importantly I didn't have to panic clean my house.
The pavilion I reserved even had electric outlets! That came in handy when I had to whip out the glue gun for some last-minute decorating. Late October weather in New York can be very hit or miss but so far we've been lucky.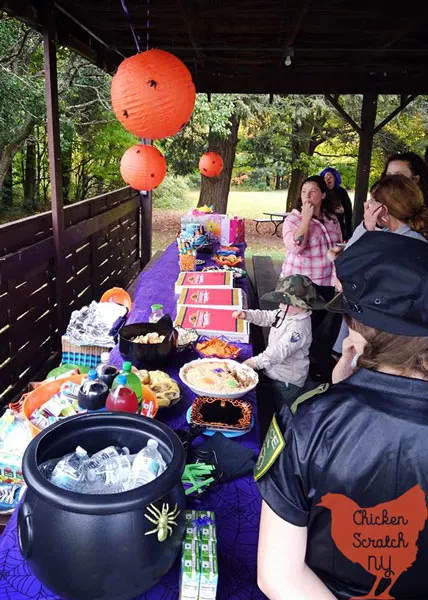 The park has very long picnic tables so I set up the two against the wall for the food, drinks and gifts. Starting out with a large plastic cauldron filled with ice and water bottles and an orange tub for soda and juice boxes.
If the party was inside I would have whipped up a batch of Frog's Breath Floats for all the kids and maybe a few Monster Smash Cocktails for the adults!
Next up was silverware, in a fun spider basket and the plates. I like to put the appetizer-y foods first and then move through to the main course and dessert.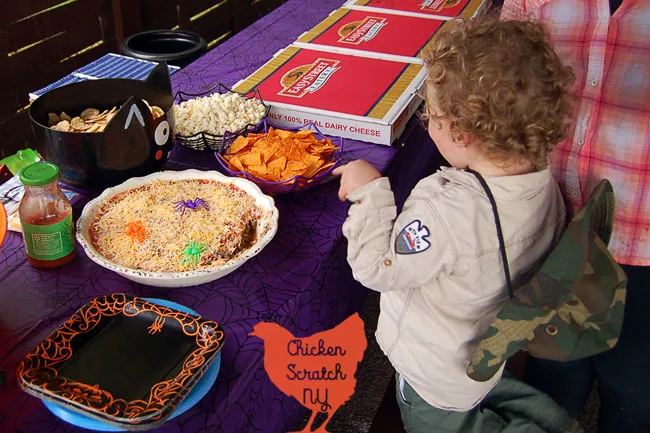 Taco dip is the main party food in my family. Without a doubt the second party planning question after "when?" is "who is making taco dip?" To make it fit the spider party theme I topped it with a few plastic spiders.
Another option is to draw a spider web on top of the taco dip with sour cream, if it was my party it would have happened but it was for my daughter and she's not a big fan.
It is important to add that I have a few relatives with a violent hatred of spiders, but they still ate the dip.
To help keep things on theme I filled spiderweb baskets with chips and popcorn. The baskets are very open and I wouldn't have done this if the party was inside, at least not without lining the baskets with a napkin.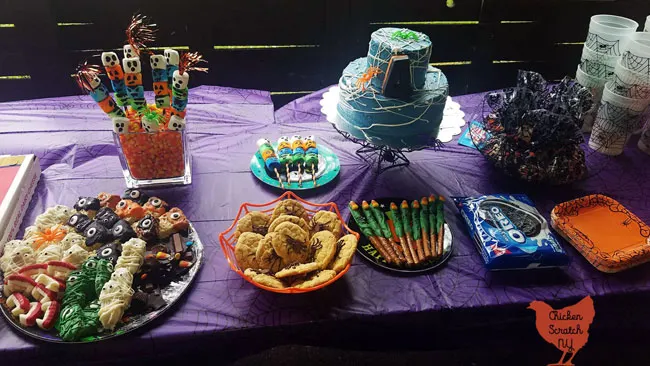 Of course, you can't have a party without desserts and that's doubly true when it's a Halloween party!
My sister made all the candy melt * marshmallow treats you see here, she spent 3 hours coloring faces on marshmallows with edible markers because she's crazy.
I had a friend make the cake. Mary was very clear in her desire for a blue chocolate spider cake and that's exactly what she got! A blue cake covered with pulled marshmallow spider webs made by my friend Nikki.
Mary's dad made the spider sugar cookies, it was amazing how quickly the girls learned to eat the chocolate off and leave the cookie!
Everything had to go home in my car with me, two kids, and food so I kept the decorations simple. I pulled out my glue gun (in the pavilion, my sister was both impressed and confused), a bag of spiders and 4 large orange paper lanterns.
All four were done and hung with curling ribbon in less than 10 minutes. The orange really stood out and the black spiders were perfect for the theme.
We still use the lanterns to decorate out living room every year, somehow the spiders have held on despite being folded flat each year for storage.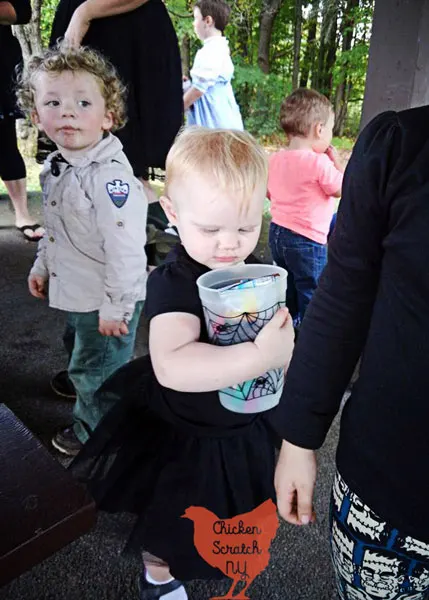 Another family tradition is the pinata. Overstuffed with enough junk inside to please 3x the number of kids present. This year I filled it with bags of Halloween goldfish, fruit rollups, granola bars, and a tiny bit of candy because it's Halloween!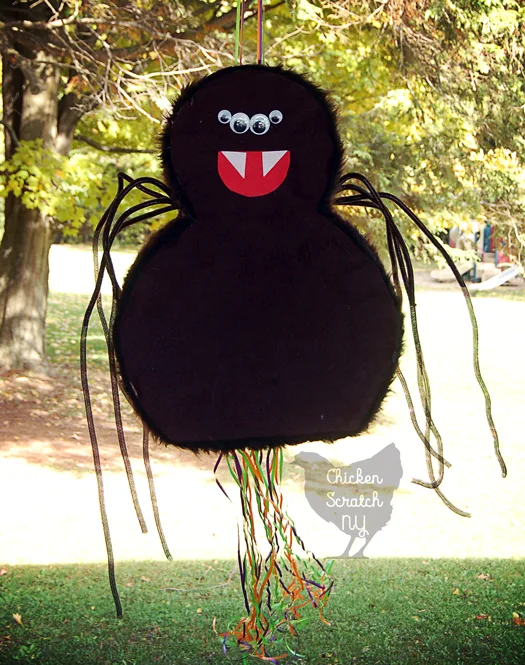 Beforehand I set up glow-in-the-dark spider cups with a few favors like bubbles and spider rings that I didn't want crashing to the ground. Each kid got one to fill with the pinata booty. Even Kat got in on the action!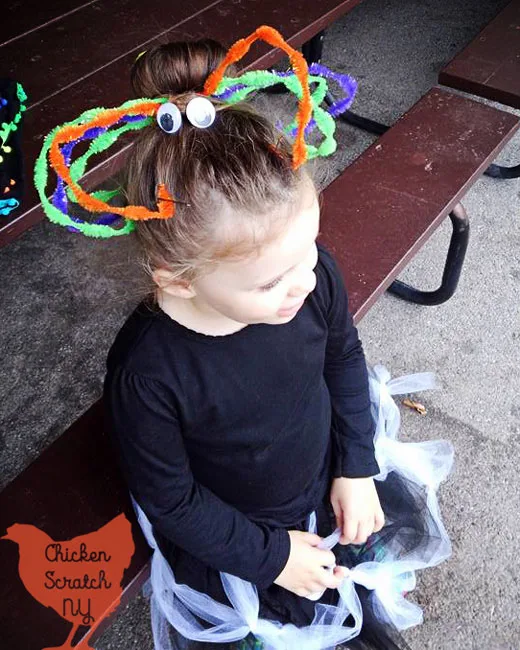 What's a spider party without a spider-y costume? All you need to pull off this spider bun is pipe cleaners, bobby pins, and a few googley eyes hot glued to a hair tie.
Her skirt was a black tulle tutu with a white tulle spider web draped over it. You could easily pull this off with a no-sew style tutu made with knots.
---
Check out my Halloween Page for more spooky fun or start here: