Halloween Party Games are a great way to amp up the fun and get everyone involved. Even better if they're cheap and easy to put together.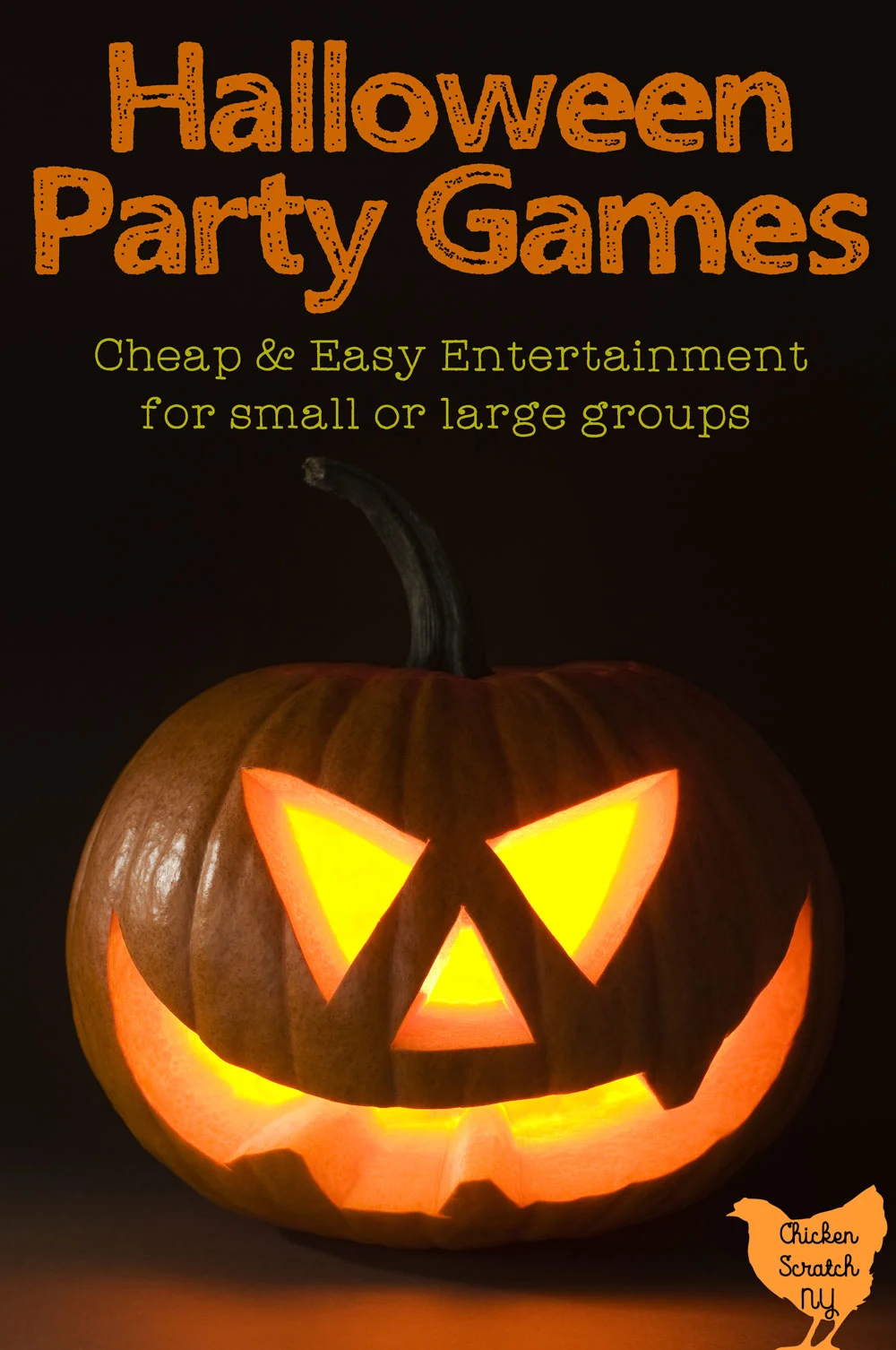 I'll be the first to say party planning is not my strong suit, I'm usually scrambling to get them together roughly 15 minutes before the guests arrive. But it doesn't have to be that way for you!
Today I'm sharing more than a dozen easy Halloween party games to enjoy at your next get together. Some of them are pretty holiday specific but others can be altered to fit just about any party theme.
Halloween 2020 is going to be an odd one for sure, most of these games can be just as much fun played with 2 people as with a crowd. I know my kids had a blast with all of them, I'm pretty sure they'll never eat a donut the regular way again!
Donut on a String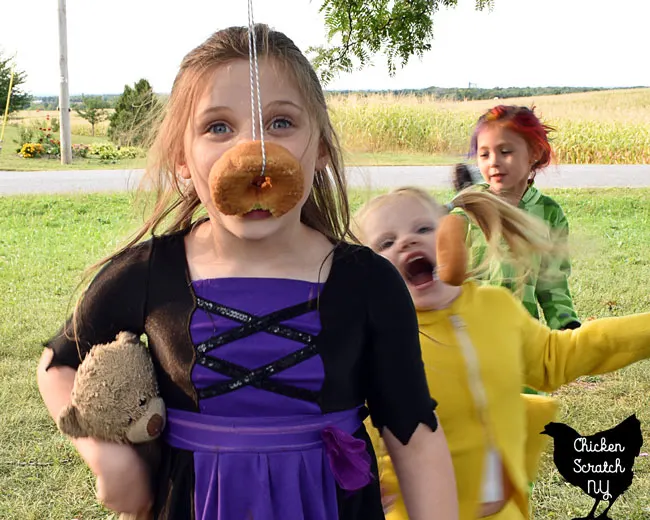 You'll want to be outside for this one! Tie a bunch of strings to a tree branch or across any sort of beam a few feet apart. The strings need to go about 2-3 feet off the ground.
Line it up so the donut is about even with the kids' mouth. The winner is the first person to eat their donut without using their hands.
Avoid using donuts with powdered sugar, you don't want anyone choking! We used Old Fashioned, chocolate glazed and pumpkin donuts from Dunkin with success..
Broomstick Limbo
Limbo is a game that favors the short. Even though I'm 5'10 I'm flexible enough to make it past the first few rounds then I get knocked out by all the kids in my family.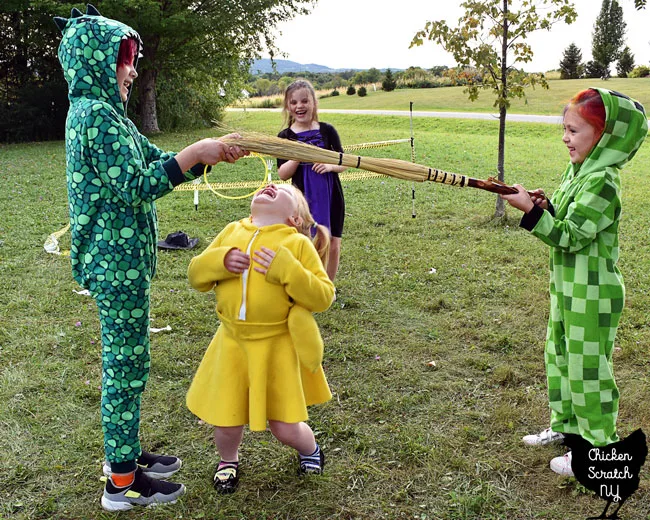 Give this classic part game a Halloween twist by trading out the traditional pole for a witch's broom, or any broom. This game plays a pretty important role in one of our favorite Halloween books: The Littlest Mummy
Skeleton Ring Toss
This game requires a lawn, a skeleton arm, some sort of child barrier, and rings. I got everything for this game at The Dollar Tree. We used glow stick necklaces for rings, my kids are nuts about them and they are available 4 for a dollar.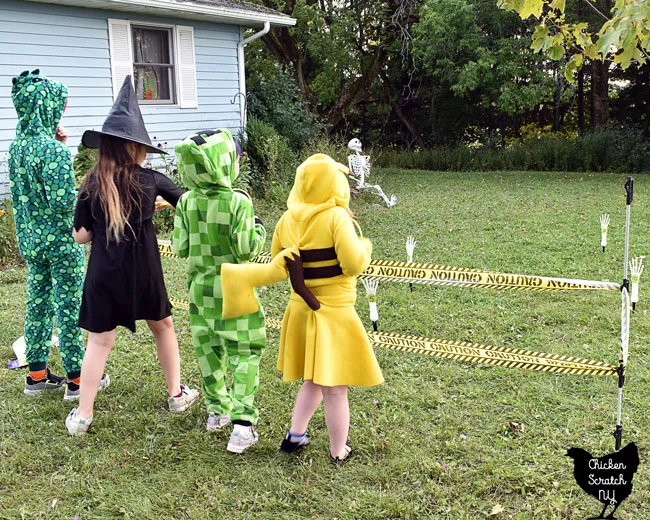 The four skeleton arm lawn stakes are also from the Dollar Tree, they even glow in the dark! I added circles with the number of points you get to each hand. They're just punched from a sheet of Halloween card stock and hung on with a piece of wire twisted around the finger.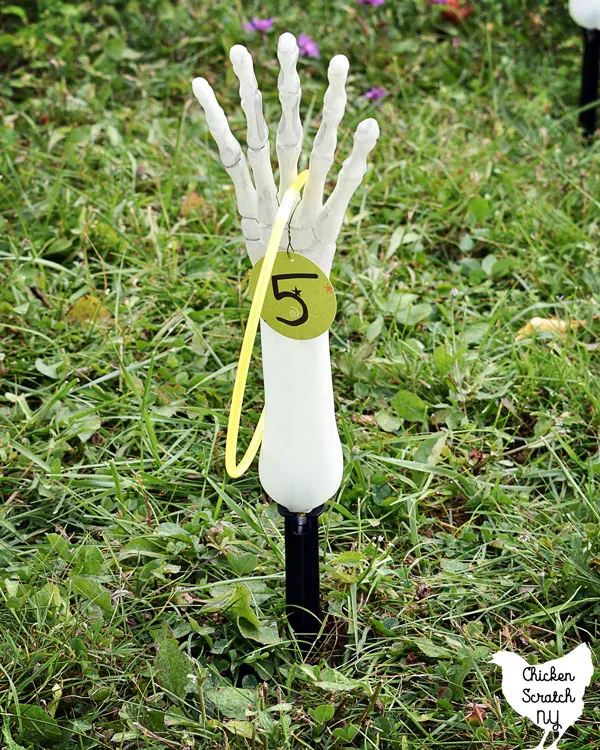 In order to keep the kids in line, I grabbed a package of Halloween caution tape from (say it with me) The Dollar Tree and stretched it between two step-in fence posts that always seem to be floating around.
Eyeball Race
Did you ever have an egg on a spoon race? That's exactly what we're doing here but with a Halloween twist.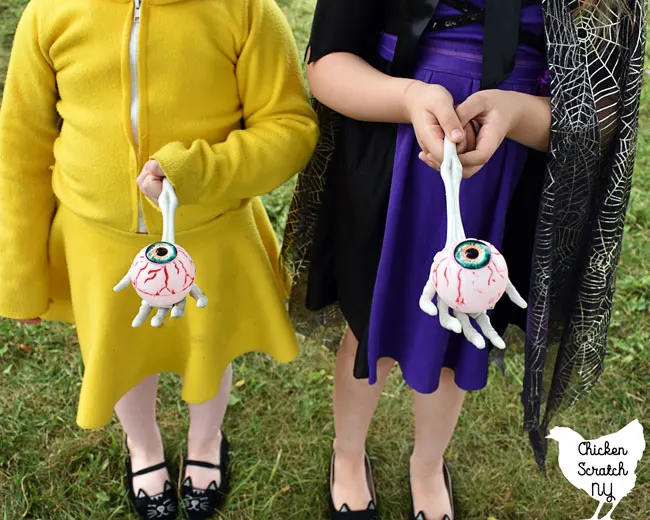 Grab a package of eyeballs (or draw a pupil on an egg) and a spoon and line up your ghouls and goblins. The first one to cross the finish line without dropping their eyeball wins.
I used skeleton hand salad tongs from the Dollar Tree and eyeballs from Michaels.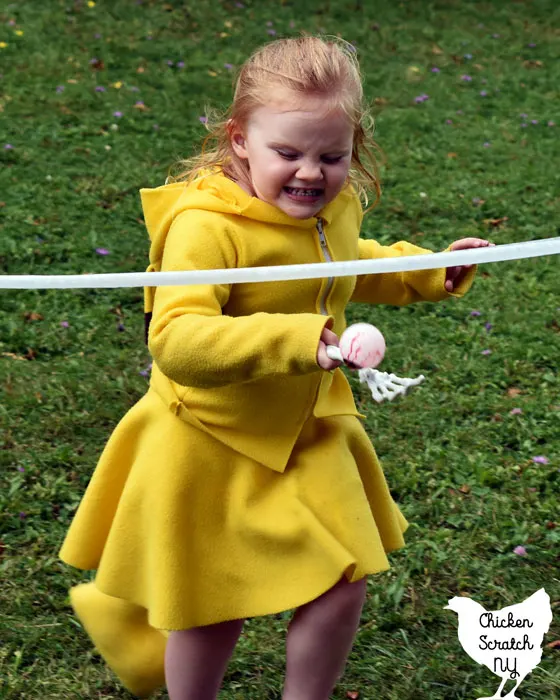 To make things extra fun I used white paper streamers to mark the end of the race so the kids got to destroy something while playing a game. Which, if you have kids, you know is always their goal.
Halloween Word Searches
Maybe this is a little too school like to hold their attention during a smashing Monster Bash but don't knock it till you try it! You can also hand out printed word searches as parting favors to keep the kids busy while the parents recover from the party.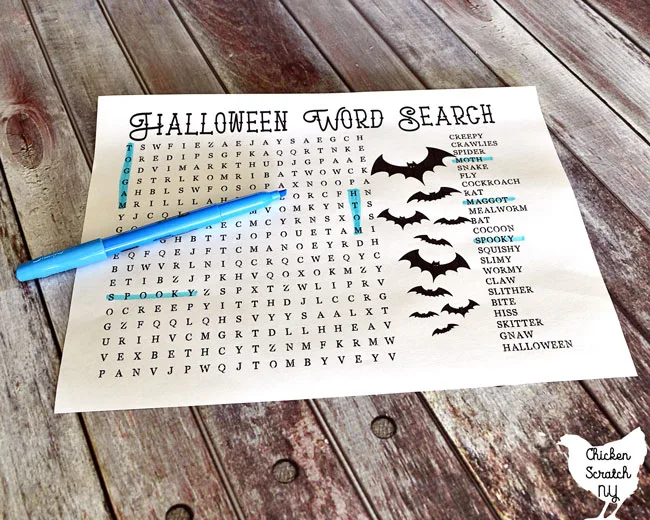 Get Easy & Hard Free Halloween Word Searches
I don't know about you but I always need a nap after watching my monsters go crazy on sugar cookies and party game! I also have a fun Halloween Crossword Puzzle available for free!
Halloween Charades [Free Printeable]
Your younger party guests might need a bit of help with charades if they can't read yet but it's no reason not to play! Who doesn't like acting out the roll of a zombie or trick or treater?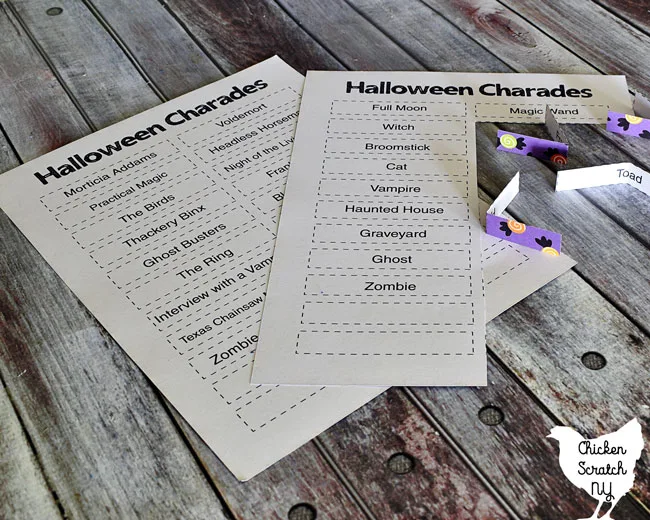 To make your life a little easier I have two printable pages for Halloween Charades for you! I made you a generic Halloween Charades page and another page with Halloween Movie Charades which is more appropriate for an older crowd.
I recommend printing them on Halloween cardstock, it's stiffer than regular paper and you won't be able to read through it from the back. It's also an excuse to use up some of the Halloween craft supplies you've been hoarding for years.
Bobbing for Apples
Can you have any autumn party without this classic? I was probably 13 the first time I went bobbing for apples and I never looked back. It is a messy activity that you'll want to do outside and keep lots of towels on hand.
All you need is a large tub of not freezing water and apples. Explain the only rule: no hands, you gotta grab it with your mouth! And the let the chaos ensue. Pro tip: it's easiest to grab the apples by the stem 😉
Pin the Spider on the Web
You'll only need a little bit of creative skills to pull this off. First, head to the dollar store and grab a sheet of white poster board. Next, make a web with a black marker or washi tape (or even electric tape if that's what you have hanging around!).
Grab a pack of paper or foam spider shapes from the dollar store or the craft store (or cut them out your self) and write a name for each child with a silver marker. Stuck a tape loop or a glue dot on the back.
Inform all your guests that the goal is to get the spider into the center of the web, then blindfold and spin them. If you're playing with my sister I recommend blindfolding her and then placing a large bucket over her head so she can't cheat. She's still going to cheat but at least make it fun for yourself right?
Halloween Musical Chairs
The Halloween version of this family friendly favorite is played just like the regular game, but with better music. Our favorites are the Ghost Busters theme song, This Is Halloween from The Nightmare Before Christmas and The Addams Family theme.
Printable Halloween Bingo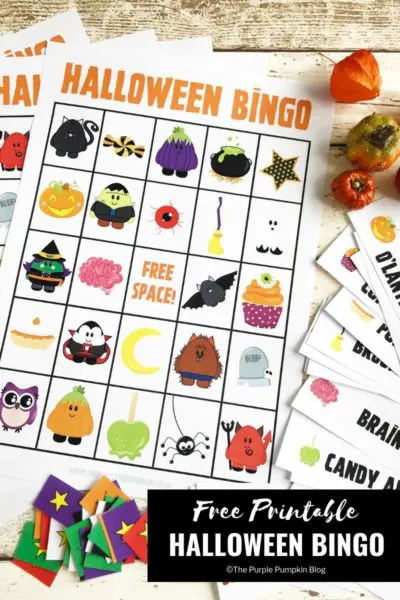 Who doesn't love yelling BINGO? The Purple Pumpkin Blog has you covered with this free & printable Halloween bingo game. It's set up for 2-6 people but you can always double or triple up if you don't mind having a few winners
Halloween Pinata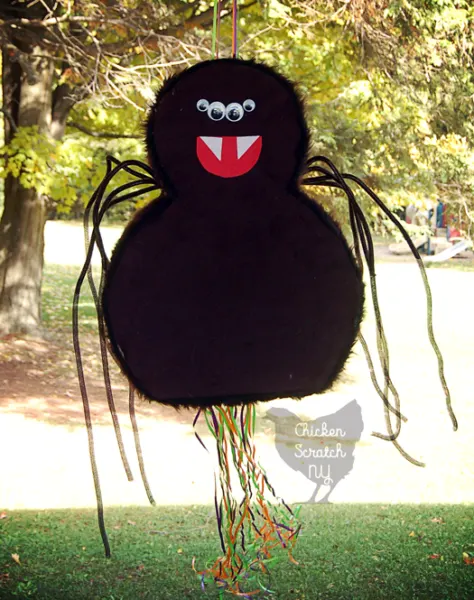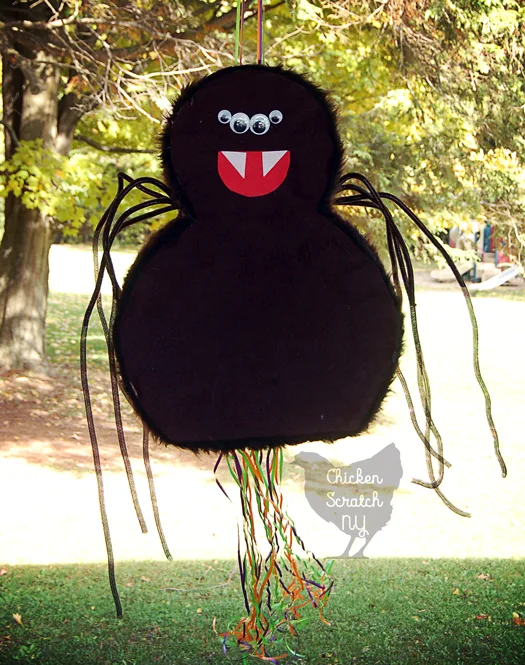 Halloween Parties are a great time to pull out a pinata, even better if it's a giant spider! My DIYd giant spider pinata is named Irving and he's been a happy guest at two Halloween Birthday parties so far.
This is the perfect time of year to fill a pinata with fake bugs and other icky, squishy treats that wouldn't fly in April! It's also the easiest time of year to find mini candy treats. Other fun fillers include glow sticks and vampire fangs.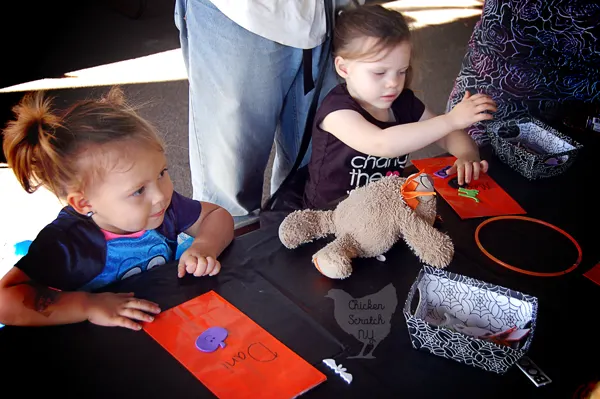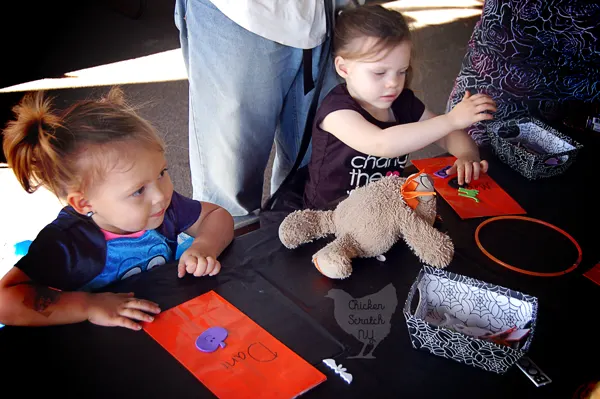 Grab a few sheets of Halloween stickers and paper bags to collect the candy for a bonus activity. I think the kids has almost as much fun decorating their treat bags as they had filling them with the pinata goodies.
Count the Spiders
I'm sure you're familiar with the guessing game where everyone writes down how many of something is in a jar right? For this Halloween version I pulled out a bag of fake spiders from the dollar store. All the legs make it extra hard to count!
If you aren't feeling the spiders you can go with candy corn or any spooky Halloween version of you favorite candy!
Halloween Pumpkin Golf
I am completely in love with this Halloween Themed DIY mini-golf game from Cookies, Coffee & Crafts. I might be a bit biased, my boyfriend and I went on a glow golf date last weekend without the kids and it was so fun. I would love to let them play at home and you can't get cuter than a little pumpkin bat hole can you?!
---
I hope you've found a bunch of easy ideas to get you Halloween party off to a (cheap!) and fun start. Don't forget to PIN this for later!
Check out my Halloween Page for more ideas or start here: