Halloween is hands down the best time of year. It's in the fall so it's already awesome and it's perfectly acceptable to cover everything from your yard to your front door in spider webs.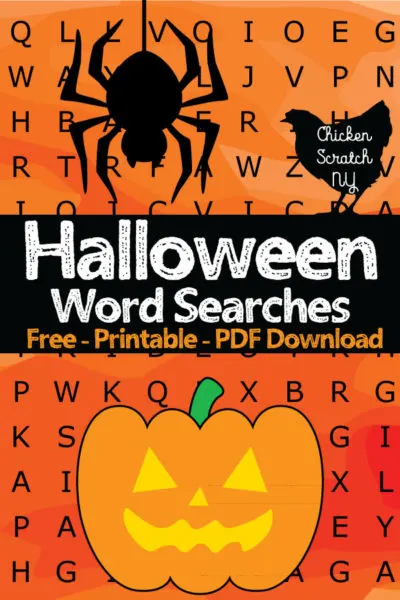 Unfortunately fall and rainy cold weather do go hand in hand, at least here in New York, but there's no reason to stop enjoying the creepy atmosphere when you're stuck inside! This page is devoted to free Halloween word searches, you can find all the one's I've made over the years in one place instead of hunting them down.
I've switched things up a little in recent years, all of my new puzzles are more printer friendly and in black and white. They even double as coloring book pages!
Easy Halloween Word Searches
Sometimes you need an easy puzzle to keep the little monsters busy. Especially if you've got older kids doing harder puzzles of their own.
These puzzles are all simple, with fewer words and larger letters. If you have kindergartners you can even have them pick out individual letters!
Hard Halloween Word Searches
As a.. ahem 30 year old woman I enjoy a good word search. It's a fun, easy actually that lets me turn off my brain for a second.
They're also a great way to keep older kids seasonally entertained. The following puzzles are on the difficult side of things. They have more words, more letters to search though and the word are backwards, forwards, upside down and diagonal.
Since they're on the trickier side, they might take a minute and a plate of Sally's Stitched Up Sugar Cookies to get through. I am working on adding keys to the difficult puzzles. They're linked right after the download link where I have them available to help you keep your sanity though the Halloween sugar highs of your kids.
All of these puzzles are only available here as PDF downloads. I had a lot of problems with Google drive and schools not getting along and this is the solution I came up with.
Click on the picture or the text underneath and it will open in a new window where you can download or print the puzzle.
I make these puzzles available for free so please don't sell or profit from them. You can print one copy for yourself or enough for your whole school class, scout troop, family etc. The PDFs do not have the giant chicken watermark on them
Don't forget to PIN this to your Halloween board!
Check out my Puzzles Page for more free printables or start here: