Taco dip is the single most important party food in my family. When we plan a party the first question is always who is making taco dip? Time and location are secondary.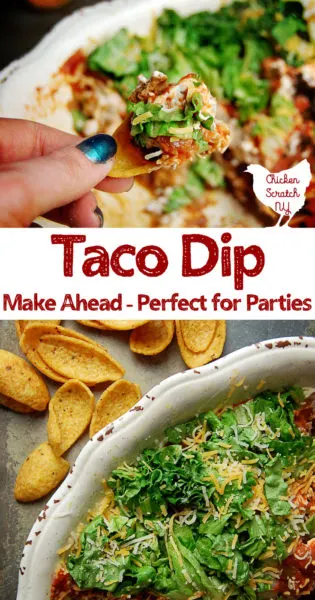 It's made a few appearances on this site already, we always have a bowl at our Birthday Parties. For Mary's Halloween Party we decorated with some fake spiders.
Our taco dip is basically a layered taco. There isn't a thick layer of cream cheese anywhere to be seen. Largely because my mom is slightly defective and hates cheese. We still love her though.
She's the reason I'm finally posting this recipe. If I had a dime for every time she or my sister called to ask how to make this I'd have a really nice fence and my geese would stop giving me anxiety attacks.
Instead we layer ground beef or venison, re-fried beans, sour cream, salsa, lettuce and shredded cheese. The order is important, it's the best way we've found to keep the layers together.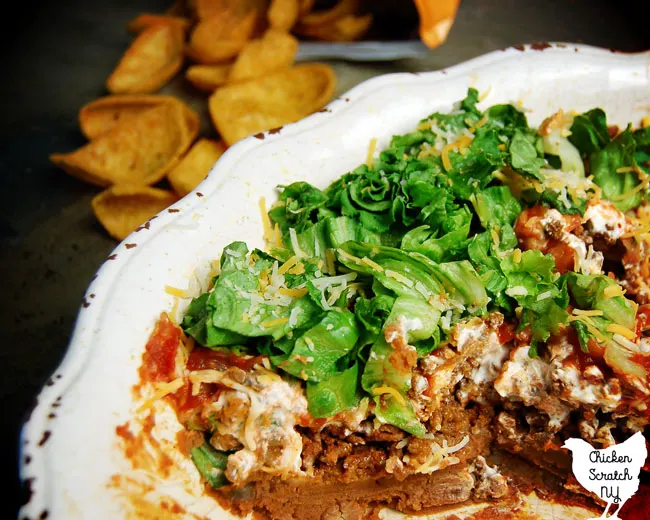 You start with the seasoned re-fried beans. Heating them up makes it easier to get the seasoning mixed in and they get really smooth. That's the first layer into the bowl.
I do this in a preheated cast iron pan. Then I do the meat in the same pan. I don't even clean it out, I'm a wild child 😉
Before you start layering make sure you can fit your serving dish in your fridge! I like to use a giant bowl like the one in the pictures but if you're traveling a large snap-top rubbermaid container is great.
Next is the ground beef. Drain off the excess fat, one of the empty re-fried bean cans is great for that. Pour in the second packet of taco mix.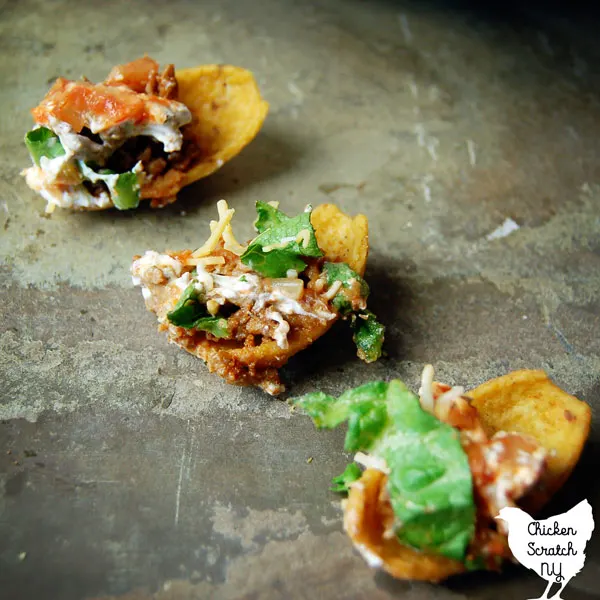 You can use a home made taco seasoning if you have some on hand. I'm always meaning to make my own but I never seem to get it together.
Scoop the meat on top of the beans and use the back of a wooden spoon to gently press the two layers together. Allow it to cool.
Now it's time for the best layer, the sour cream. Use a spatula (or the same spoon, I won't judge) to spread the sour cream over the meat. You will get some of the meat that doesn't stay in place but it's cool. This is taco dip, not a wedding cake!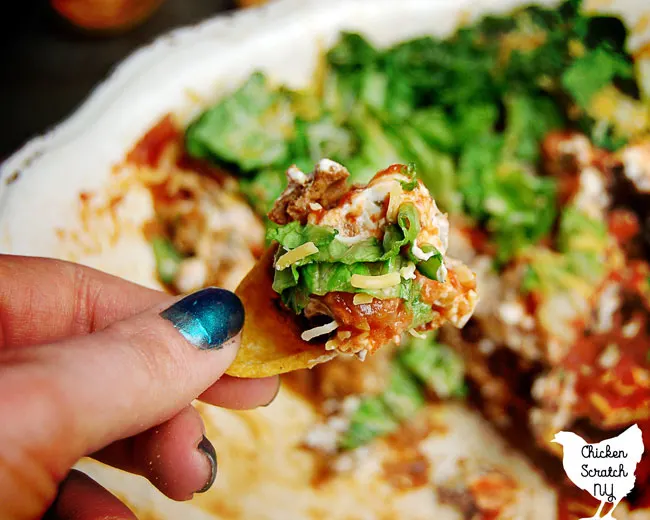 Pour the salsa on top and spread it around. Cover with plastic wrap or the lid and store in the fridge until everything is cold. This helps the layers stay together.
The next two layers get added directly before serving. Chop up the lettuce and scatter it on top. You don't want it super fine but if you make it too big it's hard to keep it on the chips.
The final layer is the shredded cheese. We always serve it with tortilla chips, scoops or the mini-circles are the go to. The big fritos are also a big hit, they're my favorite so when I had to retake pictures after the party because the ones I took didn't come out…. Yeah, blogging is great 😉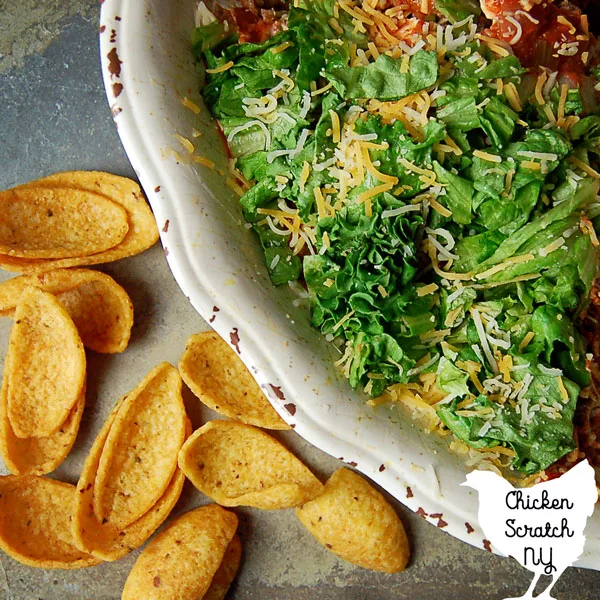 I'd be lying if I said I didn't eat quite a few servings with a spoon. It's.. uh… low carb that way.
Don't forget to PIN this to your Party or Appetizer board for later!
What's your favorite must-have party food?
Taco Dip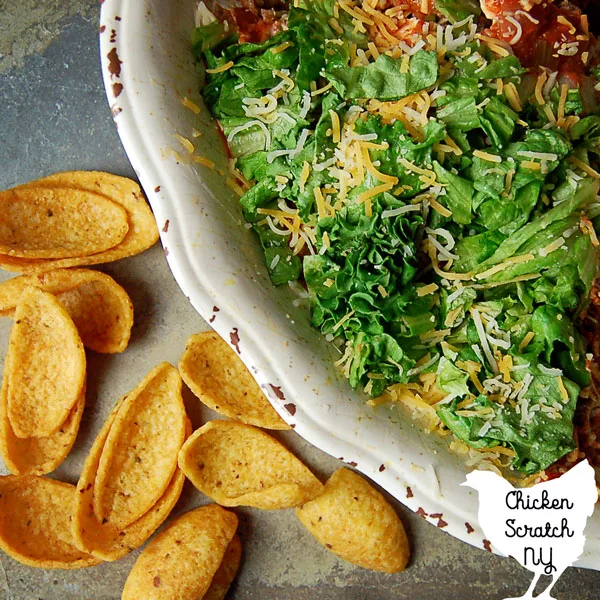 Our family favorite, this easy Taco Dip is a hit at every party. Its delicious and classic flavors will win over your family too!
Ingredients
2 lbs Ground Beef , I use 80/20
2 cans Re-Fried Beans
2 packets Taco Seasoning
16 oz Sour Cream
24 oz Salsa
1 head Lettuce
Shredded Cheese
Tortilla Chips
Instructions
Heat re-fried beans over medium heat until soft and easy to spread. Add one packet of taco seasoning and stir until combined.
Transfer to serving bowl
Cook ground beef over medium heat until all pink is gone breaking up any chunks. Drain off excess fat and add taco seasoning. Stir until completely combined.
Scoop or very carefully pour beef over the re-fried beans and spread into a uniform layer. Gently press down with the back of a wooden spoon.
Allow to cool
Spread sour cream over the beef, it's ok if the layers mix a little
Pour 3/4 of the salsa over the sour cream and spread until even. Depending on the size of the bowl you may want more or less.
Cover with plastic wrap and place in the fridge until cold. If you're making ahead stop here.
Chop lettuce and scatter over the salsa layer
Top with shredded cheese
Serve with tortilla chips
Recommended Products
As an Amazon Associate and member of other affiliate programs, I earn from qualifying purchases.
Other party food we love: