The Dollar Tree might not be on the list of stores when it comes to buying yarn but it should be. The stores are now offering a selection of Dollar Tree yarns in several varieties and lots of colors for the low price of $1.25!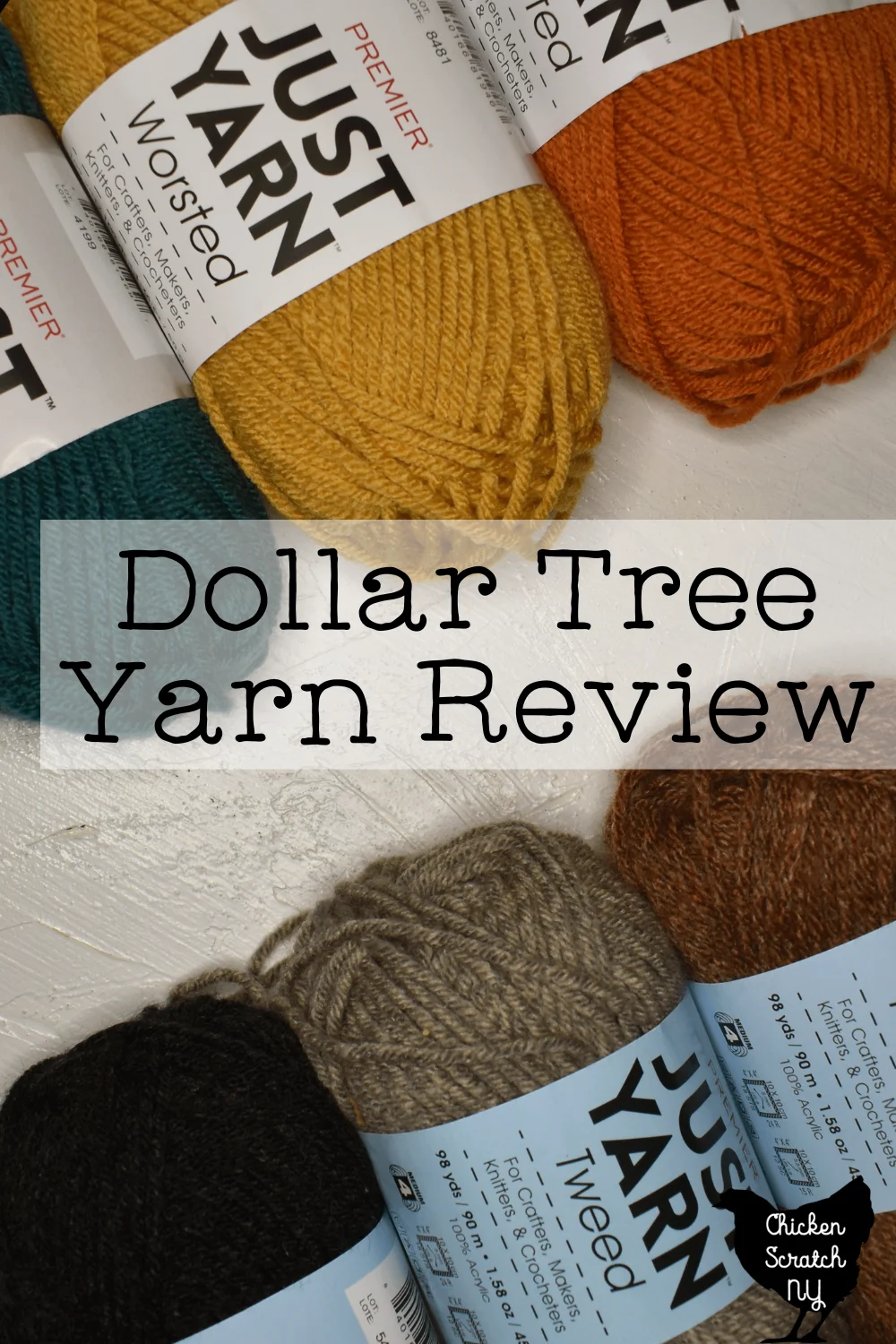 I spend more time thinking about yarn than anyone should so today I'm going to break down what types of yarn they offer, similar yarns you might be familiar with, and if I think they're worth buying over their craft store alternatives.
Just a heads up, both of the stores I visited had a pretty big display of yarns on two racks. They were pretty mixed up so pay attention to the labels if you plan on getting multiples of anything.
Just Yarn Worsted
Just Yarn Worsted is a medium or size 4 100% acrylic yarn. The skeins are 1.7 oz/50 grams and 109 yards/100 meters.
This is a pretty standard acrylic yarn, the kind your grandma probably made afghans out of when you were growing up. It's very similar to Red Heart Super Saver and all those acrylic blanket yarns.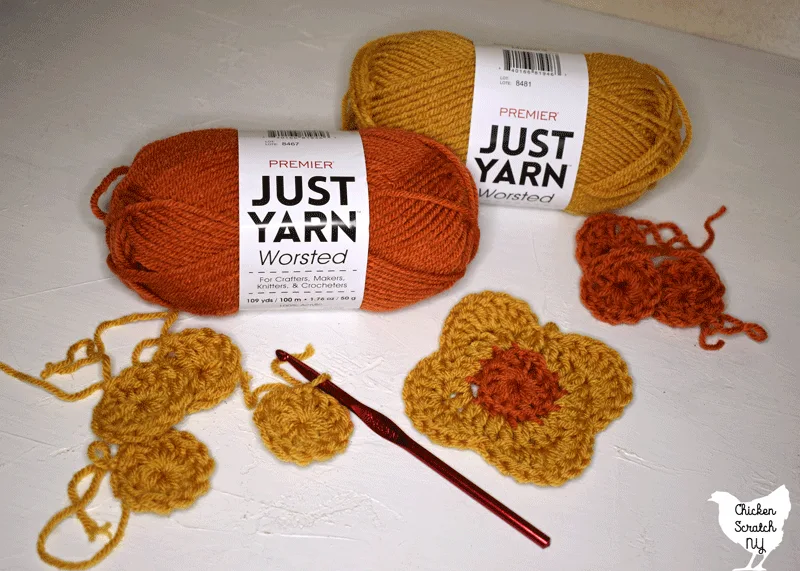 It's pretty soft, some acrylic yarns can be stiff and scratched and this one isn't. It has a nice stitch definition and it's easy to work with.
I didn't have any trouble with the yarn splitting and it was easy to see where I needed to put my hook. It also frogs nicely, meaning it's easy to pull your stitches out if you've made a mistake.
Just Yarn Worsted comes in 14 colors:
Black
Cream
Turquoise (light blue)
Yellow
Mustard (deep yellow)
Red
Meadow (pale sage green)
Green
Terra-Cotta (red-orange)
Persimmon (pumpkin orange)
Purple
Slate (cool mid-tone grey)
Mist (pale gray)
Rose (cool pink)
Overall I think this yarn is a pretty good buy. Would I use it to make a single-color blanket? Probably not, the small skeins would leave way too many ends to weave in.
But for a small project or something with a lot of color changes like granny squares? Absolutely.
A lot of times when you think of value craft supplies you're either getting a tiny amount or really bad quality. Neither of those things are true in this case.
I was curious to see how these yarns stacked up in cost next to their peers so I did some math. In order to make things fair I figured out the cost of 100 yards of yarn (all the skeins come in different sizes and it seemed like the best way to make an even comparison):
While the Dollar Tree yarn does come in at the lowest price there are a few things to keep in mind, the other yarns regularly go on sale so you can get much better deals. They also have a lot more color options, Red Heart alone comes in over 100 colors.
Just Yarn Tweed
Just Yarn Tweed is very similar to the Just Yarn Worsted but instead of being solid colors they all have a heathered look to them. The skeins are a bit smaller at 98 yards, with yarn it's really common for fancier colorways like stripes or tweeds.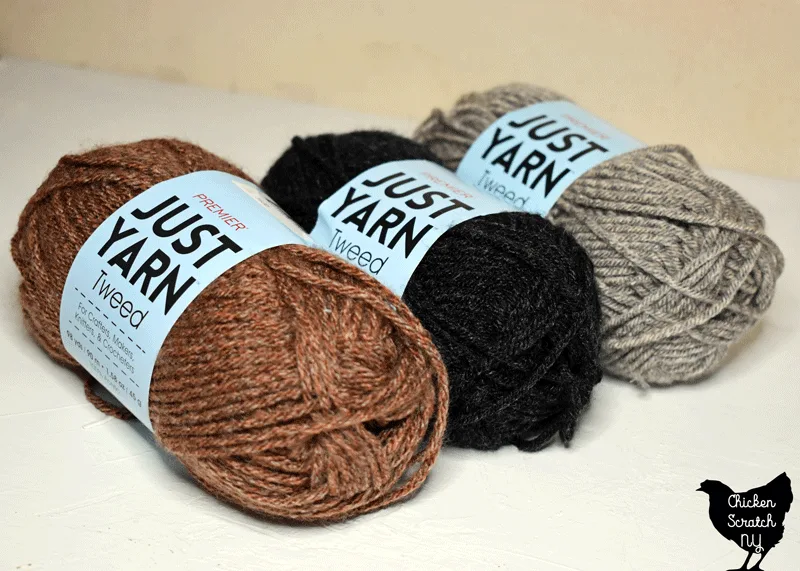 I was a bit thrown by the tweed label, most 'tweed' yarns have extra bits of fluffy fibers twisted into them. This yarn doesn't have that, instead, the colors are less uniform and have some variation in tones.
Just Yarn Tween comes in 5 neutral/natural shades:
Charcoal (dark gray, almost black)
Denim (mid-tone cool gray)
Gray (light cool gray)
Rust (orangey brown)
Greige (cool tan)
The smaller skeins come in at $1.28 per 100 yards which keeps it right around the Red Heart Super Saver yarn cost.
Just Yarn Active
At first glance, the next yarn might seem exactly like the previous two, but it isn't! Just Yarn Active is an 80% Polyester 20% Acrylic blend.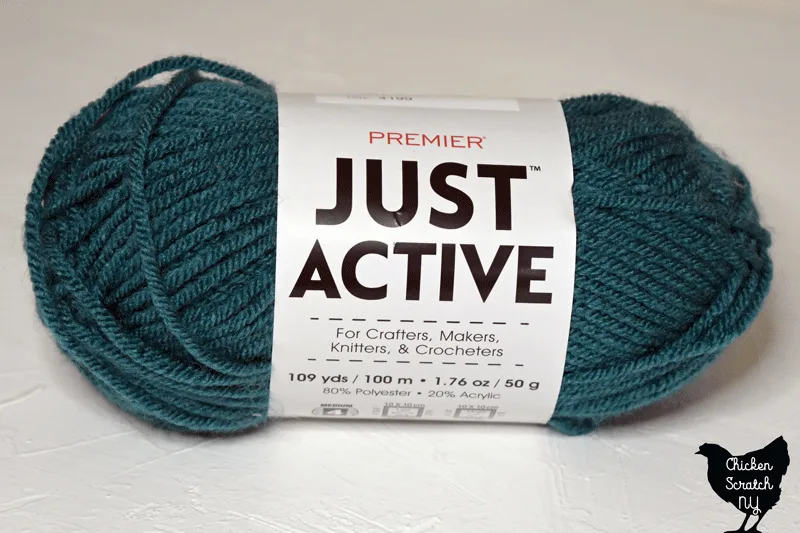 Polyester and acrylic are both synthetic fibers and I'll be honest I don't really see a difference between this yarn and the Just Yarn Worsted.
They have the same length (109 yards), weight (4, medium), and washing instructions (machine wash warm, tumble dry). It also works out to be $1.15 per 100 yards.
This yarn only comes in 4 colors; teal, taupe, gold (light yellow), and royal purple but they are all different than the worsted colors so it does increase your options.
I couldn't find any similar blends to compare this to but I would just treat it like the Worsted yarn.
Just Yarn Chenille
If you're looking for something a little bit different check out the Just Chenille yarn. It's a very soft and plush yarn with a velvety texture.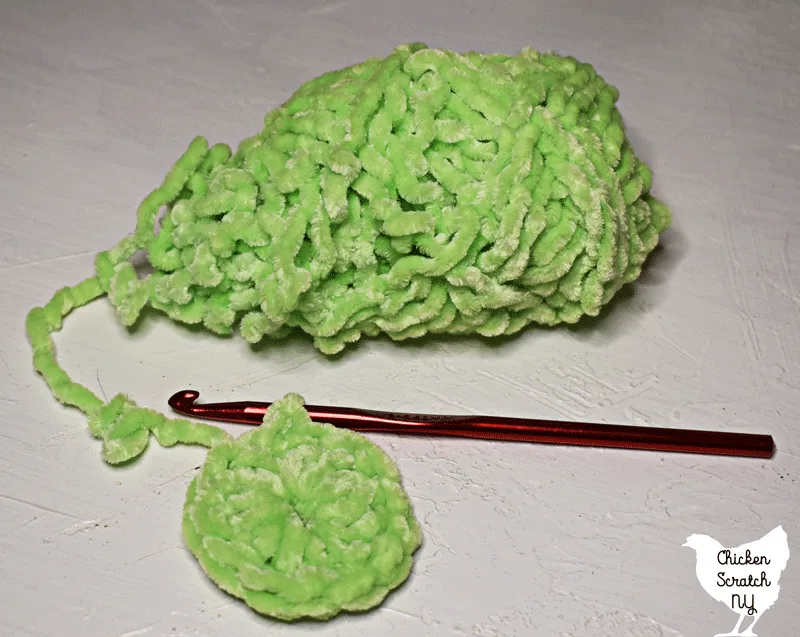 It's a very unique experience compared the regular yarn. Instead of being long fibers twisted together, it's very short fibers held together with thin threads.
When you cut the yarn those threads will untwist and you'll have a bunch of tiny fibers on your hand. This isn't specific to the Just Chenille Yarn, it's how all chenille yarns are.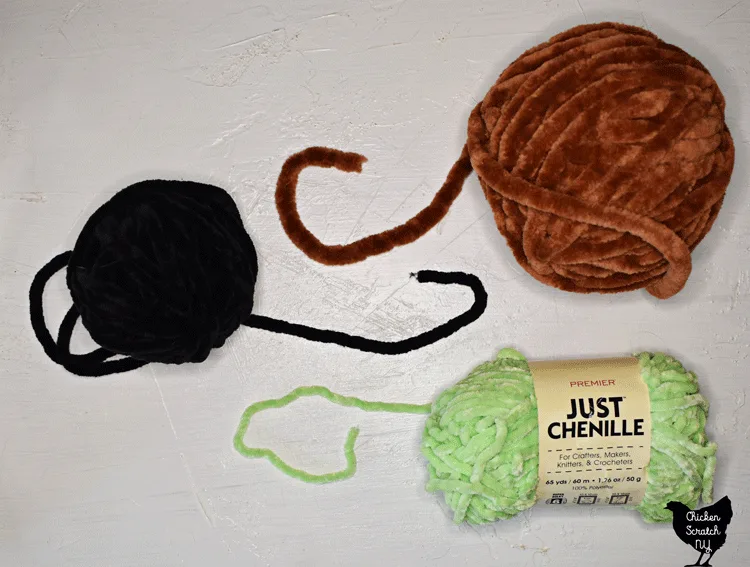 I used this yarn to make velvet scrunchies and in that article, I did a pretty in-depth comparison of this yarn and two different weights of Chenille yarn from Michael's (Chenille Home & Chenille Home Slim).
Learn How to Make a Crochet Velvet Scrunchie
Just Chenille yarn comes in 65-yard skeins in 6 colors:
White
Black
Mango (pale orange-red)
Aqua (bright blue)
Lime (soft green)
Lemon (bright yellow)
They are the smallest skeins out of all the Dollar Tree yarns, the 100-yard cost works out to be $1.92. The label claims it's a bulky weight (5) yarn but I think that's a bit generous and I would put it in the medium category.
Being more expensive is pretty on track with chenille yarn in general, the Chenille Home Super Bulky Yarn works out to $9.17 per 100 yards and the Chenille Slim Bulky yarn is $4.58 per 100 yards.
Just Cotton
The last kind of yarn is very different, not only in texture but also in material. Just Cotton yarn from Dollar Tree is (mostly) cotton.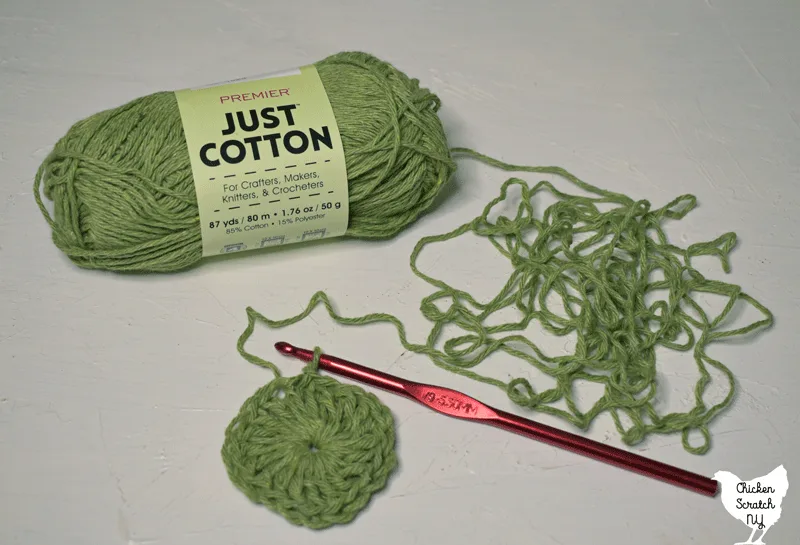 That makes it our only yarn that contains natural fiber. Despite the name, it's not actually just cotton, it's a blend of 85% cotton and 15% polyester.
It comes in the following colors:
White
Cream
Sage (pale green)
Sage Marl (sage & white)
Turquoise
Turquoise Marl (turquoise & white)
Pink
Dusty Rose (cool pink)
Faded Denim (soft blue)
Lavender
Gray
The marl colorways are made up of two stands of color and two strands of white twisted together. The one I picked up seems looser than the solid color and reminds me of bakers twine.
If you're looking for a similar blend your best bets are Big Twist Cotton from Joann Fabrics & Premier Home Cotton Solid (found at Michael's) which have the same fiber blend of 85/15.
Other comparable cotton yarns that you might find include Capri Eco Cotton from Michael's brand Loops & Threads and Lily Sugar'n Cream. These are both 100% cotton.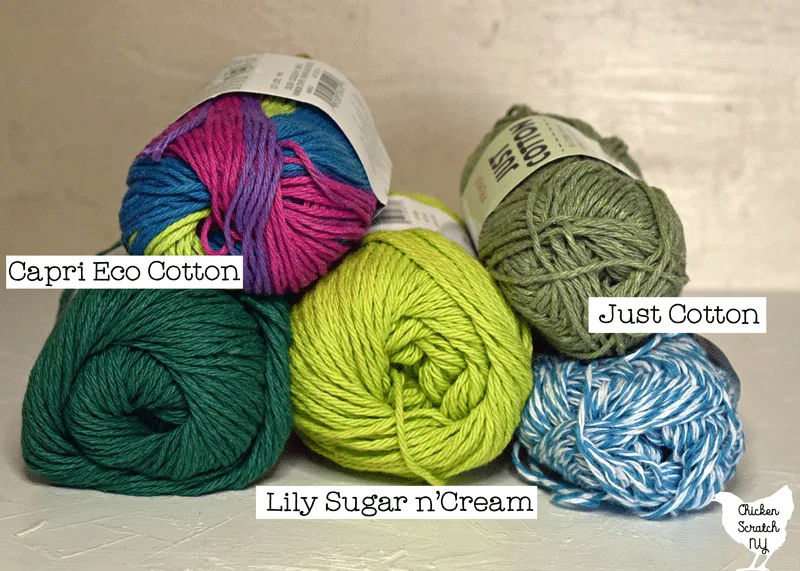 This is the category of yarn where I noticed the most variation in weight and quality. Even though they're all listed as a medium (4) weight you can tell just by looking at them that they're not all the same.
The thickest yarn, Lily Sugar'n Cream, is also the most expensive (anyone shocked?). And the Capri Eco cotton looks really similar to the Dollar Tree Just Cotton even though one is all cotton and one is a blend.
For the 100-yard price break down we have:
Once again the Dollar Tree has the lowest price but like with the worsted weight yarns, all of the craft store yarns regularly go on sale and you can get much better deals if you're patient.
They also come in a lot more color options, you can get Lily cotton yarn in 25 solid colors, 28 Ombre colorways, and 5 striped patterns.
---
Overall I was really impressed by the Dollar Tree yarns, the only thing that seems to limit is the size of the skeins but for $1.25 I really can't complain. You can order from the Dollar Tree site but you'll need to get 12 skeins.
It works out to be only $15 a case and it's probably one of the more realistic things you'd want to order in that quantity.
The yarn section in the store I visited was a bit of a mess so if you're looking to pick up several of the same yarn make sure you pay attention to the labels.
I don't (can't) knit but based on how the yarns performed in crochet I think you'll be good. The small skeins are also great for crafters who don't need a huge amount of yarn for a project.
They came in really handy for my Floating Yarn Ghost Garland and my Spiderweb Votive Holders!
---
For more ideas check out my Yarn Page or start here: