Halloween is the perfect time to fill your home with spiders. Or maybe it's the perfect time to ignore the spider webs slowly forming in my undusted dining room?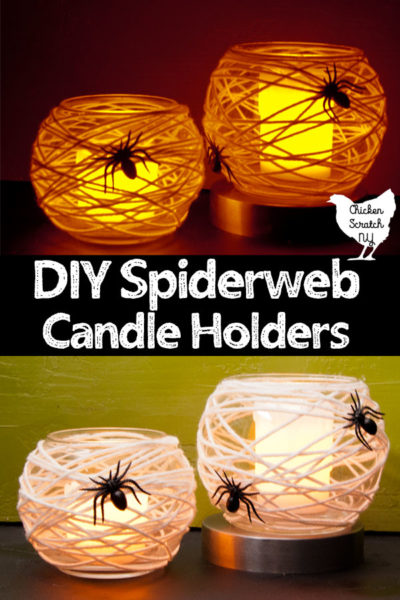 Either way pull out your glue gun and get ready to make a few spooky Spider Web Votive Holders! They look awesome during the day and even better at night.
It's funny how so many DIY Halloween decorations work out that way isn't it? It's certainly true with the Bloody Candle Holders and the Halloween Skeleton Display!
I have a thing for spiders, you can probably tell by looking at my past projects including the very large lawn spiderwebs with giant spider warning signs,  embroidery hoop web art and hot glue spiderwebs.
You probably have most of the supplies floating around, if not everything is easy to find at Target, the dollar store or Grandmas.
Spiderweb Candle Holder Supplies:
?  Glass Vases