Simple is the way to go with this easy tutorial for Spider Web Candle Holders. After a quick trip to the dollar store and an even quicker date with a glue gun, you'll be ready to enjoy the witching hour.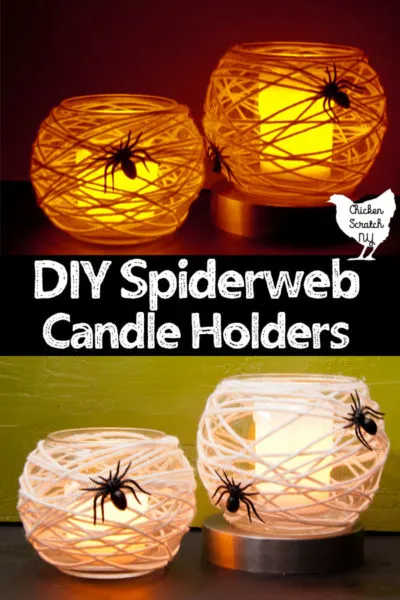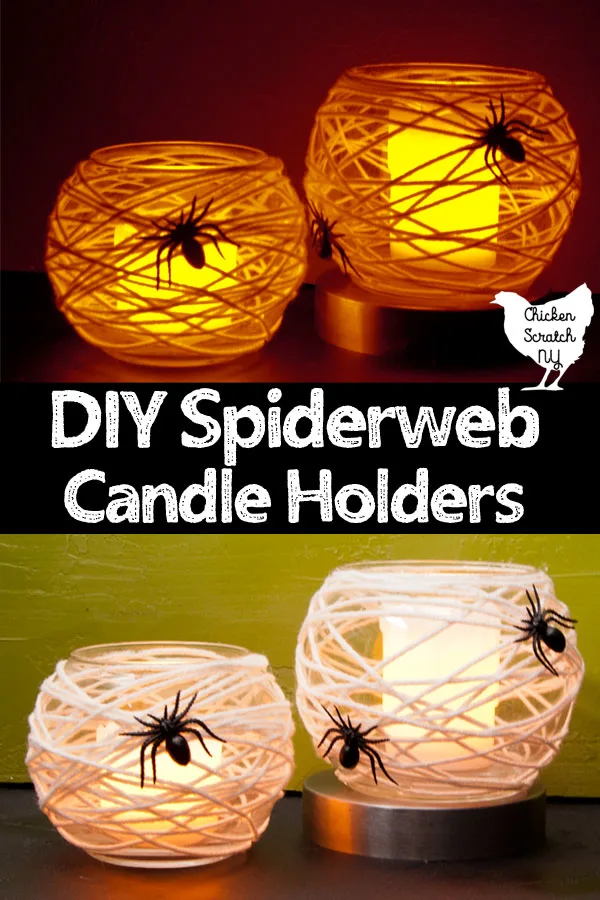 Halloween is the perfect time to fill your home with spiders. Or maybe it's the perfect time to ignore the spider webs slowly forming in my undusted dining room?
Either way, pull out your glue gun and get ready to make a few spooky Spider Web Votive Holders! They look awesome during the day and even better at night.
It's funny how so many DIY Halloween decorations work out that way, isn't it? It's certainly true with the Bloody Candle Holders and the Halloween Skeleton Display.
I have a thing for spiders, you can probably tell by looking at my past projects including the giant lawn spiderwebs, my spiderweb wreath and the hand quilted Spiderweb Wall Hanging with Embroidered Button Spiders.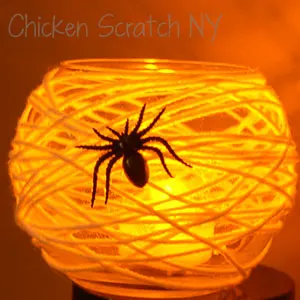 You probably have most of the supplies floating around, the hardest thing to track down will be the spiders. I'm not sure who decided we no longer need small plastic spiders but I'd like to have a chat with them.
Spiderweb Candle Holder Supplies:
Aside from the glue gun, everything you need for this project can be picked up at the Dollar Tree. Any kind of glass will work, I really liked the look of the rounded glass but it did make it a little trickier to keep the yarn where I wanted it.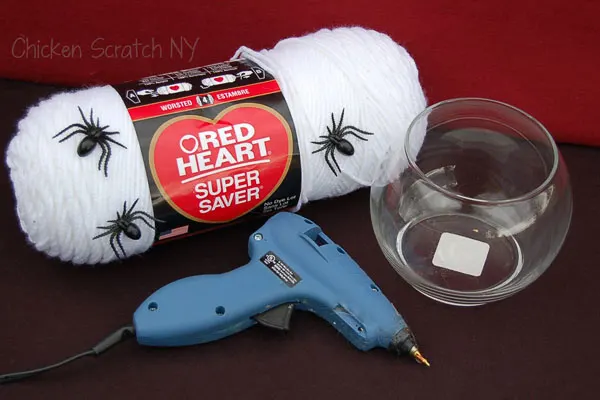 When I remade this project in 2022 I picked up a dark tinted glass, you can still see the candle through it but it adds to the spooky vibe during the day.
Any white yarn will work for this project I used Red Heart for the original vases but after a remodel the Dollar Tree has its own brands of yarn and you can pick up a skein for $1.25. If you don't already have a yarn stash that's a great way to get this project going without spending a lot.
You'll also need a few fake spiders. I've had more and more trouble finding them over the years but you can usually find a pack of spider rings, you'll just need to clip off the ring part and you'll be good to go!
Yield: 1 Set of Candle Holders
Halloween Spiderweb Candle Holders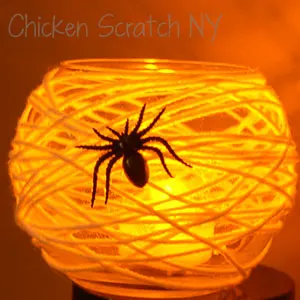 Turn $1 vases into a spooky Halloween Candle Holders perfect to illuminate your next ghoulish gathering with hot glue, yarn & a few plastic spiders
Materials
Short Glass Vases/Cups
White Yarn
Fake Spiders
Tools
Instructions
Tie a small knot at the end of the yarn, clip off the end, and hot glue to the knot to the vase, you can use a pencil to push the yarn into the glue without burning yourself
Start wrapping the yarn around the glass in random directions, you might need to add some more glue, in the beginning, to keep the yarn from slipping all over but eventually, it will start sticking to itself and stay in place.
When you are finished stick the yarn in a blob of glue, once it's hardened you can clip off the rest of the yarn
Glue on a few spiders to really communicate the fact that they're spider webs
The final step is to add a fake tealight or votive candle and you're good to go with a creepy spiderweb Halloween Candleholder! candle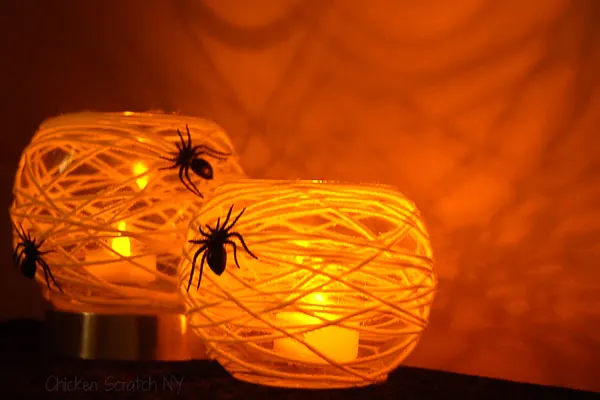 If you don't love arachnids you could always add a pair of googly eyes instead and have a mummy candle holder.
Check out my Halloween Page for more ideas or start here: