I like to flip through catalogs looking for inspiration. Months ago I saw a little tabletop faux snowman topiary that stole my heart. When Oriental Trading Company reached out to sponsor a holiday post I knew it was time to make my own rustic snowman. I hope you enjoy my latest DIY Christmas decorations!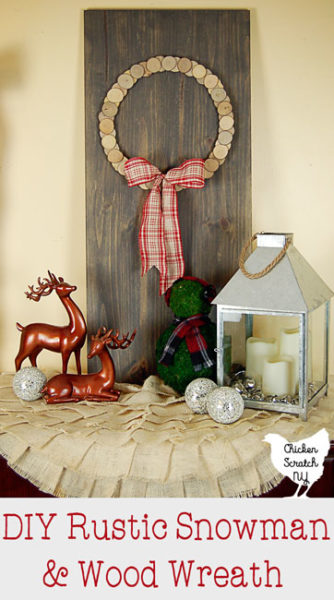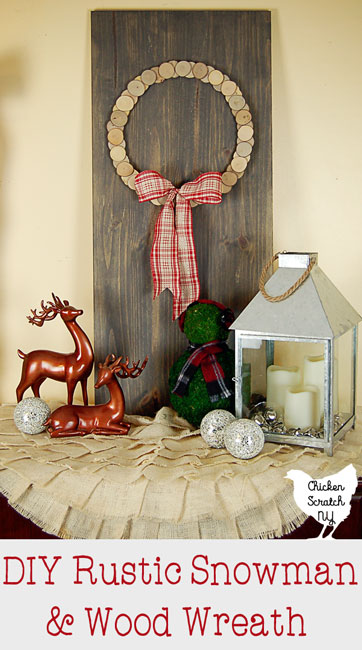 You might recognize the basic set up from my Elf on the Shelf post but to give my snowman a happy home I had to take it to another level. A quick dig though my Christmas tubs led to a pair of satin-finished reindeer and mirror mosaic ornaments that weigh far too much for a chance on the tree.
Every thing is sitting on top of a ruffled burlap tree skirt I made many moons ago when hot gluing yards of pleated burlap to a felt circle was all the rage. Anyone else make one? I put three battery operated candles in a galvanized lantern and filled in the rest of the space with silver jingle bells. Warning, this is a loud process!
Aside from the snowman I also added a large board with a cute wooden slice wreath and a handmade bow. The wood is a 16 inch wide pine board from Lowe's that I stained a dark grey, I used the same stain from my Spider Tic-tac-toe game. I put a small nail in the board centered about 6 inches down from the top.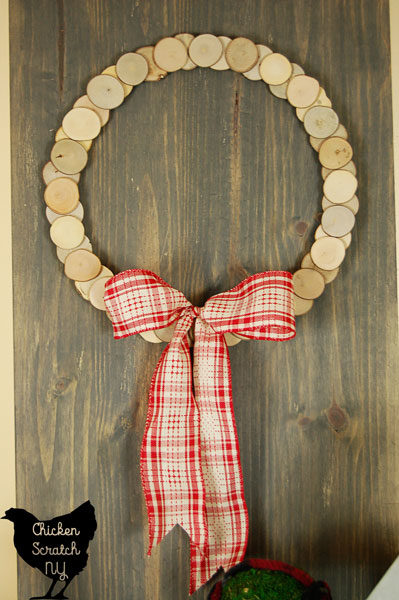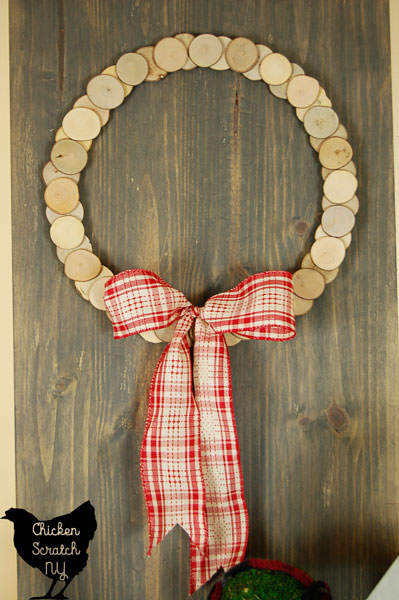 How to Make a Wood Slice Wreath
You'll need a hot glue gun, a piece of thick cardboard, scissors, wooden slices and ribbon for the bow.
This wreath took me about half an hour to make. Start by cutting a circle out of cardboard, I went about 12 wide for the outer circle and cut out the inside so I had a 1/2 inch cardboard ring.
Divide the bag of wood slices into two piles based on size. Glue the larger circles down first and then added another layer of the smaller circles offset from the bottom layer. Tie the ribbon into a bow and stick it on with some more hot glue.
How to Make a Moss Ball Snowman
You'll need a hot glue gun, two cicles cut from heavy cardboard, fabric scraps and two different sized moss balls.
I used a medium moss ball and small moss ball from Oriental Trading Company for the body and head. They're not perfect spheres so give them a quick look and pick the best sides for the front. Glue the two together and give them a gentle squish until the glue sets.
Cut a piece of fleece for a scarf, mine is about 1.5 inches wide. Cut it longer than you think you'll need and wrap it around the neck. Secure it with hot glue and then trim the ends and cut some fringe.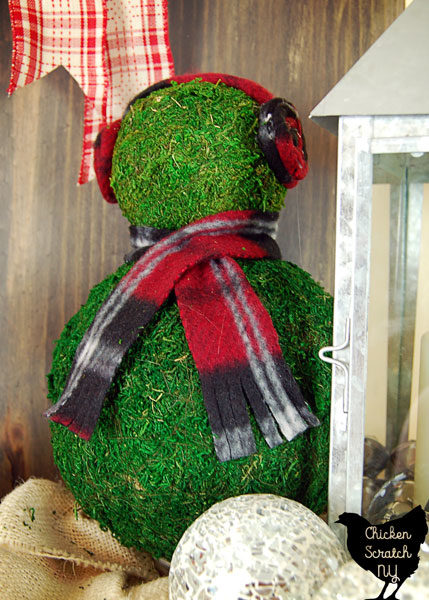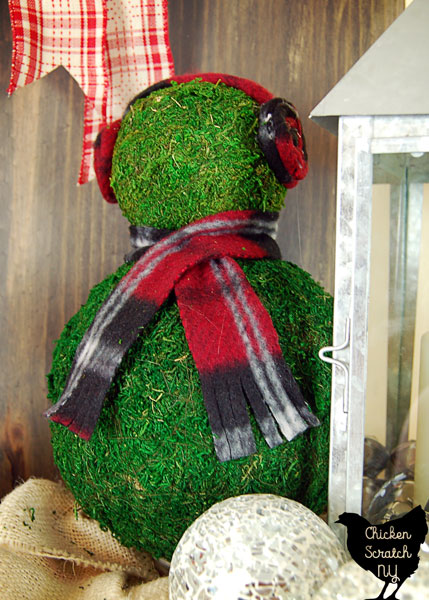 I made the ear muffs from cardboard disks that I covered by hot gluing the rounded selvage I cut off the fleece into a spiral. The top bar of the earmuffs is another piece of the selvage.
After I glued it on I wrapped it up with a hair tie to keep the muffs on the head until the glue set
I used a canning ring to keep my snowman standing and it's also leaning a bit against the wood. After Christmas I'll swap bow out for something more neutral, maybe, I kinda like the plaid. The reindeer will also me moving on but the rest will stay for a while at least.
Happy Holidays! Don't forget to PIN this to your Christmas board!
Check out my Christmas page for more ideas or start here: