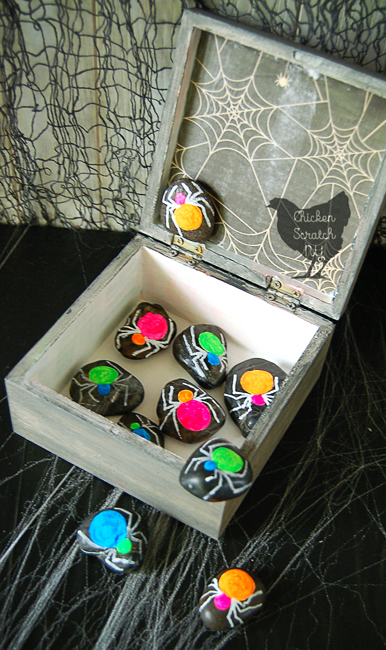 Hands down my most pinned post ever is my Ladybug vs Bumble Bee Tic-Tac-Toe game. It's been about 4 years and I'm thinking she needs a comeback. What better time than Halloween right? The new version features a hand painted board on a nifty box that doubles as a home for the creepy crawlies when they aren't in use. I was sent the paint I used for this project by DecoArt as a part of their blogger outreach program. As always, all opinions & ideas are my own. 
Halloween Tic-Tac-Toe Supplies:
Wooden box with magnetic closure
Ruler
Pencil
American Multi-Surface Paint – Black, White, Neon Pink, Blue, Green & Orange
AmericanaDecor Color Stain in Charcoal
Paint Brushes
Rocks
White paint pen
Optional – Mod Podge & Halloween Paper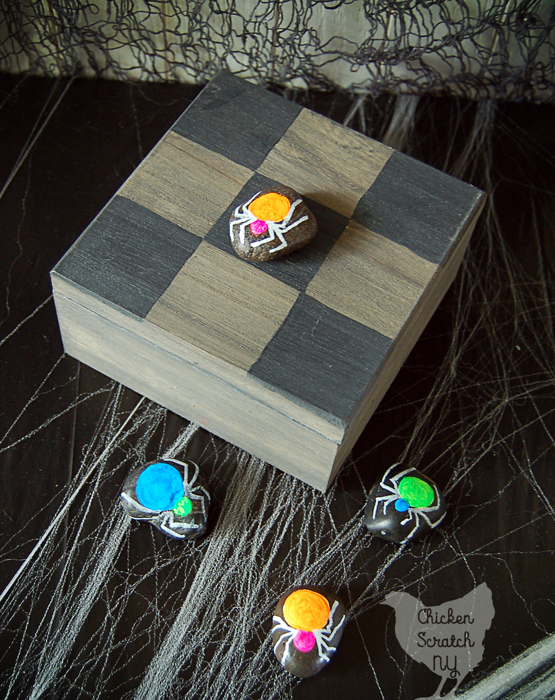 Instructions:
Use the ruler and pencil to trace a tic tac toe board onto the top of the box. Estimate even thirds, doesn't have to be perfect
Paint the center and corner boxes black and let dry
Cover the entire box with the charcoal stain. I rubbed it on with a barely damp paper towel. Don't be like me and accidentally paint the box shut, open it up to dry
Paint the inside of the box white. OPTIONAL: Cut a seasonally appropriate piece of paper to fit the top of the box. Apply a GENEROUS coat of mod podge to the top of the box and press the paper down. Top with another coat of mod podge and let dry. I didn't use enough the first time and it was a mess. There was a bubble that wouldn't go away and I rubbed some of the color off the paper trying to smooth it out. I might fix it later but the kids were out of the house and I had to get pictures while I could!
Paint the inside lip of the box with the charcoal stain
Paint a large circle (body) and a small circle (head) in white on each stone and let dry
Add color to the spiders. I like the neon colors but they took a few coats to get really opaque
Draw legs onto the spiders with the paint pen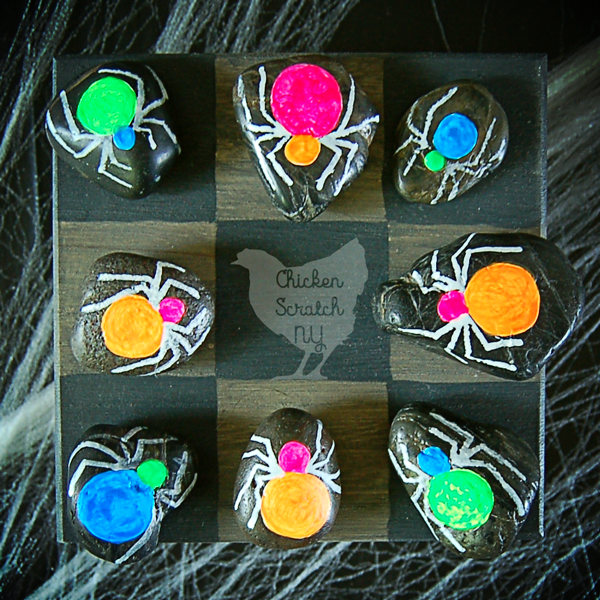 When everything is  dry pack up your spiders and find some competition. My daughter doesn't quite understand the game yet but she has given each spider a detailed life story. It's a fun game to keep out for the Halloween season. In my home that's from July 5th to October 31st so we'll have lots of time to practice our skills.

Save