My daughters have fallen in love with the show Miraculous. I've watched a few episodes on Netflix with them and I gotta say it's pretty good.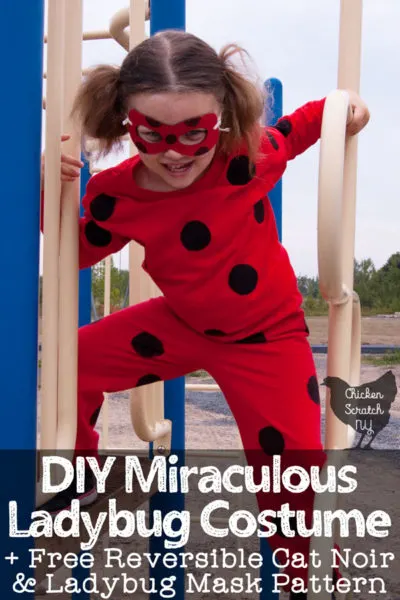 Ladybugs are a favorite of mine anyway (I have a bowling ball lady bug in my garden and who can forget the Ladybug vs Bumble Bee tic-tac-toe?) so it was destined to be a hit in my home.
Miraculous is about Ladybug and Cat Noir, superheros busy saving Paris while also attending the same school. They both have little tokens (the Miraculous) that turn then into their hidden superhero alter egos.
It's nice to see a superhero show with a female lead and not just a sidekick. My girls both take American ninja warrior style classes and I want them to be strong and confident. Having a TV show with a good role model is definitely a help.
They constantly play Ladybug and Car Noir anyway so I wanted to make them costumes for dress up. I looked online and all I found was skintight spandex suits.
While that may be accurate to the show I'm not crazy about my 4 year old running around like that. Luckily it wasn't hard to DIY my own Miraculous Ladybug Costume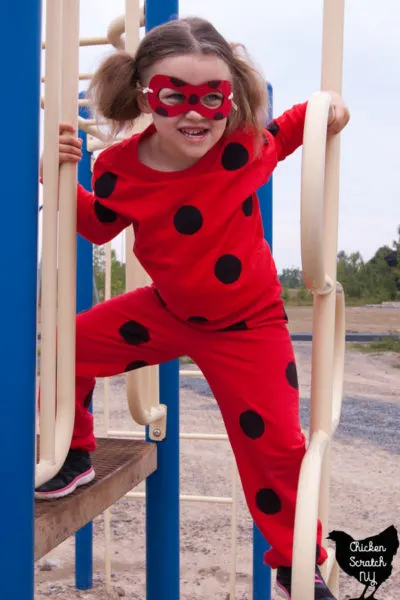 I transformed a pair of red sweatpants and a long sleeved T-shirt into a wearable, play-friendly Ladybug costume with craft paint. You can use fabric paint, but I didn't have any.
Craft paint leaves the fabric a bit stiffer but Mary was way to excited to be Ladybug to complain 😉
Since my little one is usually playing Cat Noir while Mary plays Ladybug I decided to make them each a mask. I used craft felt to make reversible masks, with Ladybug spots on one side and plain black on the other for Cat Noir.
To keep things simple I went no-sew for the mask. It relies on fusible interfacing to hold the layers of felt together. Get the heaviest craft felt you can find.
My first version used really cheap 25 cent felt and they looked great until the kids put them on. Then they got stretched out of shape and the kids could barely open their eyes!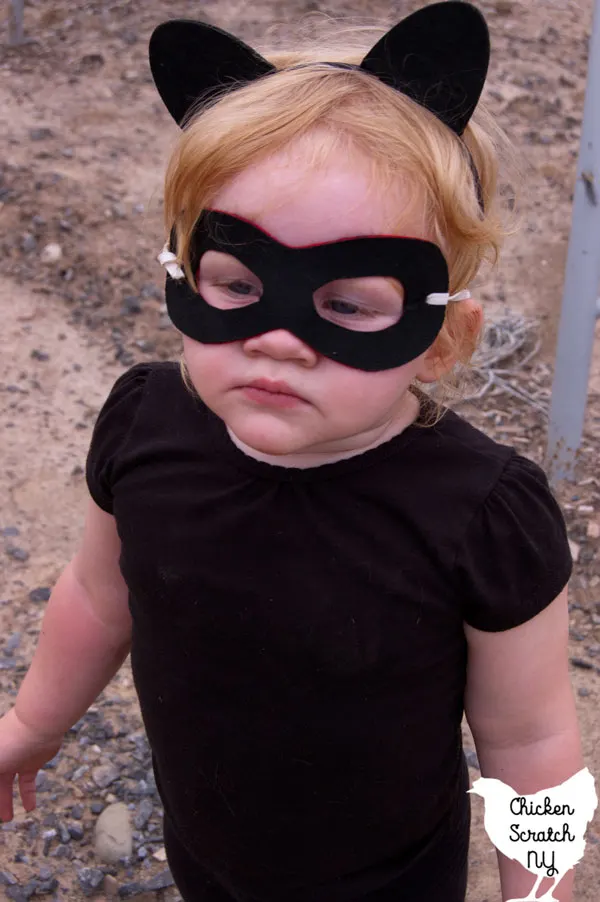 You can throw together an easy Cat Noir costume with plain black clothing and some cat ears but the Ladybug costume takes a bit more work.
Miraculous Ladybug Costume Supplies:
Red Shirt
Plate for the Paint
Sponge Paint Brush
Scrap Cardboard
Circle Punch (optional)
Ladybug Costume Instructions:
1. Use the circle punch to make a spot template. I used a 2 inch circle punch. You can also trace a cup and cut it out with scissors
2. Lay out the pants and shirt, place cardboard inside the shirt so the paint doesn't bleed through.
2. Use the stencil to paint black spots randomly on the sweatpants and shirt. Luckily Ladybug doesn't have a million tiny spots so you don't have to go crazy here.
3. Let the paint dry and flip over the clothing and add spots to the back. I didn't have problems with the pants bleeding through but I did have a few issues with the shirt because it's a thinner fabric.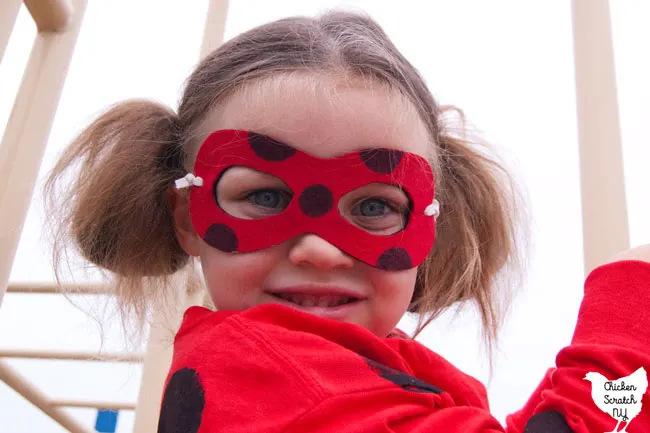 Reversible Ladybug and Cat Noir Superhero Mask Supplies:
Red Felt
Black Felt
Mask Pattern
Awl or Knitting Needle
Reversible Mask Instructions:
1. Sandwich fusible interfacing between the layers of melt and iron according to package instructions
2. Trace the mask pattern on the red side, you can get up to four masks per 8.5×11 sheet
3. Use the black paint and a paint brush or a sharpie to add spots to the mask where shown on the pattern
4. After the paint dries cut out the mask (if you're like me and your masks are really close together you'll have to cut then add spots)
5. Poke a small hole near the ends of the mask with the awl or the knitting needle. Don't cut a slit, it will weaken the fabric more than just pushing aside the fibers.
6. Thread elastic through, secure with a knot. Use the knitting needle or tweezers to push the elastic through if you have to.
Spots On! Claws Out!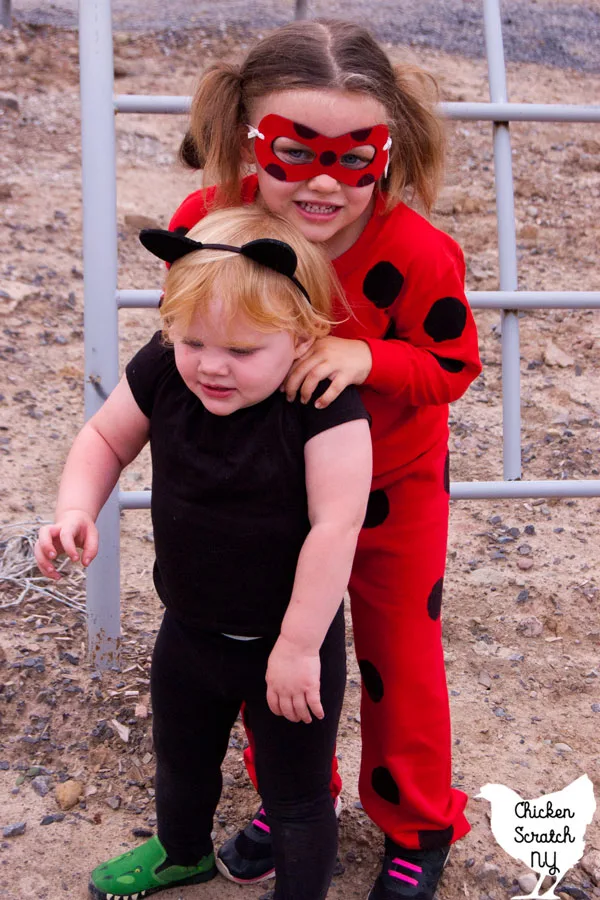 Now it's time to put on your costume and play superhero! My oldest was always ladybug until I made the reversible masks for them. Now they take turn swapping back and forth.
For the finishing touch I threw Mary's hair into messy half up – half down pigtails. Her shirt is a youth XS but it was pretty loose so I tightened it up with a hair tie in the back.
I should have washed it in hot water before hand but my washer broke and I didn't want to wait for the new one to make her costume. Out of all the things I've made for her this is by far her favorite.
She's barely taken off the Ladybug mask and it's now the big family "secret" that Mary is Ladybug. I'm not allowed to tell her teddy bears 😉
By the way Kat was in full on grumpy mode at the playground. She wasn't having her mask at all! She does have one but refused to wear it.
Do you love Ladybug? Don't forget to PIN this to your DIY boards!
Check out my Family Life page for more things I've done with my kids or start here: