My kids are turning against me. The oldest has declared she will be Elsa for Halloween, even though I made her a Miraculous Ladybug Costume. Kat is still under my control and this year I took the easy route and decided she'll be Steve Irwin.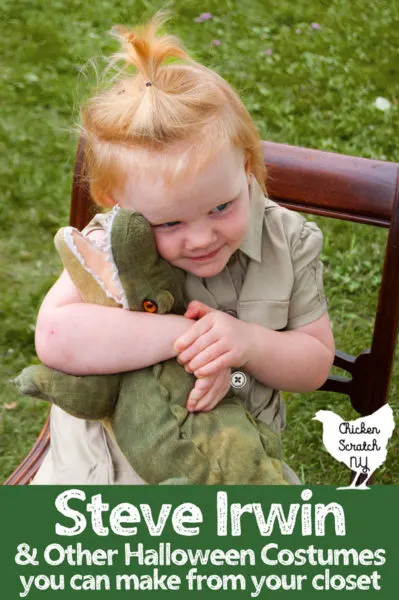 I love Steve Irwin. He made a lot of people care about ugly animals. When I was talking to my dad about college he told me to save ugly animals, the ones no one cared about. It's been almost 14 years since he died and probably 15 since we had that conversation but it's stuck with me.
I did end up in college for Wildlife Science and my true love is entomology. Insect are the ugly animals I care so much about. But you aren't here to hear about why I love Steve Irwin or why I'm making my toddler be the Crocodile Hunter for Halloween. Let's get to the costume before I start crying ok?
After much searching (on Amazon) I found out khaki isn't that popular for toddlers. It's pretty tricky to find mini sized Steve Irwin gear. My Amazon hunt ended with a khaki dress.
I'm 99.9% sure Steve never wrestled a crocodile in a girls khaki safari dress, but that's where we are. I also grabbed a pair of khaki pants because NY weather is unpredictable.
The finishing touch is a large crocodile stuffed animal from their very large collection. We can't seem to leave the zoo without at least one new stuffed animal so it wasn't hard to pick a good one.
Get the Steve Irwin Look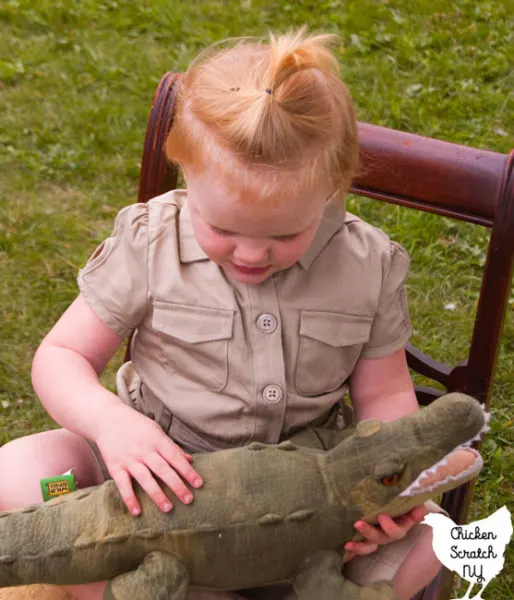 Look for khaki shorts (or pants if you too live in the frigid north) where ever school uniforms are sold. Target and Children's Place both carry uniforms so if you're looking locally give them a shout.
You can also find plenty of options on Amazon, this pair of Khaki Cargo shorts has the Steve appeal we're going for. This pair comes in 2T-10.
The shirt turned out to be the hard part. Dickie's has the perfect twill shirt but it only comes in small (8) and up.
Halloween Costumes You Can Make From Your Closet
Halloween always sneaks up on you, somehow, every year. Or at least it does for me. You never know when you'll get that last minute party invite and need to throw together a quick costume from your closet.
Ladybug Superhero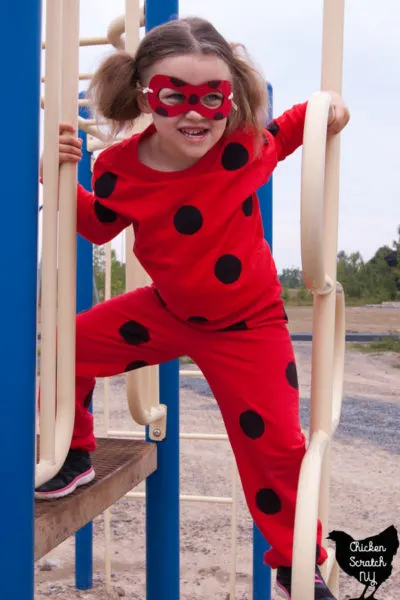 Turn basic red pants and a shirt into a Miraculous Ladybug costume with black paint. Don't forget to grab the free mask pattern!
3 Hole Punch Jim
If you watch The Office you know Jim hates Halloween and likes to take the easy way out. One of his… more inspired costumes was a three hole punch version on himself.
All you need is a white button down shirt, pants and three black circles pinned or glued in a line down the shirt, like a piece of loose leaf paper.
Vending Machine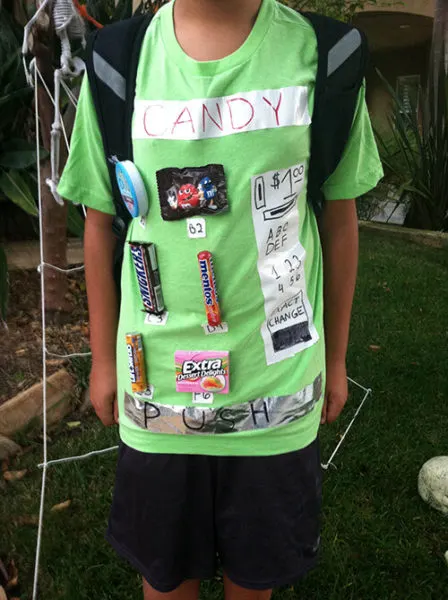 I love this idea from Family Spice, needing to whip up a costume at 8pm on a school night hits a little too close to home you know? You can literally empty the junk drawer to put this one together!
Tea Sipping Frog Meme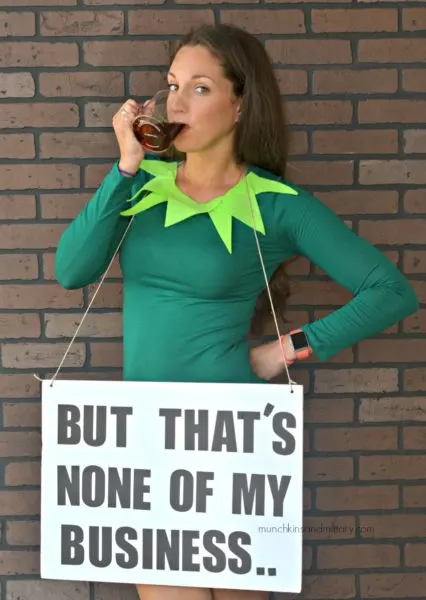 We all love a good meme right? Three Little Ferns has you covered with this one. All you need is a green shirt and some felt to get the froggy look. Add a sign and a cup of tea and you're going to have the snarkiest costume of the night.
The next few options are classics for a reason, they scream Halloween and the couldn't make easier last minute Halloween costumes.
Cat or Burglar or Cat Burglar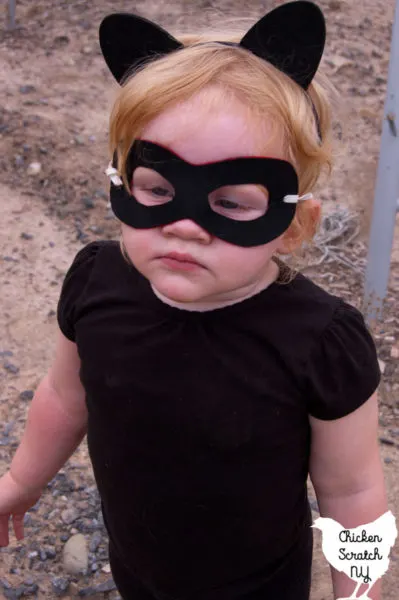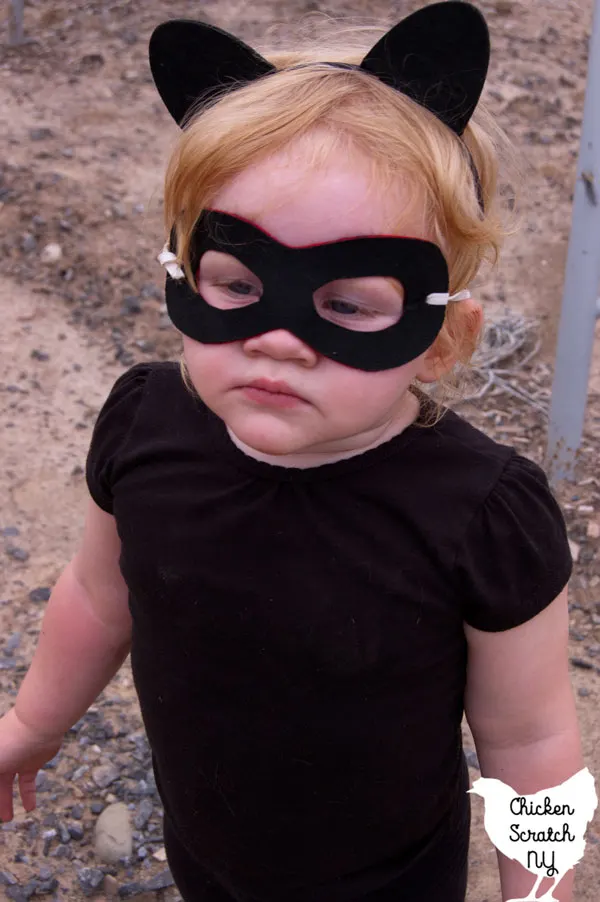 All you need is black clothing. Add black ears to be a cat, a black sack & mask to be a burglar or both to be a cat burglar.
Witch
Literally put on anything and a witch hat and you're out the door. If you want to get fancy and you have 2 days check out my Amazon Prime Witch Costume.
Zombie
Sacrifice an old shirt by slashing it up with scissors. Rub some dirt on it if you're ambitious. Smear matte grey eyes shadow around your eyes and start shambling.
Scarecrow
We all love flannel so throw on your favorite, then add a straw hat and garden boots. Bonus points if you have a fake crow handing around to carry with you.
I would recommend you skip the actual straw, it's going take a cute Instagram picture but you'll be an itchy mess for day!
This simple makeup tutorial can be followed by just about anyone: Cute Scarecrow Makeup skip to 1:23 if you are only interested in the mouth and patches
Don't forget to PIN this to your Halloween Board! Check out my Halloween page for more ideas or start here: