Halloween is almost here and if you're like me you are scrambling for a costume idea. Lucky for you I'm here to help with my good friend Amazon Prime.  If you're outside the loop that means you can get all this stuff delivered to your door in two days if you're a prime member. This post is not sponsored by Amazon but they are affiliate links. If you use them I'll get a small amount that I can use to buy giant spider rings. My default costume over the years has always been a witch (or ladybug but we'll leave that alone for now!). It's a classic choice for a reason. A witch costume is recognizable, easy and there are a million ways to make it your own.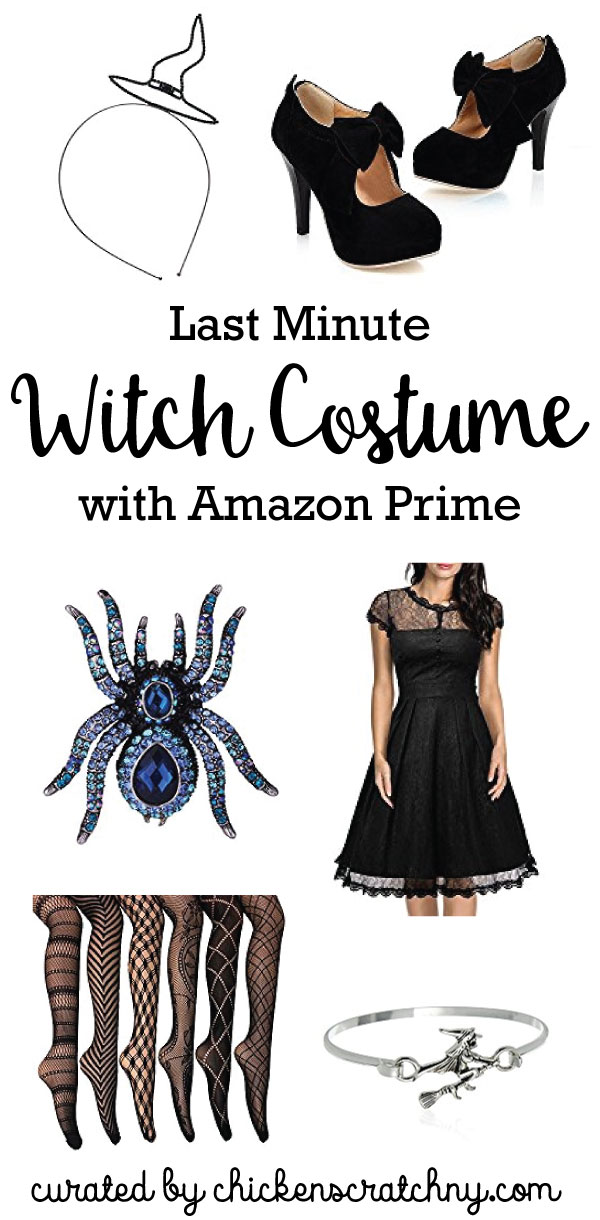 First, a dress
Lace Cap Sleeve Dress
I bought this dress last year and I love it so much I'm wearing it again this year. It very nice quality, especially considering the $33 price tag. The fabric this sturdy with a bit of give so it's comfortable to move around in. I wore it to both of my daughters Halloween birthday parties and I even went down a slide or two in it! I wear a 16 and I bought a 2X and it fits great. I'm tall and this is long enough that I can move around and not feel like I'm going to accidentally flash someone. You could even wear it to a holiday party if you want to get a bit more life out of it. Tip: hang it up at the waist with a skirt hanger, not on the lace so you don't stretch out the top part.

What's a witch without a hat?
Witch Hat Headband with Feathers
Personally I prefer the look of a giant hat but practically they just don't work. The wind blows and suddenly you're hat-less. If you plan on trick or treating or haunting a hayride do yourself a favor and get a hat attached to a head band.
A less traditional option is a rhinestone Witch hat headband. This is the ultimate easy costume. Just slap it on over a ponytail and go.
Stockings are a great place to add some attitude to your witch costume.
Striped Stocking (Regular & Plus sizing)
I love the look of striped stockings a la Winfired Sanderson from Hocus Pocus. With over 20 color options you can fit your costume to your personality.
If you're going for a more adult vibe Halloween is the perfect time to pull out the fishnets or sexy lace patterns.
Kick it up with some witchin' accessories
Most people wouldn't wear a giant (really, go look at the pictures of it on real fingers!) spider ring every day, it's HALLOWEEN! So go for it with a stretching spider ring, this one comes in 9 different colors.
This necklace probably won't work with the dress I picked, but it was too cool to leave out. It would look awesome with a v-neck t-shirt, lace stockings and a black hat.
Maybe you aren't fully committed to dressing up but you still want to represent the witches? Throw on a bracelet to let everyone know not to mess with you unless they want to be turned into a toad.
Shoes?!
If you're trick-or-treating wear sneakers (I wore bright blue converse with purple striped tights and an orange hat last year) or comfortable boots.
Vintage Bow-tie Platform Pumps
You can't go wrong with platform heels for a party if you know you'll be mostly sober and the floors are nice. Keep some ballet flats handy if you plan to dance until you die (not literally that's another Hocus Pocus reference!)
Happy Haunting!