The Disappearing 9 Patch is a fun quilt block that looks like a lot more work than it is. With a little bit of clever sewing, cutting, and resewing you'll have a complete heart block in a heartbeat, take it a step further and turn four hearts into a lucky clover!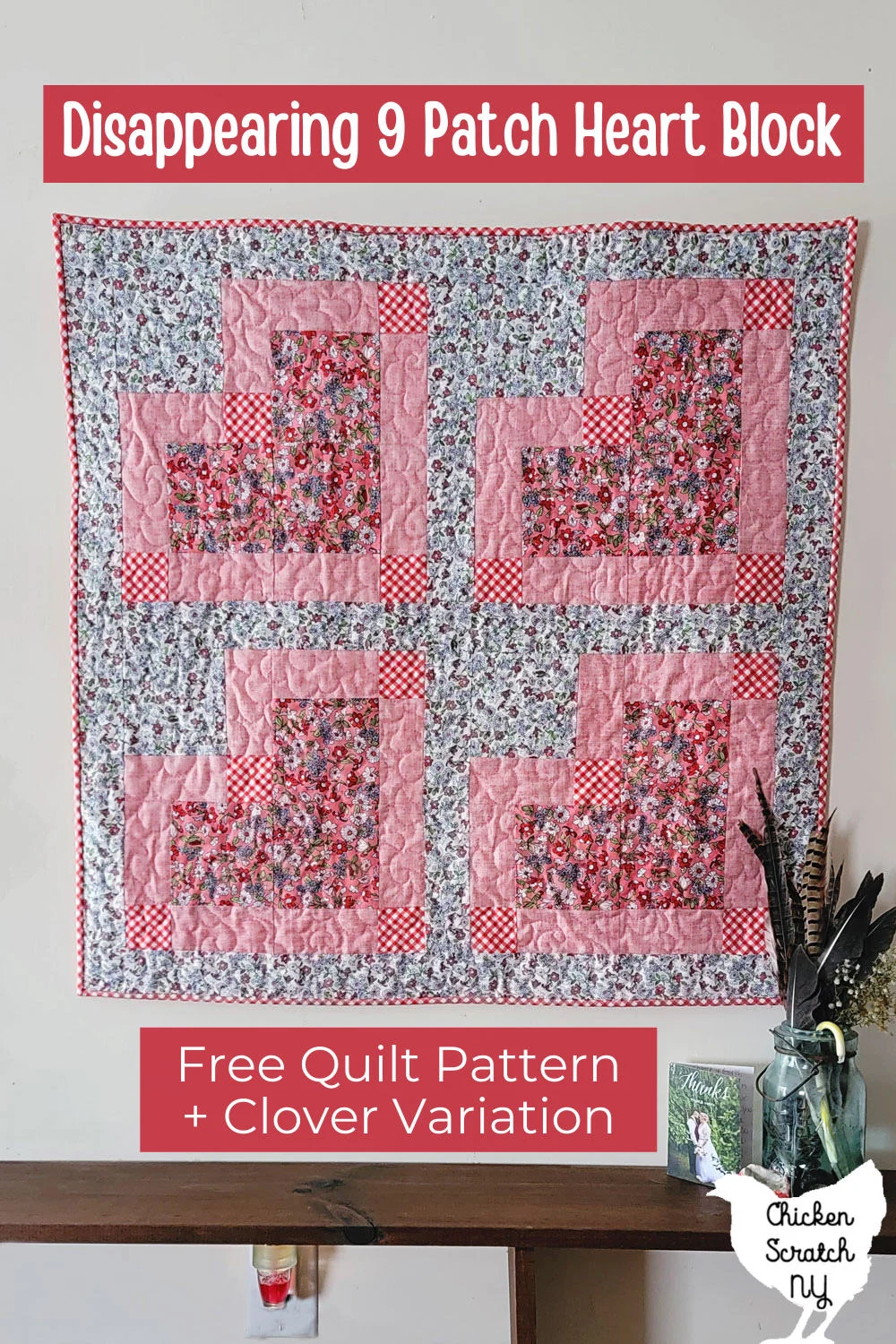 If you can sew a straight line (or mostly straight, I've never sewn a straight line in my life) and a consistent seam (it doesn't need to be exactly 1/4 as long as it's the same through the whole block) you can sew a disappearing nine patch block.
Learn more about Disappearing 9 Patch Blocks & how to use them in a quilt
My favorite thing about this block is there's no math. You can make this block with any size square and it will work out the same.
The only thing you need to do is make sure your blocks are square to start out with. Even if you start with precuts.
I haven't found a lot of issues with 5″ squares but I've had a fair amount of Layer Cake squares turn out to be… not squares.
How to Make a Disappearing 9 Patch Heart Block
This block isn't much different than the regular disappearing nine-patch block, after all, it's made from a 9 patch and it's cut the exact same way. What really makes it stand out is the color placement and the asymmetrical way you spin the blocks.
I stumbled across this block on accident when I was playing around in Electric Quilt 8 making graphics for my Disappearing Nine Patch post and I just ran with it.
Now, this may be hard to believe, but the Halloween Queen doesn't have an awful lot of pink fabric so I didn't have a lot of options. I actually think my background was too busy for my blocks but I wanted to work with what I had on hand.
(If pink hearts aren't your thing, stick around to the end and I'll show you how to turn this block into a 4 leaf clover!)
For each heart you will need:
3 squares for the inside of the heart [A]
1 square from your background fabric (the border or sashing you'll put around the block) [B]
4 squares for the long pieces in the heart outline [C]
1 square for the small pieces in the heart outline [D]
If you want a solid outline around the heart you can make the center square (D) the same color as the C squares.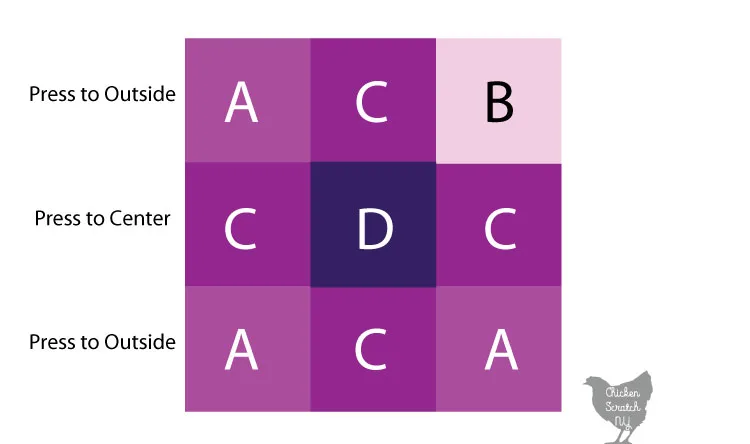 Lay out your squares as shown above and sew them together in three rows, top, middle, and bottom. Press the seams to the outside on the top and bottom row and in toward the center on the middle row.
Nest the intersecting seams and sew the three rows together. Press the block open.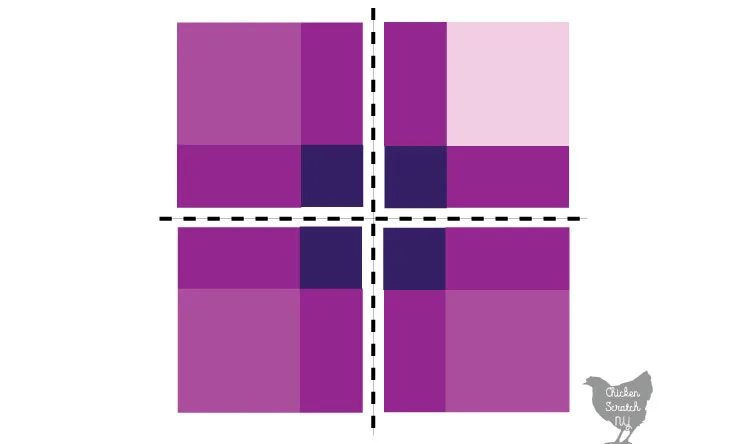 Now it's time to make the 9 patch disappear! If you started with 5″ squares your center square should be 4.5″ and you'll want to cut it in half at 2.25″ from the side.
If you're going with another starting size you'll need to do a little math, all you need to do is measure the center block and divide that number in half.
I recommend cutting your blocks one at a time, even if you're making a whole bunch of them. Sometimes things get a little bit off and you don't want to cut way off-center or the next steps will get really tricky!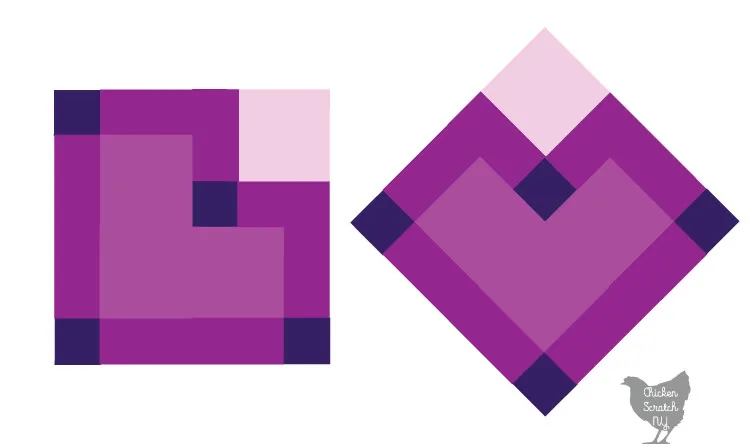 Once the cutting is done it's time to rotate the blocks and create your heart. I think the blocks look cute on their sides or on point.
If you start with 5″ squares your heart blocks will finish at 13″, if you start with 2.5″ squares your blocks will only be 5.5″.
Disappearing Nine Patch Heart Wall Quilt
I made four hearts and turned them into a very floral wall hanging for my kitchen. The final size is 32 x 32, which I think works really well for a quick seasonal project like hearts or a four-leaf clover.
I used 5″ squares for the hearts and matched the sashing between the blocks to my background fabric. The sashing and border strips are cut at 2.5″ wide, I used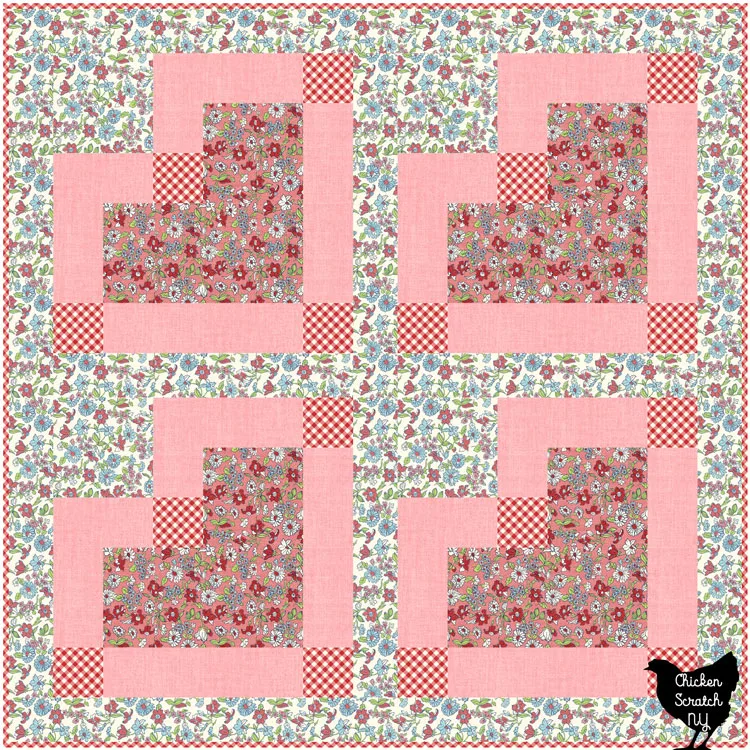 Fabric Requirements:
Background (white floral) – (4) 5″ squares + (6) 2.5″ width of fabric strips
Inner Heart (dark pink floral) – (12) 5″ squares
Heart Border (pink solid) – (12) 5″ squares
Heart Points (pink gingham) – (4) 5″ squares
Binding – (4) 2.5″ strips
Backing – 1 yard
I didn't have enough pinks in my fabric stash to make this scrappy but I think it would look super cute if you used 3 different fabrics for the inner sections of the hearts.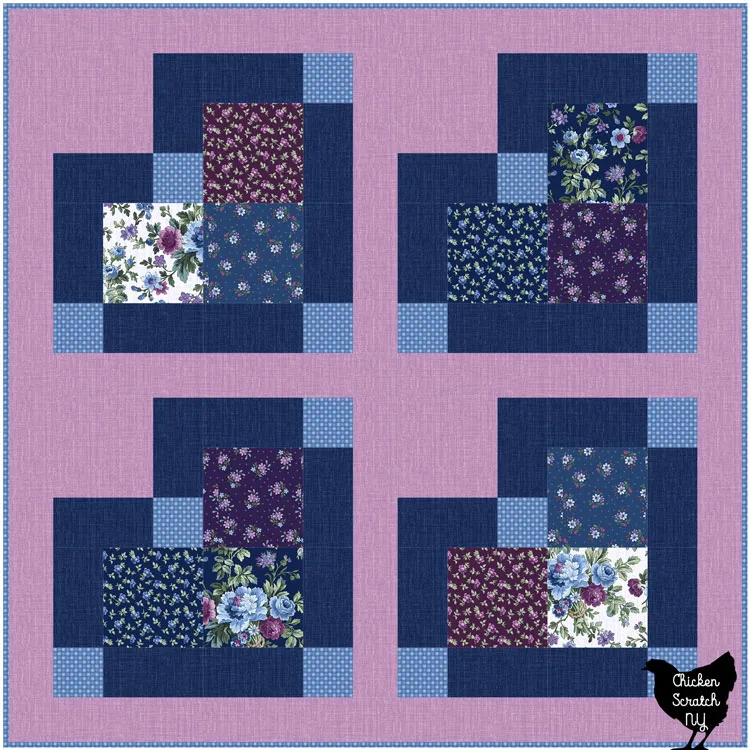 This is a quick mock up I did in Electric Quilt using a pretty blue and purple floral line. You could even mix up the fabric for the heart borders as long as you keep a contrast between the background fabric and the heart fabric.
Disappearing Nine Patch Shamrock
The clover version of the wall hanging is made almost the same. The only differences are the rotation of the blocks and the addition of a single cornerstone in the center.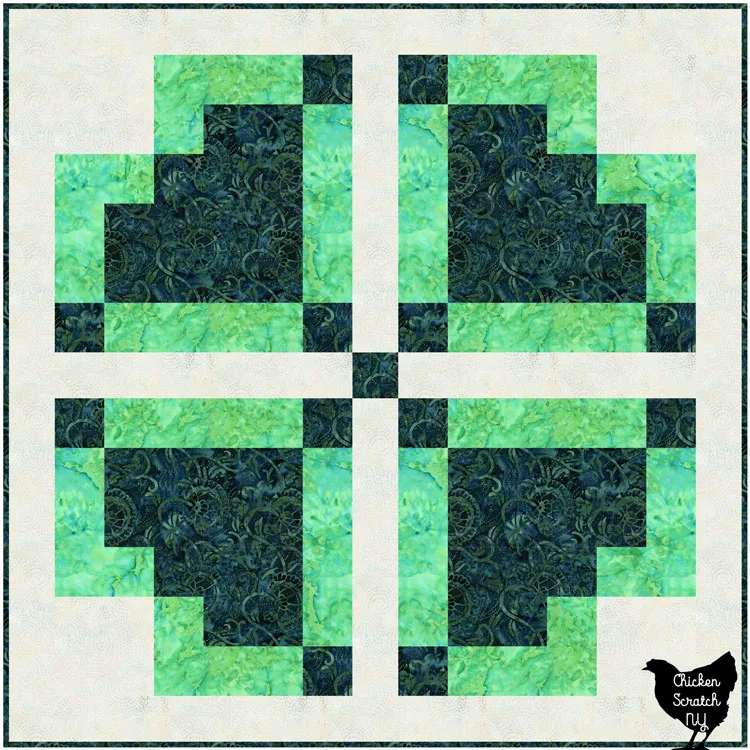 I only used 3 fabrics for this version, even though green is my favorite color I didn't have a lot of options so I went with a few batiks. To get this look you'll need to use the same fabrics for the A & D Squares and add a cornerstone to the center of the sashing.
---
Check out my Quilting page for more info or start here: