Thanksgiving is going to look different this year but you can still have fun with your family. Make your day one to remember by playing fun party games.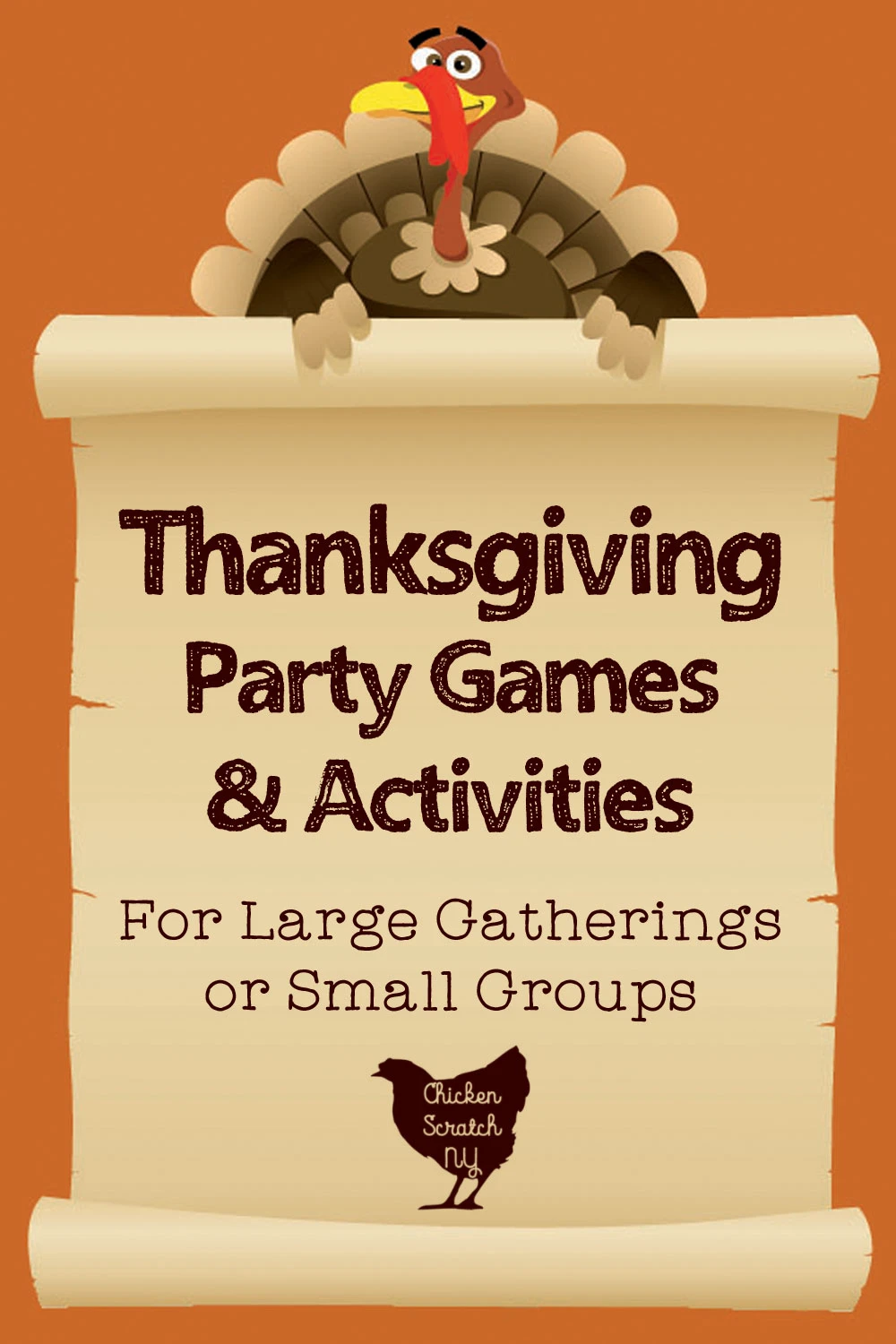 Now if you're like me, Thanksgiving is all about the stuffing (I think there might be other food, but I can't quite recall) but it turns out the other people around the table are not just competition for that crunchy bit. Thanksgiving is about being with people you love.
I know you might not have a lot of free time between making the best Maple Sage Sweet Potatoes to grace any table and family zoom calls but all of these games and activities can be planned for ahead of time, making your holiday extra fun without adding stress.

Table Games
Before you set the table lay down a sheet of brown craft paper, you can buy it by the roll at the Dollar Tree and throw down a few boxes of crayons.
By the time we're gathering around the table on Thanksgiving, the older kids in the family will have undoubtedly mastered the art of the handprint turkey and should be happy to pass the knowledge down to the younger kids.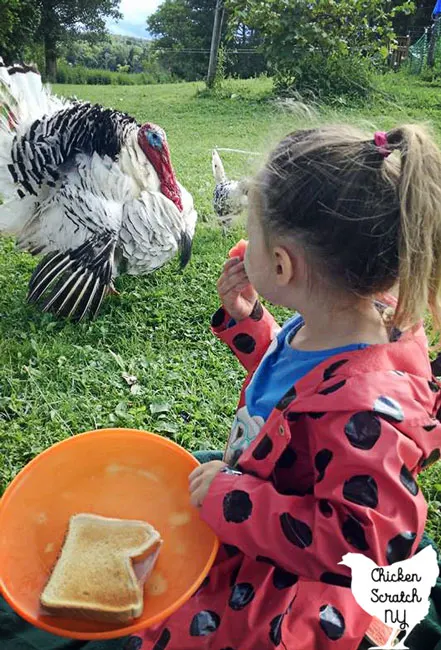 We have 5 pet Royal Palm turkeys and I always get a kick out of my daughters insisting that all turkeys are black and white. Chances are your table will be a bit more colorful!
Don't limit your table drawings to just hand-print turkeys, you can play tic-tac-toe, Connect the Dots (aka Dots & Boxes) or hangman.
If craft paper isn't your thing or you prefer more guided activities Target sells Paper Thanksgiving Tablecloths (tablepapers?) pre-printed with turkeys, pies, leaves and pumpkins ready to be colored in.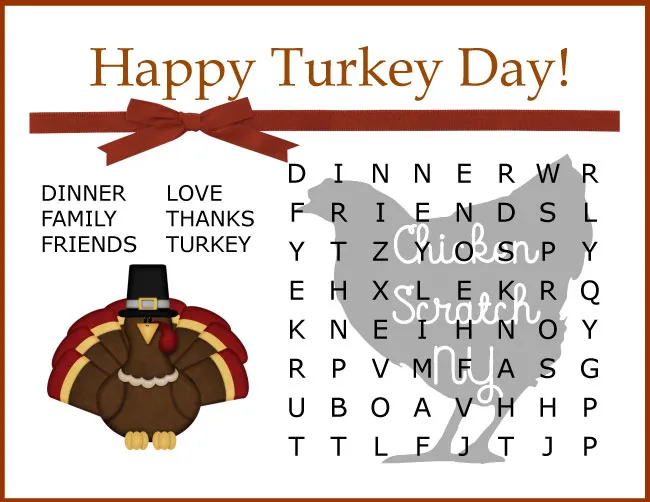 You can also prepare by printing off a few Thanksgiving word searches for everyone at the table. Over the years I've made quite a few and you should be able to find something for everyone from super easy up to challenging.
Board Games
Of course, you can always clear off the table after dinner and break out the board games. This was a family tradition when I was growing up that faded away when we all had kids to watch (and diapers to change!).
It's slowly coming back now that the kids are more self-sufficient and I couldn't be happier. Some of our favorite games are Scattergories, Taboo and Balderdash.
We're not allowed to play Pictionary in my mother's house after an unfortunate incident where feet were mistaken for egg beaters but it's a lot of fun. One final recommendation, Cards Against Humanity is really fun if you're playing with an older crowd.
If your family is on the younger side you're still in luck with board games. Some of my daughter's favorites are Sharkbite, Candyland and Trouble.
Bingo & The Prize Table
We can thank my mom for this one, it started a few years ago when we decided to stop doing Christmas gifts for the extended family. Instead we have (usually, f you 2020) a casual family party with a ton of games and The Prize Table.
One game we all love is Bingo, my mom brings out the Thanksgiving-themed Bingo Boards and everyone plays, even my grumpy Uncle.
My mom usually calls out the spaces and the rest of us scramble to fill in our boards and the boards of our kids. Did I mention we have 12 kids under the age of 16, including 4 6-7 year-old girls all born within one year (now you can see why we stopped playing board games haha!).
Back to Bingo, we play probably a dozen rounds and have twice as many winners (each round goes until you get 2 BINGOs). And it's competitive.
You see, my mom has taken all her crazy holiday gift-getting energy and put that into the prize table. It started out as a small selection on the coffee table and it's evolved to a full 4×10 foot folding table covered in prizes for all ages.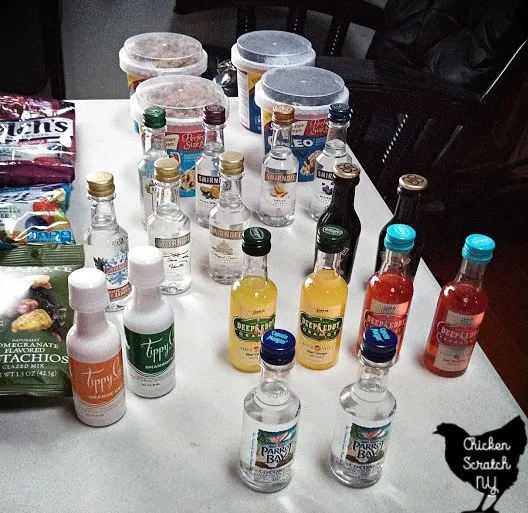 There are craft kits, small toys, candy, diary and pen sets for the kids, trail mix, popcorn, mug cakes, hand sanitizer (popular even before 2020 happened) and the most popular among adults, tiny bottles of alcohol.
I wish I had pictures of the entire prize table but, clearly, I was focused on the coconut rum.
Thanksgiving Family Games
The time will come when it's time to leave the table behind but that doesn't mean the fun has to end! You might be luckier with the weather than we are here in NY but it's a safe bet that our Thanksgiving activities will be indoors.
Poop the Potato
You might have seen this one before, it was a viral hit on Facebook a few years back. The concept and supplies needed are pretty simple but it's a winner for creating family memories!
To play poop the potato you divide your players in half and give everyone a raw potato (you can also play with game with balloons). The people start on one side of the room and you place two 5 gallon buckets on the other side.
The point of the game is to get your potato into the bucket, the catch is you have to hold the potato between your legs! Is the name starting to make sense now?
Turkey Egg Hunt
My kids love nothing more than hiding things and then trying to find them (RIP livingroom remote) and any gathering is just another excuse to do that.
After all, the Thanksgiving mascot is a turkey and they do lay eggs. In the spring, but that's not really important here!
Fake plastic eggs might be hard to track down in November and hiding real eggs in your house is a slightly terrifying prospect. Instead, I would like to recommend hiding Kinder Eggs.
They're small, egg-shaped and kids can't get enough of them! You can even buy them in bulk. Honestly, it's a new tradition so you can hide just about anything and get away with it
---
No matter what it looks like I hope your holidays are filled with good food and good memories with people you love!
Check out my Thanksgiving page for more ideas or start here: