Protect yourself from the sun while gardening with these essential tips! Learn about proper clothing, sunscreen application, and shade strategies to keep your skin safe and healthy all summer long.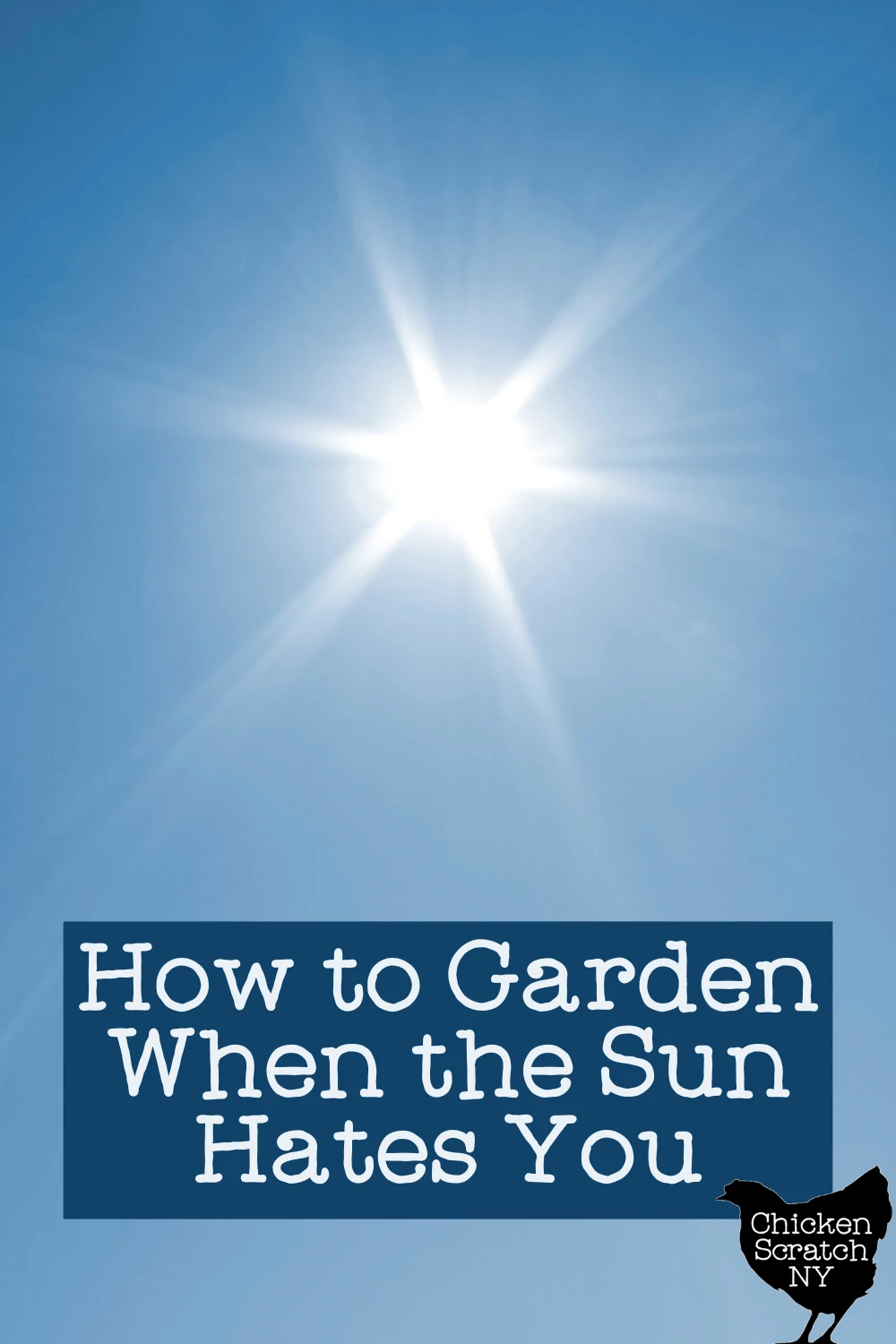 Gardening is hard work and it's even harder when the sun has it out for you! After many years of struggling with sunburns, I've figured out the best ways to work in the garden without roasting yourself.
According to Ancestry.com, my genetic makeup is everything that sunburns in the shade. Despite my blue hair, I'm actually blonde and I inherited my red-headed mother's skin.
What I'm trying to say is gardening was not a good choice for me. The same sun that floods my kitchen with zucchini turns me into a tomato.
However, fair skin was not the only thing I got from my mom, I'm also really stubborn and the exact kind of person to keep doing something I shouldn't. On the bright side, I've figured out quite a few ways to successfully garden when the sun hates you.
It's a mix of special clothing and gardening techniques. Obviously, sunscreen is a great choice and we should all be wearing it but I tend to get in the zone and suddenly I've been in the garden for 7 hours and my skin is cooked!
Sun Shirt
A few years ago I bought two items of clothing from Duluth Trading Company that changed my life. I know that sounds dramatic but they really did!
I bought a long-sleeved sun shirt and a pair of garden overalls that I basically live in. Both were from the clearance section, Duluth Trading garments are of amazing quality but that does come with a high price and I'm not that picky about my garden wear so strange colors are fine.
They no longer carry the exact shirt I bought but the Sol Survivor Shirt is very similar. I've been wearing mine for years and other than the dirt it's in perfect condition, I assume I'll wear it until I die and then I'd like someone to turn it into a scarecrow.
Times are tough and money is tight so I looked up a few cheaper options. I bought this Sun Protection Safari Shirt and this Hiking and Fishing Shirt from Amazon to compare to my Duluth shirt.
The Amazon shirts are basically the same with slight differences in style. The fabric is much thinner than the shirt from Duluth and I doubt they'll have the same longevity.
I've worn them in the garden, strawberry picking, and to many soccer games to protect me from the sun and I never gotten burned while wearing them.
Here are a few things to look for in a sun shirt for gardening:
SPF (or UPF) fabric that will protect your skin from the sun
Long Sleeves to protect your arms, some will have tabs that let you roll up the sleeves
Vents in the back for airflow, most of these shirts are made from a light high tech fabric that doesn't really breathe but a vent in the back will help with that
Moisture Wicking, again you'll be dealing with fancy fabrics that are designed to do this but you want something that will pull the sweat and spilled compost tea away from your skin
High Collar to protect your neck
Pockets to carry seeds (not a sun protection thing but still helpful!)
If I have the option I like to pick a bright color for anything I use in the garden from gloves to tools to clothing. I tend to remove and toss things willy-nilly and it's easier to find them when they don't blend in!
My poor sun shirt is pretty dirty, I usually throw it over a t-shirt (or a sports bra if it's really hot) on my way out to the garden and remove it in the garage so I'm not bringing dirt into the house. The clothing underneath keeps the shirt from getting sweaty so it doesn't smell, it's just covered in dirt because you know… gardening.
Sun Hat
If you need more drama in your life the sun hat is exactly what you're looking for. I tossed my overly-loved hat at the end of the last gardening season and I've really missed it.
It's fairly easy to find large, wide-brimmed hats for fairly cheap. Unfortunately, they look great but aren't particularly functional when you're getting down to work.
I've found that my gardening wardrobe has a much stronger 'crazy cat woman vibe' than the popular social media cottagecore linen dresses. Don't get me wrong, they look great but they're more for a quick harvest than actually digging around and putting in hours of work.
The first hat I tried was this Wide Brimmed Straw Hat in Navy. I liked it for the wide brim and thought the bow was cute.
Unfortunately, it doesn't fit on my (average-sized) head. My kids love it and I'll be adding some ribbons to help keep it on when they're helping me in the garden.
I also bought this absolutely ridiculous Oversized Beach Straw Hat in green. This thing is massive and while it does do a good job keeping me covered, it's a bit much to deal with moving around.
At the moment my go-to hat is an incredibly unattractive Columbia Sun Hat. It has a nice vent around the top, it actually fits on my head without giving me a headache and, I can even stick my headphones over it and still hear (oddly enough it also keeps my ears from sweating).
The only problem is the brim isn't quite wide enough to protect my neck when I'm looking down. I've been eying a few of the 'mullet style' fishing hats on Amazon, honestly, I'm probably one bad burn away from pulling the trigger.
When it comes to buying a sun hat there are a lot of options out there so here are a few things to look for in a sun hat for gardening:
Wide brim, look for something that will cover your whole neck when you're looking down
Solid material, avoid an open weave or lacy-looking material, they're pretty but they won't protect you from the sun
Ties or chin strap, if you're strapping a parachute to your head you'll need to secure it or a strong gust of wind will take it away!
Comfortable, if it hurts you won't wear it, and then what good is it?
Work at Dawn & Dusk
My gardening time is usually split in half these days, I'm lucky enough to work for myself and make my own schedule.
That usually means heading out to the garden early to plant, mow, or weed before the heat and sun send me packing. Then I head indoors for a cold shower and the rest of my day before returning to the garden when the temperatures and the sun are less intense.
I try to do my watering later in the day, it gives the plants a better chance to soak up the water before the heat returns and as a bonus, I get to avoid the most brutal sun.
You can get a lot of work done in a few hours and where I live in New York the sun doesn't go down until 9:30 or later. At that point, you'll need to swap your sunscreen for bug spray but I think the trade-off is well worth it.
Follow the Shade
Depending on the layout of your garden and property you might have to get creative to pull this one off.
There are two large poplar trees near my garden that cast a shadow on the back beds in the early afternoon. Anything I need to do in those beds is done when they're in the shade.
I follow the same philosophy in my flower beds, in the hottest months of the summer, anything I need to do in the front flower bed happens before the sun gets over the house.
You can also drag a giant beach umbrella out to the garden with you, this works best if you'll be in the same area for a while and it's not very windy.
Don't try this when it's windy or you'll break your really nice Aldi find.
Mulch Everything
I could write a gardening bible in one word, and that word would be mulch. Uncovered soil (especially disturbed soil) is the devil's playground and no matter what you've got going on in the garden you should be using some kind of mulch.
What does this have to do with staying out of the sun? Well, mulching will keep you out of the garden in general.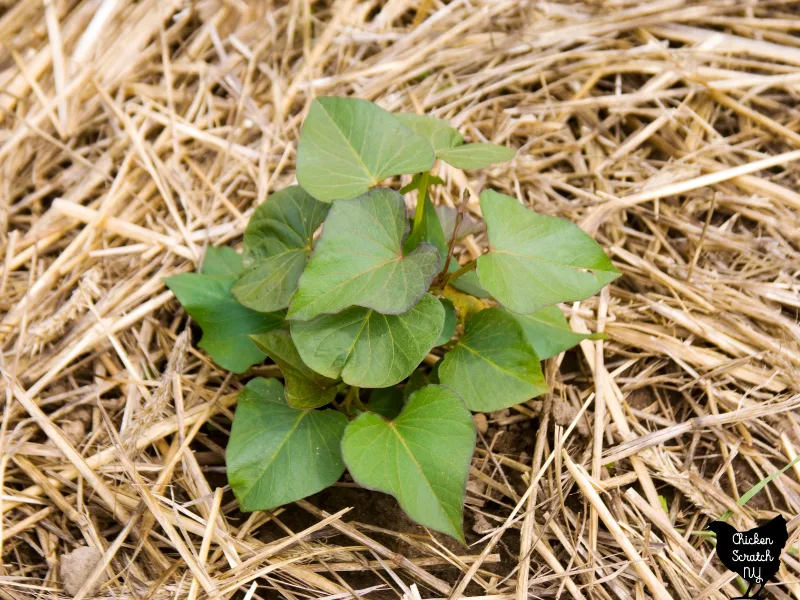 Mulch helps keep seeds from germinating which cuts back on weeds and if you do get weeds they'll be really easy to pull. It also slows evaporation and keeps the soil moist longer, cutting back on watering.
I like to use straw for mulch, I can find it locally, it's not super expensive and I think it looks nice. The hardest part is keeping my chickens from storming the garden to scratch it up!
Another option for mulch is lawn trimmings. I recently replaced my gas mower with an electric mower that came with a collection bag and I've been using my lawn trimmings to mulch my peonies and around my pepper plants.
It can be a little risky if your lawn has a lot of things in it that aren't grass, especially if the weeds have gone to seed. I've found that weeds growing through mulch are really easy to pull out so I'm not afraid to that that gamble.
---
Check out my Vegetable Garden page for more ideas or start here: