I got the crazy idea in my head that I needed to make Shirley Temple thumb print cookies for Christmas. And I really tried.But I failed too many times.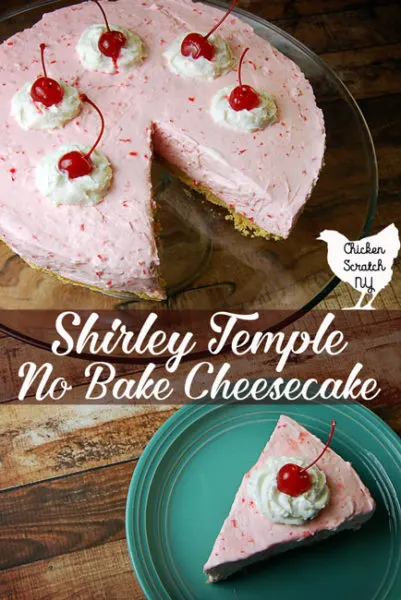 Obviously you're here for a recipe for a Shirley Temple No Bake Cheesecake so the cookie thing was a bust. In my opinion cheesecake trumps cookies so it was all for the best.
No bake cheesecake are the best because why use the oven if you can avoid it right? I love no-bake desserts, some of my favorite recipes are no bake desserts like my Black Raspberry Fool, Eggnog Icebox Cake and Sweet Cream Pumpkin Parfait.
I'm usually running around after the girls go to bed trying to get things done and a recipe that I can throw together, chuck in the fridge and forget about is exactly what I need.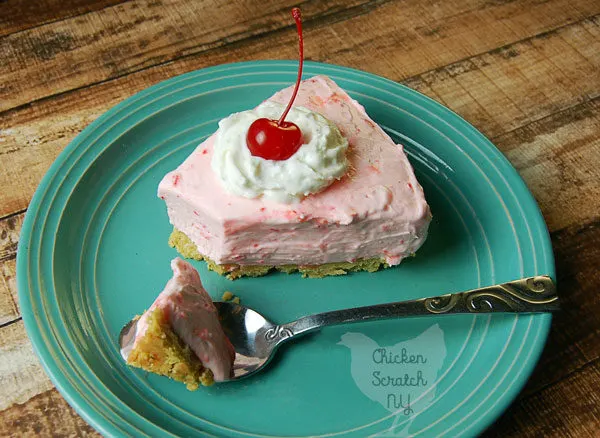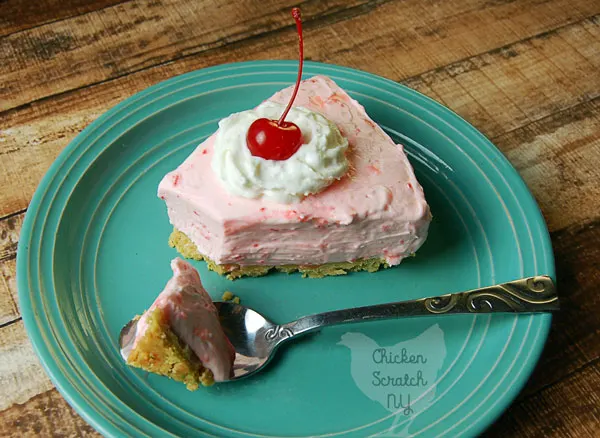 This is more or less a No Bake Cherry Cheesecake but it has some tricks up it's sleeve that make it extra special. The flavors of this dessert are based on the childhood drink, The Shirley Temple.
If you aren't familiar with the Shirley Temple it's an intensely sweet red drink made with sprite or ginger ale, grenadine and a maraschino cherry. They're perfect for kids and adults trying to relive their youth.
True to type this is a sweet dessert. I'm usually grabbing the darkest chocolate and cutting the sugar in half but not this time. I went all in with the sweetness.
I decided to go the lemon-lime route instead of ginger ale even though that's more traditional. Ginger is really easy to go over board with.
I think the bright tart flavor from the lemon works really well against the sweetness from the sugar and cherries. By the way, the lemon Oreo's in the crust are not fooling around. They are LEMON.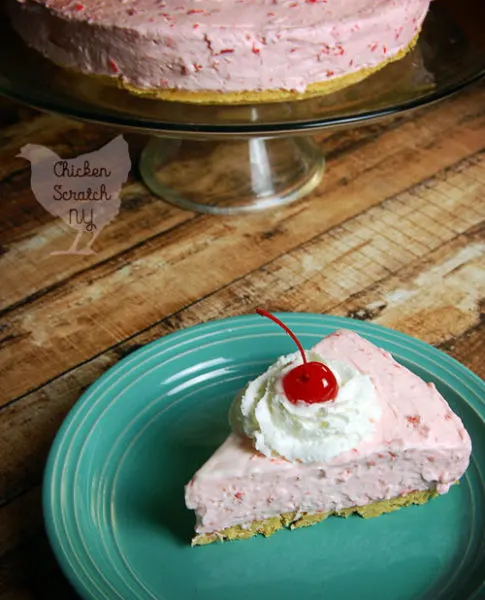 I skipped adding any more lemon flavor and added lime zest to the crust. I mentioned in my Blueberry Lemon Fudge recipe that I don't measure zest, and I stand by that.
However, it's kind of my job to make repeatable recipes so I'll let you in on my methods. I could only find little limes, basically green pong pong balls, so I used the zest from two.
If you have normal limes use one. I zest the limes with a small grater right into the bowl.
Don't forget to PIN to your dessert board!
Yield: 12
Shirley Temple No Bake Cheesecake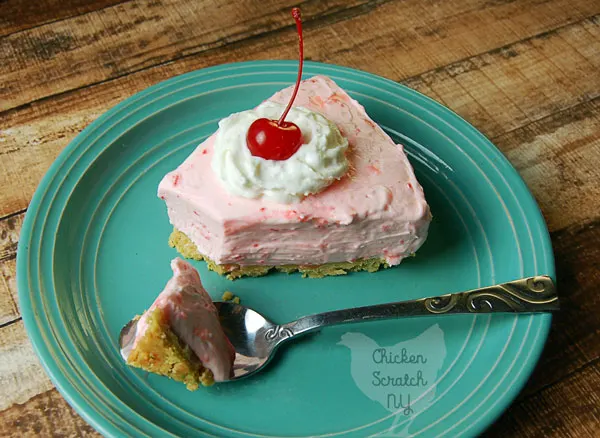 Whip up a sweet dessert with this Shirley Temple No Bake Cheesecake recipe. Made with cream cheese, maraschino cherries and real whipped cream in a lemon Oreo crust it's sure to be a hit
Ingredients
Crust
20 Lemon Oreos
5 tbs Butter, melted
Lime Zest
No Bake Cheesecake
16 oz. Cream Cheese, softened
1.5 cups Powdered Sugar
1 tsp Almond Extract
2 tsp Grenadine, optional
1 jar Maraschino cherries
1 1/2 cups Heavy Cream
Serving
Instructions
Crust
Cover the bottom of a 9 inch spring form pan with aluminum foil and assemble the pan. This makes it easier to get the cake off the pan when it's done
Finely chop the Oreos in your food processor, combine in a bowl with lime zest and melted butter. Mix until uniformly damp
Press crust into the pan and place in the fridge
No Bake Cheesecake
Drain maraschino cherries, set aside six for decoration. Remove stems and chop remaining cherries (about 20) in the food processor
Beat cream cheese and powdered sugar with paddle blade until uniform
Add cherries, almond extract and Grenadine and mix together until uniform.
Clean and dry mixer bowl, beat heavy cream until medium stiff peaks form
Fold cream cheese mixture and whipped cream together. Spoon into crust and smooth
Place in the fridge to set up
After a few hours (or overnight) carefully unhook the pan. Smooth the sides with an offset spatula. Unwrap foil from base and slide off the pan base. Carefully transfer cake to serving plate
Top with whipped cream and reserved cherries
Check out my Dessert Recipes page for more ideas or start here: